Liquidation-Amazon.Shop poses as a platform for unbelievable Amazon clearance sales. Advertised on Facebook, it claims to offer amazing deals on Amazon customer returns like DEWALT tools for as low as $30. Don't be fooled—this site is a scam. Keep reading to find out why..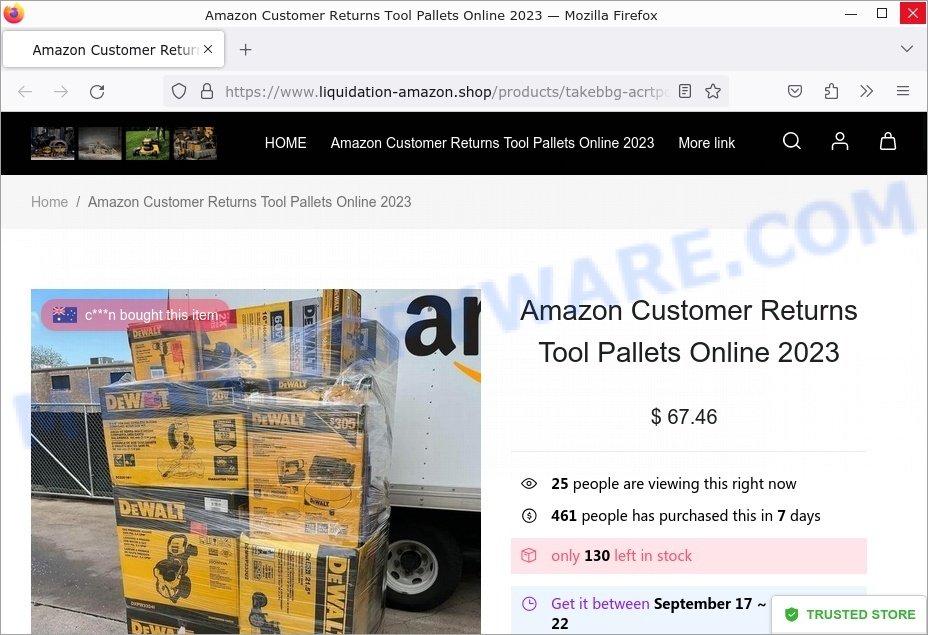 Quick Links
Is Liquidation-Amazon.Shop a Scam?
Here's why Liquidation-Amazon.Shop is undoubtedly a scam:
Recently created domain
No real info about the company behind the site, linked to other scam shops
Unbelievable deals like DEWALT tools for $30
Enticing slogans such as "Amazon Customer Returns Tool Pallets Online 2023"
Lack of social media presence
Contact details linked to other scams: Bin Estrella GmbH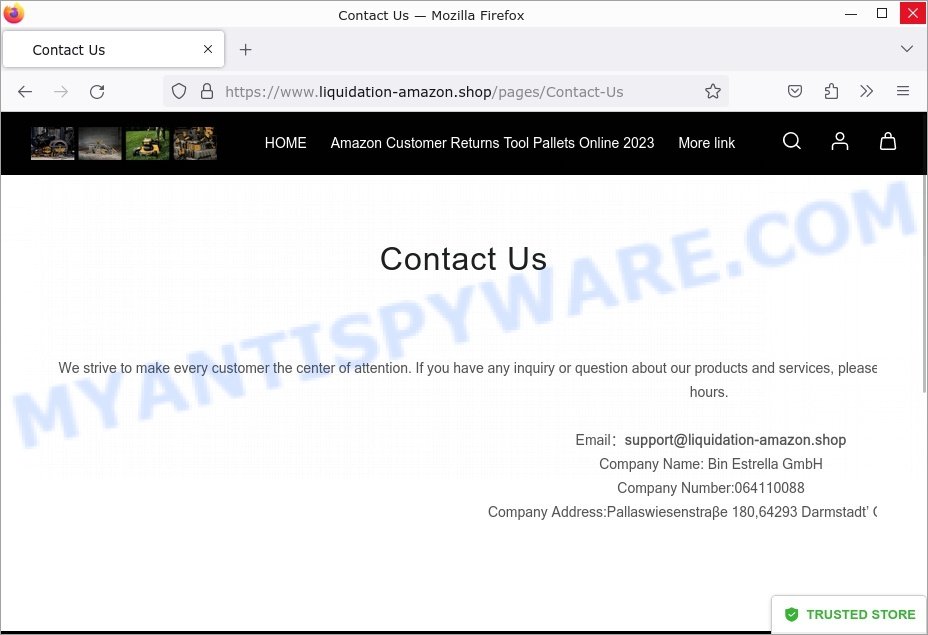 How the Liquidation-Amazon.Shop Scam Works
Liquidation-Amazon.Shop starts by promoting itself on Facebook with headlines like "Bankruptcy liquidation!" Once you click the ad, you're taken to a page offering what seems like unbelievable deals. The use of urgency, such as "only 130 left in stock," is a tactic to make you act quickly without thinking.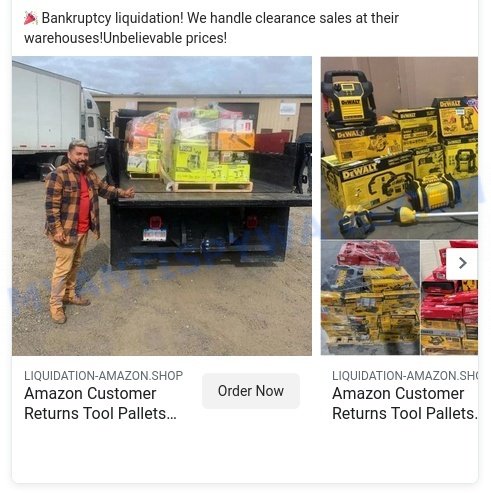 The scam ends with you losing your money, receiving no products, or getting inferior or counterfeit products. All the while, the scam site collects your personal and financial information for further fraudulent activities.
What to do if you become a victim of Liquidation-Amazon.Shop
If you've fallen for this scam, take the following steps immediately:
Report the scam at reportfraud.ftc.gov
Contact your bank to report the fraudulent transaction
Change your passwords for online banking and other sensitive accounts
Leave a comment on this review to help others become aware of the scam
Other Scam Online Shops to Avoid
We strive to protect our readers from scams similar to Liquidation-Amazon.Shop. Being vigilant when shopping online is essential, and recognizing the warning signs of a scam is the first line of defense.
Here are a few examples of scam online shops: Acstoreus.com DICK'S SPORTING GOODS Store Scam, Luggagebigsale.com Review, Tv-homeshopping.shop Bed Bath & Beyond Store Scam.
Summary Table for Liquidation-Amazon.Shop
| | |
| --- | --- |
| Name | Liquidation-Amazon.Shop |
| Type | Online Scam Store |
| Damage | Financial Loss, Identity Theft |
| Distribution | Facebook Ads |
| Tactics | False Advertising, Urgency |
| Prices | Unbelievably Low |
| Contacts | support@liquidation-amazon.shop, Bin Estrella GmbH |
| Prevention Tips | Do thorough research, avoid impulsive buying |
| Reporting Info | reportfraud.ftc.gov |
Conclusion
Liquidation-Amazon.Shop is a Fake Amazon Liquidation, dangerous scam that exploits the allure of seemingly great deals to steal your money and personal information. It is crucial to remain skeptical of too-good-to-be-true offers and to research thoroughly before making any online purchases.
FAQ About the Liquidation-Amazon.Shop Scam
What makes the Liquidation-Amazon.Shop particularly enticing?
The use of known brands like DEWALT and the impression of affiliation with Amazon give this scam credibility.
How do they get away with using Amazon's name?
Scammers often exploit the names of reputable companies to lend their scams an air of legitimacy, although it's illegal.
Why do people fall for scams like Liquidation-Amazon.Shop?
The allure of a great deal, especially from a well-known brand, can often cloud judgement, making it easier to fall for scams.