Acstoreus.com is a deceptive scam website that poses a significant risk to shoppers. Offering temptingly low prices for a variety of products under the guise of DICK'S SPORTING GOODS, it is designed to lure victims into a dangerous scam. Keep reading to find out more about this fraudulent online store and how to stay safe from it.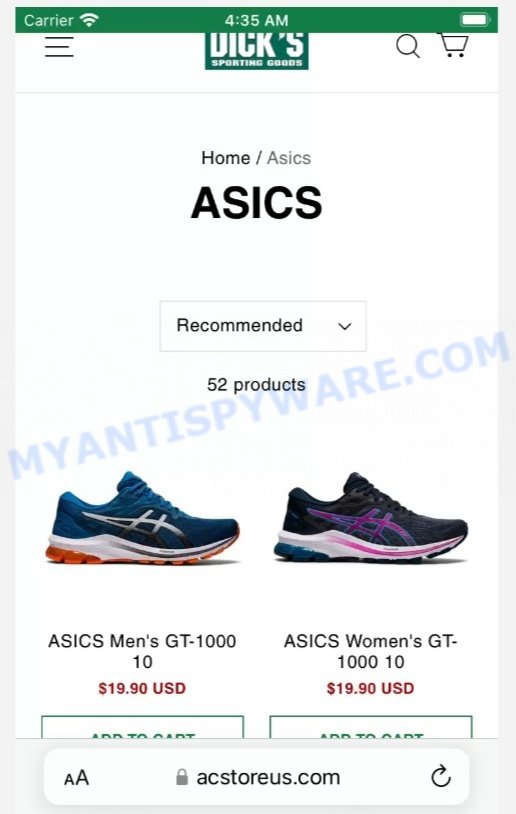 Quick links
What is Acstoreus.com
Acstoreus.com is a scam website that targets unsuspecting consumers by impersonating DICK'S SPORTING GOODS store. It lures potential victims through attractive offers on various items, particularly Asics shoes, and through an orchestrated celebration of a false anniversary event. The website is linked with a suspicious email and company that have associations with other scam stores.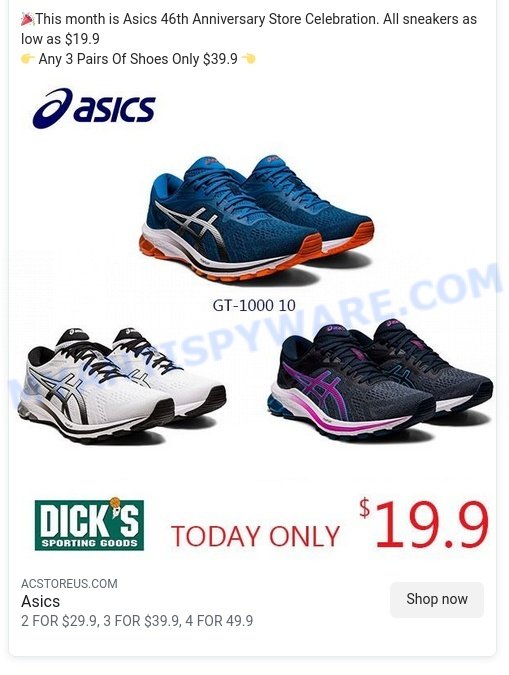 Signs of Acstoreus.com Scam
The Acstoreus.com website displays several telltale signs of a scam. These include:
A recently created domain, with a creation date of July 11, 2023.
Limited contact information, primarily through a suspicious email address dobby@autumce.com.
No real info about the company behind the website, with the contact details linked to AIMARK LTD, a company connected with other scams.
Unbelievably low prices and enticing offers such as "Any 3 Pairs Of Shoes Only $39.9".
The content, images, and product descriptions seem to be borrowed from other sites.
No social media presence or links to any social media platforms.
Customer complaints and delivery issues.
How Acstoreus.com Scam Works
Acstoreus.com scam begins with an attractive promotion on platforms such as Facebook, announcing deals like "All sneakers as low as $19.9". This is part of a supposed 46th Anniversary Store Celebration. The website impersonates DICK'S SPORTING GOODS store, adding a layer of perceived legitimacy to lure potential victims. Once the user engages with the site and makes a purchase, they receive nothing in return, thus falling victim to the scam.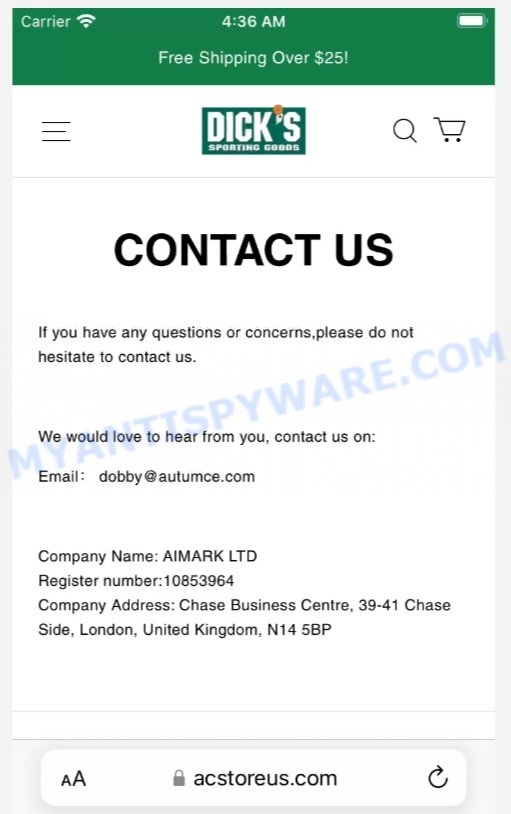 What to Do If You Become a Victim of Acstoreus.com
If you suspect you've fallen victim to the Acstoreus.com scam, follow these steps:
Contact your bank or credit card company to dispute the charges and secure your accounts.
Report the scam to your local law enforcement agency and provide them with all the information you have.
File a complaint with your country's consumer protection agency.
Change your passwords and secure your personal information.
Summary table for Acstoreus.com
| | |
| --- | --- |
| Name | Acstoreus.com |
| Type | Online Retail Scam |
| Damage | Financial loss, Personal information risk |
| Distribution | Internet, primarily through social media platforms like Facebook |
| Tactics | Impersonating legitimate retail brand (DICK'S SPORTING GOODS), incredible deals and offers |
| Prevention Tips | Be skeptical of too-good-to-be-true deals, confirm legitimacy of online stores before purchase, protect personal information |
| Reporting Info | Contact local law enforcement and consumer protection agency |
| Contact Details | Email: dobby@autumce.com; Company: AIMARK LTD; Address: Chase Business Centre, 39-41 Chase Side, London, United Kingdom, N14 5BP |
Conclusion
Acstoreus.com is a dangerous online scam that targets unsuspecting shoppers with fake deals and discounts. It's essential to remain vigilant and skeptical of too-good-to-be-true offers and to do due diligence when dealing with unfamiliar online stores. Remember, if it seems too good to be true, it probably is.