Ahodenare.com is a deceptive scam website pretending to be a bookstore offering incredibly low prices for a variety of popular books. The site represents a major threat to shoppers, especially book lovers. This article provides a detailed analysis of the scam and measures to prevent falling victim to it.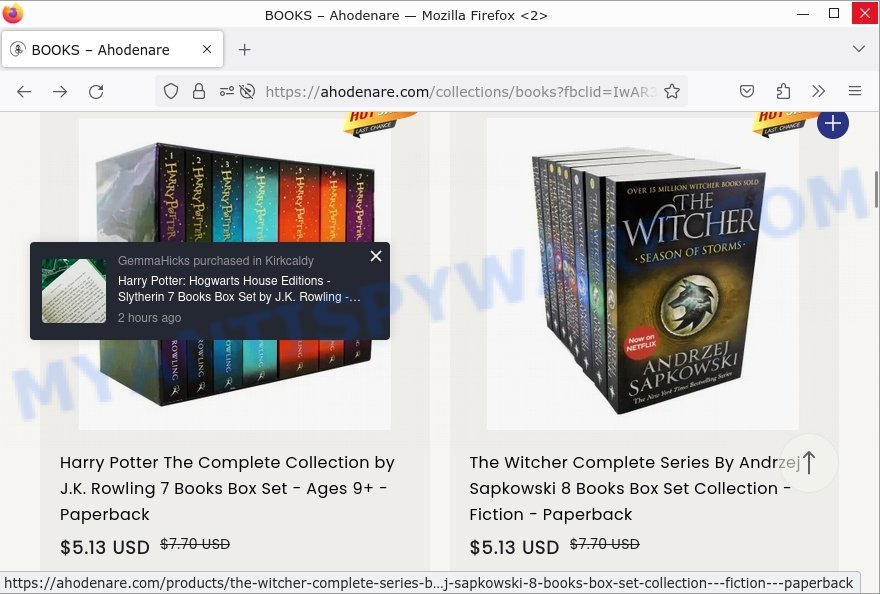 Quick links
What is Ahodenare.com
Ahodenare.com is a scam website that feigns to be a closing bookstore selling books at very low prices. It advertises popular titles such as the Harry Potter series and The Witcher series at prices too good to be true. With promotions primarily done via Facebook, this scam targets unsuspecting book lovers who are in search of good deals.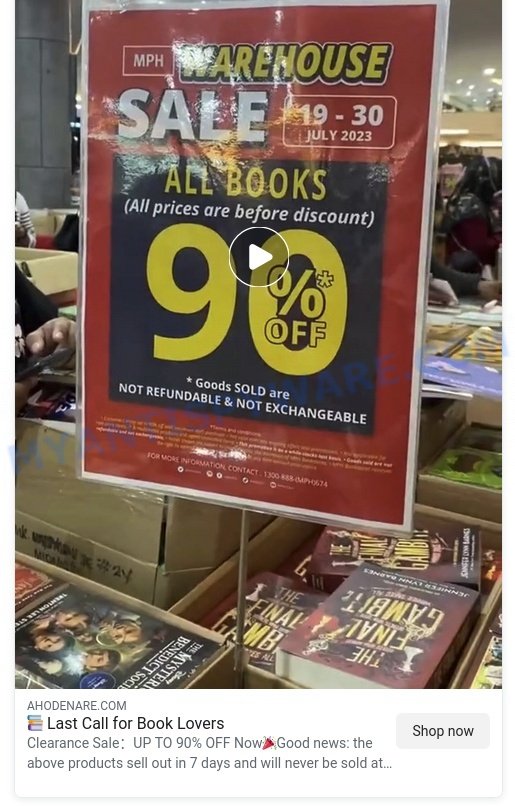 Signs of Ahodenare.com Scam
The following signs point towards Ahodenare.com being a scam:
The domain was created recently, on July 13, 2022, and updated recently as well, on July 18, 2023.
Contact is possible only through email at customer@ahodenare.com.
Offers unbelievably low prices for popular books, like the Harry Potter series for just $5.13.
Appealing offers such as a 90% discount and free shipping.
The "30 Day Money Back Guarantee" promise is likely misleading, considering the overall suspicious nature of the site.
The site appears to lack a presence on social media platforms except for its Facebook promotion.
How Ahodenare.com Scam Works
The Ahodenare.com scam entices potential victims with appealing promotions on Facebook, such as the announcement of a warehouse sale, offering all books at 90% off. Using the pretext of a closing sale, it lures victims with the promise of fast delivery and a 30-day money-back guarantee. However, once a purchase is made, either the ordered books are never delivered, or counterfeit or poor-quality products arrive, leading to financial loss and disappointment.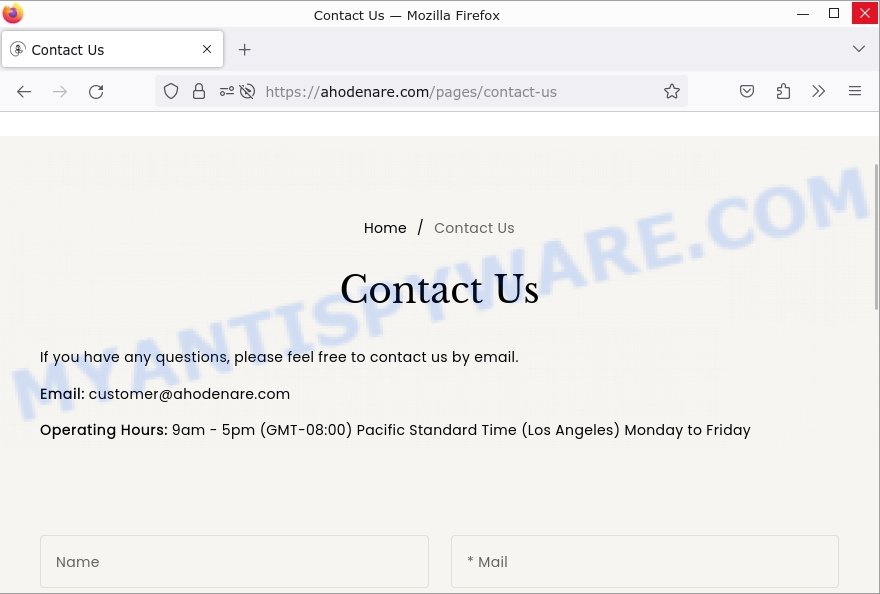 What to Do If You Become a Victim of Ahodenare.com
If you suspect that you have fallen victim to the Ahodenare.com scam, you should:
Contact your bank or credit card company to dispute the charges and secure your accounts.
Report the scam to your local law enforcement agency.
File a complaint with your country's consumer protection agency.
Change your online passwords and ensure your personal information is secure.
Summary table for Ahodenare.com
| | |
| --- | --- |
| Name | Ahodenare.com |
| Type | Online Bookstore Scam |
| Damage | Financial loss, Personal information risk |
| Distribution | Internet, mainly through Facebook |
| Tactics | Fake bookstore closing sale, incredible discounts, false delivery promises |
| Prevention Tips | Check the legitimacy of online stores before making purchases, be skeptical of unrealistically low prices, protect personal information |
| Reporting Info | Notify local law enforcement and consumer protection agency |
| Contact Details | Email: customer@ahodenare.com |
Conclusion
Ahodenare.com is a cleverly disguised online bookstore scam. It uses low prices and big discounts to lure book lovers into its trap. Remember to stay vigilant, be skeptical of prices that seem too good to be true, and always verify the legitimacy of online stores before making any purchase.