Mostoor.com masquerades as a BED BATH & BEYOND store on Facebook, enticing potential victims with a fake clearance sale. However, it is crucial to be vigilant as this is a fraudulent website. Continue reading to learn about the deceptive tactics and recommended actions.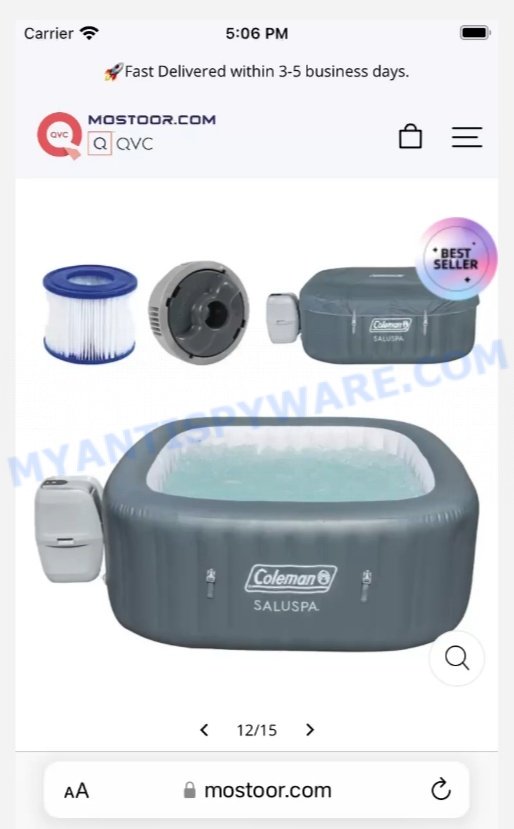 Quick Navigation
Mostoor.com Information
Mostoor.com falsely presents itself as a BED BATH & BEYOND store, exploiting Facebook to promote fraudulent clearance sale offers. It is vital to exercise caution and avoid engaging with this website.
Mostoor.com Promotions
The website employs deceptive tactics by claiming to be a bankrupt company offering clearance sales at a massive discount. The promotion aims to create urgency and scarcity to lure unsuspecting victims.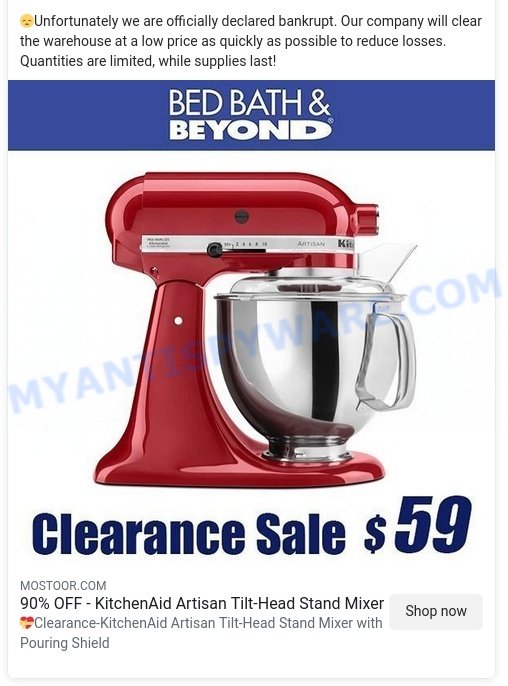 Mostoor.com Contact
The website provides an email address customerservices@mostoor.com and a company name NOVVA LIMITED with a Hong Kong address. However, both the email and company have been associated with scam sites in the past, raising red flags.
Mostoor.com Whois
According to the WHOIS information, Mostoor.com was created on June 25, 2023, and is set to expire on June 25, 2024. The hidden WHOIS contacts are a common tactic used by scam websites to avoid detection and accountability.
Is Mostoor.com a Scam?
Given the deceptive promotions, association with suspicious contacts, and hidden WHOIS details, Mostoor.com strongly exhibits traits of a scam website.
If you come across the Mostoor.com Scam, follow these steps:
Avoid Interaction: Do not interact with the website or make any purchases from it.
Report the Scam: Report the fraudulent website and email address to relevant authorities and consumer protection agencies.
Alert Others: Share your experience on social media and review platforms to warn others about the scam.
What to Do if You Become a Victim
If you have fallen victim to the Mostoor.com Scam and experienced unauthorized transactions or financial loss, take the following actions immediately:
Contact Your Bank: Get in touch with your bank or financial institution to report the fraudulent transactions and request to freeze your accounts to prevent further unauthorized access.
Report to Venmo: Inform Venmo's official customer support about the fraudulent activity on your account to prompt an investigation.
File a Complaint: Lodge a complaint with your local law enforcement or the relevant cybercrime division to initiate a formal investigation.
Monitor Your Accounts: Regularly monitor your bank and Venmo accounts for any suspicious activities and report them promptly.
Remember to keep all relevant documentation and communication related to the scam as evidence for your case.
Other Scam Online Shops to Avoid
As part of our ongoing effort to protect our readers from potential scams, we have compiled a list of other suspicious online shops that you should be aware of. These shops share similar characteristics and tactics to Bedbathbeyondclose.com, and they use deceptive practices to lure in unsuspecting buyers. It's crucial to remain vigilant when shopping online and to be aware of the warning signs of a potential scam. Below we will highlight some of the other suspicious online shops that you should avoid to protect your personal and financial information.
Here are a few examples of the suspicious online shops: King Crab Store Scam, Luvasti.com Jewellery Store, and Outletshoks.com HOKA Summer Clearance Scam.
Summary Table for Mostoor.com
| | |
| --- | --- |
| Website: | Mostoor.com |
| Type: | Fraudulent Online Store |
| Damage: | Fraudulent transactions, delivery of substandard or counterfeit products, financial loss |
| Tactics: | Deceptive clearance sale, use of suspicious contacts, hidden WHOIS details |
| Prevention Tips: | Verify website credibility, check for valid contact information, be cautious of unrealistic discounts |
| Reporting Info: | Contact relevant authorities and consumer protection agencies |
Conclusion
Mostoor.com operates as a fraudulent BED BATH & BEYOND store on Facebook, employing deceptive tactics to attract potential victims. Vigilance is essential to avoid falling victim to such scams and protect oneself from financial loss.
It is imperative to stay informed and exercise caution when encountering such offers online. We strongly encourage you to read our detailed article on the Bed Bath & Beyond Clearance Sale scam to learn more about these deceptive practices, understand the red flags, and safeguard yourself against falling victim to these fraudulent schemes. Your awareness is the first line of defense in combatting online scams and protecting your hard-earned money.