AdwCleaner is a free program which created by Xplode a few years ago. It scans your personal computer and removes adware, malware, PUP (potentially unwanted programs), toolbars and browser's hijackers quickly.

AdwCleaner download
219254 downloads
Version: 8.3.2
Author: Xplode, MalwareBytes
Category: Security tools
Update: April 28, 2022
Of course, there are many antivirus software, such monsters as Kaspersky Antivirus, Norton Antivirus and so on, which can to detect and remove various computer viruses. You must have one of these "classic" antivirus programs. But it often happens that a classic antivirus can not detect a potentially unwanted program, adware and browser hijacker and remove it. It takes a lot of time, while the developers of the classic antivirus noticed the problem and developed a way to solve it. But wait a week or month is not always possible, because we need to use a computer now.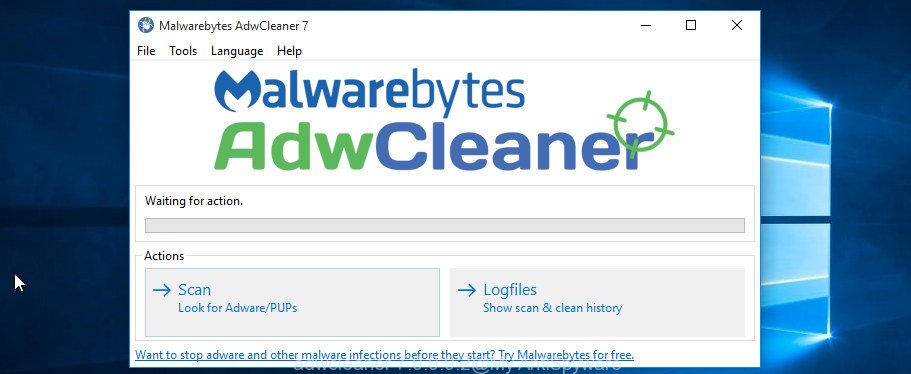 AdwCleaner is very different from the classic antivirus software and has several important features:
AdwCleaner can not protect your computer in real time.
You can run this utility to scan for adware, malware, pups, browser hijackers even if you have an installed classic antivirus.
AdwCleaner can automatically update itself when a new version of definitions is available.
AdwCleaner have a small size.
AdwCleaner can perform a scan of your PC quickly to detect a tons of adware, PUPS and browser hijackers
You do not need to install and uninstall this tool. Simply delete the program after using it.
How to use AdwCleaner
How to scan computer with AdwCleaner
Download AdwCleaner by clicking on the link above. Once finished, double click on AdwCleaner icon to run it. This software will try update itself automatically. If your PC is connected to the Internet, then definitions database will be updated from the server, otherwise, the local definitions database is used. Once the process is done, AdwCleaner will display a main screen like below.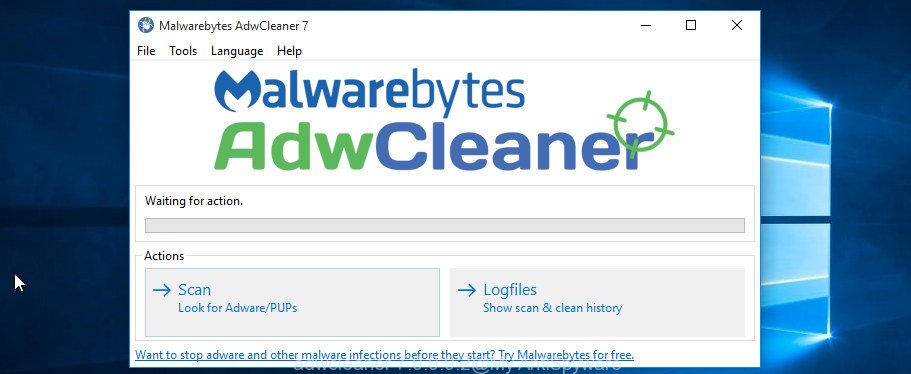 In order to perform a scan you computer for adware, pups, browser hijackers and other malicious software simply press the "Scan" button.
How to remove adware, pups, browser hijackers with AdwCleaner
When AdwCleaner has finished, it will display a scan results as shown below.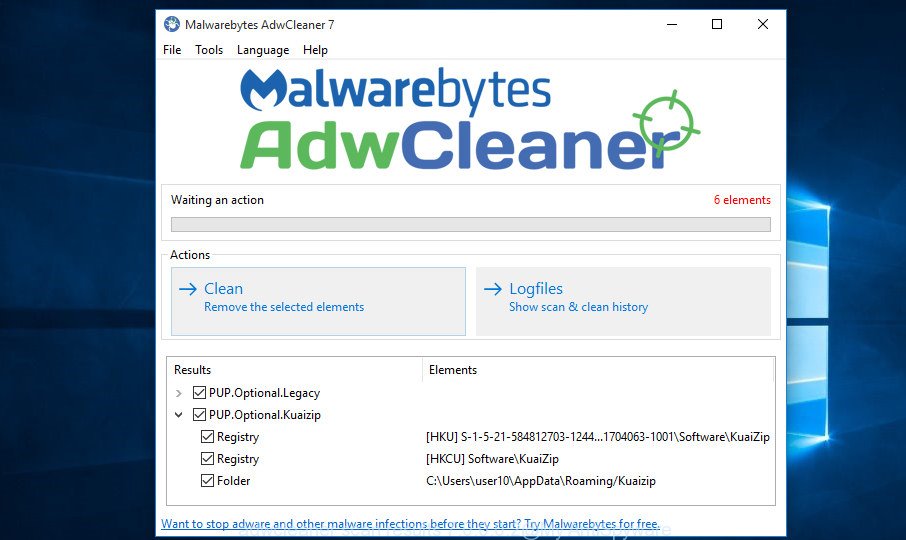 To review the scan results you need to look all the tabs one by one by clicking on their names. Once done, uncheck any entries that you do not wish to remove. Next, press the "Clean" button, which will cause AdwCleaner to start a cleaning process. Once the process is finished, it may ask you to restart your machine to remove the dlls, files, folders, shortcuts, scheduled tasks and registry entries associated with the various unwanted software that you are removing.
Once the cleaning process is finished, AdwCleaner will open a notepad with a log showing all entries that were removed.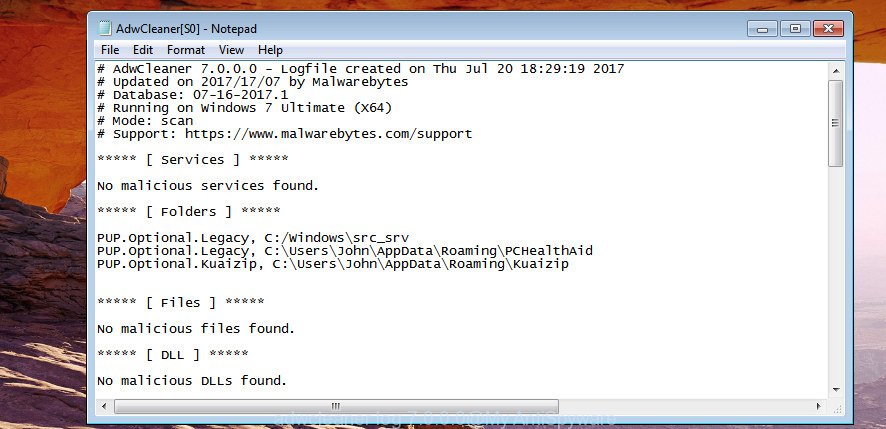 Your system should now be free of an adware, pups, browser hijackers.
How to uninstall AdwCleaner
AdwCleaner uninstalling process will remove the program itself and all files in Quarantine folder and C:\AdwCleaner folder. In order to uninstall AdwCleaner, run it and click File, then Uninstall. It will uninstall AdwCleaner from your computer.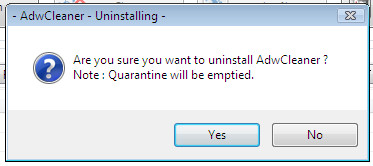 Click Yes.
AdwCleaner does not help
If you are still having a problems, then try to scan your computer with Zemana Anti-malware or Malwarebytes Anti-malware.
AdwCleaner video guide
AdwCleaner options
AdwCleaner has a few extra features that you can use if necessary.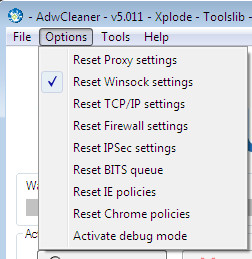 "Reset Proxy settings". It will reset proxy settings.
"Reset Winsock settings". It will reset the Windows winsock settings to fix Internet connection troubles. This is similar to the following command started in command prompt: "netsh winsock reset". Checked by default!
"Reset TCP/IP settings". It will reset TCP/IP settings. This is similar to the following command started in command prompt: "netsh int ip reset". Important to know, if you are using a fixed ip adress, then you need to setup it again in TCP/IP settings!
"Reset Firewall settings". It will reset all firewall rules. This is similar to the following command started in command prompt: "netsh advfirewall reset".
"Reset IPSec settings". It will reset IPSec settings.
"Reset BITS queue". It will reset the "Background Intelligent Transfer Service" queue.
"Reset IE policies". It will delete all Internet Explorer policies and set the default one.
"Reset Chrome policies". It will delete all Google Chrome policies and set the default one.
"Activate the debug mode". It will create a report in C:\AdwCleaner\AdwCleaner_dbg_xxxxxx.log containing detailed informations. It is necessary if AdwCleaner does not start or during a scanning or cleanning process you see a crash.