Mommycubsstore.com is a deceptive website that poses as a "BED BATH & BEYOND" store, using Facebook to promote its fake clearance sale with enticingly low prices. However, this is a scam aimed at tricking consumers into making purchases for products that they will never receive. Read on to explore the full article.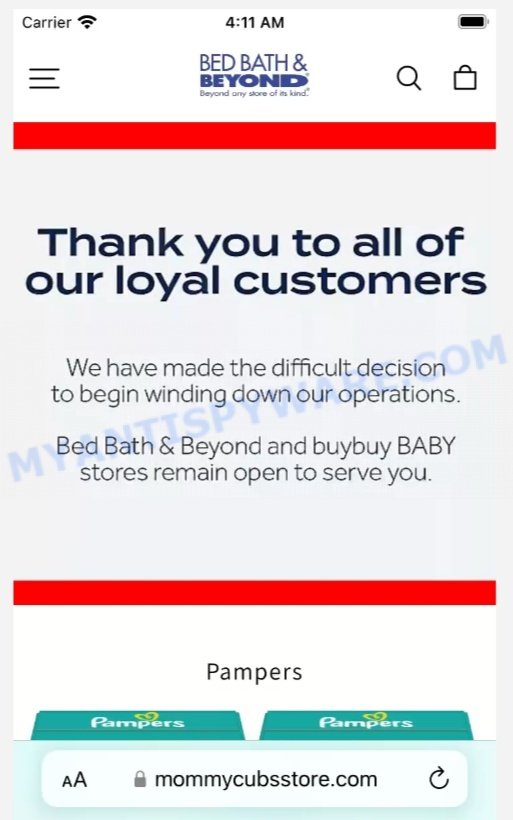 Quick links:
What is Mommycubsstore.com Scam?
Mommy Cubs Store is a fraudulent online store that claims to sell discounted products from the popular retail chain, BED BATH & BEYOND. Scammers behind this website cunningly use the reputable store's name to deceive unsuspecting shoppers into buying non-existent products or sharing their credit card information.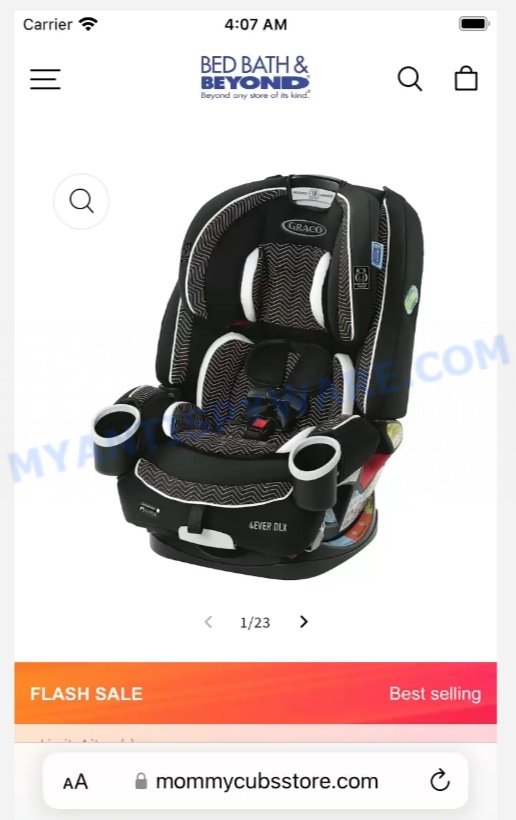 Signs of Mommycubsstore.com Scam
The website domain was recently created and the registry expiry date is only a year after creation.
Lack of contact information apart from a questionable email address (mila@peachcher.com) that has been associated with other scams.
The company details (AIMARK LTD) listed on the website have been linked to numerous scam sites.
Unbelievable deals and incredibly low prices for high-value items like a Graco 4Ever DLX 4 in 1 Car Seat.
Website design is a template with content and images possibly taken from other sites.
No social media presence apart from promotions on Facebook.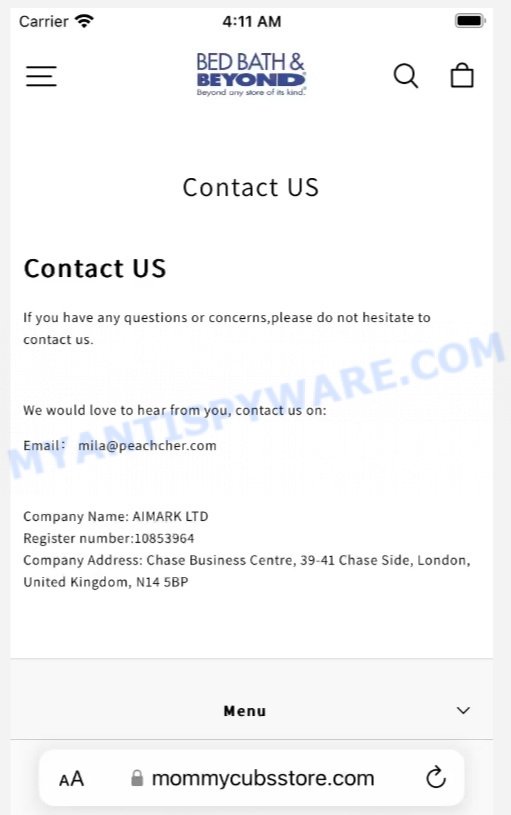 How Mommycubsstore.com Scam Works
The scam begins with enticing advertisements on Facebook, promoting clearance sale with unbelievably low prices. Once a shopper clicks on the ad, they are redirected to the scam website. The website, designed to resemble a legitimate online store, lures victims into making a purchase.
Upon completion of the purchase, either the product is never delivered, or a low-quality counterfeit item is sent. Meanwhile, the scammers may misuse the credit card details provided during the transaction.
What to do if you become a victim of Mommycubsstore.com Scam
If you suspect you've been scammed by Mommycubsstore.com, take immediate action to limit potential damage. Follow the steps below:
Contact your bank or credit card company to report the fraudulent transaction and secure your accounts.
Report the scam website to your local law enforcement agency and the Federal Trade Commission.
File a complaint with the online platform where the scam was promoted (Facebook in this case).
Other Scam Online Shops to Avoid
As part of our ongoing effort to protect our readers from potential scams, we have compiled a list of other suspicious online shops that you should be aware of. These shops share similar characteristics and tactics to Mommycubsstore.com, and they use deceptive practices to lure in unsuspecting buyers. It's crucial to remain vigilant when shopping online and to be aware of the warning signs of a potential scam. Below we will highlight some of the other suspicious online shops that you should avoid to protect your personal and financial information.
Here are a few examples of the suspicious online shops: Luvasti.com Jewellery Store, King Crab Store Scam, and Outletshoks.com HOKA Summer Clearance Scam.
Summary Table for Mommycubsstore.com
| | |
| --- | --- |
| Name: | Mommycubsstore.com Scam |
| Type: | Online Shopping Scam |
| Damage: | Financial Loss, Potential Identity Theft |
| Distribution: | Website, Social Media (Facebook) |
| Tactics: | Impersonation, Deceptive Advertising, Fear of Missing Out (FOMO) |
| Prevention Tips: | Verify the website before making a purchase, Beware of deals that seem too good to be true |
| Reporting Info: | Contact your bank, report to FTC, and complain to the online platform where the scam was promoted |
Conclusion
Mommycubsstore.com is a fraudulent online store falsely posing as a BED BATH & BEYOND store and using deceptive tactics to lure unsuspecting customers. Be cautious and avoid interacting with such websites to protect yourself from potential scams and financial loss.
It is imperative to stay informed and exercise caution when encountering such offers online. We strongly encourage you to read our detailed article on the Bed Bath & Beyond Clearance Sale scam to learn more about these deceptive practices, understand the red flags, and safeguard yourself against falling victim to these fraudulent schemes. Your awareness is the first line of defense in combatting online scams and protecting your hard-earned money.