Have you ever encountered Fraavy.com while trying to use a QR code scanner for parking payments, app downloads, or other purposes? You might want to think twice before providing your personal information to this website. Fraavy.com promotes itself as a platform offering free access to unlimited entertainment during a trial period, but user feedback and reviews raise serious concerns about its legitimacy.
Based on multiple reports, individuals who accidentally signed up for the service are facing unexpected charges and difficulties in canceling their subscriptions. Some users suspect fraudulent activity and express frustration with the lack of response from customer support. To protect yourself from potential scams and unwanted charges, it's essential to understand the red flags associated with Fraavy.com. Read the article to learn more about user experiences and how to safeguard your personal and financial security.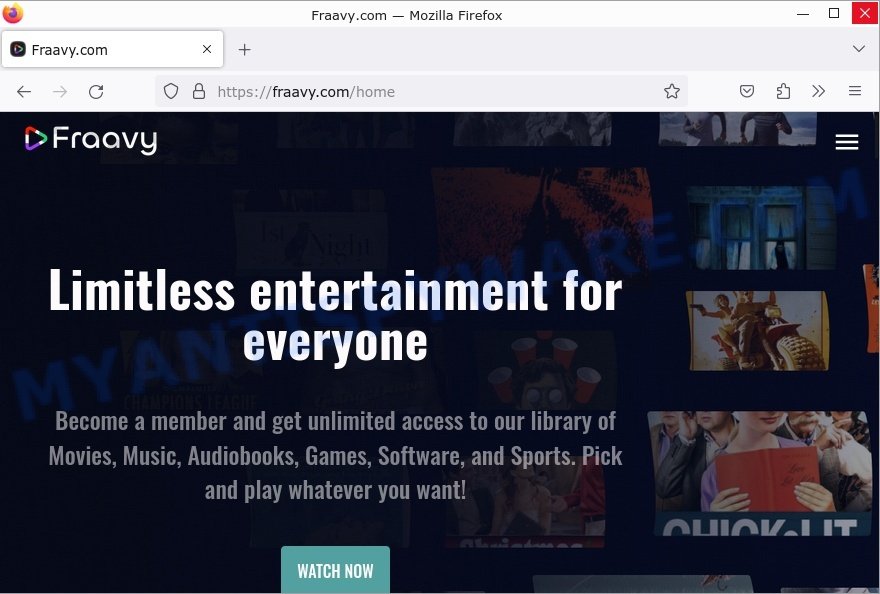 QUICK LINKS
What is Fraavy.com?
Fraavy.com is a website that promotes itself as a service offering free access to unlimited entertainment during a trial period. It tempts users with the promise of streaming movies, TV shows, sports events, music, audiobooks, and more at no cost. To sign up for the trial, users are required to provide their credit card information through a secure online form, with the assurance that they will only be charged after the trial ends.
However, Fraavy.com has attracted significant attention from people and researchers due to numerous reports of deceptive billing practices and suspicious activities. Many users stated that they were redirected to the website through unrelated tasks, such as scanning QR codes for parking payments or downloading other apps.
Additionally, the lack of a clear company address and hidden whois information on the website has raised concerns about the transparency and legitimacy of the operation. Some users have faced difficulties in contacting customer support or receiving responses, further fueling suspicions about the site's credibility.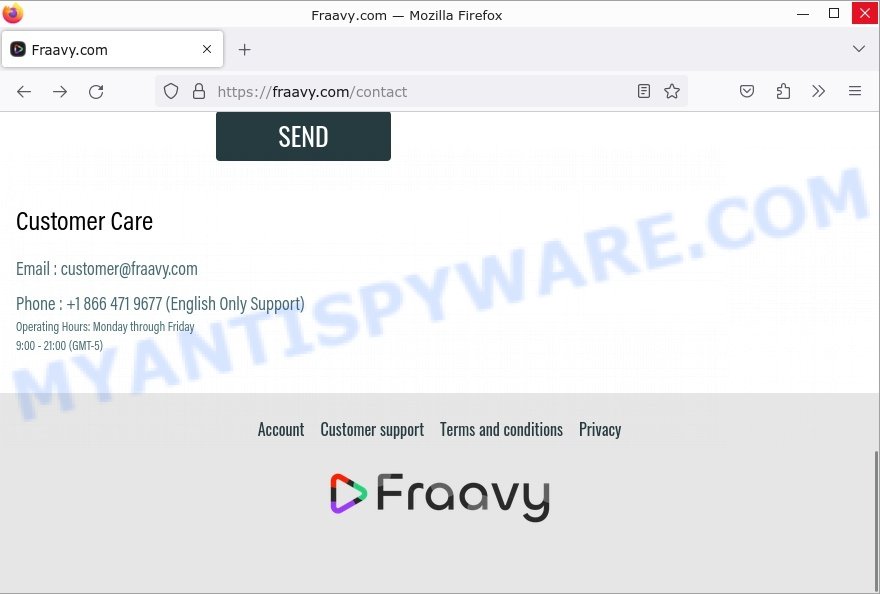 These issues, combined with the varying reports of unauthorized charges and difficulties in canceling subscriptions, have led to increased scrutiny from users and researchers.
Examining User Feedback and Reviews
User feedback and reviews provide invaluable insights into the experiences of individuals who have interacted with Fraavy.com. As we delve into their encounters, we uncover red flags and concerns that have raised suspicions about the website's legitimacy.
QR Code Redirection: "I scanned a code for united health care and was taken to Fraavy with my credit card number and email address. How can I cancel?" – Brenda

Several users have mentioned that while scanning QR codes for unrelated tasks, they were redirected to Fraavy.com. This unexpected redirection has sparked suspicions about the authenticity of the platform and its practices.

Difficulty in Cancelation: "I tried to get back in to cancel, but was unable to. I called my bank and they had withdrawn $1.00 already (10 minutes). The bank gave me a phone number which I called, and they said they blocked the card from that company and I won't be charged anymore". – Nuna

Users have expressed difficulties in canceling their subscriptions on Fraavy.com. Some find it challenging to reach customer support, while others claim that the provided contact information does not yield responses, raising doubts about the website's intentions.

Hidden Contact Details: "There is no company address on the Fraavy.com website, only email and phone number". – Information from research

The absence of a clear company address on Fraavy.com and the hidden whois information have added to users' concerns. Legitimate companies usually provide transparent contact details, making it easier for users to reach out for support or inquiries.

Unrelated Services: "I was trying to sign up for Vudu and scanned a QR Code and was taken to this Fraavy site". – Pete

Many users have shared that they did not intentionally sign up for Fraavy.com. Instead, they were led to the website while trying to avail of other services or products, making them question the legitimacy of the platform.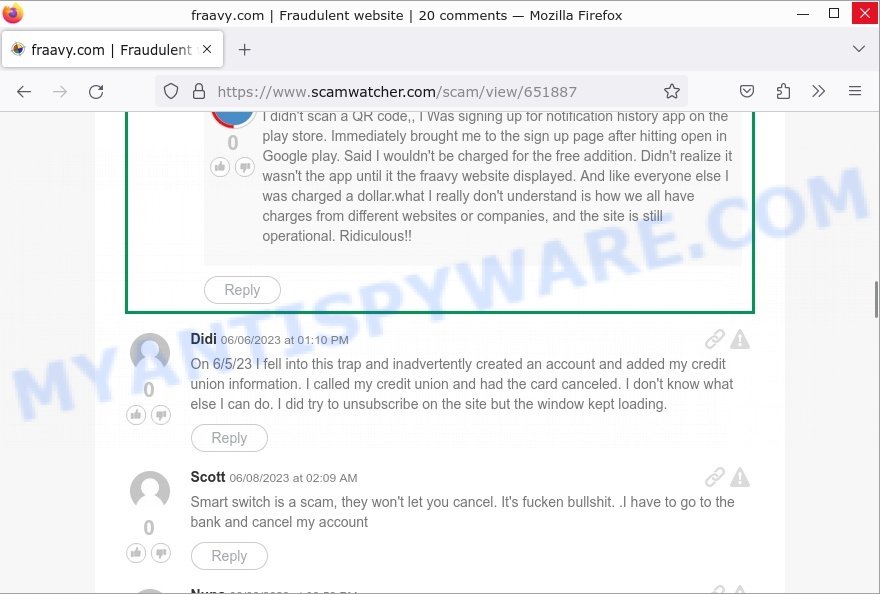 These recurring themes of unexpected charges, QR code redirections, difficulty in cancelation, and lack of transparency have triggered widespread caution and investigations among users and researchers alike. While user feedback is subjective, it is crucial to be cautious and conduct thorough research when dealing with unfamiliar online services.
Summary
| | |
| --- | --- |
| Name | Fraavy.com |
| Claims | Offers free access to unlimited entertainment during a trial period |
| Suspicious Signs | Unexpected charges, QR codes redirecting users to Fraavy while scanning unrelated QR codes, Hidden contact details and whois information, Unrelated services, Lack of transparency and trustworthiness |
| User Feedback and Reviews | Mixed user feedback with reports of unauthorized charges and difficulty in cancelation; concerns about transparency and billing practices |
| Verdict | Exercise caution when dealing with Fraavy.com. The website's suspicious signs, deceptive billing practices, and difficult subscription cancellations raise concerns about its legitimacy. It is recommended to look for alternative and more reputable sources for entertainment. |
Conclusion: Is Fraavy a Scam or Legit?
After a thorough examination of Fraavy.com and considering the red flags, user feedback, and reviews, it strongly indicates that Fraavy.com is not a trustworthy platform. The association with suspicious QR code redirects and the lack of transparency regarding the company's identity and contact information further add to the doubts surrounding its credibility.
Numerous users have reported falling victim to Fraavy.com after inadvertently providing their credit card details through various QR code scanning incidents. The overwhelming negative reviews and feedback serve as a clear warning to others to exercise extreme caution when encountering similar offers.
As such, it is highly recommended to avoid using Fraavy.com or any associated services. Instead, opt for reputable and trusted platforms for entertainment, QR code scanning, and online transactions. Prioritize the protection of your personal information and financial security by thoroughly researching any website before engaging with it.