Naswino.com is a fraudulent online store that poses as a Bed Bath & Beyond store. The website uses deceptive tactics to attract customers, claiming to offer a clearance sale with prices as low as $3.99 and discounts of up to 90%. However, Naswino.com is not a legitimate store and is likely to scam customers by either delivering inferior products or not delivering anything at all after receiving payment.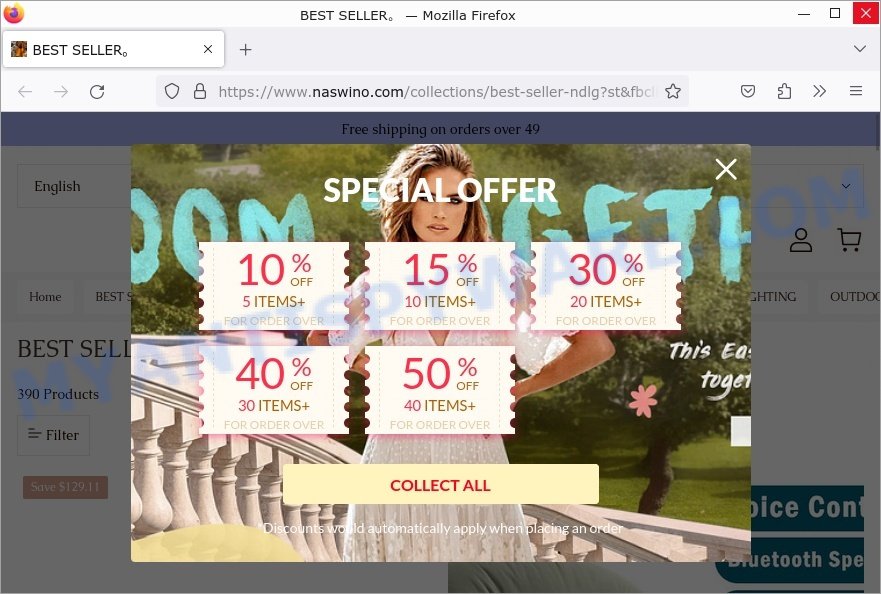 Quick Links:
Fraudulent Claims and Facebook Promotion
Naswino.com uses Facebook ads to promote its deceptive clearance sale. The ads mention the supposed closure of Bed Bath & Beyond stores, creating a sense of urgency and scarcity to entice potential victims. The website falsely claims to offer products at incredibly low prices, with discounts of up to 90% off. However, these claims are simply a bait to deceive unsuspecting customers.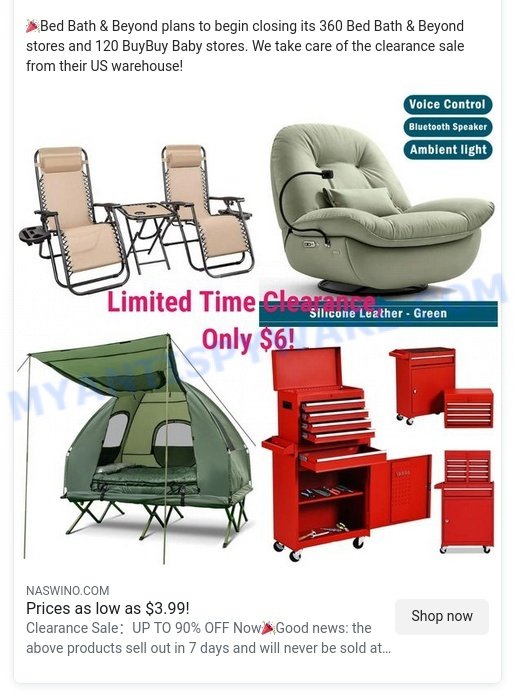 Contact Information
The contact email provided by Naswino.com is service@naswino.com. Notably, the company associated with this website is named Kentesh Ltd, with a registration number of 12948235. However, it is important to note that this company has already been associated with other scam sites, suggesting a pattern of fraudulent activities.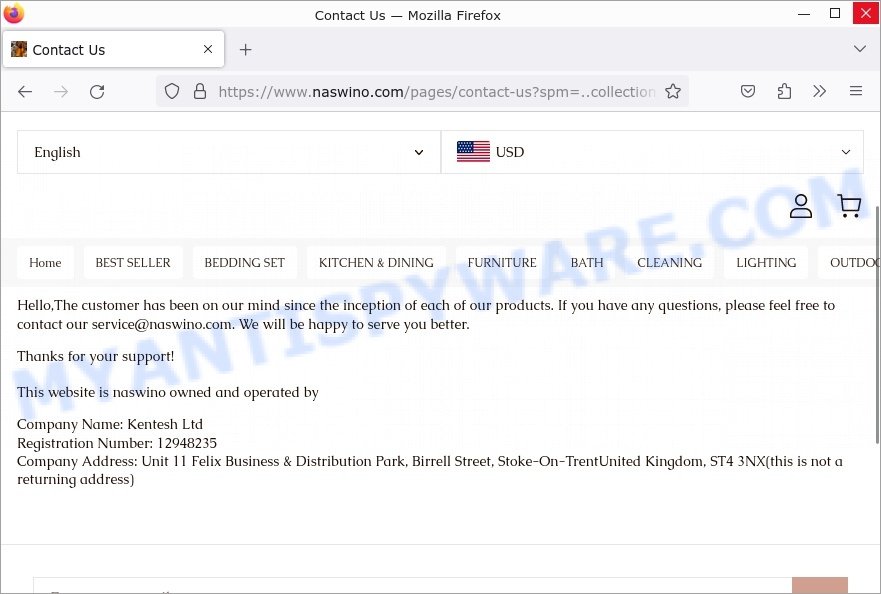 Whois Information
Naswino.com was created on June 20, 2023, and is set to expire on June 20, 2024. The registrant's contact information is hidden, which is a common tactic used by scammers to avoid detection and accountability.
Summary Table for Naswino.com
| | |
| --- | --- |
| Name | Naswino.com |
| Type | Fake BED BATH & BEYOND Store |
| Damage | Scamming customers, delivering inferior products or no delivery |
| Distribution | Facebook ads and online promotions |
| Tactics | Falsely claim clearance sales with heavily discounted prices |
| Prevention Tips | Verify legitimacy of websites, read reviews and testimonials |
| Reporting Info | Report to local consumer protection agencies, IC3, and Facebook |
Other Scam Online Shops to Avoid
As part of our ongoing effort to protect our readers from potential scams, we have compiled a list of other suspicious online shops that you should be aware of. These shops share similar characteristics and tactics to Naswino.com, and they use deceptive practices to lure in unsuspecting buyers. It's crucial to remain vigilant when shopping online and to be aware of the warning signs of a potential scam. Below we will highlight some of the other suspicious online shops that you should avoid to protect your personal and financial information.
Here are a few examples of the suspicious online shops: Luvasti.com Jewellery Store, King Crab Store Scam, and Outletshoks.com HOKA Summer Clearance Scam.
What to do if you become a victim of Naswino.com?
If you have fallen victim to Naswino.com or any other scam website, take the following steps:
Contact your bank or credit card company immediately to report the unauthorized transaction.
File a complaint with your local consumer protection agency and the Internet Crime Complaint Center (IC3) of the FBI.
Inform Facebook about the fraudulent ad to prevent others from falling victim.
Share your experience and leave reviews on legitimate review platforms to warn others about the scam.
Be cautious of future online purchases and verify the authenticity of websites before making any transactions.
Conclusion
Naswino.com is a scam website that should be avoided. Consumers are advised to exercise caution when dealing with online stores offering heavily discounted prices, especially when the claims sound too good to be true. Always verify the legitimacy of a website before making any purchases and consider reading reviews and testimonials from other customers to gauge the trustworthiness of the site.