Kgsweu.online is a fraudulent online store posing as a BED BATH & BEYOND store and using Facebook to promote deceptive offers. Let's examine the website and its suspicious tactics in detail. Read the full article to understand the threats and take necessary precautions.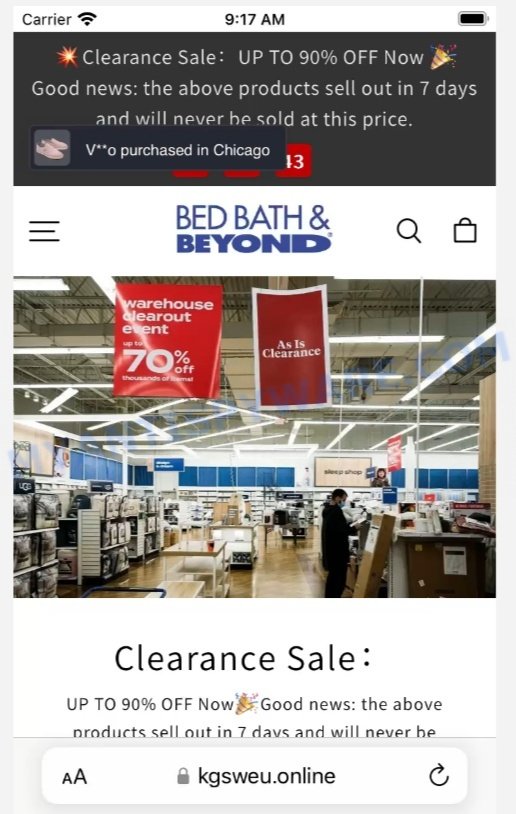 Quick Links
Kgsweu.online Information
Kgsweu.online is a fraudulent online store that pretends to be a BED BATH & BEYOND store. The website claims to have a clearance sale from the BED BATH & BEYOND US warehouse with prices as low as $2.99. However, it is crucial to be cautious as this could be a scam.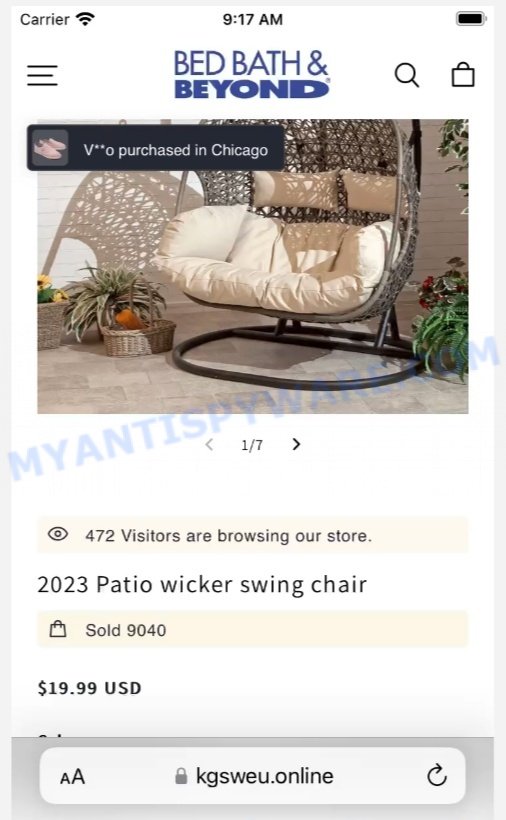 Kgsweu.online Promotions
Kgsweu.online uses Facebook to promote its deceptive offers. An example of their promotion includes a clearance sale claiming to offer products at prices as low as $2.99. The promotion creates a sense of urgency by stating that the products will never be sold at this price again.
Kgsweu.online Contact
The website does not provide any legitimate contact information. Instead, scammers have inserted a non-existent email (customer@bedbathandbeyond.com) that may appear real but is, in fact, fake.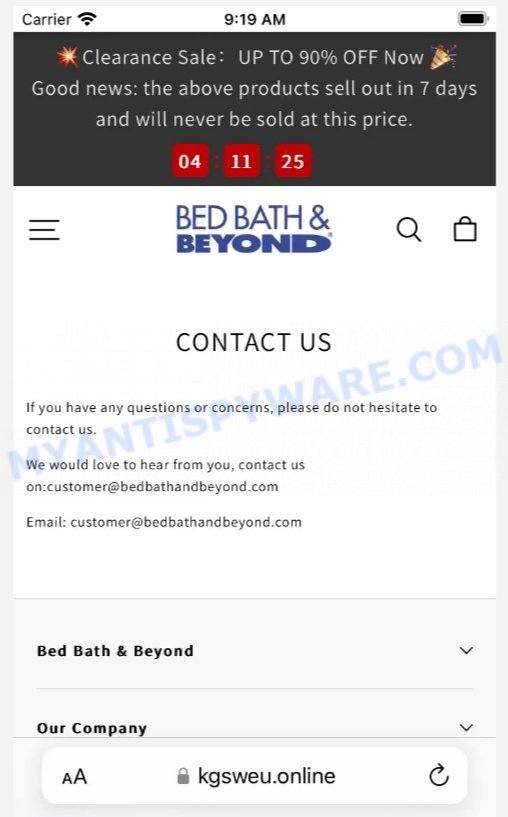 Kgsweu.online Whois
The WHOIS information reveals that Kgsweu.online was created on July 20, 2023, and is set to expire on July 20, 2024. The contact details are hidden, which is a common tactic used by scam websites to avoid detection.
Is Kgsweu.online a Scam?
Given the deceptive promotions, lack of genuine contact information, and hidden WHOIS details, it is clear that Kgsweu.online is a scam website.
Other Scam Online Shops to Avoid
As part of our ongoing effort to protect our readers from potential scams, we have compiled a list of other suspicious online shops that you should be aware of. These shops share similar characteristics and tactics to Kgsweu.online, and they use deceptive practices to lure in unsuspecting buyers. It's crucial to remain vigilant when shopping online and to be aware of the warning signs of a potential scam. Below we will highlight some of the other suspicious online shops that you should avoid to protect your personal and financial information.
Here are a few examples of the suspicious online shops: King Crab Store Scam, Outletshoks.com HOKA Summer Clearance Scam, and Heydudestores.com.
What to Do if You Become a Victim of Kgsweu.online Scam
If you fall victim to the Kgsweu.online Scam, follow these steps:
Contact Your Payment Provider: If you made a purchase with a credit card or PayPal, dispute the charge and seek a refund.
Report the Scam: File a complaint with your local consumer protection agency and report the fraudulent website to relevant authorities.
Warn Others: Share your experience on social media and review platforms to raise awareness about the scam.
Stay Vigilant: Always be cautious of deals that seem too good to be true and verify the legitimacy of online stores before making any purchases.
Summary Table for Kgsweu.online
| | |
| --- | --- |
| Name: | Kgsweu.online |
| Type: | Fraudulent Online Store |
| Damage: | Fraudulent transactions, delivery of substandard or counterfeit products, financial loss |
| Distribution: | Through Facebook and other means |
| Tactics: | Deceptive clearance sale, use of non-existent email address |
| Prevention Tips: | Verify website credibility, check for valid contact information, be cautious of unrealistic discounts |
| Reporting Info: | Contact local consumer protection agencies and relevant authorities |
Conclusion
Kgsweu.online is a deceptive website posing as a BED BATH & BEYOND store and using attractive promotions to lure customers. However, the lack of genuine contact information and hidden WHOIS details raise suspicions about its legitimacy. It is crucial to exercise caution and vigilance while shopping online to protect oneself from falling victim to such fraudulent schemes.
We strongly encourage you to read our detailed article on the Bed Bath & Beyond Clearance Sale scam to learn more about these deceptive practices, understand the red flags, and safeguard yourself against falling victim to these fraudulent schemes. Your awareness is the first line of defense in combatting online scams and protecting your hard-earned money.