Oputcre.shop is a fraudulent online store that claims to be a QVC store. However, it is a scam and does not sell genuine QVC products. The store uses deceptive tactics, such as promoting popular products at low prices, to lure in unsuspecting customers.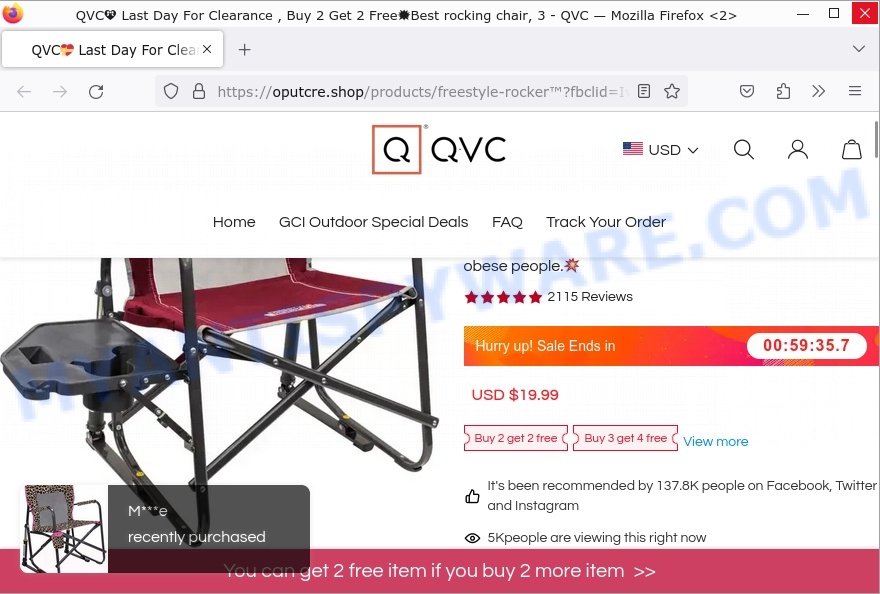 Quick Links:
Fraudulent Claims and Facebook Promotion
Oputcre.shop uses Facebook ads to promote its scam. It advertises products like the GCI OUTDOOR rocking chair with enticing offers, such as "Buy 2 Get 2 Free" and highlights a 350-lb weight capacity for added appeal. However, these claims are fabricated, and the products sold on the website are likely of poor quality or not delivered at all.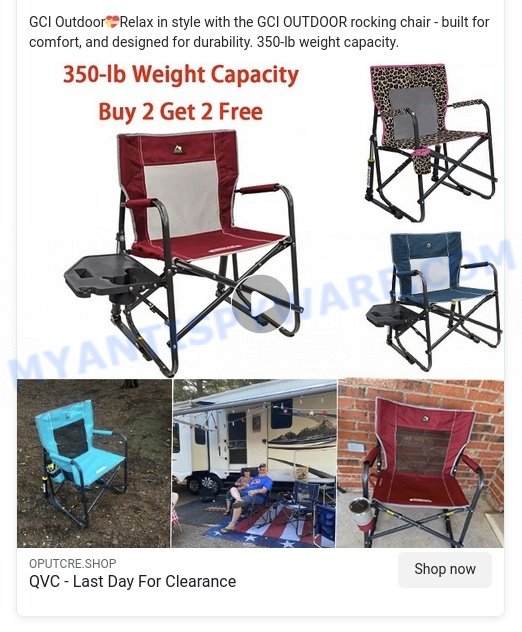 Affiliated Company and Contact Information
Oputcre.shop's contact email is info@oputcre.shop. The company associated with this scam store is Supic Company Limited, with an address at 344-354 Gray's Inn Road, London, United Kingdom, WC1X 8BP. This company has been previously linked to various other scam shops, indicating a pattern of fraudulent activities.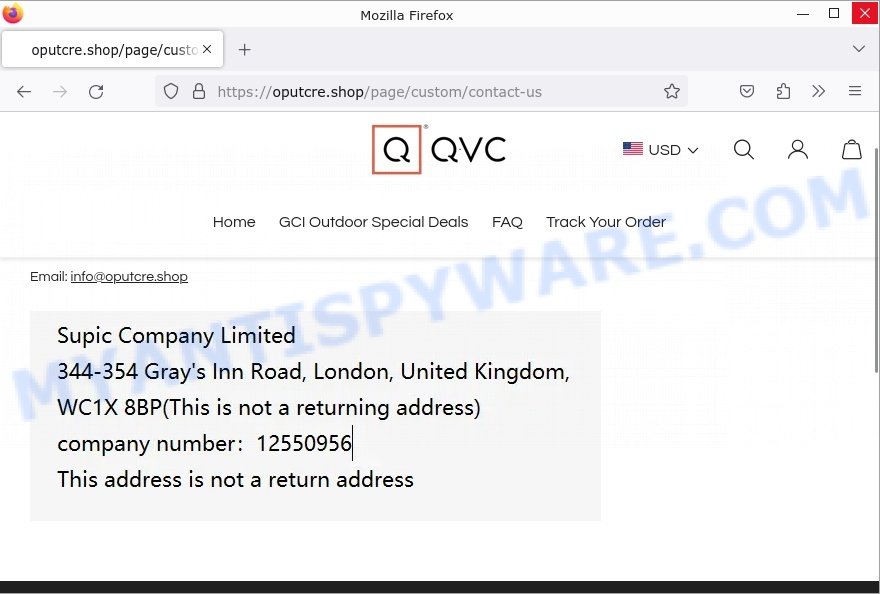 Whois Information
Based on the Whois data, Oputcre.shop was created on July 4, 2023, and was last updated on July 4, 2023. The registrant's contact information is hidden, which is a common tactic used by scammers to conceal their identities.
What to Do If You Become a Victim of Oputcre.shop Scam
If you have fallen victim to the Oputcre.shop scam or any other fraudulent online store, follow these steps to protect yourself and report the incident:
Contact Your Bank or Payment Provider: If you made a payment to Oputcre.shop using a credit card or online payment platform, contact your bank or payment provider immediately. Inform them about the fraudulent transaction and request a chargeback or refund.
Document All Communication: Keep a record of all communication with the scam store, including emails, order details, payment receipts, and any promises made by the scammers.
Report the Scam: File a complaint with your local consumer protection agency and report the scam to the Federal Trade Commission (FTC) or your country's equivalent consumer protection agency.
Warn Others: Spread awareness about the scam to prevent others from falling victim to the same fraudulent tactics. Share your experience on social media, online forums, or consumer complaint websites.
Review Online Resources: Use online platforms that track and review scam websites to add your experience and contribute to warning others about potential risks.
Other Scam Online Shops to Avoid
As part of our ongoing effort to protect our readers from potential scams, we have compiled a list of other suspicious online shops that you should be aware of. These shops share similar characteristics and tactics to Oputcre.shop, and they use deceptive practices to lure in unsuspecting buyers. It's crucial to remain vigilant when shopping online and to be aware of the warning signs of a potential scam. Below we will highlight some of the other suspicious online shops that you should avoid to protect your personal and financial information.
Here are a few examples of the suspicious online shops: King Crab Store Scam, Outletshoks.com HOKA Summer Clearance Scam, and Heydudestores.com.
Summary Table for Oputcre.shop Scam
Name
Oputcre.shop
Type
Fake QVC Store
Claim
Claims to be a QVC store selling discounted products
Reality
Scam store selling inferior or undelivered products
Facebook Promotion
Uses Facebook ads to reach potential victims
Affiliated Company
Supic Company Limited
Contact Information
info@oputcre.shop
Whois Information
Creation Date: July 4, 2023
Last Updated: July 4, 2023
Registrant Contact Hidden
Conclusion
Oputcre.shop is a deceptive online store posing as a QVC shop to trick unsuspecting consumers. They use Facebook ads and fraudulent claims to entice potential victims into making purchases. However, customers should be cautious when dealing with unfamiliar online stores and always verify the legitimacy of the website before making any payments. If you encounter suspicious websites or believe you have fallen victim to a scam, take appropriate measures to protect yourself and report the incident to relevant authorities.