Closingstore.shop is a fraudulent online store posing as a "BED BATH & BEYOND" store that claims to be closing down and offering massive discounts on all products. The website uses enticing messages such as "store closing sale", "new discounts, bigger savings!", and "50-90% off lowest ticketed prices" to lure unsuspecting customers into making purchases. However, the store is not associated with the genuine "BED BATH & BEYOND" brand, and its intention is to deceive consumers into buying products that may not exist or are of poor quality.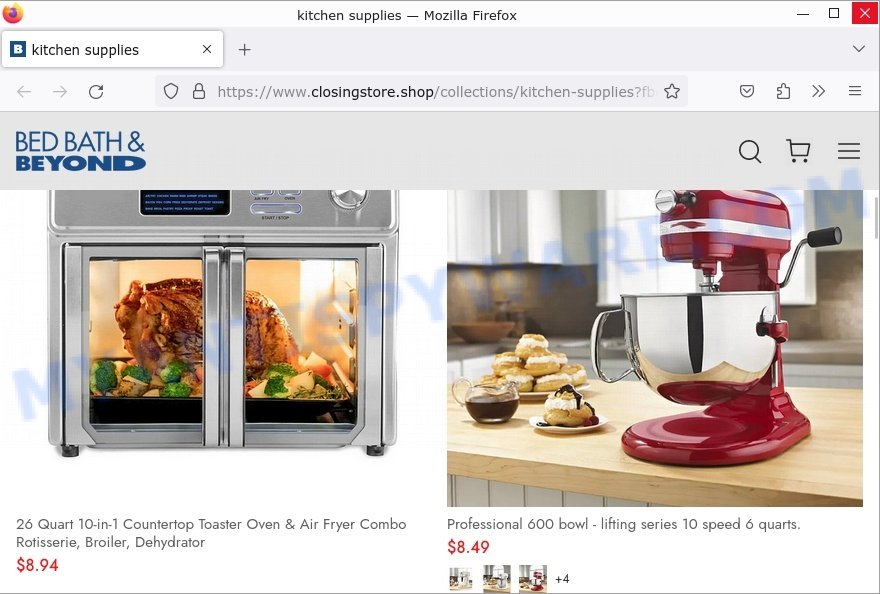 Quick Links:
False Promises and Misleading Statements
The main page of Closingstore.shop misleadingly claims that all "BED BATH & BEYOND" stores are closing and offers a store closing sale with new reductions and massive discounts. These statements are meant to create a sense of urgency and entice customers into making impulse purchases. However, the website is not associated with the genuine "BED BATH & BEYOND" brand, and the promises of store-wide discounts may not be true.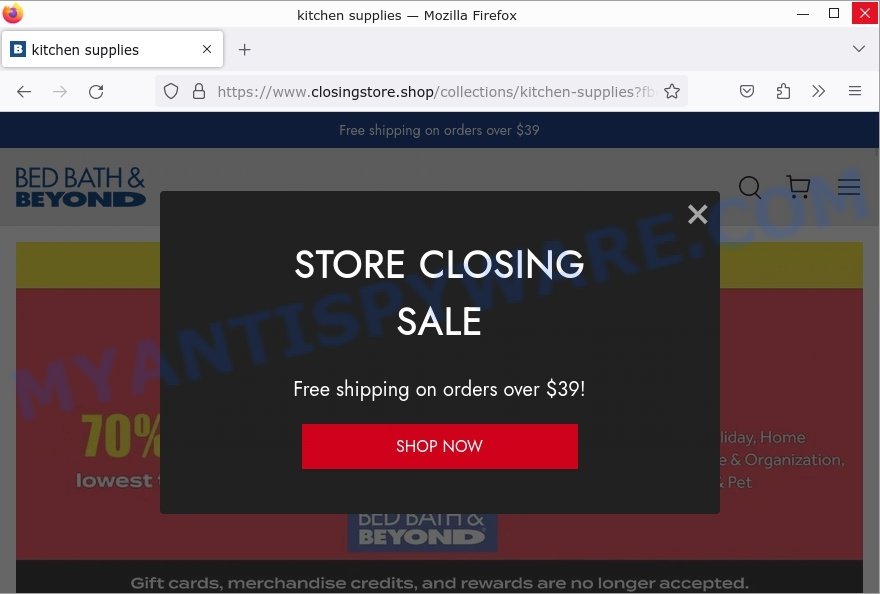 Facebook Promotion Tactics
Closingstore.shop uses Facebook to promote its scam, where it advertises products from its fake "BED BATH & BEYOND" store with unbelievably low prices. These Facebook promotions are designed to reach a large audience and attract potential victims with enticing deals and discounts. However, the sole purpose of these promotions is to deceive consumers into visiting the website and making purchases.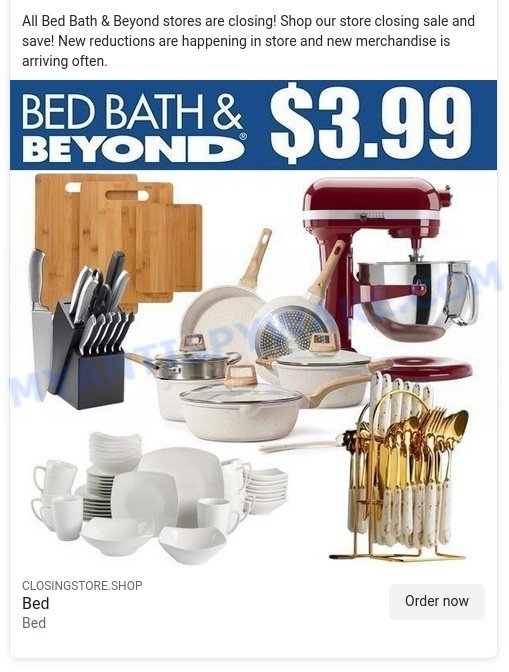 Lack of Legitimate Contact Information
The only contact information provided by Closingstore.shop is an email address: info@closingstore.shop. There is no legitimate physical address, phone number, or social media presence, which raises suspicion about the authenticity of the store and its operations. Legitimate businesses typically provide multiple means of contact to assist customers with inquiries and concerns.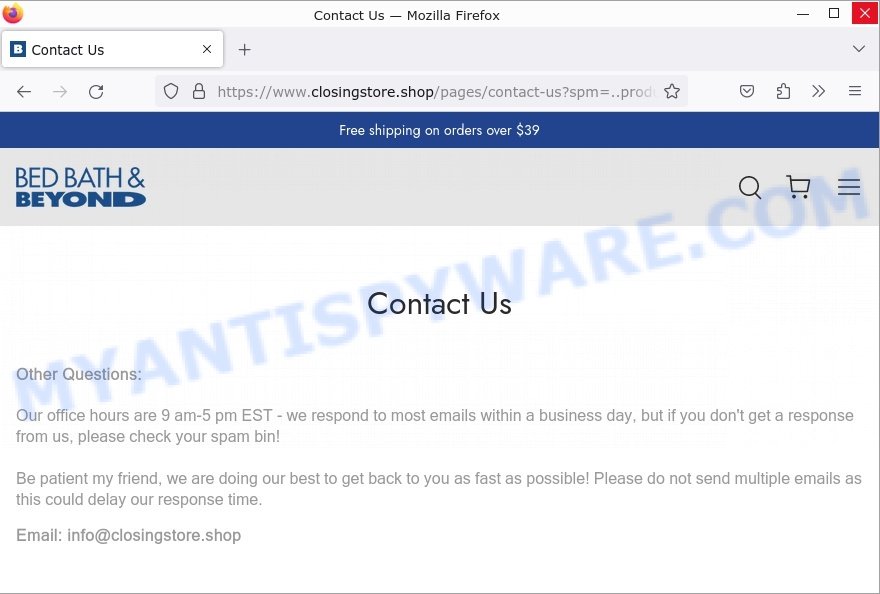 What to Do if You Become a Victim of Closingstore.shop Scam
If you have become a victim of the Closingstore.shop scam or any similar fraudulent online store, take the following steps to mitigate the situation:
Contact Your Bank or Credit Card Company: Immediately report the unauthorized transaction to your bank or credit card company. Request a chargeback or dispute the payment to attempt to recover your funds.
File a Complaint with Online Platforms: Report the fraudulent website and any associated Facebook promotions to the platform where you encountered them. For Facebook promotions, use the "Report Ad" feature to notify Facebook of the scam.
Save Evidence: Keep a record of all communications with Closingstore.shop, including order confirmations, website screenshots, and email exchanges.
Warn Others: Inform your friends, family, and online community about the scam to prevent them from falling victim to similar fraudulent schemes.
Stay Vigilant: Remain cautious when dealing with online stores and avoid offers that seem too good to be true. Do thorough research and verify the legitimacy of the store before making any purchases.
Summary Table for Closingstore.shop Scam Store
| | |
| --- | --- |
| Store Name | Closingstore.shop, Closing Store Shop Scam |
| Claimed Brand | BED BATH & BEYOND |
| Facebook Promotion | Yes |
| Contact Email | info@closingstore.shop |
| Creation Date | 2023-07-18 |
| Registry Expiration | 2024-07-18 |
Other Scam Online Shops to Avoid
As part of our ongoing effort to protect our readers from potential scams, we have compiled a list of other suspicious online shops that you should be aware of. These shops share similar characteristics and tactics to Closingstore.shop, and they use deceptive practices to lure in unsuspecting buyers. It's crucial to remain vigilant when shopping online and to be aware of the warning signs of a potential scam. Below we will highlight some of the other suspicious online shops that you should avoid to protect your personal and financial information.
Here are a few examples of the suspicious online shops: Babyjoynewyork.com, Outletshoks.com HOKA Summer Clearance Scam, Ehncasr.shop QVC Last Day Clearance Scam, and Crab Bigsale Scam.
Conclusion
Closing Store Shop is a deceptive online store that falsely claims to be a "BED BATH & BEYOND" store with massive discounts due to closing down. The website uses Facebook promotions to attract potential victims and offers unrealistic prices to entice customers into making purchases. It is crucial to remain vigilant and conduct thorough research before making online purchases to avoid falling victim to scams like Closingstore.shop.
It is imperative to stay informed and exercise caution when encountering such offers online. We strongly encourage you to read our detailed article on the Bed Bath & Beyond Clearance Sale scam to learn more about these deceptive practices, understand the red flags, and safeguard yourself against falling victim to these fraudulent schemes. Your awareness is the first line of defense in combatting online scams and protecting your hard-earned money.