Tv-homeshopping.shop is a fraudulent online store that operates under the guise of a BED BATH & BEYOND store. It utilizes Facebook advertisements to promote its deceptive offers, targeting unsuspecting customers with the promise of clearance sales and heavily discounted prices on popular products. However, the reality is that this scam aims to trick users into making purchases for non-existent or poor-quality items.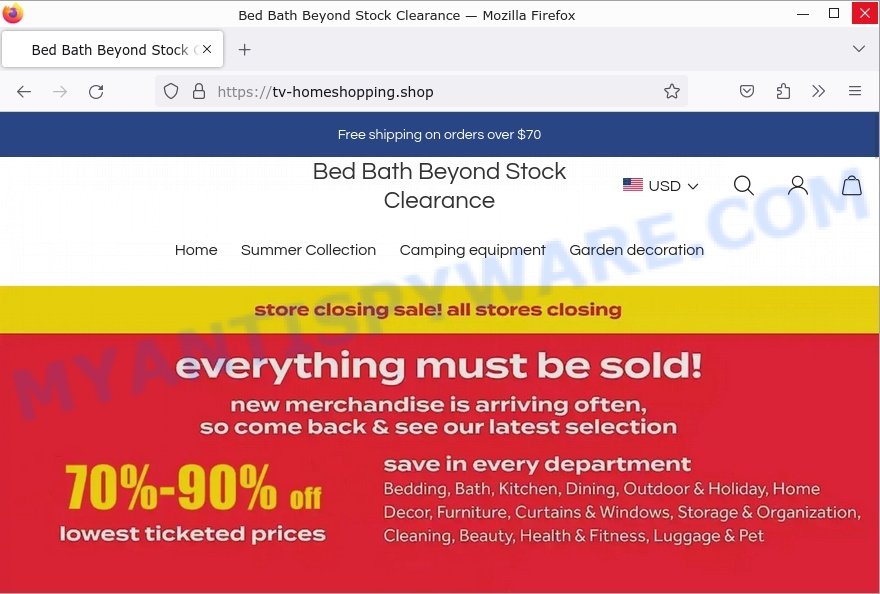 Quick Links:
Overview of Tv-homeshopping.shop Scam
Tv-homeshopping.shop presents itself as a BED BATH & BEYOND store and entices potential victims with the false claim of a clearance sale due to the company's alleged bankruptcy. It advertises heavily discounted prices on products such as the KitchenAid Artisan Tilt-Head Stand Mixer. However, this is a classic example of a scam that aims to deceive consumers into making purchases for non-existent or counterfeit goods.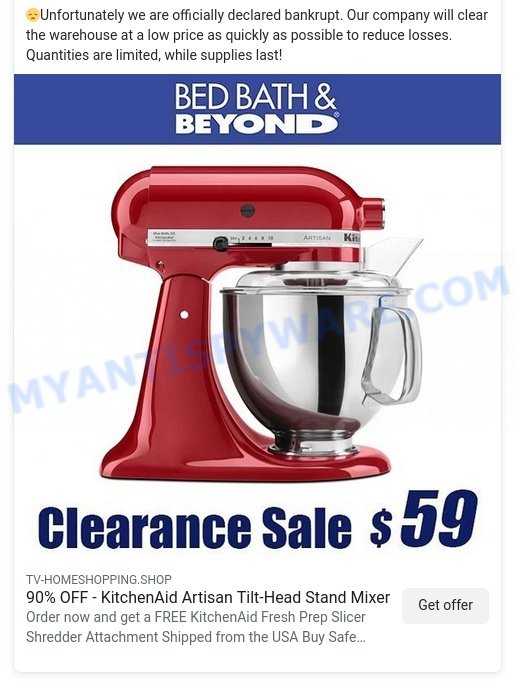 Unfortunately, the fraudulent website Tv-homeshopping.shop has no genuine association with BED BATH & BEYOND or any other legitimate business. It is important for consumers to be cautious and avoid falling for such scams.
Red Flags of the Scam
When dealing with Tv-homeshopping.shop or similar scams, watch out for the following red flags:
Bankruptcy Claim: The scam store falsely claims to be clearing its warehouse due to bankruptcy to create a sense of urgency for customers.
Unbelievable Prices: Tv-homeshopping.shop advertises heavily discounted prices that seem too good to be true, such as the 90% off on the KitchenAid Artisan Tilt-Head Stand Mixer.
Lack of Contact Information: The scam website typically lacks any contact information, making it difficult for victims to seek support or report issues.
No Social Media Presence: Legitimate stores usually have a social media presence, while scam websites may have little to no presence or links to social media platforms.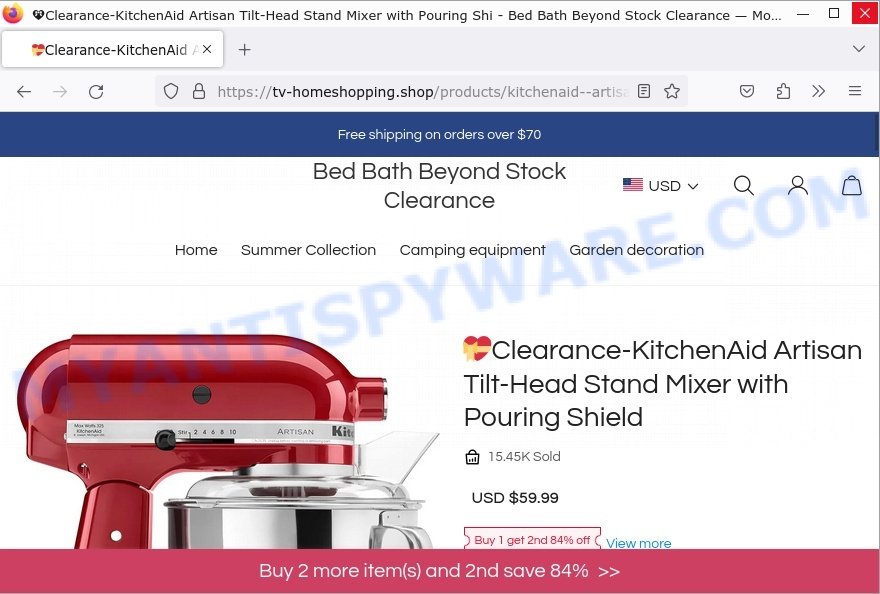 How the Scam Operates
The Tv-homeshopping.shop scam operates through the following steps:
Deceptive Advertisements: The scam store promotes its fraudulent offers through Facebook ads, attracting users with clearance sales and huge discounts.
Fake Product Listings: On the website, Tv-homeshopping.shop displays products at heavily discounted prices, claiming to offer popular items such as the KitchenAid Artisan Tilt-Head Stand Mixer at a fraction of its actual price.
Payment Collection: Unsuspecting victims place orders on the scam website and make payments, providing their personal and financial information during the transaction process.
No Delivery or Counterfeit Products: After receiving payments, the scam store either fails to deliver any products or sends poor-quality items that do not match the advertised descriptions.
Lack of Customer Support: If victims attempt to contact customer support for refunds or inquiries, they usually encounter unresponsive or non-existent support channels.
Other Scam Online Shops to Avoid
As part of our ongoing effort to protect our readers from potential scams, we have compiled a list of other suspicious online shops that you should be aware of. These shops share similar characteristics and tactics to Nicrtwd.shop, and they use deceptive practices to lure in unsuspecting buyers. It's crucial to remain vigilant when shopping online and to be aware of the warning signs of a potential scam. Below we will highlight some of the other suspicious online shops that you should avoid to protect your personal and financial information.
Here are a few examples of the suspicious online shops: Outletshoks.com HOKA Summer Clearance Scam, Ehncasr.shop QVC Last Day Clearance Scam, and Crab Bigsale Scam.
What to Do if You Become a Victim
If you have fallen victim to the Tv-homeshopping.shop scam or a similar fraudulent online store, take the following steps:
Secure Your Financial Information: Contact your bank or credit card company immediately to report the fraudulent transaction and request a chargeback if possible.
Monitor Your Accounts: Regularly check your bank and credit card statements for any unauthorized transactions and report them immediately.
Document Evidence: Gather evidence such as screenshots, transaction details, and communication with the scam website as proof of the scam.
Report the Scam: File a complaint with your local consumer protection agency and report the fraudulent website to the appropriate authorities.
Spread Awareness: Share your experience with others to raise awareness and help prevent others from falling victim to similar scams.
Summary Table for Tv-homeshopping.shop Scam
| | |
| --- | --- |
| Name | Tv-homeshopping.shop Scam |
| Type | Fake online store scam |
| Danger Level | High |
| Associated Company | Unknown |
| Company Address | Not provided |
| Prevention Tips | Be cautious of unrealistically low prices, lack of contact information, no social media presence, missing company information, and false associations with legitimate brands |
Conclusion
The Tv-homeshopping.shop scam preys on unsuspecting shoppers by masquerading as a BED BATH & BEYOND store and offering heavily discounted prices on their website. However, it is a fraudulent operation aimed at deceiving customers and extracting personal and financial information. Stay vigilant, be cautious of suspicious online stores, and report any scams to protect yourself and others from falling victim to such fraudulent schemes.
It is imperative to stay informed and exercise caution when encountering such offers online. We strongly encourage you to read our detailed article on the Bed Bath & Beyond Clearance Sale scam to learn more about these deceptive practices, understand the red flags, and safeguard yourself against falling victim to these fraudulent schemes. Your awareness is the first line of defense in combatting online scams and protecting your hard-earned money.