The Norton LifeLock INVOICE Email Scam is a deceptive scheme that targets individuals through fraudulent emails claiming to be invoices from Norton LifeLock. These scam emails are designed to trick recipients into believing that they have been automatically charged for an antivirus subscription and provide fake payment details. It is crucial to be aware of this scam and take necessary precautions to protect yourself from falling victim to these phishing attempts.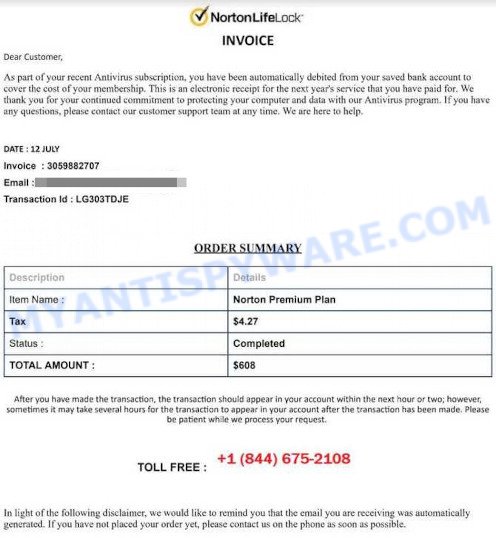 Quick Links:
Overview of Norton LifeLock INVOICE Email Scam
The Norton LifeLock INVOICE Email Scam operates by sending deceptive emails to unsuspecting individuals, masquerading as legitimate invoices from Norton LifeLock. These scam emails are carefully crafted to appear authentic, complete with invoice numbers, transaction IDs, and order summaries, giving the impression that a payment has been made for an antivirus subscription.
The scammers behind this scheme rely on social engineering techniques to create a sense of urgency and prompt victims into taking immediate action. They may claim that the payment was automatically debited from the victim's bank account and encourage them to contact customer support if they have any questions or concerns. However, the provided contact information is controlled by the scammers, allowing them to manipulate victims further.
A typical Norton LifeLock INVOICE Scam Email reads as follows:
Norton LifeLock INVOICE Email Scam
Norton LifeLock
INVOICE
Dear Customer,
As part of your recent Antivirus subscription, you have been automatically debited from your saved bank account to cover the cost of your membership. This is an electronic receipt for the next year's service that you have paid for. We thank you for your continued commitment to protecting your computer and data with our Antivirus program. If you have any questions, please contact our customer support team at any time. We are here to help.
DATE : 12 JULY
Invoice: 3059882707
Email:
Transaction Id: LG303TDJE
ORDER SUMMARY
Description
Details
Item Name:
Norton Premium Plan
Tax
$4.27
Status:
Completed
TOTAL AMOUNT:
$608
After you have made the transaction, the transaction should appear in your account within the next hour or two; however, sometimes it may take several hours for the transaction to appear in your account after the transaction has been made. Please be patient while we process your request.
TOLL FREE:
+1 (844) 675-2108
In light of the following disclaimer, we would like to remind you that the email you are receiving was automatically generated. If you have not placed your order yet, please contact us on the phone as soon as possible.
How the Scam Works
The Norton LifeLock INVOICE Email Scam follows a series of steps to deceive and defraud individuals:
Delivery of Phishing Email: Scammers send fraudulent emails that appear to be invoices from Norton LifeLock. These emails are often unsolicited and arrive in victims' inboxes.
Fabricated Invoice Details: The scam emails contain fabricated invoice numbers, transaction IDs, and order summaries, giving the impression of a genuine transaction.
Urgency and Contact Instructions: The emails create a sense of urgency, claiming that the victim has already been charged and needs to contact customer support immediately. The provided contact details, including phone numbers and email addresses, are under the scammers' control.
Solicitation of Personal Information: Victims are prompted to provide personal and financial information to rectify the supposed payment issue. This information may include full name, address, banking details, and credit card information.
Potential Identity Theft: The scammers can exploit the collected personal and financial information for various malicious purposes, such as identity theft, financial fraud, or selling the data on the dark web.
Identifying Scam Emails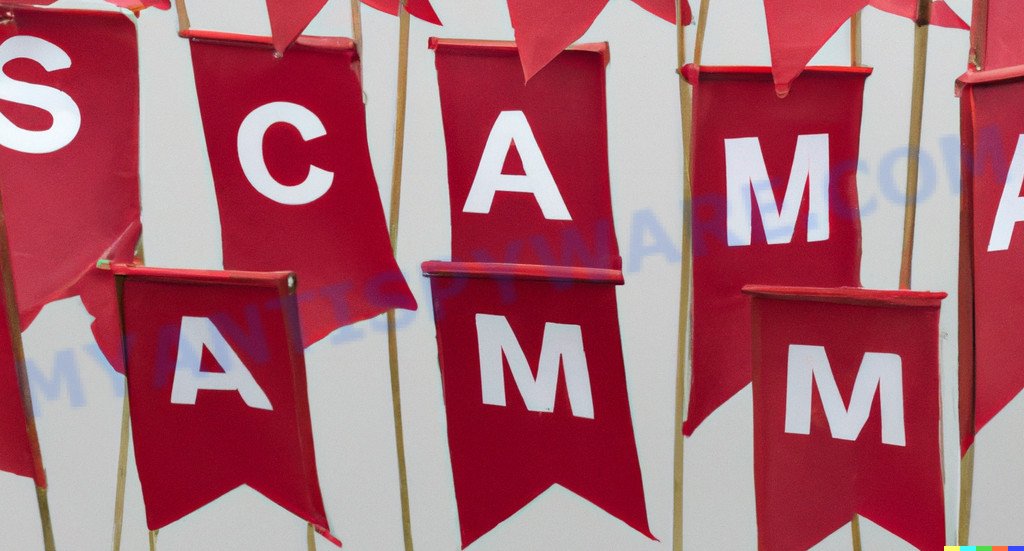 To protect yourself from the Norton LifeLock INVOICE Email Scam and similar phishing attempts, watch out for the following red flags:
Unsolicited Emails: Be cautious of receiving invoices or payment notifications for services you did not initiate or purchase.
Generic Greetings: Scam emails often use generic greetings like "Dear Customer" instead of addressing you by name.
Urgency and Pressure: Scammers create a sense of urgency, pressuring you to act quickly to resolve a payment issue.
Request for Personal Information: Be suspicious of any request for personal or financial information through email. Legitimate companies typically do not ask for sensitive details via email.
Poor Grammar and Spelling: Look for grammatical errors, misspellings, or inconsistent formatting within the email content, as scammers often make mistakes.
What to Do If You Receive the Scam Email
If you receive the Norton LifeLock INVOICE email scam, follow these steps:
Do not reply or provide any personal information: Avoid responding to the email or providing any personal or financial details.
Do not click on any links or download any attachments: Clicking on links or downloading attachments from the email can lead to malware infections or further scams.
Report the scam: Report the phishing attempt to Norton LifeLock or your local authorities to help them take appropriate action.
Update your security measures: Ensure your antivirus software is up to date and perform a scan on your computer to check for any potential threats.
Stay vigilant: Be cautious of similar scam emails and continue to educate yourself about common phishing techniques.
Examples of such scams
The Norton LifeLock INVOICE Email Scam is just one of many types of scams out there. In addition to this type of scam, others include phishing emails and text messages that request personal information or ask for password resets, phone calls from scammers impersonating government agencies or legitimate businesses and threatening legal action, and tech support scams that offer to fix computer issues for a fee or by gaining remote access to a victim's computer. NortonLifeLock Billing Payment Email Scam, Intuit Norton Lifelock Scam Emails and Financial Assistance Department Scam Email are some of the scams we reported recently.
Summary Table for Norton LifeLock INVOICE Email Scam
| | |
| --- | --- |
| Name | Norton LifeLock INVOICE Email Scam |
| Type | Email phishing scam |
| Danger Level | High |
| Attack Vector | Phishing email with fake invoice |
| Scammers' Phone Numbers | +1 (844) 675-2108 |
| Purpose | To deceive victims and extract personal and financial information |
| Prevention Tips | Verify legitimacy, avoid sharing personal information, be cautious of links and attachments, report scam emails, keep security measures updated, and stay educated and vigilant |
Conclusion
The Norton LifeLock INVOICE Email Scam is a phishing attempt aimed at tricking individuals into providing personal and financial information under the guise of a payment for antivirus subscriptions. By remaining vigilant and following the provided prevention tips, you can protect yourself from falling victim to this scam and safeguard your sensitive information. Stay informed, stay cautious, and report any suspicious emails to help combat online scams.