Psnbounty.org is a fraudulent website that claims to generate free PSN gift card codes. However, it is important to be aware that Psnbounty.org is a scam and should not be trusted. The website tricks visitors into believing they can obtain free PSN gift cards, but instead, it leads them to install unwanted apps or visit spam websites.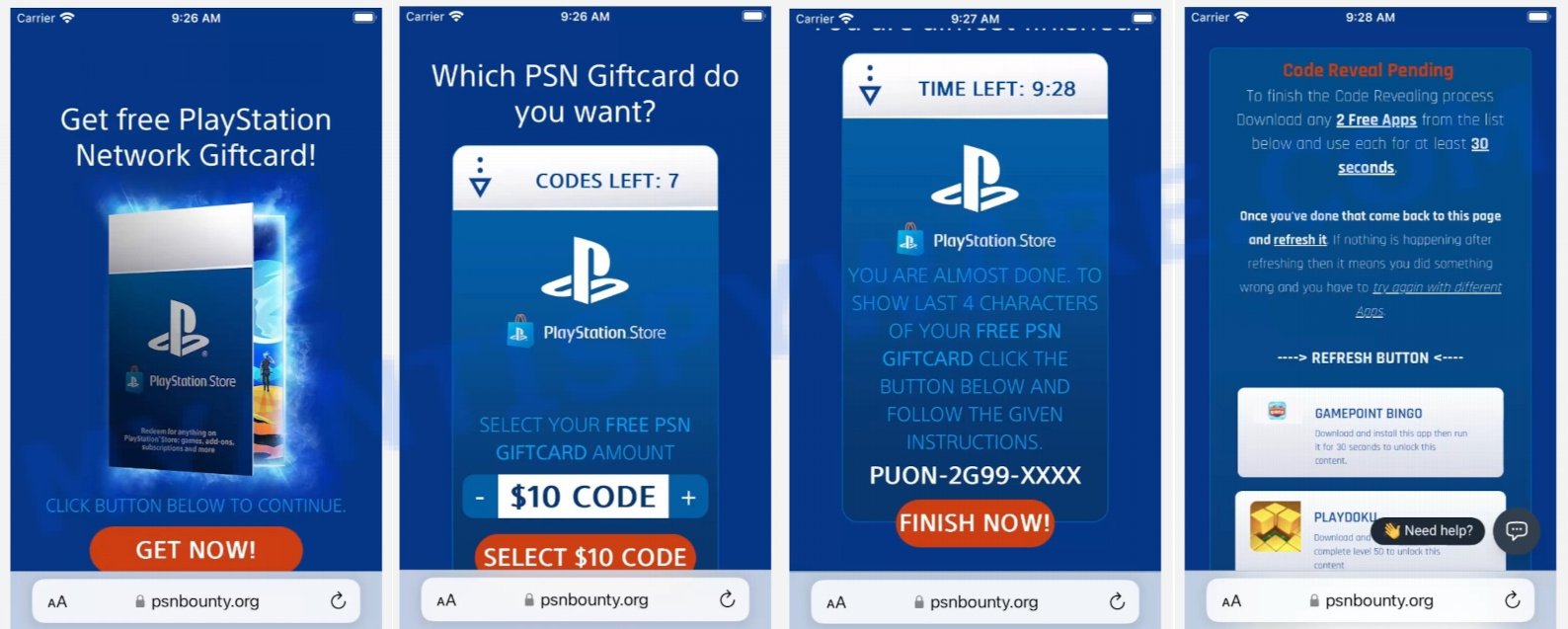 Quick Links:
Introduction to Psnbounty.org PSN Giftcard Codes Generator Scam
Psnbounty.org is a deceptive website that poses as a PSN Giftcard Codes Generator. It presents itself differently based on the device used to access it. On a computer, it instructs visitors to open the website on their mobile phones to generate free PSN gift card codes. On a mobile device, it claims to offer free PlayStation Network Giftcards for use on the PlayStation Store.
How the Scam Works
The PSN Giftcard Codes Generator scam at Psnbounty.org operates as follows:
Visitors are prompted to click the "GET NOW!" button to generate a free PSN gift card.
Upon clicking, users are taken to a page where they can select the desired gift card amount, such as $10.
The website then simulates the generation process and displays a partial gift card number, withholding the last 4 characters.
Users are instructed to click the "FINISH NOW!" button to reveal the remaining characters.
Clicking "FINISH NOW!" leads users to another page that requires them to download and install specific apps or complete certain tasks.
Users are encouraged to download and use the listed apps for a specific duration, such as 30 seconds.
After completing the app download and usage, users are instructed to return to the page and refresh it to reveal the complete gift card code.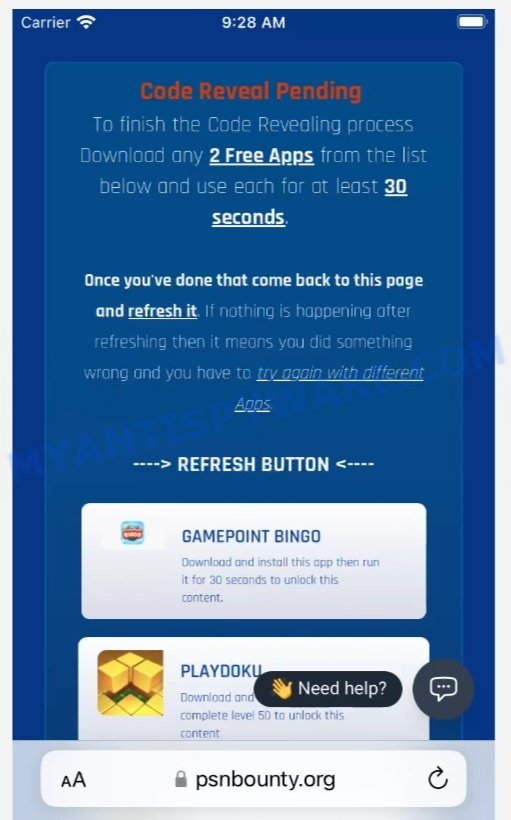 Signs of the Scam
There are several signs that indicate Psnbounty.org is a scam:
Unrealistic offer: The promise of free PSN gift card codes is too good to be true.
Requirement to download apps: The scam tricks users into downloading and installing unwanted apps, which may be harmful or used for malicious purposes.
Code reveal process: The website creates a sense of progress by withholding part of the gift card code, making users believe they are close to receiving the full code.
Refresh requirement: Users are instructed to refresh the page after completing app downloads, which may be an attempt to prolong user engagement or gather more data.
What to Do If You Encounter the Scam
If you encounter the PSN Giftcard Codes Generator scam at Psnbounty.org or any similar fraudulent activity, take the following steps:
Do not proceed: Avoid clicking any further buttons or downloading any suggested apps.
Exit the website: Close the tab or browser window containing Psnbounty.org.
Report the scam: Notify the appropriate authorities, such as the Federal Trade Commission (FTC) and the Internet Crime Complaint Center (IC3).
Examples of such scams
Scammers are becoming increasingly adept at exploiting people's trust and desires through deceptive online schemes. The Psnbounty.org PSN Giftcard Codes Generator Scam is just one instance of these fraudulent tactics. To shed light on the broader landscape of similar scams, we present a compilation of other notable examples below. These scams employ various techniques, target different platforms, and prey on people's eagerness for rewards. By understanding the common elements and patterns, we can better equip ourselves against falling victim to these schemes.
Explore the following examples to gain insights into the diverse ways scammers attempt to deceive individuals online: Shein Summer Giveaway Scam on WhatsApp, Mr Beast Giveaway SCAM, and Gordon Ramsay HexClad Cookware Giveaway Scam. By familiarizing ourselves with these examples, we can better protect ourselves and others from falling victim to such deceitful practices.
Summary Table for Psnbounty.org PSN Giftcard Codes Generator Scam
| | |
| --- | --- |
| Name | Psnbounty.org PSN Giftcard Codes Generator Scam |
| Type | Scam website |
| Danger Level | High |
| Attack Vector | Deceptive website, app downloads |
| Purpose | Tricking users into installing unwanted apps, gathering personal data, or visiting spam websites |
| Prevention Tips | Avoid websites promising free gift cards, be cautious of app downloads, report scams to relevant authorities |
Conclusion
Psnbounty.org's PSN Giftcard Codes Generator is a scam that preys on users' desire for free PSN gift cards. It tricks visitors into downloading unwanted apps or visiting spam websites, with no intention of delivering the promised gift cards. Remember to exercise caution online and be wary of any website that claims to offer something for free but requires suspicious actions in return. Genuine PSN gift cards should be obtained from authorized retailers or the official PlayStation Store.