Heerful.com is a fraudulent online store that falsely claims to be a Hoka store. It utilizes Facebook ads to promote a supposed HOKA Summer Clearance sale, offering heavily discounted prices on Hoka products. However, Heerful.com is a scam and does not sell authentic Hoka shoes or provide reliable services.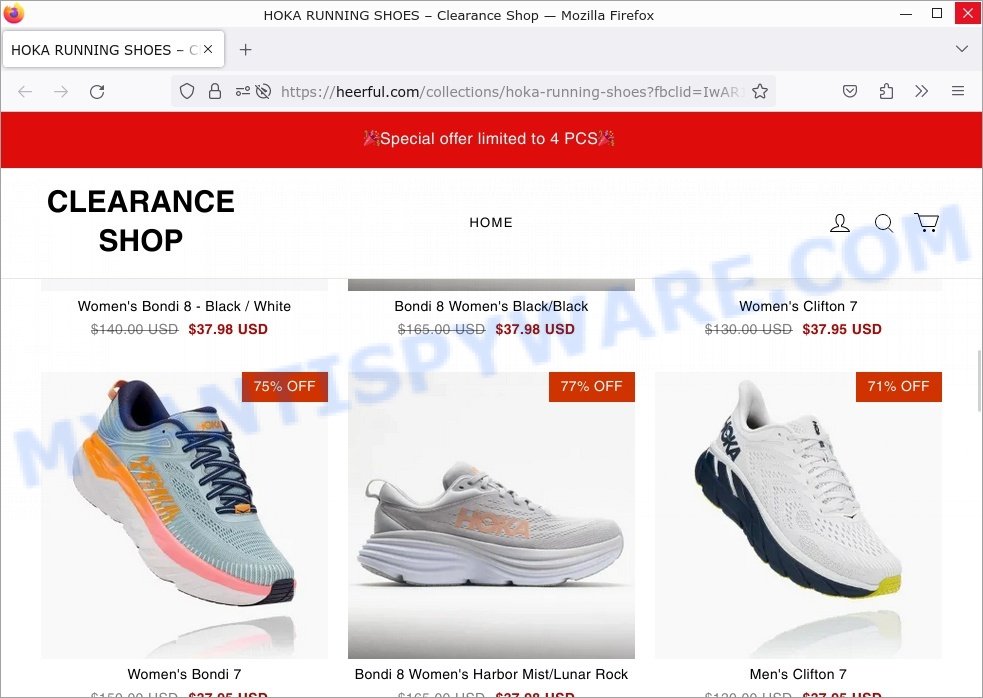 Quick Links:
Introduction to Heerful.com HOKA Summer Clearance Scam
Heerful.com presents itself as a Hoka store, offering Hoka shoes at significantly discounted prices through its HOKA Summer Clearance promotion. The scam primarily relies on Facebook ads to attract potential customers with promises of comfort, fast shipping, and up to 70% off selected styles. However, it is important to note that Heerful.com is not an authorized Hoka retailer and engages in deceptive practices.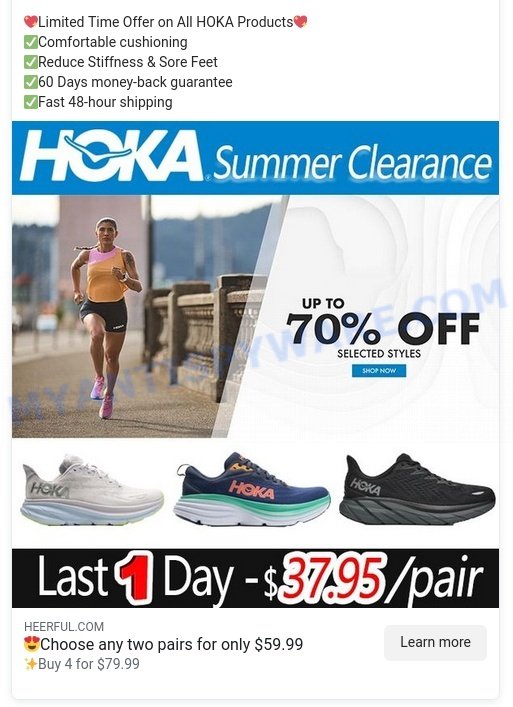 Signs of the Scam Store
Here are some signs that indicate Heerful.com is a scam:
Unrealistically low prices: The store advertises Hoka shoes at prices significantly lower than their genuine retail value, such as $37.95 per pair.
Limited-time offers and clearance sales: The scam creates a sense of urgency with claims of last-day discounts and limited quantities.
No phone and social media presence: Heerful.com lacks essential contact information, such as a phone number and social media accounts.
Association with other scam shops: The company behind Heerful.com, Kentesh Ltd, is associated with other fraudulent online stores.
Recently created domain: The website's domain was registered on July 11, 2023, which is a relatively short time ago.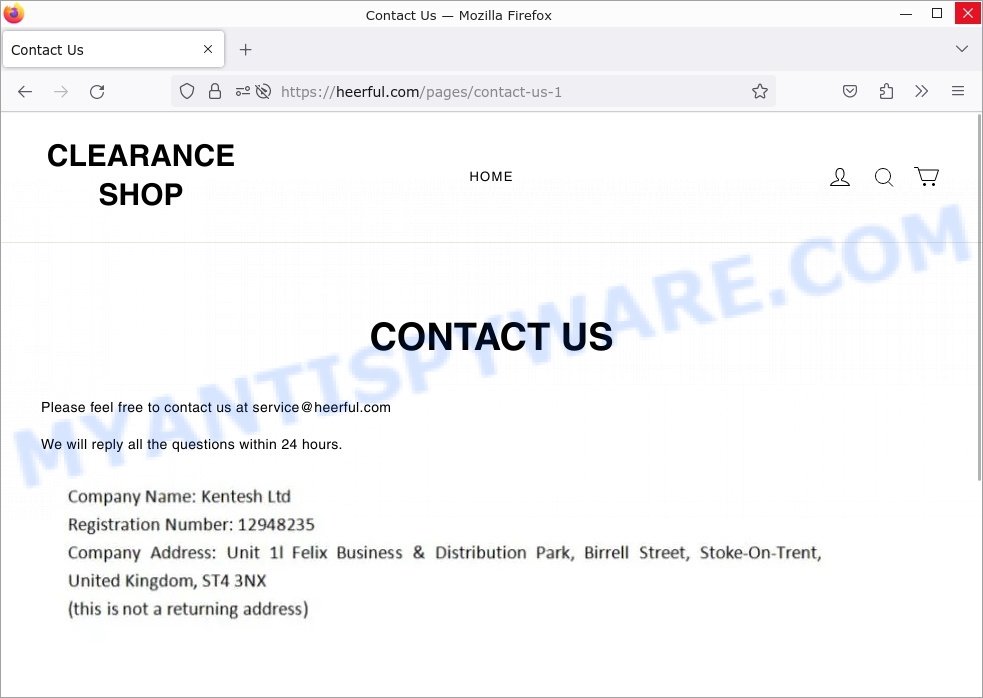 How the Scam Works
The Heerful.com HOKA Summer Clearance scam operates as follows:
The scammer creates Heerful.com, a fake online store that mimics the appearance of a legitimate Hoka store.
Facebook ads are used to promote heavily discounted Hoka shoes, targeting users interested in athletic footwear.
Customers are enticed by the extremely low prices, promises of comfort, and fast shipping.
Victims make purchases on Heerful.com, providing their personal and payment information.
After the purchase, victims either receive counterfeit or non-existent products, or no products at all.
Attempts to contact customer service through the provided email address go unanswered or result in unhelpful responses.
Victims lose their money and potentially have their personal information compromised.
What to Do If You Fall Victim to the Scam
If you have fallen victim to the Heerful.com HOKA Summer Clearance scam or any similar fraudulent activity, take the following steps:
Contact your bank or credit card company: Report the fraudulent transaction and request a chargeback if possible.
Monitor your financial accounts: Keep a close eye on your accounts for any unauthorized activity.
Change passwords: If you shared any passwords with the scam website, change them immediately to prevent further unauthorized access.
File a complaint: Report the scam to your local authorities, the Federal Trade Commission (FTC), and the Internet Crime Complaint Center (IC3).
Other Scam Online Shops to Avoid
As part of our ongoing effort to protect our readers from potential scams, we have compiled a list of other suspicious online shops that you should be aware of. These shops share similar characteristics and tactics to Heerful.com, and they use deceptive practices to lure in unsuspecting buyers. It's crucial to remain vigilant when shopping online and to be aware of the warning signs of a potential scam. Below we will highlight some of the other suspicious online shops that you should avoid to protect your personal and financial information.
Here are a few examples of the suspicious online shops: Bedbath-sale.shop, Ehncasr.shop, and Crabbigsale.com.
Summary Table for Heerful.com HOKA Summer Clearance Scam
| | |
| --- | --- |
| Name | Heerful.com HOKA Summer Clearance Scam |
| Type | Fake online store |
| Danger Level | High |
| Attack Vector | Facebook ads, deceptive website |
| Purpose | Stealing payment information, selling counterfeit or non-existent products |
| Prevention Tips | Research the website's legitimacy, compare prices with official retailers, be cautious of extremely low prices, verify company information |
Conclusion
Heerful.com Clearance Shop is a fraudulent online store that pretends to sell discounted Hoka shoes. However, it is part of a scam aiming to deceive unsuspecting customers and steal their money. It is crucial to exercise caution when encountering heavily discounted offers, especially from unknown or suspicious online stores. By staying vigilant, conducting thorough research, and adhering to preventive measures, users can protect themselves from falling victim to scams like the Heerful.com HOKA Summer Clearance scam.