If you've come across the website ehncasr.shop and encountered enticing deals like "buy 2 get 2 free" on QVC products, it's essential to exercise caution. This website is a fake QVC store that aims to deceive unsuspecting shoppers. It is often promoted through Facebook ads, making it crucial to be aware of this QVC clearance scam. In this article, we will provide you with an analysis of the ehncasr.shop scam and offer guidance on how to protect yourself from falling victim to it.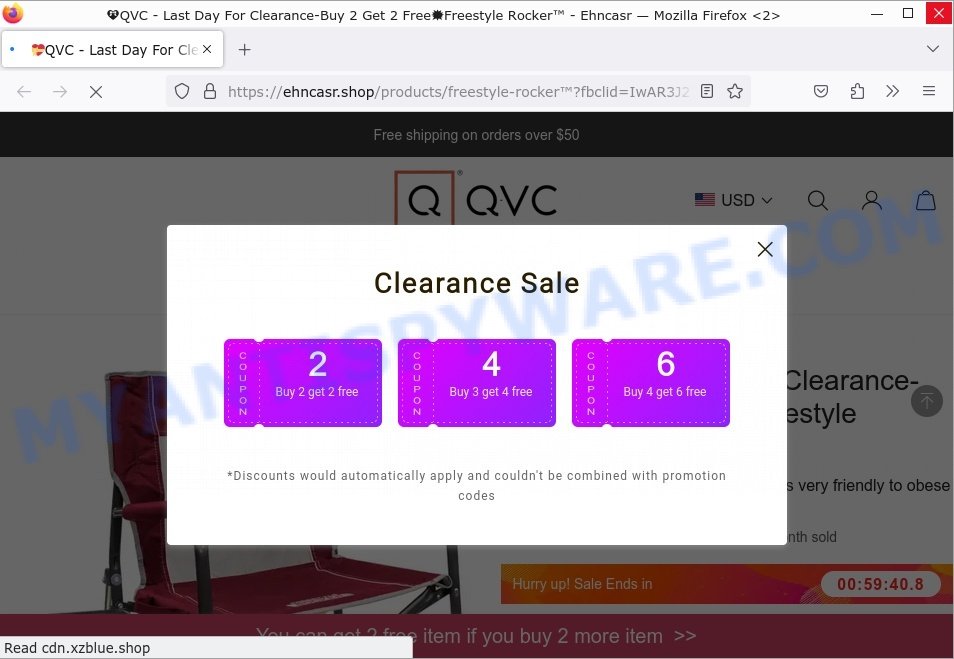 What is the ehncasr.shop Scam:
The Ehncasr.shop scam is a fraudulent online store that pretends to be a QVC store offering clearance sales. However, it is important to note that this website is in no way affiliated with the genuine QVC brand. Scammers create such deceptive sites to entice individuals into making purchases, often with unbelievable deals and discounts, and then exploit their personal and financial information.
Signs of the Ehncasr.shop Scam:
To identify the ehncasr.shop scam or similar fraudulent online stores, watch out for the following signs:
Recently Created Domain: The ehncasr.shop domain was registered on 2023-06-26, indicating it is a relatively new website. This is often a red flag for fraudulent sites.
Lack of Contact Information: The only contact information provided on the website is an email address (info@laughan.com). Legitimate businesses usually offer multiple contact methods, making the lack of such options suspicious.
Fake QVC Store: The website masquerades as a QVC store but lacks the legitimacy and credibility associated with the genuine QVC brand.
Unrealistic Deals and Discounts: Scammers lure in potential victims with offers like "buy 2 get 2 free" on popular products, which often seem too good to be true.
Suspicious Email Address: The provided email address (info@laughan.com) does not align with the legitimate QVC domain or associated contact information, raising concerns about the website's authenticity.
Whois Information: The domain's Whois information indicates that it was created recently and has a relatively short expiry date, common characteristics of scam websites.
How the ehncasr.shop Scam Works:
Scammers promote the ehncasr.shop scam through Facebook ads, presenting attractive deals and discounts on QVC products. When users visit the website and make a purchase, scammers may either deliver counterfeit or low-quality items or fail to deliver anything at all. Furthermore, victims who provide personal and financial information during the purchase process are at risk of identity theft and financial fraud.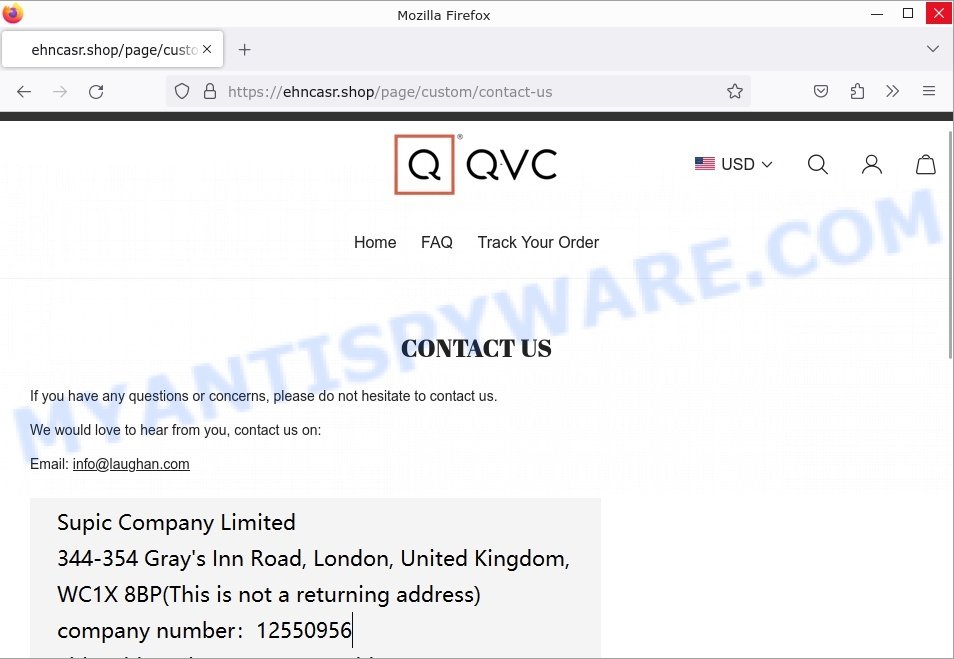 What to Do If You Become a Victim of the ehncasr.shop Scam:
If you suspect you have fallen victim to the ehncasr.shop scam, take the following steps to protect yourself:
Notify your bank or credit card company immediately to report the fraudulent transaction and request a chargeback if you made a payment.
If you encountered the scam through a Facebook ad, report it to Facebook's support or through their reporting mechanisms.
Monitor your financial statements and credit reports for any suspicious activity. Consider implementing additional security measures, such as changing passwords and enabling two-factor authentication.
Share your experience with others to raise awareness and prevent more individuals from falling victim to similar scams.
Other Suspicious Online Shops to Avoid
As part of our ongoing effort to protect our readers from potential scams, we have compiled a list of other suspicious online shops that you should be aware of. These shops share similar characteristics and tactics to Ehncasr.shop, and they use deceptive practices to lure in unsuspecting buyers. It's crucial to remain vigilant when shopping online and to be aware of the warning signs of a potential scam. Below we will highlight some of the other suspicious online shops that you should avoid to protect your personal and financial information.
Here are a few examples of the suspicious online shops: Mommyloveshop.com, Heydudestores.com, and Aonzy.com.
Summary Table for the ehncasr.shop Scam:
Name: ehncasr.shop Scam
Type: Fake QVC Store Impersonation
Damage: Financial Loss, Potential Identity Theft
Distribution: Facebook Ads
Tactics: Pretending to be a Legitimate QVC Store, Offering Unrealistic Deals
Prevention Tips: Verify website legitimacy, Check for contact information and domain age, Be skeptical of unrealistic discounts, Report suspicious ads
Reporting Info: Notify your bank, Report Facebook ads, Share experiences to raise awareness
Conclusion:
The ehncasr.shop scam exploits the reputation of QVC and its clearance sales to deceive unsuspecting shoppers. By remaining vigilant, verifying website legitimacy, and promptly reporting any suspicious activity, you can protect yourself from falling victim to this QVC clearance scam and similar fraudulent schemes.