Have you come across an advertisement for Bathandbeyond.store on Facebook, claiming to be a clearance sale for Bed Bath & Beyond? Beware, as this is a scam. In this article, we will analyze the threat posed by Bathandbeyond.store and provide you with essential information to help you stay safe. Read on to learn more.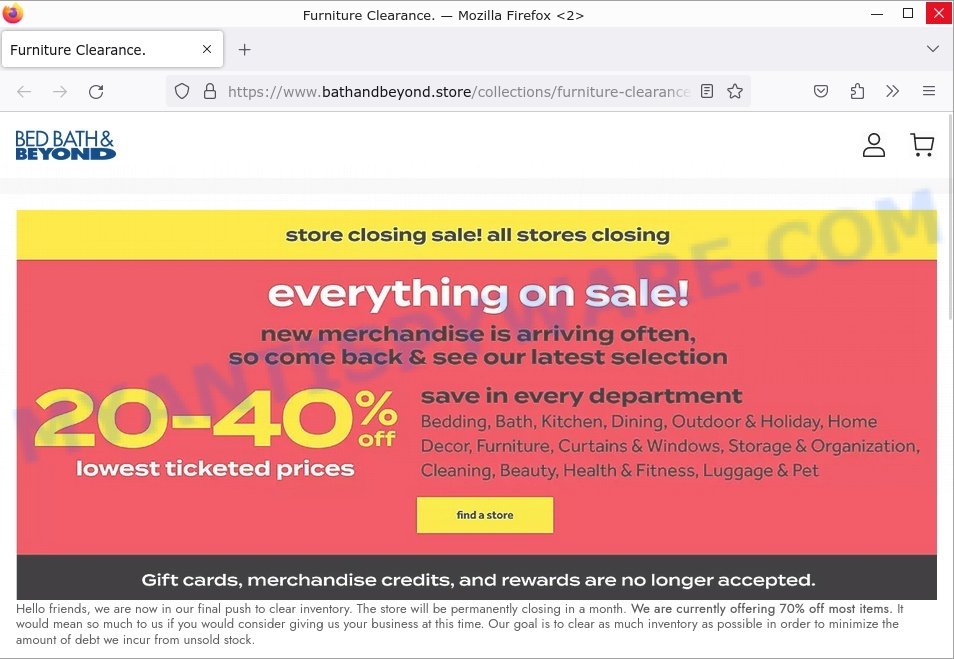 Quick Links:
What is Bathandbeyond.store?
Bathandbeyond.store is a fraudulent online store posing as a clearance sale for Bed Bath & Beyond. It is promoted through Facebook ads that mimic a screenshot of a CNN news program, creating a false sense of legitimacy. The ad claims that the store will be permanently closing in a month and offers a significant discount of 70% on most items to entice potential victims.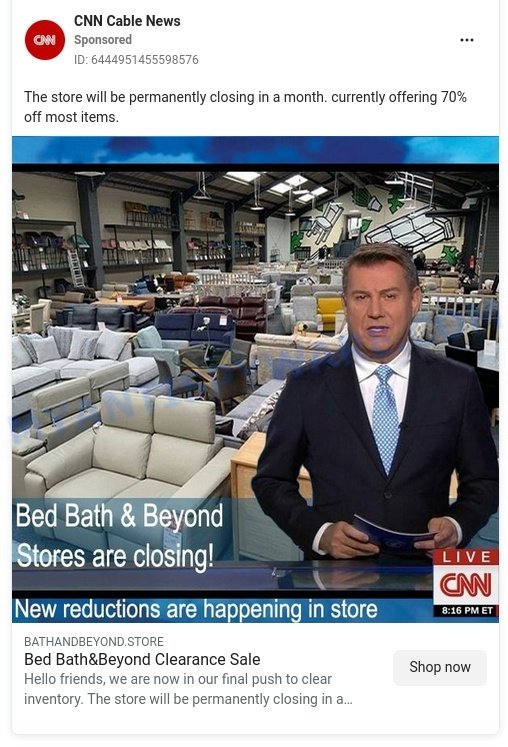 Signs of a Scam Store
There are several signs that indicate Bathandbeyond.store is a scam:
The recently created domain with a creation date of 2023-06-27
Lack of legitimate contact information, with only an email address (support@Bathandbeyond.store) provided
No verifiable information about the company behind Bathandbeyond.store, the website claims to be associated with NOVVA LIMITED, this company is also associated with other scam shops
Unbelievable deals and incredibly low prices
Template design and content, including images and descriptions, taken from other websites
Use of enticing slogans like "Clearance Sale," "Free Return," "Huge Discounts," and "Limited Time Sale"
Presence of a time counter on the product pages to create a sense of urgency
No social media presence or links to any reputable social media platforms
Potential customer complaints and issues with delivery
How Bathandbeyond.store Works
Bathandbeyond.store operates by deceiving unsuspecting users into making purchases on their website. They advertise a fake clearance sale, enticing users with heavily discounted prices. Victims who fall for the scam may proceed to make a purchase, providing their personal and financial information to the scammers. However, the purchased items are unlikely to be delivered, and the victims may experience fraudulent charges on their payment cards or become targets for identity theft.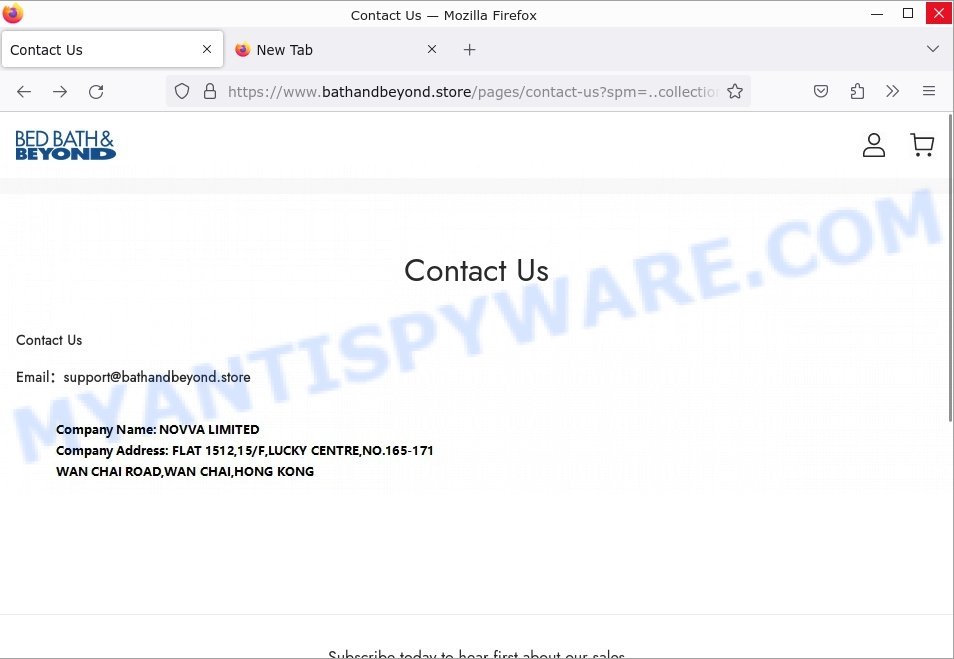 What to Do if You Become a Victim of Bathandbeyond.store
If you have become a victim of Bathandbeyond.store or suspect fraudulent activity, here are some steps you can take:
Contact your bank or credit card company to report the unauthorized charges and request a chargeback if applicable.
Change your passwords for all online accounts, especially if you have used the same password for multiple websites.
Monitor your financial statements and credit reports regularly for any suspicious activities.
Report the scam to the appropriate authorities, such as your local law enforcement agency and the Federal Trade Commission (FTC).
Summary Table for Bathandbeyond.store
| | |
| --- | --- |
| Name | Bathandbeyond.store |
| Type | Scam store |
| Damage | Potential loss of money, compromised personal information |
| Distribution | Promoted through Facebook ads and other online channels |
| Tactics | Deceptive ads, fake news program screenshots, attractive discounts, urgency, lack of transparency |
| Prevention Tips | Be cautious of too-good-to-be-true offers, verify company information, check for secure website connections (https), research customer reviews |
| Reporting Info | Contact your local authorities, the Federal Trade Commission (FTC), and the Internet Crime Complaint Center (IC3) |
Conclusion
Bathandbeyond.store is a fraudulent online store that impersonates a clearance sale for Bed Bath & Beyond. It utilizes deceptive advertising on Facebook and mimics a CNN news program to trick users into making purchases. It is crucial to recognize the signs of such scams and take necessary precautions to protect yourself from financial loss and potential identity theft. Stay vigilant and verify the legitimacy of websites before making any online purchases.