Is Bedbath-sale.shop a legitimate Bed Bath & Beyond store or a scam? In this detailed analysis and review, we will examine the website to determine its authenticity and potential risks. It is important to be cautious when encountering online stores, especially those promoted through social media platforms like Facebook.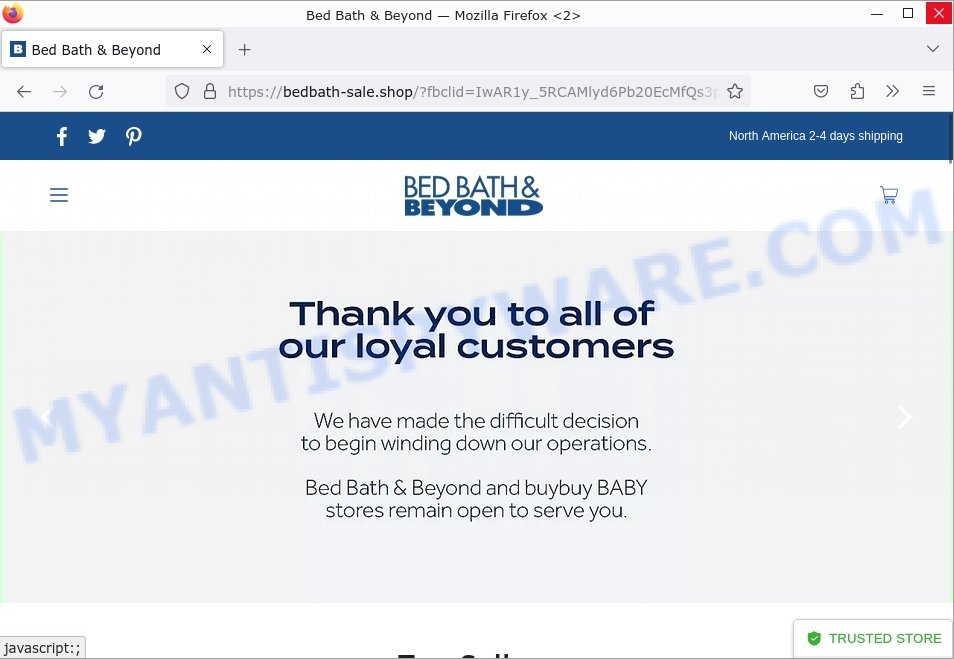 Quick Links:
What is Bedbath-sale.shop?
Bedbath-sale.shop is a fraudulent website that masquerades as a Bed Bath & Beyond store. It heavily relies on Facebook ads to attract potential customers. The ads often make false claims, such as stating that all Bed Bath & Beyond stores have closed and that they are selling unclaimed orders from their warehouses at heavily discounted prices. The website, bedbath-sale.shop, claims to offer clearance sales at US warehouses.
Signs of a Scam Store
Several signs indicate that Bedbath-sale.shop is a scam:
Recently created domain: The website's domain was registered on July 17, 2023, which is a relatively short time ago.
Lack of contact information: The only contact information provided is an email address (customer@bedbathsale.shop). Legitimate businesses typically provide multiple ways to contact them.
No real company information: The website claims to be associated with FADEL-BEATTY LIMITED, but this company is also associated with other scam shops. Legitimate businesses usually have transparent and verifiable company information.
Unbelievable deals and low prices: The store claims to offer a 91% discount and free installation, which is highly suspicious and often a tactic used by scam stores to entice customers.
Template design and content: Scam websites often use generic website templates and copy content, images, and descriptions from legitimate sources.
Enticing slogans and time pressure: Phrases like "Inventory clearance event", "Only the last day left", and "Last day discount" create a sense of urgency and push customers to make impulsive purchases.
How Bedbath-sale.shop Works
Bedbath-sale.shop operates by tricking users into believing they are purchasing discounted Bed Bath & Beyond products. Here's a general overview of how this scam works:
The scam is primarily promoted through Facebook ads, targeting users with attractive discounts and false claims about unclaimed orders and warehouse clearance sales.
Users click on the ad and are directed to the Bedbath-sale.shop website.
Once on the website, users are enticed by the heavily discounted prices and the urgency created by the claim that it is the last day of the discount event.
Users proceed to make a purchase by providing their personal and payment information.
After the purchase, victims may receive a confirmation email or no communication at all.
Delivery of products is either significantly delayed or victims receive low-quality counterfeit items.
Attempts to contact customer support may go unanswered or result in unhelpful responses.
As a result, victims lose their money and potentially have their personal information compromised.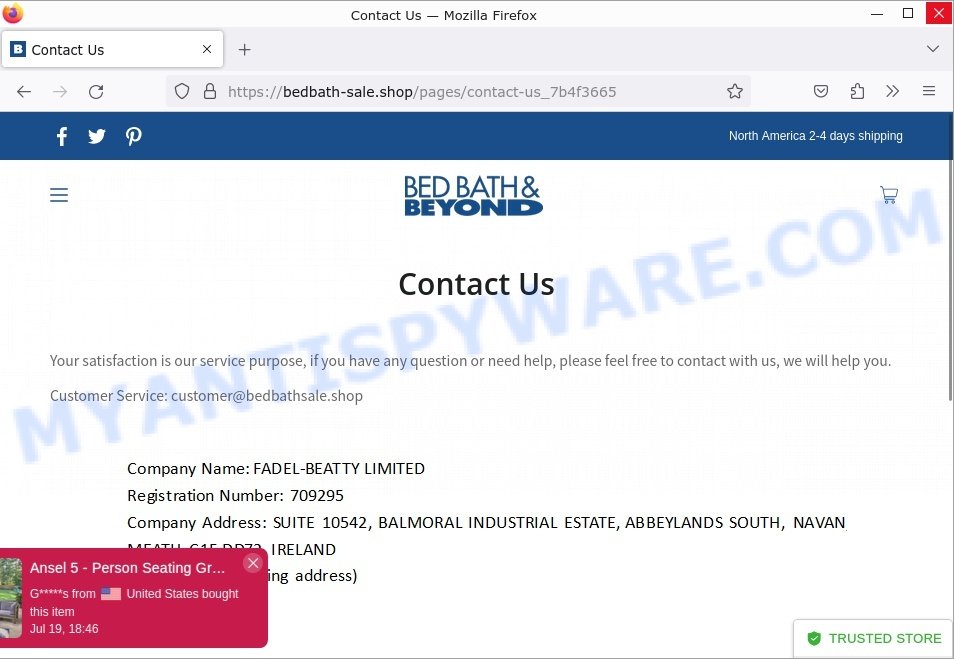 What to Do If You Become a Victim of Bedbath-sale.shop
If you have fallen victim to Bedbath-sale.shop or any similar scam, it is important to take immediate action. Here are some steps to consider:
Contact your bank or credit card company: Report the fraudulent transaction and request a chargeback if possible.
Monitor your financial accounts: Keep a close eye on your accounts for any unauthorized activity.
Change passwords: If you shared any passwords with the scam website, change them immediately to prevent further unauthorized access.
File a complaint: Report the scam to your local authorities, the Federal Trade Commission (FTC), and the Internet Crime Complaint Center (IC3).
Summary Table for Bedbath-sale.shop
| | |
| --- | --- |
| Name | Bedbath-sale.shop |
| Type | Scam store |
| Damage | Potential loss of money, compromised personal information |
| Distribution | Promoted through Facebook ads and other online channels |
| Tactics | False claims, attractive discounts, urgency, lack of transparency |
| Prevention Tips | Be cautious of unrealistic offers, verify company information, research customer reviews |
| Reporting Info | Contact your local authorities, the Federal Trade Commission (FTC), and the Internet Crime Complaint Center (IC3) |
Conclusion
Bedbath-sale.shop is a fraudulent website that poses as a Bed Bath & Beyond store. It uses deceptive advertising tactics, false claims, and attractive discounts to lure unsuspecting customers into making purchases. By being vigilant and aware of the signs of a scam store, you can protect yourself from falling victim to such fraudulent schemes.
It is imperative to stay informed and exercise caution when encountering such offers online. We strongly encourage you to read our detailed article on the Bed Bath & Beyond Clearance Sale scam to learn more about these deceptive practices, understand the red flags, and safeguard yourself against falling victim to these fraudulent schemes. Your awareness is the first line of defense in combatting online scams and protecting your hard-earned money.