FADEL-BEATTY LIMITED is a company known for running numerous scam shops that have gained a bad reputation among customers. These shops have received many negative reviews and low ratings on platforms like TrustPilot and the Better Business Bureau (BBB). Customers have reported various problems, including not receiving their ordered items, receiving poor-quality products, and facing difficulties getting their money back. The company uses deceptive tactics like pretending to be well-known brands and offering unrealistically low prices to lure in unsuspecting buyers.
To uncover the full extent of their fraudulent practices and protect yourself from falling victim, it is crucial to delve into the comprehensive review. Stay informed and share this vital information to help others avoid the scams perpetrated by FADEL-BEATTY LIMITED.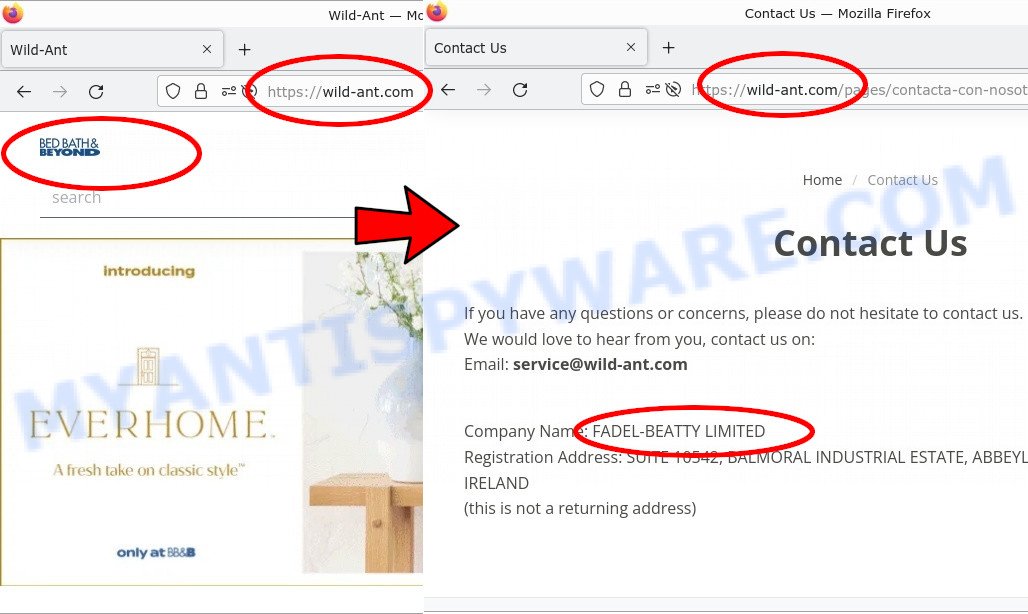 QUICK LINKS
Signs of a Scam Operation: Red Flags Associated with FADEL-BEATTY LIMITED
When it comes to FADEL-BEATTY LIMITED and its associated scam shops, there are several glaring signs that point to their deceptive and fraudulent practices. By understanding these warning signals, consumers can protect themselves from falling victim to their schemes. From deceptive brand impersonation to unrealistically low prices, FADEL-BEATTY LIMITED employs various tactics to lure unsuspecting customers into their web of deceit. Additionally, the use of copied content and template designs, along with site obfuscation techniques, further contribute to their illusion of legitimacy.
Below, we will delve into these signs of a scam operation, shedding light on the methods employed by FADEL-BEATTY LIMITED and providing insights that will empower consumers to make informed decisions.
Deceptive Brand Impersonation
FADEL-BEATTY LIMITED engages in deceptive brand impersonation, masquerading as well-known and trusted brands to give the appearance of legitimacy. Instances have been found where their scam shops pretend to be reputable retailers such as "Bed Bath & Beyond" and "Costco". This tactic is designed to exploit the trust and recognition associated with established brands, luring unsuspecting consumers into their fraudulent schemes.
A screenshot confirming FADEL-BEATTY LIMITED's deceptive practices, as they impersonate a legitimate BED BATH & BEYOND shop at Wild-ant.com: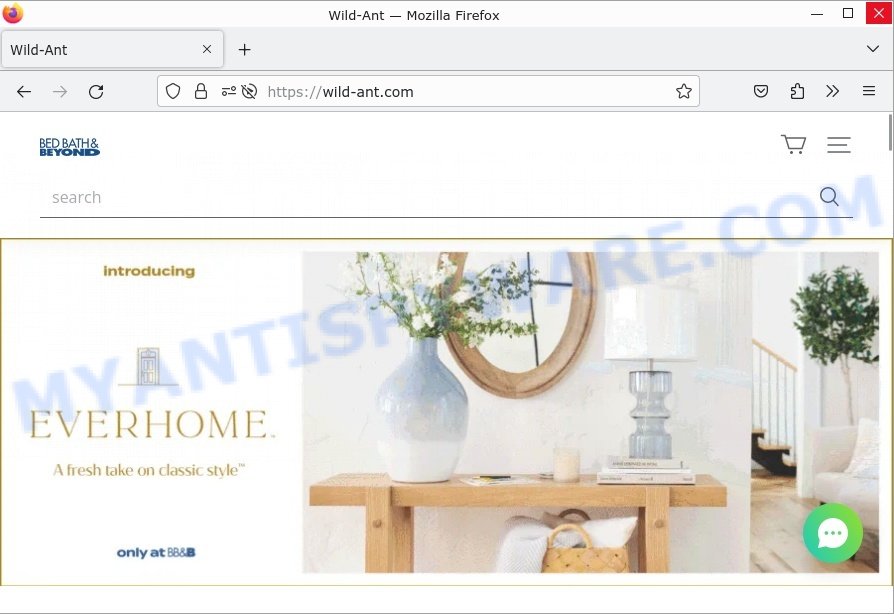 A screenshot confirming FADEL-BEATTY LIMITED's deceptive practices, as they impersonate a legitimate JCPenney shop at Caoefe.shop: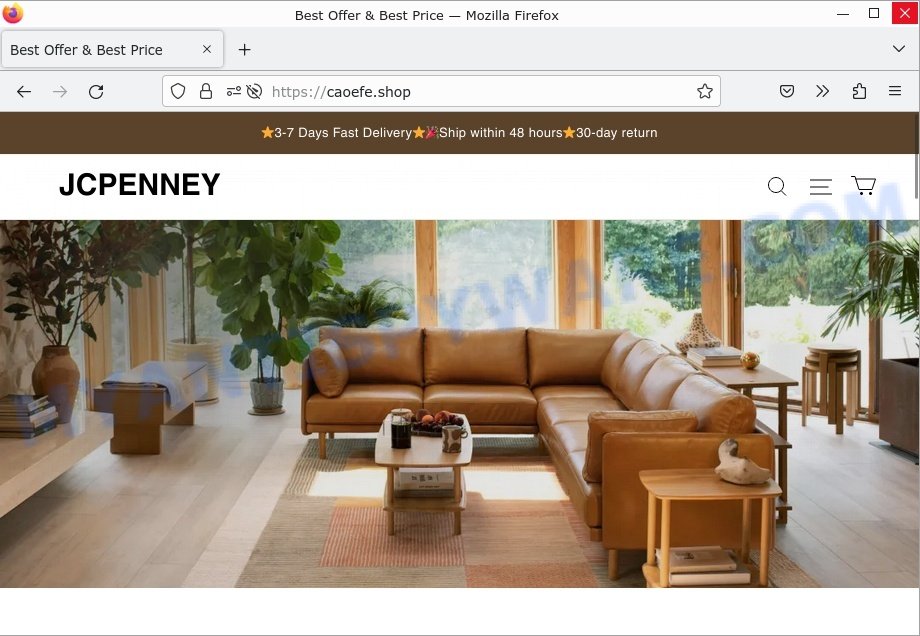 Unbelievably Low Prices
One of the telltale signs of FADEL-BEATTY LIMITED's scam operations is the unbelievably low prices they offer on their websites. Shoppers are enticed with deeply discounted products, often priced far below their actual market value. For example, they may advertise a Stained Glass Butterfly 25″ Table Lamp with a retail value of over $200 for a mere $7.80. Such steep discounts should raise skepticism, as they are often too good to be true and serve as bait to attract unsuspecting customers.
Copied Content and Template Designs
FADEL-BEATTY LIMITED's scam shops commonly employ a copy-and-paste approach when it comes to content and design. They duplicate images, product descriptions, and other content from legitimate online stores found elsewhere on the internet. As a result, these scam shops lack originality and rely on the work of others to create the illusion of authenticity. Additionally, their websites often feature template designs, with the company logo reduced to nothing more than a domain name, or in some cases, the unauthorized use of well-known brand logos.
Site Obfuscation Techniques
To evade scrutiny and make analysis difficult, FADEL-BEATTY LIMITED's scam shops utilize site obfuscation techniques. Notably, some of their websites employ selective loading, restricting access to desktop computers and loading only on mobile devices. This tactic serves to limit visibility and hinder investigations by presenting an empty 404 page when accessed from a computer, while displaying a specific page to visitors accessing the site from a mobile phone.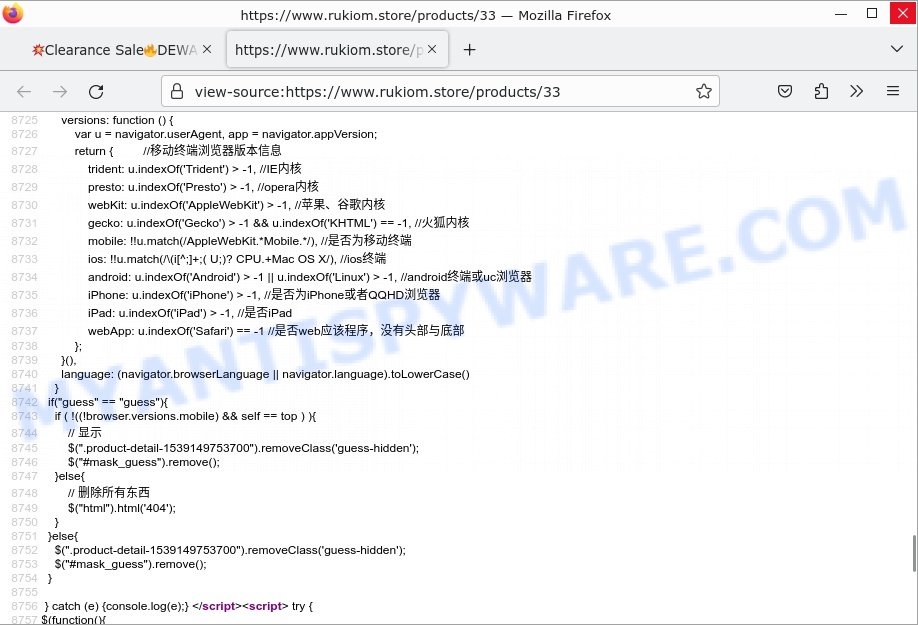 Misleading Facebook Ads
FADEL-BEATTY LIMITED's scam shops heavily rely on advertising through social media platforms, particularly Facebook. They strategically position themselves as official stores offering sales, using the logos of well-known brands to deceive users. These misleading Facebook ads display enticing discounts and flash sales, creating a sense of urgency to lure unsuspecting shoppers. By leveraging the credibility of reputable brands and promoting exceptionally low prices, FADEL-BEATTY LIMITED attempts to attract a large volume of potential customers to their scam shops.
By highlighting these signs of a scam operation associated with FADEL-BEATTY LIMITED, it becomes clear that caution is essential when considering any engagement with their online stores. It is crucial to thoroughly research and validate the authenticity of an online retailer before making any purchases.
Customer Complaints and Negative Experiences
Despite the appearance of legitimacy, FADEL-BEATTY LIMITED has garnered a plethora of customer complaints and negative experiences. Various sources, including the Better Business Bureau and Trustpilot, highlight the extent of dissatisfaction among consumers who have interacted with the company's scam shops. One notable example is the Clayflame shop, which has received an abysmal F rating on the Better Business Bureau website due to numerous unresolved complaints.
Shedding light on specific instances, Trustpilot reviews provide firsthand accounts of customers who have fallen victim to FADEL-BEATTY LIMITED's deceptive practices. One user reports encountering a website posing as KicksCrew, mentioning that the registered address in Ireland is contradictory to the company's actual base in China. The user expresses uncertainty about whether the products received are counterfeit or if payments are simply being pocketed. Another reviewer shares a harrowing experience with Dazuma, another shop operated by FADEL-BEATTY LIMITED, recounting their failed attempts to contact customer service, undelivered orders, and lack of response from the company.
The negative experiences shared by customers include undelivered goods, items delivered to incorrect addresses, receipt of cheap and substandard products instead of the ordered items, and refusal or partial refund offers in response to requests for reimbursement. Customers have also expressed frustration over receiving products shipped from China despite the initial impression that they would be dispatched from a warehouse in the USA.
The volume and consistency of these complaints paint a clear picture of FADEL-BEATTY LIMITED's unscrupulous practices and the detrimental impact on unsuspecting customers.
Digging Deeper: Investigation Findings on FADEL-BEATTY LIMITED
In-depth investigations into FADEL-BEATTY LIMITED and its scam shops reveal concerning findings that further solidify their fraudulent nature. Each time a new FADEL-BEATTY LIMITED scam shop is analyzed, its whois information consistently points to recent creation, with contact details deliberately hidden. This deliberate concealment of information indicates a deliberate effort by the individuals behind FADEL-BEATTY LIMITED to constantly create new scam shops and evade detection.
The lack of transparency and limited means of contact add to the suspicious nature of FADEL-BEATTY LIMITED's operations. The contact pages of their scam shops often provide only an email address, with no presence on social networks or phone numbers for customer support. This deliberate avoidance of direct communication channels raises further red flags and serves as a barrier for dissatisfied customers seeking assistance or resolution.
These investigation findings underscore the consistent creation of new scam shops by FADEL-BEATTY LIMITED, their deliberate efforts to conceal information, and the overwhelming evidence of fraudulent activities associated with their operations.
What to do if you ordered something from a FADEL-BEATTY LIMITED shop
If you find yourself in the unfortunate situation of having ordered something from a FADEL-BEATTY LIMITED shop, it's essential to take immediate action to protect yourself and increase the chances of recovering your funds.

Here are the steps you should follow:
Whether you made the payment through PayPal or a credit card, reach out to your payment provider's customer support immediately. Explain the situation, provide them with all relevant details, and inquire about the possibility of initiating a chargeback or disputing the transaction. They can guide you through the specific process based on their policies and offer assistance in recovering your money. Use the steps (https://consumer.ftc.gov/articles/what-do-if-you-were-scammed) to try to stop a transaction, get a transaction reversed, or get a refund.
Gather and document all evidence related to your transaction with the FADEL-BEATTY LIMITED Scam shop. This includes order confirmations, payment receipts, communication with the seller, and any other relevant information. These documents will be crucial in supporting your case during the dispute or chargeback process.
File a complaint with the appropriate authorities to help prevent others from falling victim to the FADEL-BEATTY LIMITED Scam. Contact your local consumer protection agency or report the scam to organizations such as the Federal Trade Commission (FTC) or Action Fraud if you are in the UK. Providing details about your experience will contribute to the collective effort of raising awareness and taking action against these fraudulent operations.
Keep a close eye on your bank and credit card statements for any unauthorized charges or suspicious activity. If you notice anything unusual, report it to your financial institution immediately. Taking proactive measures to monitor your accounts will help prevent further potential losses and ensure your financial security.
Share your experience with others to raise awareness about the FADEL-BEATTY LIMITED Scam. Warn friends, family, and fellow online shoppers about the risks associated with these fraudulent sites. By spreading the word, you can help others avoid falling into the same trap and minimize the impact of these scams.
Remember, swift action is crucial in recovering your funds and minimizing the impact of the scam. By following these steps and reaching out to the appropriate authorities and your payment provider, you increase your chances of a successful resolution.
Summary
Name
FADEL-BEATTY LIMITED
Scam shops
Vheei.com, Mknshops.com, Wlcbet.com, Wild-ant.com, Joelact.com, Rukiom.store, Ezzpools.com, Hadeiz.com, Caoefe.shop, Laterdse.online, Bigtray.com, Dazzlinga.shop, Mirouz.com, boughtokstyle.com, harleyymotor.shop, lockettare.com, elroyocasey.com, ewtaed.online, andrology.store, lazysofasales.shop, geniuss.live, fwwdw.com, hrulef.com, sale-wrapspromo.com, mzngkq.com, admonttravel.com, perfectyyd.online, tessavo.com, okraschote.com, etc
Logo and Design
Template design with domain name logos or real brand logos
Scam Tactics
Deceptive brand impersonation, copied content, site obfuscation techniques, misleading Facebook ads
Pricing
Unbelievably low prices, enticing discounts
Examples
Stained Glass Butterfly 25″ Table Lamp for $7.80 (real price over $200), 91-piece Kitchen Spree for $14.99 (real price over $700), DEWA 20-VOLT MAX LITHIUM ION BEST CORDLESS COMBO KIT for $59.96 (real price $1500)
Payment Risk
High payment risk, reports of non-delivery or delivery of inferior products
Contact Information
Basic email contact, no presence on social networks or phone numbers provided
WHOIS Information
Recent creation with hidden WHOIS contact details
Recommendation
Avoid engaging with FADEL-BEATTY LIMITED's shops due to their fraudulent practices
Conclusion
The evidence presented in this review strongly supports the conclusion that FADEL-BEATTY LIMITED is a company associated with a vast network of scam shops. Their deceptive practices, including brand impersonation, copied content, and site obfuscation techniques, are clear indicators of their fraudulent intent. The enticingly low prices offered on their websites, coupled with misleading Facebook ads, lure unsuspecting customers into making purchases that often result in disappointment and financial loss.
Customer complaints and negative experiences further highlight the extent of the scam operation orchestrated by FADEL-BEATTY LIMITED. Reports of undelivered goods, incorrect shipments, and unresponsive customer service paint a grim picture for those who have fallen victim to their deceitful tactics. The constant creation of new scam shops, along with hidden WHOIS contact details, reveals the calculated nature of this company's fraudulent activities.
Given the high payment risk, lack of reliable contact information, and overwhelming evidence of scams associated with FADEL-BEATTY LIMITED, it is strongly recommended to avoid engaging with their scam shops. Protect yourself and your hard-earned money by conducting thorough research, reading reviews, and verifying the legitimacy of online stores before making any purchases.
In conclusion, FADEL-BEATTY LIMITED operates an extensive network of scam shops that employ deceptive tactics, lure customers with low prices, and fail to deliver on their promises. Stay vigilant, be cautious, and spread awareness to protect others from falling victim to this elaborate scam operation.