Discountonlineus.com is an alarming scam shop masquerading as a legitimate "DICK'S Sporting Goods" store. It exhibits multiple unmistakable signs of deception, including the unauthorized use of the store's logo and product categories. The most glaring red flag is the unbelievably low prices, which starkly contrast with the actual market value of the items. Additionally, the website employs JavaScript to redirect users based on their device, adding a layer of complexity to its analysis. Furthermore, the association of its contact information with AIMARK LTD, a notorious company behind numerous fraudulent shops, solidifies its dubious nature.
To protect yourself from potential scams and uncover more concerning details, it is imperative to read the full review of Discountonlineus.com. For a quick summary of our findings, please refer to the table Summary of Discountonlineus.com Review below.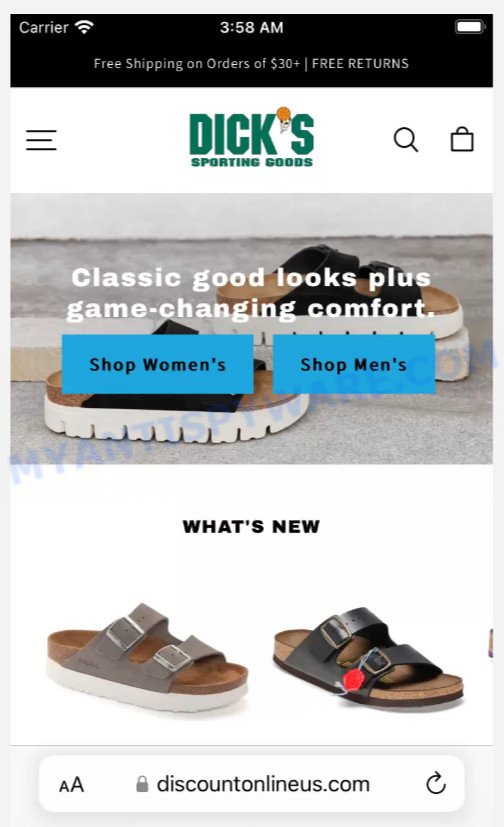 Discountonlineus.com Review
Website Design and Impersonation
The design of Discountonlineus.com raises immediate concerns with its attempt to impersonate a legitimate "DICK'S Sporting Goods" store. One of the most apparent elements of deception is the unauthorized use of the official "DICK'S Sporting Goods" logo. By prominently displaying this logo on the website, the scammers aim to mislead visitors into believing they are browsing a trustworthy and authentic online store. This intentional use of a recognizable brand logo is a clear tactic to deceive unsuspecting shoppers.
Furthermore, the choice of the domain name "Discountonlineus.com" adds to the site's impersonation strategy. By incorporating the term "Discount" and "online," it tries to appear as an official discount store for "DICK'S Sporting Goods." However, this domain name is entirely unrelated to the genuine retailer, and the addition of "us" is a manipulative attempt to appear more credible to potential victims.
Together, the unauthorized use of the "DICK'S Sporting Goods" logo and the carefully crafted domain name are calculated efforts to trick users into believing they are dealing with a legitimate store.
Facebook ads
Discountonlineus.com employs Facebook ads as part of its deceptive tactics to attract unsuspecting users. These ads utilize various slogans and strategies to entice individuals and encourage them to click on the links. The scammers behind the website craft their ads with attention-grabbing phrases and promises of exceptional deals. For instance, they may use slogans such as "DICK'S SPORTING GOODS TODAY ONLY $19.99" or "Today Only $18.9 Don't miss out!!".
To further entice potential victims, the scammers employ fake prices that are significantly lower than the actual market value of the products. They manipulate the prices to make them appear unbelievably affordable, offering items such as Women's Arizona Soft Footbed Oiled Leather for only $19, despite the real price being around $125. By presenting such alluringly low prices, they create a sense of urgency and the fear of missing out, hoping to prompt users to make impulsive purchasing decisions.
The tactics used in these Facebook ads aim to exploit people's desire for great deals and their inclination to click on enticing offers. The scammers understand that consumers are often drawn to discounted prices and may be more likely to click on ads that promise substantial savings. By employing slogans, fake prices, and a sense of urgency, they manipulate users into visiting the fraudulent website, where they are more likely to fall victim to the scam.
Product Pricing
Discountonlineus.com employs deceptive pricing practices to lure unsuspecting customers into their scam. The prices listed on the website are significantly lower than the actual market value of the products being advertised. For example, items like the Women's Arizona Soft Footbed Oiled Leather, which typically sells for $125, are falsely listed for a mere $19. This drastic reduction in price is a clear red flag, as it defies logical pricing structures and raises suspicions about the authenticity of the products.
By offering such unrealistically low prices, the scammers behind Discountonlineus.com aim to create a sense of urgency and entice customers to make impulsive purchases. They prey on consumers' desire for bargains, hoping that individuals will be drawn in by the prospect of saving a significant amount of money. However, these discounted prices are merely a ploy to deceive and defraud unsuspecting shoppers.
Customer Reviews
Customer reviews are a crucial factor in determining the legitimacy of an e-commerce website. However, Discountonlineus.com has no positive reviews online. In fact, some reviews suggest that the website is a scam, which is a red flag that cannot be ignored.
Contact Information
Discountonlineus.com provides contact details that raise significant concerns about its legitimacy. The only contact information available on the website is an email address associated with the domain: jessie@peachcher.com. The use of a free and unrelated domain for contact purposes is highly unprofessional and suspicious for a supposed "DICK'S Sporting Goods" shop.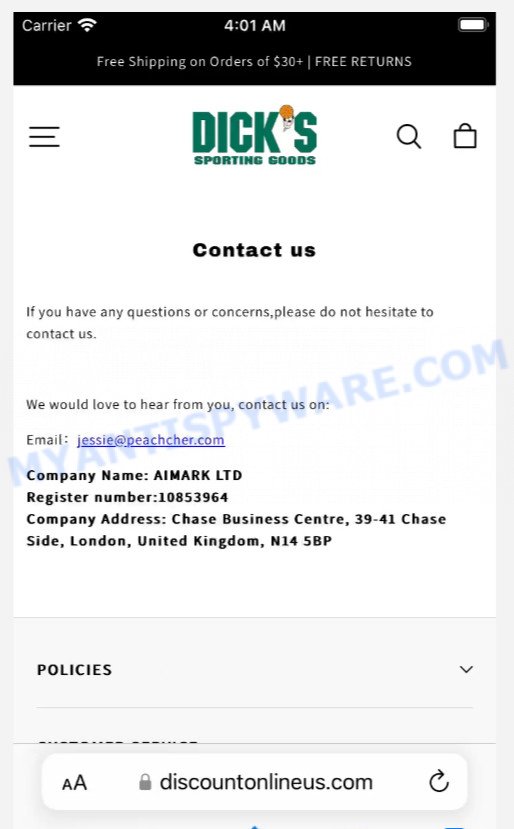 Even more alarming is the association of this email address with several other scam shops, including fake Birkenstock and Stanley stores. This pattern of using the same contact information across multiple fraudulent websites indicates a deliberate effort to deceive users and engage in deceptive practices.
The website claims to be operated by a company named AIMARK LTD, with the registration number 10853964. However, the legitimacy of this company is questionable, given its notorious reputation as the entity behind countless scam shops. Moreover, the address provided for AIMARK LTD, located at Chase Business Centre, 39-41 Chase Side, London, United Kingdom, N14 5BP, may also be a false or misleading address.
The lack of comprehensive and authentic contact information raises serious doubts about the credibility of Discountonlineus.com.
Whois information
According to the Whois records, Discountonlineus.com was created on June 28, 2023, and is set to expire on June 28, 2024. The relatively recent creation date may indicate that the website is part of a newly established scam operation.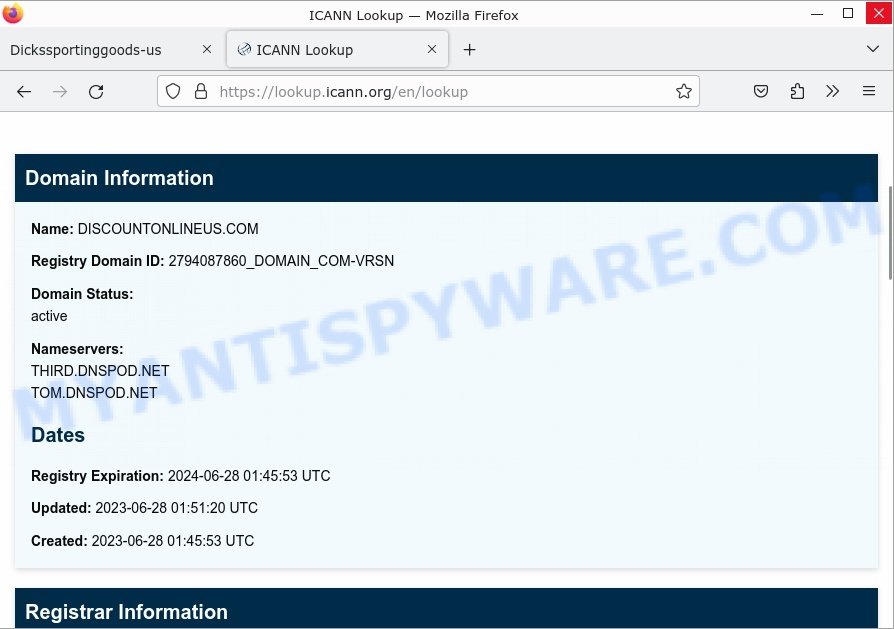 However, what raises more red flags is the fact that the Whois information for Discountonlineus.com hides the registrant's contact details. This lack of transparency is often associated with illegitimate websites and is a common tactic used by scammers to avoid identification and accountability.
Site Obfuscation Techniques Used by Discountonlineus.com
Discountonlineus.com uses a Java script to detect the device from which the user accesses the website. If the user enters the site from a mobile phone, they are able to view the main page. However, if the user accesses the site from any other device, such as a computer, they are automatically redirected to an page with the URL "https://www.compliment-cite.com/pages/404".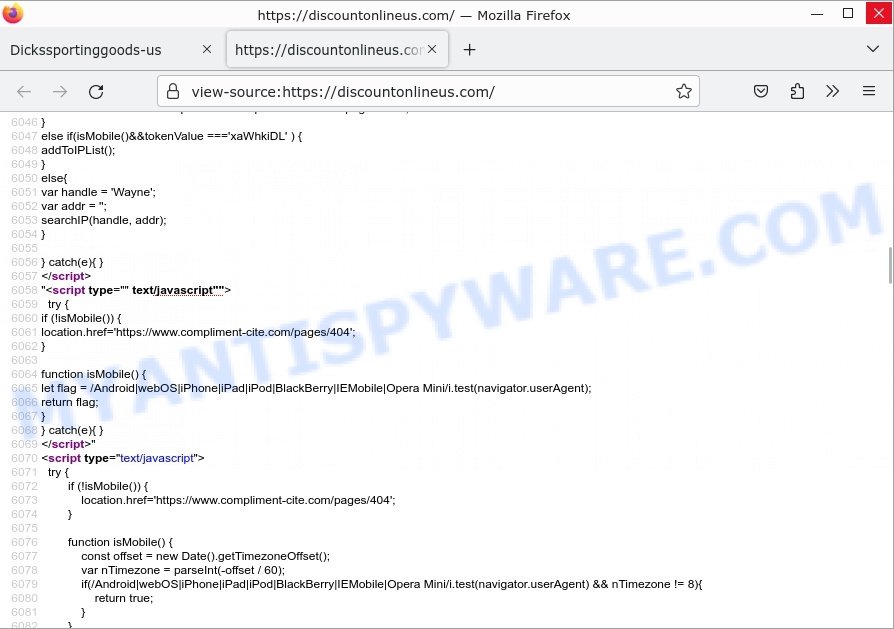 This technique is known as device targeting and it is often used by fraudulent websites to prevent analysis by security researchers or law enforcement agencies. It is possible that the creators of Discountonlineus.com are trying to make it difficult for authorities to investigate their activities by using this technique. This raises suspicion about the legitimacy of the website and the products being sold on it.
Conclusion
Discountonlineus.com exhibits a multitude of unmistakable signs that clearly indicate it is a scam shop. From the deceptive website design and impersonation of a legitimate "DICK'S Sporting Goods" store to the manipulative pricing tactics and lack of genuine contact information, all the evidence points towards a fraudulent operation. The unauthorized use of the official logo and the creation of a misleading domain name serve as blatant attempts to deceive unsuspecting shoppers. The absurdly low prices listed on the website are far from realistic, aiming to entice victims with the allure of unbelievable discounts. The association of their contact information with other scam shops and the use of an unrelated email address further solidify Discountonlineus.com's fraudulent nature.
It is crucial to remain vigilant and avoid engaging with Discountonlineus.com to protect yourself from potential scams. Falling victim to their deceptive practices could lead to financial loss and compromise of personal information. Instead, opt for reputable and trusted online retailers to ensure a secure and satisfactory shopping experience.
In conclusion, Discountonlineus.com is a scam shop that preys on unsuspecting consumers. Protect yourself and make informed choices to avoid becoming another victim of their deceptive practices.
Summary
| | |
| --- | --- |
| Store Name | Discountonlineus.com |
| Categories | WHAT'S NEW, Women's Arizona, Women's Gizeh, Women's Mayari, Women's Madrid, Men's Arizona, Men's Milano, Kids |
| Pricing | Very low, with products sold at a fraction of their real cost |
| Examples | Women's Arizona Soft Footbed Oiled Leather for $19, real price $125; Trail Short – Tahiti Texture Block fpr $19, real price over $50 |
| Reviews | No positive reviews found online, some reviews suggest that the site is a scam |
| Logo and Design | Uses the logo and photos of the legitimate DICK'S Sporting Goods store, but sells the same products at a fraction of the cost. The website has a typical template design. |
| Contact Information | Email: jessie@peachcher.com; Company Name: . No phone or social media links. Managed by AIMARK LTD (Register number:10853964; Company Address: Chase Business Centre, 39-41 Chase Side, London, United Kingdom, N14 5BP), which is associated with a network of fraudulent websites. |
| WHOIS Information | Created on 2023-06-28, expires on 2024-08-28. Registrant information is hidden. |
| Recommendation | It is recommended to avoid making purchases from Discountonlineus.com. |
Other Suspicious Online Shops to Avoid
It's important to be vigilant when shopping online, as fraudulent websites can easily deceive customers into making purchases that result in financial loss. Unfortunately, Discountonlineus.com is not the only suspicious online shop out there. In fact, there are many other online shops with similar characteristics and practices that should also be avoided. In this section, we will highlight some of these other suspicious online shops to help you stay informed and avoid becoming a victim of online scams.
Here are a few examples of the suspicious online shops: Prudencei.shop, G2kayak.com, and Footwearuzone.com.
How to spot and avoid a fake online store?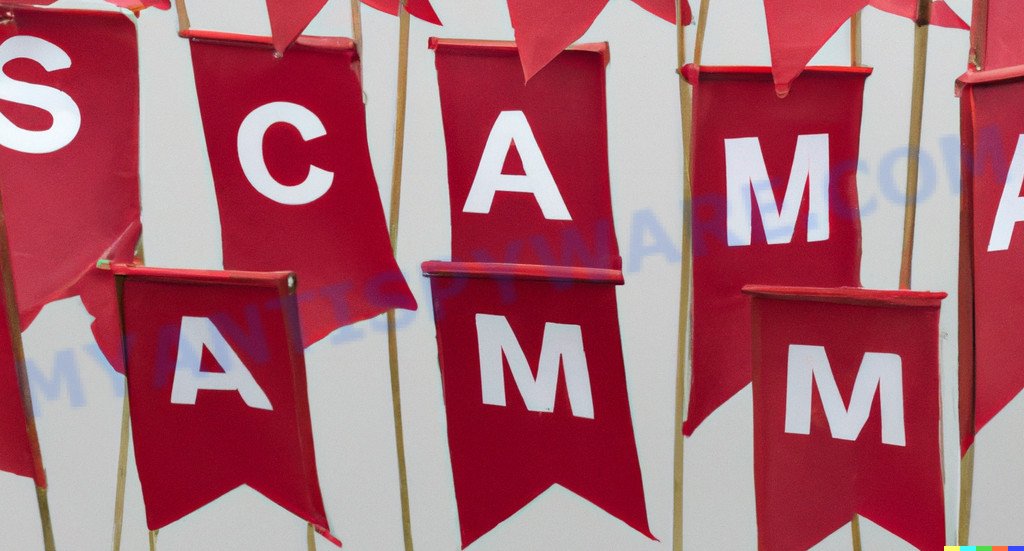 Online shopping has become increasingly popular, but it also carries certain risks, particularly when it comes to fake or fraudulent online stores. Here are some tips on how to spot and avoid a fake online shop:
Check for HTTPS and a padlock symbol in the URL bar. This indicates that the website is using encryption to protect your data.
Look for reviews and ratings of the website. Genuine websites will usually have positive feedback from customers, while fake ones may have little to no reviews or negative feedback.
Check the website's contact information. A legitimate online store will have a physical address, phone number, and email address for customer support.
Research the website on the internet. Search for the website's name and reviews, complaints or any warning signs about it before making a purchase.
Be wary of deals that are too good to be true. Fake online stores may offer steep discounts to lure in customers, but these deals may be a ploy to steal your money.
Avoid using payment methods that are not secure. Use payment methods such as credit card, PayPal or other payment methods that provide buyer protection.
Be wary of pop-ups or unsolicited emails directing you to a website. This may be a phishing attempt to get your personal and financial information.
By taking these precautions, you can reduce the risk of falling prey to fake online stores and ensure a safe and enjoyable online shopping experience.
What to do if you ordered something from a fake online store?
If you have already ordered something from a fake website and you suspect that it may be a scam, there are several steps you can take:
Contact the website's customer support.
If the website has provided contact information, try reaching out to their customer support to inquire about the status of your order. If the website does not respond or gives you unsatisfactory answers, it could be a sign that it is a fake website.
Check your payment method.
If you have paid for your order with a credit card, check your statement to see if the payment has gone through. If it has not, then you may have caught the scam in time, but if it has, you may need to dispute the charge with your bank.
File a dispute or chargeback with your payment provider.
If you have paid for your order with a credit card or other payment method that offers buyer protection, you may be able to dispute the charge or request a chargeback to get your money back. Use the steps (https://consumer.ftc.gov/articles/what-do-if-you-were-scammed) to try to stop a transaction, get a transaction reversed, or get a refund.
Report the fake online store.
You can report the fake website to authorities such as the Federal Trade Commission (FTC) at https://ftc.gov/ or the Internet Crime Complaint Center (IC3). This can help prevent others from falling victim to the same scam.
Learn from your experience.
Be more cautious in the future and take steps to ensure that you are shopping on legitimate websites that are secure and reputable.