G2kayak.com is an online store that displays several unmistakable signs of a scam. One glaring concern is the absence of essential website pages, including contact information and proper categories. Furthermore, the use of Facebook ads to promote an incredibly low-priced kayak, with a substantial discount of over 60%, raises suspicions about the legitimacy of the offers. The alleged partnership with Bass Pro, as indicated by the unauthorized use of their logo, adds another layer of deceit.
To uncover more details and protect yourself from potential scams, it is vital to read the comprehensive review. Don't be lured by seemingly attractive deals without fully evaluating the credibility of G2kayak.com. For a quick summary of our findings, please refer to the table Summary of G2kayak.com Review below.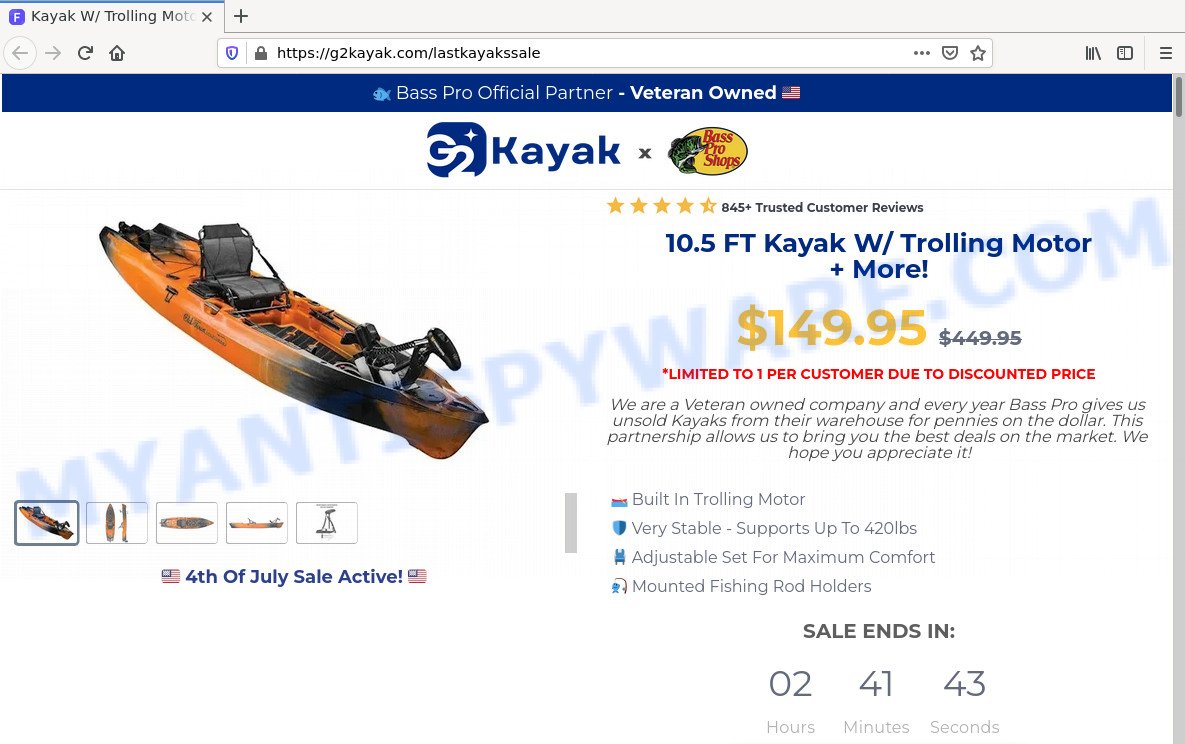 G2kayak.com Review
Website Design and Logo
The design of G2kayak.com's website raises several concerns when it comes to legitimacy. The website lacks essential pages, such as contact information and about us, which are typically found on reputable online stores. This absence of crucial details makes it difficult for customers to establish trust and raises doubts about the credibility of the website.
One particularly deceptive element is the unauthorized use of the Bass Pro logo. Alongside their own "G2 Kayak" logo, the Bass Pro logo is prominently displayed, creating the false impression of an official partnership. This unauthorized use of a well-known brand logo is a clear attempt to deceive customers and gain their trust under false pretenses.
The combination of a poorly designed website with missing pages, along with the unauthorized use of a trusted brand logo, raises significant doubts about the authenticity and professionalism of G2kayak.com. It is crucial to exercise caution and thoroughly investigate before engaging with such a website.
Products and Categories
G2kayak.com's website exhibits a striking lack of product variety and categories, which is a major concern for an online store. The website seems to focus solely on promoting a single product page featuring a 10.5 FT Kayak W/ Trolling Motor. This limited product selection raises suspicions about the legitimacy of the website and its actual intent.
Moreover, the advertised price of $149.95 for the 10.5 FT Kayak W/ Trolling Motor is incredibly low compared to its alleged real value of $4349.99. Such a drastic price difference is highly unrealistic and typically serves as a tactic to attract unsuspecting customers with enticing offers. This strongly suggests that the website might be using deceptive practices to lure in potential buyers.
Facebook Ads
G2kayak.com heavily relies on Facebook ads to attract potential customers and promote their products. One such ad claims an incredible deal on a top-rated kayak with a trolling motor. The ad emphasizes the convenience and value of the product, stating that it's a "fishing game changer" and the "perfect partner" for angling adventures.
The Facebook ad presents an alluring offer of "OVER 60% Today! – LIMITED Time Offer Free Shipping Included." The substantial discount, combined with the promise of free shipping, aims to create a sense of urgency and encourage impulse purchases.
Customer Reviews
G2kayak.com appears to lack positive reviews from customers, which is a significant red flag when assessing its credibility. The absence of genuine feedback raises suspicions about the legitimacy and trustworthiness of the website.
In fact, some online reviews explicitly state that G2kayak.com is a scam. These reviews highlight concerns about the website's legitimacy and warn others to steer clear of making any purchases. While it's important to consider that negative reviews can be subjective, a consistent pattern of negative feedback or a complete absence of positive reviews should raise cautionary alarms.
Contact Information
One of the most alarming aspects of G2kayak.com is the complete absence of any contact information on their website. Reputable online stores typically provide clear and accessible channels for customers to get in touch, such as email addresses, phone numbers, or live chat support. However, on G2kayak.com, there are no visible contact details available, making it extremely difficult for customers to reach out for inquiries, support, or assistance.
This lack of contact information raises serious red flags about the legitimacy and credibility of the website. In case of any issues with orders, delivery, or product inquiries, customers are left without any means to seek help or resolve their concerns.
WHOIS Information
When examining the WHOIS information for G2kayak.com, a few notable details come to light. The domain was created on June 13, 2023, and is set to expire on June 13, 2024. The fact that the domain is relatively new raises some concerns, as scam websites often have short lifespans to avoid detection and accountability.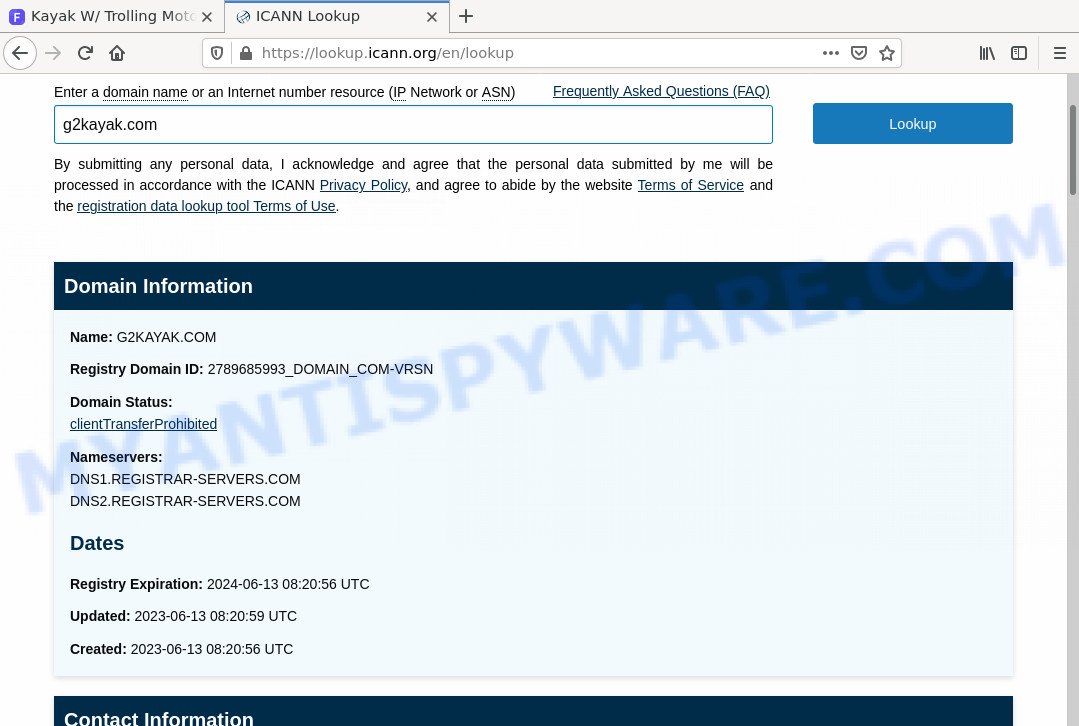 One notable aspect is that the WHOIS contact information is hidden, making it difficult to identify the individuals or organization behind G2kayak.com. Scammers often choose to conceal their contact details to avoid being traced and held accountable for their fraudulent activities.
While the WHOIS information provides limited insights, it is important to consider this alongside other factors when evaluating the legitimacy of a website.
Summary
| | |
| --- | --- |
| Store Name | G2kayak.com, G2 Kayak |
| Pricing | 10.5 FT Kayak W/ Trolling Motor at $149.95 (claimed real price: $4349.99) |
| Reviews | No positive reviews; reports suggest it is a scam |
| Logo and Design | Generic template design, Unauthorized use of Bass Pro logo alongside their own logo |
| Contact Information | No contact information provided |
| WHOIS Information | Domain created on June 13, 2023; Whois contacts hidden. |
| Recommendation | It is strongly advised to avoid making any purchases or sharing sensitive information on this website. |
Conclusion
G2 Kayak displays a multitude of alarming signs that strongly suggest it is a scam online store. The unrealistically low pricing of $149.95 for a 10.5 FT Kayak W/ Trolling Motor, when its real price is $4349.99, is a classic bait-and-switch strategy employed by fraudulent websites. This unrealistic pricing aims to lure unsuspecting customers with an incredible deal, only to disappoint them later.
The unauthorized use of the Bass Pro logo alongside their own logo is a deceptive tactic aimed at creating a false association and misleading customers. This misuse of a trusted brand logo undermines the credibility and integrity of G2kayak.com.
Furthermore, the absence of contact information on the website leaves customers with no means to seek assistance or resolve any issues that may arise during the purchasing process. This lack of transparency and customer support is a significant concern when considering the trustworthiness of an online store.
The WHOIS information being hidden by "Withheld for Privacy" further adds to the overall suspicious nature of G2kayak.com.
In light of these findings, it is recommended to avoid this website and explore alternative options from reputable and trusted sources.
Other Suspicious Online Shops to Avoid
As part of our ongoing effort to protect our readers from potential scams, we have compiled a list of other suspicious online shops that you should be aware of. These shops share similar characteristics and tactics to G2kayak.com, and they use deceptive practices to lure in unsuspecting buyers. It's crucial to remain vigilant when shopping online and to be aware of the warning signs of a potential scam. Below we will highlight some of the other suspicious online shops that you should avoid to protect your personal and financial information.
Here are a few examples of the suspicious online shops: Footwearuzone.com, Beatitude144.shop, and fake HSN Factory Outlet.
How to spot and avoid a fake online store?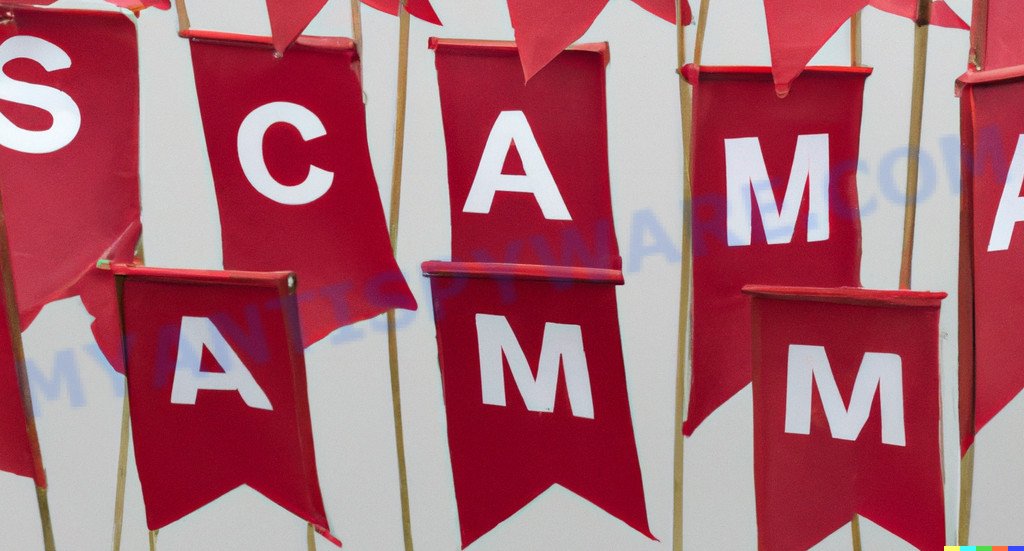 Online shopping has become increasingly popular, but it also carries certain risks, particularly when it comes to fake or fraudulent online stores. Here are some tips on how to spot and avoid a fake online shop:
Check for HTTPS and a padlock symbol in the URL bar. This indicates that the website is using encryption to protect your data.
Look for reviews and ratings of the website. Genuine websites will usually have positive feedback from customers, while fake ones may have little to no reviews or negative feedback.
Check the website's contact information. A legitimate online store will have a physical address, phone number, and email address for customer support.
Research the website on the internet. Search for the website's name and reviews, complaints or any warning signs about it before making a purchase.
Be wary of deals that are too good to be true. Fake online stores may offer steep discounts to lure in customers, but these deals may be a ploy to steal your money.
Avoid using payment methods that are not secure. Use payment methods such as credit card, PayPal or other payment methods that provide buyer protection.
Be wary of pop-ups or unsolicited emails directing you to a website. This may be a phishing attempt to get your personal and financial information.
By taking these precautions, you can reduce the risk of falling prey to fake online stores and ensure a safe and enjoyable online shopping experience.
What to do if you ordered something from a fake online store?
If you have already ordered something from a fake website and you suspect that it may be a scam, there are several steps you can take:
Contact the website's customer support.
If the website has provided contact information, try reaching out to their customer support to inquire about the status of your order. If the website does not respond or gives you unsatisfactory answers, it could be a sign that it is a fake website.
Check your payment method.
If you have paid for your order with a credit card, check your statement to see if the payment has gone through. If it has not, then you may have caught the scam in time, but if it has, you may need to dispute the charge with your bank.
File a dispute or chargeback with your payment provider.
If you have paid for your order with a credit card or other payment method that offers buyer protection, you may be able to dispute the charge or request a chargeback to get your money back. Use the steps (https://consumer.ftc.gov/articles/what-do-if-you-were-scammed) to try to stop a transaction, get a transaction reversed, or get a refund.
Report the fake online store.
You can report the fake website to authorities such as the Federal Trade Commission (FTC) at https://ftc.gov/ or the Internet Crime Complaint Center (IC3). This can help prevent others from falling victim to the same scam.
Learn from your experience.
Be more cautious in the future and take steps to ensure that you are shopping on legitimate websites that are secure and reputable.