Have you come across an enticing Facebook ad or stumbled upon a website promoting the Esaver Watt energy saving device, claiming endorsements from renowned figures like Elon Musk and Leonardo DiCaprio? The promise of substantial electricity bill reductions and a greener future may have caught your attention. However, before you proceed any further, it's crucial to understand the truth behind this elaborate facade.
Brace yourself for a revelation as we delve into the facts surrounding the Esaver Watt scam. Discover the deceptive tactics employed and protect yourself from falling prey to this fraudulent scheme. Read on to separate fact from fiction and make an informed decision about your energy-saving endeavors. For a quick summary of our findings, please refer to the table Summary of Esaver Watt Review below.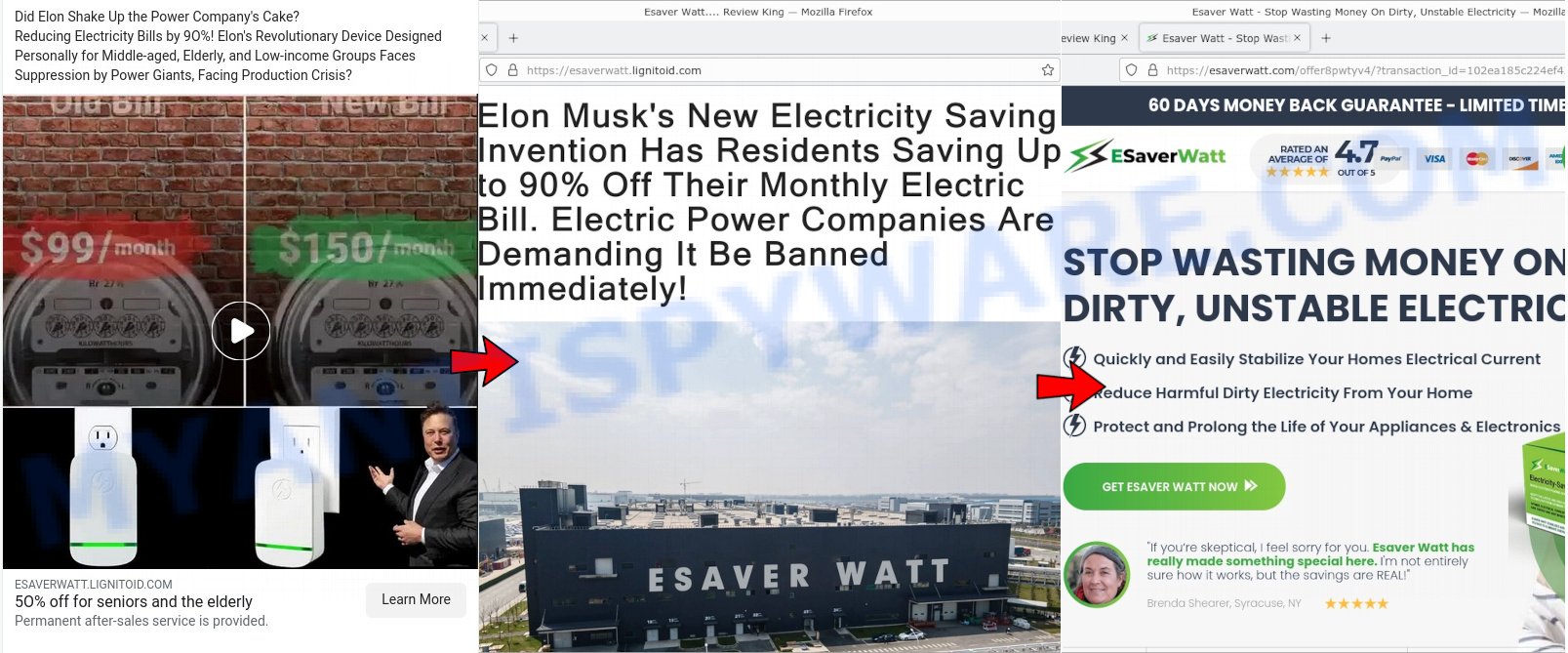 QUICK LINKS
How Esaver Watt Works (Claims to Work)
Esaver Watt, a device that claims to offer significant energy-saving benefits, has garnered attention through various online platforms, including scam sites that promote its supposed functionality. These sites make bold claims about the device's effectiveness and tout endorsements from high-profile figures like Elon Musk and Leonardo DiCaprio. However, it is essential to approach these assertions with caution, as they are part of a fraudulent scheme aimed at deceiving unsuspecting consumers.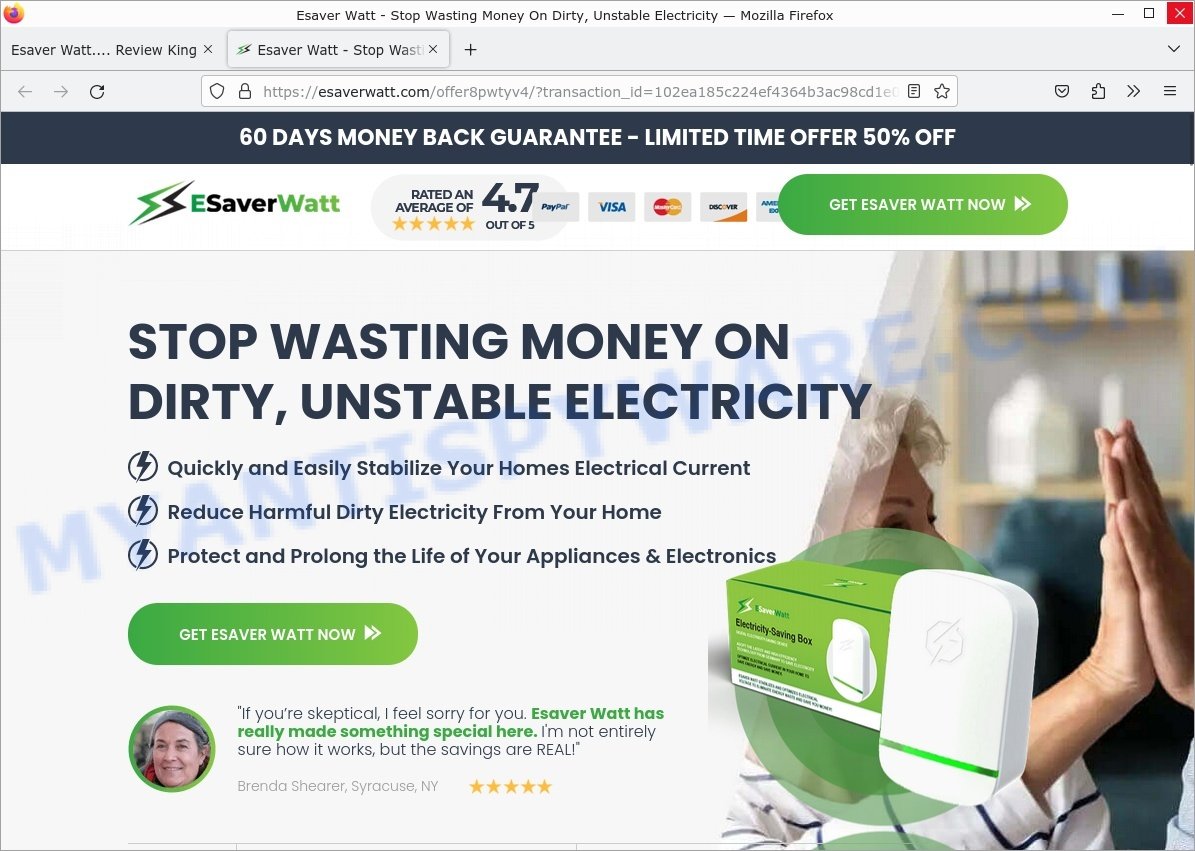 The alleged working mechanism of Esaver Watt, as described on these scam sites, revolves around its patent-pending technology. The device purports to stabilize the electrical current in homes, resulting in a smoother and more efficient power flow. By rectifying unstable electric currents, Esaver Watt claims to reduce waste power and lower energy consumption, ultimately leading to potential savings on electricity bills.
Another claim made by the scam sites is that Esaver Watt can eliminate harmful shocks and surges. The device supposedly achieves this by employing advanced capacitors, which protect appliances and electronics from sudden spikes in electricity. Additionally, the device is said to reduce "dirty electricity" through a patented magnetic filter that removes carbon from the electrical circuit, thereby reducing exposure to electromagnetic radiation generated by electronic devices.
However, it is crucial to recognize that these claims are part of an elaborate scam. There is no credible evidence to support the effectiveness of Esaver Watt in delivering the promised energy-saving benefits.
Is Esaver Watt an Energy Saving Device or a Clever Scam?
Esaver Watt, an Energy Saving Device, is a scam. This product claims to revolutionize the way we consume electricity and promises substantial reductions in energy costs. However, a closer examination of Esaver Watt reveals a multitude of indicators that suggest it is nothing more than a deceptive scheme. From misleading advertising tactics to the lack of substantial technological proof, Esaver Watt raises significant red flags that should warrant caution among consumers.
The first sign of deception lies in the advertising methods employed by Esaver Watt. Scam sites utilize misleading strategies, including the use of fake profiles and endorsements from well-known figures like Elon Musk and Leonardo DiCaprio, to create an illusion of legitimacy. However, there is no concrete evidence supporting these endorsements, and it is highly unlikely that such influential individuals would associate themselves with a dubious product.
Furthermore, Esaver Watt claims to utilize advanced technologies, such as its patent-pending Electricity Stabilizing Technology (E.S.T.), which purportedly stabilizes currents, eliminates electrical shocks and surges, and reduces "dirty electricity". However, these claims lack credible scientific backing and fail to provide any tangible evidence or independent validation of the device's capabilities. In fact, upon opening the device, consumers have reported finding nothing more than a few wires and a small board with basic components, such as capacitors. Such a simplistic internal structure raises doubts about the device's ability to deliver on its extravagant promises.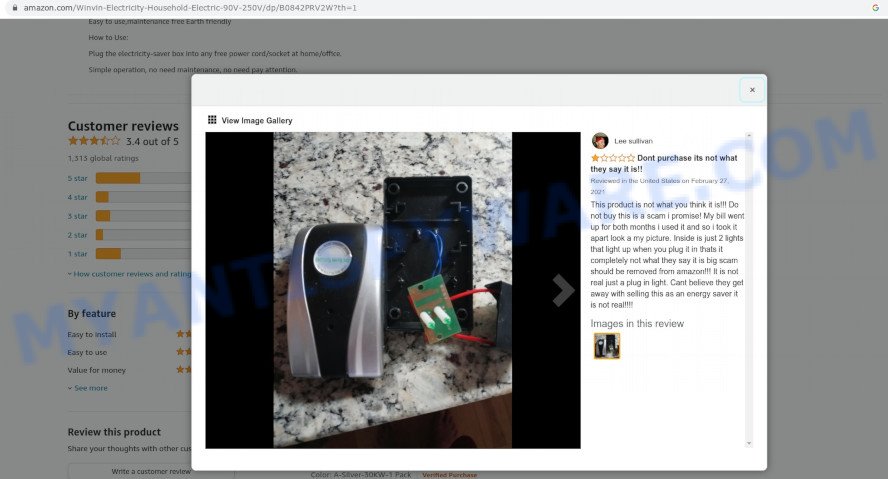 Additionally, the lack of transparency surrounding the manufacturer and the team behind Esaver Watt further adds to its questionable nature. Scam sites often omit crucial information about the company, making it difficult for consumers to verify its credibility and track record.
In conclusion, Esaver Watt presents itself as an Energy Saving Device with the potential to revolutionize energy consumption. However, its deceptive advertising tactics, lack of substantial technological proof, and absence of transparency strongly suggest that it is a scam. Consumers should exercise vigilance and rely on proven energy-saving methods, such as reducing overall electricity consumption and adopting sustainable practices, rather than placing their trust in unverified and dubious devices.
Esaver Watt & Elon Musk: Exposing Misleading Ads
EsaverWatt, an alleged energy-saving device, has been making waves online with its deceptive advertising tactics, particularly its claim of being recommended by none other than Elon Musk, the visionary entrepreneur behind Tesla and SpaceX. Ads promoting this scam device attempt to lure consumers by showcasing electric meters and associating the product with Elon Musk's name. However, it is crucial to expose the truth behind these misleading marketing efforts.
The advertisements, often found on platforms like Facebook, feature Esaver Watt alongside a photo of Elon Musk, creating the illusion that he endorses or supports this product. The intention behind this calculated association is to exploit Musk's reputation and capitalize on his credibility as a leader in the clean energy industry. Scam sites take it even further by using fabricated profiles and fake accounts, complete with photos of Leonardo DiCaprio, in an attempt to strengthen the illusion of celebrity endorsements.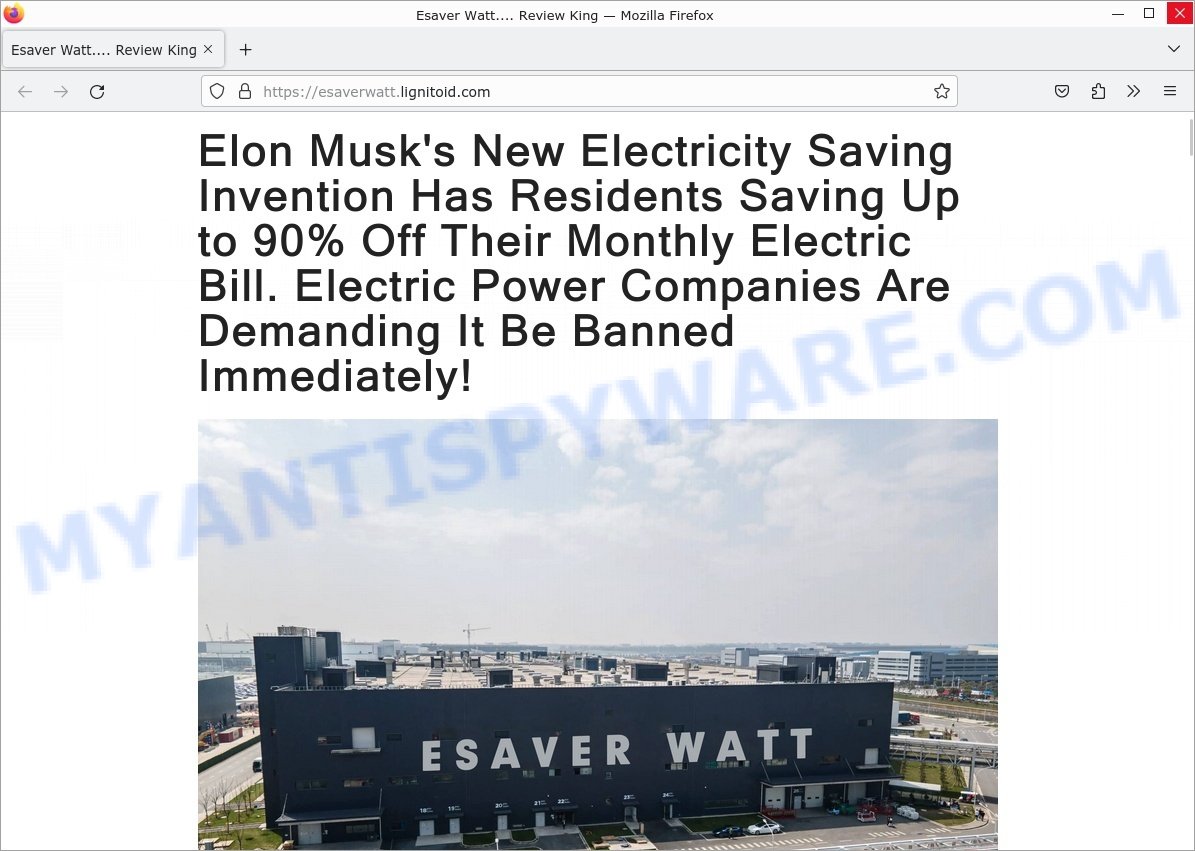 Once users click on these ads, they are directed to websites designed to mimic legitimate sources, including fake articles that resemble renowned publications. These articles contain excerpts that supposedly endorse Esaver Watt and attribute its success to Elon Musk. However, it is important to note that these articles are part of the deceptive strategy employed by the scammers to persuade potential customers.
In reality, the inner workings of the Esaver Watt device fail to live up to the grand claims made by the scammers. Users who have dismantled the device report finding only a few capacitors and a small circuit board, casting doubt on its supposed ability to stabilize electricity and reduce dirty electricity. Moreover, the alleged "patent-pending technology" mentioned in the scam articles lacks any verifiable evidence or support from reputable energy experts.
The use of Elon Musk's name in promoting Esaver Watt is a clear attempt to deceive consumers and exploit their trust in influential figures. While Elon Musk is an advocate for clean energy and innovative solutions, there is no credible evidence or endorsement from him regarding Esaver Watt. It is crucial for consumers to exercise caution and not fall victim to such misleading marketing tactics.
In conclusion, Esaver Watt's claim of endorsement by Elon Musk is nothing more than a deceptive ploy to deceive consumers. The association with Elon Musk and the fabricated articles create an illusion of credibility that ultimately leads unsuspecting individuals into purchasing a scam device.
Scams Like Esaver Watt: Examples of similar products
Esaver Watt, discussed earlier, is just one example of a deceptive energy-saving promise that preys on consumers' desire to reduce their electricity bills. However, it is far from being the only scam of its kind. There are numerous other products out there that make bold claims about saving energy, but ultimately fail to deliver on their promises. From magical socks to mini air conditioners that claim to cool your entire room, these scams come in various forms, targeting unsuspecting individuals who are seeking ways to cut costs and live more sustainably.
Here are some examples of similar products to be aware of: HIGHERSOCKS Schorl Titanium Ion Socks, ChillWell Portable AC, MileMax Fuel Saver and Stop Watt.
Summary
| | |
| --- | --- |
| Name | Esaver Watt Energy Saving Device, EsaverWatt |
| Associated websites | esaverwatt.com, esaverwatt.lignitoid.com, dragon.menolparkreport.com |
| Description | Esaver Watt presents itself as an Energy Saving Device that claims to stabilize home electrical current and reduce electricity bills. |
| Key Promises | Quickly and Easily Stabilize Your Homes Electrical Current; Reduce Harmful Dirty Electricity From Your Home; Protect and Prolong the Life of Your Appliances & Electronics |
| How it Works | According to the scam sites, it uses "Electricity Stabilizing Technology (E.S.T.)" and advanced capacitors to stabilize the electric current and reduce electromagnetic radiation. |
| Price | $49 – $117.60 |
| Scam Indicators | Fake endorsements from Elon Musk and Leonardo DiCaprio; False claims of significant energy bill reductions; Fake customer reviews |
| Similar Scams | Stop Watt, Energy Saver Box, Power Saver Pro, Electricity Saving Box. |
| Contact Information | The EsaverWatt website only provides an email (support@esaverwatt.com), and the phone number and address are missing. |
Conclusion: Should You Try Esaver Watt?
In light of the evidence presented, it is evident that EsaverWatt is not a legitimate energy-saving device but rather a scam. The associated websites, esaverwatt.com and esaverwatt.lignitoid.com, employ deceptive marketing tactics, fake celebrity endorsements (such as Elon Musk), and misleading advertising to create a false sense of credibility. The device promises significant reductions in electricity bills and boasts complex technologies, like Electricity Stabilizing Technology (E.S.T.) and advanced capacitors, for which there is no verifiable physical confirmation or scientific evidence.
Furthermore, the customer testimonials and reviews provided on these sites may not be genuine, and the claims of saving up to 90% on electricity bills are highly exaggerated and unrealistic. The lack of transparent information about the device's internal components and its working mechanism raises suspicions about its actual efficacy.
Similar suspicious devices in the market, such as RealWatt, Stop Watt, and Power Saver Pro, also make comparable claims of miraculous energy savings but lack scientific validation and rely on misleading advertising practices.
Given the numerous scam indicators and the lack of credible evidence supporting Esaver Watt's claims, it is advisable to exercise caution and refrain from purchasing this device. The best way to save on electricity bills is to adopt energy-efficient practices, such as using energy-efficient appliances, sealing drafts in your home, and turning off unused electronics. Remember, the key to genuine energy savings lies in using less electricity responsibly, not relying on unproven and potentially fraudulent devices.
If you encounter any suspicious energy-saving devices or advertisements that appear too good to be true, it is essential to thoroughly research and verify their legitimacy before making any purchases. Stay vigilant and prioritize safety and reliability when seeking energy-saving solutions for your home.