Justowear.shop is a scam shop that deceitfully poses as an official Shein store, employing various tactics to deceive unsuspecting customers. The site's logo, strikingly resembling Shein's, and the deliberate use of the title "SНΙNE-CLOTHING" are clear attempts at imitation. However, multiple signs point to its fraudulent nature. Notably, Justowear.shop lacks positive reviews online and provides no links to social media pages, raising concerns about its legitimacy. Furthermore, the prices of their products, such as fashion jeans for $3.97 and elegant dresses for $3.97 are unrealistically low. These glaring discrepancies in combination with the association with HINOVATION LIMITED, a company linked to other fraudulent websites, strongly suggest a scam operation.
For a comprehensive analysis of Justowear.shop's deceptive practices and to safeguard yourself from potential scams, we highly recommend reading the full review. For a quick summary of our findings, please refer to the table Summary of Justowear.shop Review below.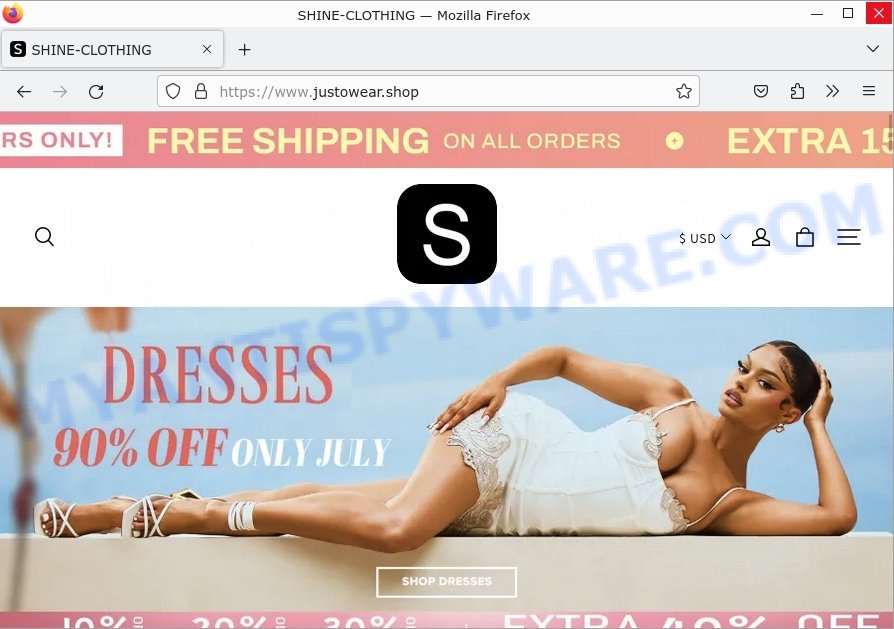 Justowear.shop Review
Website Design and Impersonation
One of the key indicators of Justowear.shop being a scam is its website design and deliberate impersonation of the legitimate Shein online store. By comparing Justowear.shop with a genuine Shein shop, it becomes evident that Justowear.shop goes to great lengths to mimic Shein's design elements in order to deceive visitors.
For comparison, here is a screenshot of the official Shein shop, highlighting its genuine design elements: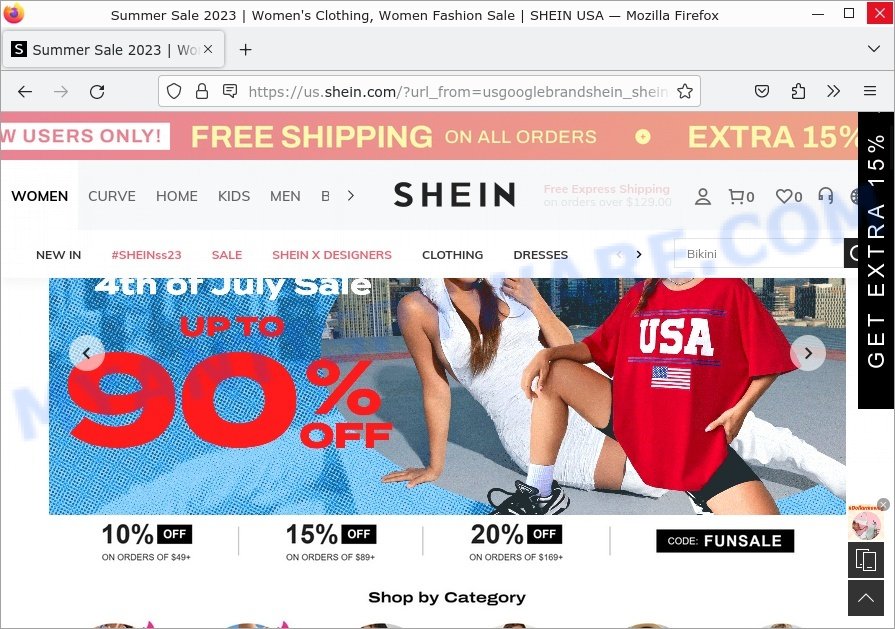 In the provided screenshot of a genuine Shein shop, you can see the authentic design elements that have made Shein a recognizable brand. However, when you look at the layout of Justowear.shop, you'll notice a blatant attempt to replicate Shein's visual identity. Justowear.shop's logo, featuring a white letter "S" within a black square, closely resembles Shein's iconic logo. Even the color scheme and typography used by Justowear.shop are designed to emulate Shein's branding.
This impersonation is a clear red flag and should raise skepticism about the legitimacy of Justowear.shop as a reputable online retailer. It is important to remain cautious when encountering websites that imitate established brands. Authentic online stores maintain their unique branding and design elements, rather than trying to pass off as another well-known entity.
Facebook ads
Justowear.shop utilizes Facebook ads to further promote its scam operation. These ads are designed to entice potential customers with enticing offers and discounts, creating a sense of urgency and attractiveness. However, a closer examination of these ads reveals additional red flags.
The Facebook ads used by Justowear.shop often feature enticing phrases such as "Free Gift for your first order", "Up to 50% off", and "Perfect fit and well made". These statements aim to capture the attention of users who may be looking for a good deal or seeking trendy fashion items. However, it's important to approach these ads with caution.
One common strategy employed by scammers is to highlight the popularity of their store. Justowear.shop claims to have been shopped by "one million customers" and emphasizes the availability of a wide range of products. However, the lack of positive reviews or a significant online presence raises doubts about the credibility of these claims.
Moreover, the Facebook ads often mention Shein, creating a false association with the legitimate brand. For example, phrases like "SHEIN as low as $1.99" and "SHEIN $3.98 Only Today" are used to mislead potential customers into thinking they are accessing Shein's discounts. These misleading tactics further contribute to the deceptive nature of Justowear.shop.
Product Pricing
One of the most glaring indications of Justowear.shop being a scam is its unbelievably low product prices. The website claims to offer heavily discounted items, but these prices are far from realistic and should raise immediate suspicion.
Examples of the suspiciously low prices on Justowear.shop include fashion jeans listed at $3.97 (originally priced over $55), art print polo shirts for $3.98 (originally priced over $20.99), and elegant dresses for $3.97 (originally priced over $70). Such steep discounts, well below the market value of these products, are simply too good to be true.
Scammers often utilize incredibly low prices as bait to attract unsuspecting customers. They prey on the desire for a good deal, enticing shoppers to make impulsive purchases without realizing they are being deceived. However, the reality is that these heavily discounted items are unlikely to ever be delivered, and the quality would likely be subpar even if they were.
Customer Reviews
Numerous customers have shared their experiences with Justowear.shop, and a common thread emerges from their reviews. The issues raised by customers highlight the deceptive nature of the website and the problems they encountered during their shopping journey.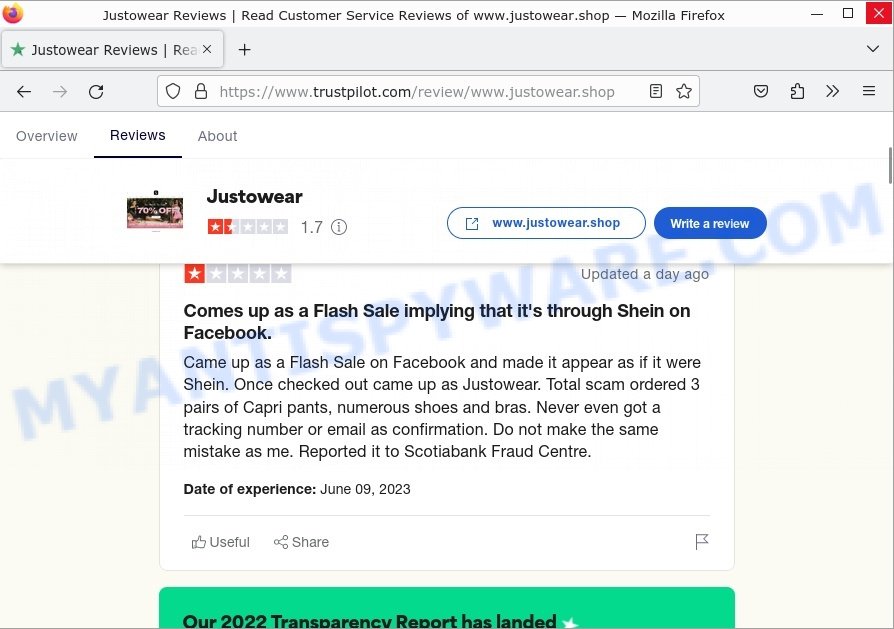 One recurring problem reported by customers is the misleading advertising tactics employed by Justowear.shop. Many users mentioned that they were initially lured in by Facebook ads that implied a connection to the popular online retailer Shein. The ads created a false impression that they were accessing Shein's discounted items or flash sales. However, upon visiting Justowear.shop, customers quickly realized that they were dealing with a separate and unrelated entity.
Another significant concern voiced by customers is the failure to receive their ordered items. Many customers reported not receiving any confirmation emails or tracking numbers after placing their orders. This lack of communication and transparency left them in the dark about the status of their purchases. Some customers even mentioned that their packages were falsely marked as delivered, further adding to their frustration and disappointment.
Additionally, when customers attempted to contact Justowear.shop's customer service for assistance, they often encountered unhelpful or evasive responses. Refunds were difficult to obtain, with customers being offered partial refunds or asked to return items at their own expense, which sometimes exceeded the value of the purchase itself. These experiences suggest a lack of accountability and a disregard for customer satisfaction.
Overall, customer reviews of Justowear.shop indicate a pattern of deceptive advertising, non-delivery of items, and unsatisfactory customer service. It is important to be cautious when encountering online stores with similar characteristics. Verifying the legitimacy of a website, reading reviews from trusted sources, and exercising due diligence can help protect consumers from falling victim to scams.
Contact Information
Justowear.shop provides limited contact information, which raises concerns about their legitimacy and customer support. The only contact method provided is an email address: xm1@officialafter-sales.com. However, it is important to note that the use of a generic email domain and the absence of a professional email address associated with the store's domain name is a potential red flag.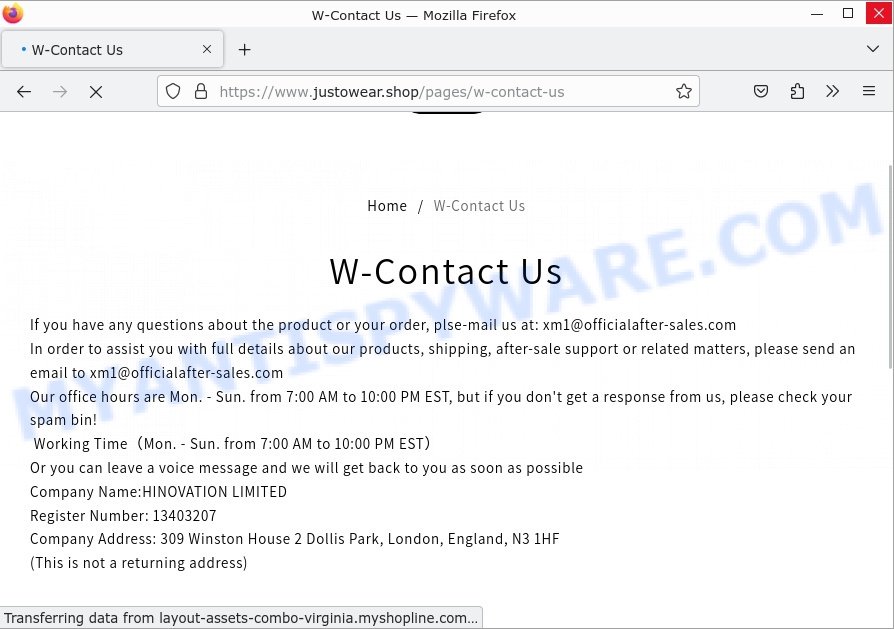 Furthermore, Justowear.shop does not provide any links or references to their presence on social media platforms. Legitimate and reputable online stores often maintain active social media accounts to engage with customers, address inquiries, and build a community.
The website claims to be managed by HINOVATION LIMITED, with a registered company address at 309 Winston House 2 Dollis Park, London, England, N3 1HF.
HINOVATION LIMITED has a well-established history of operating multiple fraudulent websites and has been linked to various scam-related activities. This connection reinforces the suspicions surrounding Justowear.shop and suggests that it is part of a larger network of deceitful online ventures.
Conclusion
Based on the gathered information, Justowear.shop exhibits several red flags and characteristics commonly associated with scam websites. The impersonation of the popular online store Shein, coupled with the use of a similar logo, raises suspicions about the site's intentions. The website's template design, low-quality product photos sourced from other sites, and significantly discounted prices further indicate potential fraudulent activity.
Customer reviews and experiences reveal a pattern of disappointment and frustration. Many customers report not receiving their orders, lack of tracking numbers or order confirmations, and difficulties in obtaining refunds or resolving issues with customer support. These experiences, along with the overall lack of positive reviews and a low TrustPilot rating, underscore the unreliability of Justowear.shop as an online shopping destination.
The limited contact information provided by Justowear.shop, along with the absence of active social media accounts, adds to the suspicions surrounding the store's legitimacy and customer support. Additionally, the association of Justowear.shop with HINOVATION LIMITED, a company known to be involved in fraudulent activities, raises further concerns.
Considering the combination of these factors, it is strongly advised to exercise caution and avoid making any purchases from Justowear.shop. Engaging with this website puts your personal and financial information at risk, and there is a high likelihood of not receiving the ordered products or encountering difficulties in obtaining refunds.
Summary
| | |
| --- | --- |
| Store Name | Justowear.shop |
| Categories | T-shirt, BIKINI, 🔥HOT SALE, Casual Set, Dresses, Best selling shoes, Pants-2023, Accessories, CLEARANCE SALE, Plus Size Fashion |
| Pricing | Very low, with products sold at a fraction of their real cost |
| Examples | Fashion Jeans for $3.97, real price ovr $55, Art print Polo shirt $3.98, real price over $20.99, Elegant Dresses for $3.97, real price over $70 |
| Reviews | No positive reviews found online, some reviews suggest that the site is a scam |
| Logo and Design | Uses the logo and photos of the legitimate Shein store, but sells the same products at a fraction of the cost. The website has a typical template design. |
| Contact Information | Email: xm1@officialafter-sales.com. No phone or social media links. Managed by HINOVATION LIMITED; Register Number: 13403207; Company Address: 309 Winston House 2 Dollis Park, London, England, N3 1HF; which is associated with a network of fraudulent websites. |
| WHOIS Information | Created on 2023-03-10, expires on 2024-03-10. Registrant information is hidden. |
| Recommendation | It is recommended to avoid making purchases from Justowear.shop. |
Other Suspicious Online Shops to Avoid
It's important to be vigilant when shopping online, as fraudulent websites can easily deceive customers into making purchases that result in financial loss. Unfortunately, Justowear.shop is not the only suspicious online shop out there. In fact, there are many other online shops with similar characteristics and practices that should also be avoided. In this section, we will highlight some of these other suspicious online shops to help you stay informed and avoid becoming a victim of online scams.
Here are a few examples of the suspicious online shops: Beatitude 144 shop, Dickssportsus.com, and Fake HSN Factory Outlet Online Shops.
How to spot and avoid a fake online store?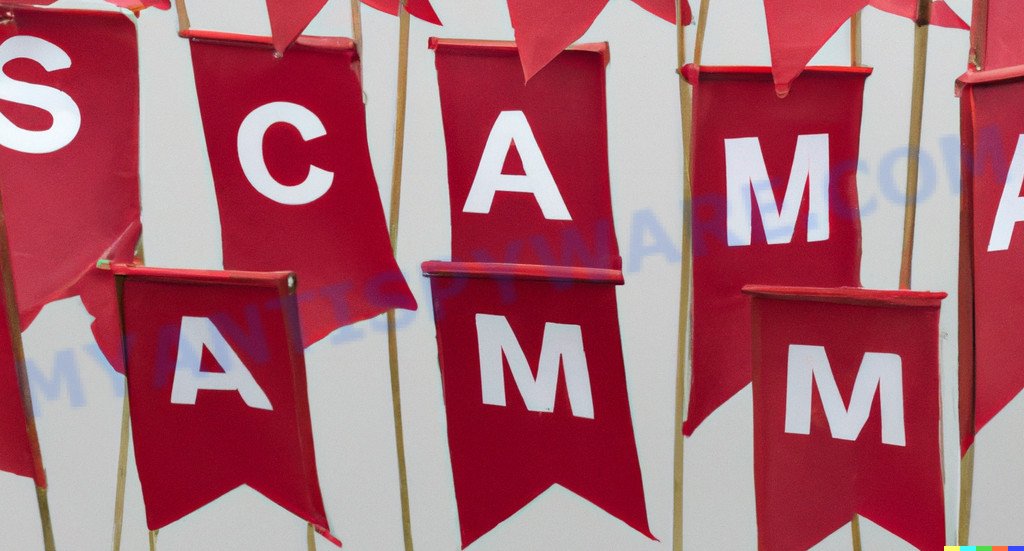 Online shopping has become increasingly popular, but it also carries certain risks, particularly when it comes to fake or fraudulent online stores. Here are some tips on how to spot and avoid a fake online shop:
Check for HTTPS and a padlock symbol in the URL bar. This indicates that the website is using encryption to protect your data.
Look for reviews and ratings of the website. Genuine websites will usually have positive feedback from customers, while fake ones may have little to no reviews or negative feedback.
Check the website's contact information. A legitimate online store will have a physical address, phone number, and email address for customer support.
Research the website on the internet. Search for the website's name and reviews, complaints or any warning signs about it before making a purchase.
Be wary of deals that are too good to be true. Fake online stores may offer steep discounts to lure in customers, but these deals may be a ploy to steal your money.
Avoid using payment methods that are not secure. Use payment methods such as credit card, PayPal or other payment methods that provide buyer protection.
Be wary of pop-ups or unsolicited emails directing you to a website. This may be a phishing attempt to get your personal and financial information.
By taking these precautions, you can reduce the risk of falling prey to fake online stores and ensure a safe and enjoyable online shopping experience.
What to do if you ordered something from a fake online store?
If you have already ordered something from a fake website and you suspect that it may be a scam, there are several steps you can take:
Contact the website's customer support.
If the website has provided contact information, try reaching out to their customer support to inquire about the status of your order. If the website does not respond or gives you unsatisfactory answers, it could be a sign that it is a fake website.
Check your payment method.
If you have paid for your order with a credit card, check your statement to see if the payment has gone through. If it has not, then you may have caught the scam in time, but if it has, you may need to dispute the charge with your bank.
File a dispute or chargeback with your payment provider.
If you have paid for your order with a credit card or other payment method that offers buyer protection, you may be able to dispute the charge or request a chargeback to get your money back. Use the steps (https://consumer.ftc.gov/articles/what-do-if-you-were-scammed) to try to stop a transaction, get a transaction reversed, or get a refund.
Report the fake online store.
You can report the fake website to authorities such as the Federal Trade Commission (FTC) at https://ftc.gov/ or the Internet Crime Complaint Center (IC3). This can help prevent others from falling victim to the same scam.
Learn from your experience.
Be more cautious in the future and take steps to ensure that you are shopping on legitimate websites that are secure and reputable.