Another fraudulent website has emerged as part of the Bed Bath & Beyond Clearance Sale Scam. The latest addition to this network of deceit is Bedbathandbeyondgo.com, which poses as a legitimate "BED BATH & BEYOND" site. On its main page, the store claims to be hosting a closing sale with new discounts and significant savings across various departments, including Bedding, Bath, Kitchen, Dining, Home Decor, and its logo closely resembles the authentic logo of the renowned retailer "BED BATH & BEYOND". However, it's important to note that Bedbathandbeyondgo.com has no positive reviews online, with some users warning that it is a scam.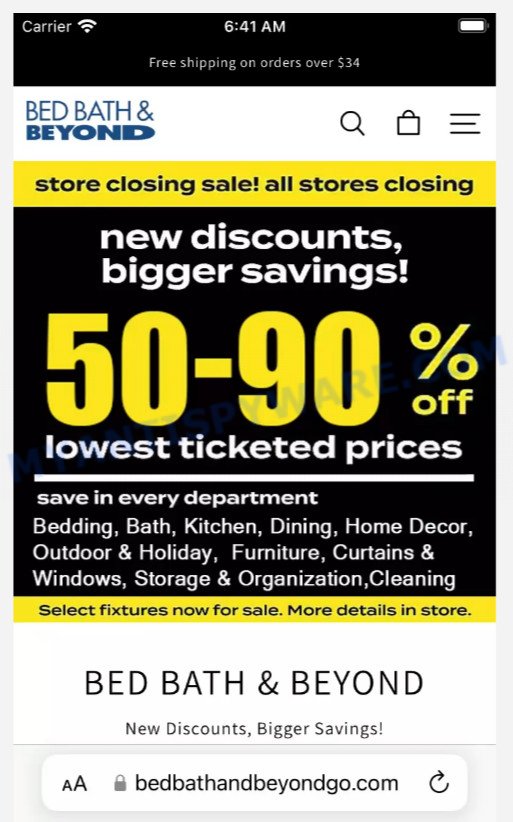 When exploring the products offered on Bedbathandbeyondgo.com, it becomes evident that the prices of the goods are remarkably low, raising suspicions of their authenticity. For instance, the site advertises a Samsonite Winfield 3 DLX 3 Piece Set for a mere $30, whereas its actual retail price is around $400. Similarly, Pampers Baby Diapers are listed at $9.9, while their true value is closer to $99. Another example is an Oversized Padded Zero Gravity Lounge Chair priced at just $10, whereas it typically sells for around $150.
To attract unsuspecting customers, Bedbathandbeyondgo.com heavily relies on Facebook advertising. The site's ads feature enticing phrases such as "Amazing Discount Sale!" and "Clearance Sale: UP TO 90% OFF". These ads attempt to create a sense of urgency by claiming that the products will sell out within seven days and will never be available again.
When it comes to contact information, Bedbathandbeyondgo.com provides an email address (sily@peachcher.com). However, no phone number is provided, and the site lacks links to any social media pages. It's worth noting that sily@peachcher.com is an email associated with various fraudulent ecommerce websites, indicating a larger network of scams sharing similar characteristics.
Examining the WHOIS information of Bedbathandbeyondgo.com reveals that the site was created on June 20, 2023, and is set to expire on the same date in 2024. The contact details in the WHOIS records are hidden, further adding to the suspicious nature of the website.
In conclusion, the Bed Bath & Beyond Clearance Sale scam continues to expand, with new fraudulent websites appearing regularly. The latest addition, Bedbathandbeyondgo.com, is another site deceiving consumers with its false promises of steep discounts and store closures. It closely mimics the design and logo of the authentic "BED BATH & BEYOND," making it challenging to discern its illegitimacy at first glance. The scam employs various tactics such as enticing Facebook ads, extremely low pricing on products, and obscured contact information. It is crucial to remain vigilant and exercise caution when shopping online. To learn more about the Bed Bath & Beyond Clearance Sale scam, we encourage you to read our detailed article. By arming yourself with knowledge, you can protect yourself and make informed decisions while navigating the online shopping landscape.
Summary
| | |
| --- | --- |
| Name | Bedbathandbeyondgo.com Scam |
| Logo and Design | Resembles the official Bed Bath & Beyond logo |
| Scam Tactics | Pretends to be a store closing sale with deep discounts |
| Pricing | Extremely low prices |
| Examples | Samsonite Winfield 3 DLX 3 Piece Set for $30, Pampers Baby Diapers for $9.9, Oversized Padded Zero Gravity Lounge Chair for $10 |
| Payment Risk | High risk of fraudulent activity |
| Contact Information | Email: sily@peachcher.com |
| WHOIS Information | Creation Date: 2023-06-20, Registry Expiry Date: 2024-06-20 |
| Recommendation | Avoid making purchases, report the website as a scam |
Other Suspicious Online Shops to Avoid
As part of our ongoing effort to protect our readers from potential scams, we have compiled a list of other suspicious online shops that you should be aware of. These shops share similar characteristics and tactics to Bedbathandbeyondgo.com, and they use deceptive practices to lure in unsuspecting buyers. It's crucial to remain vigilant when shopping online and to be aware of the warning signs of a potential scam. Below we will highlight some of the other suspicious online shops that you should avoid to protect your personal and financial information.
Here are a few examples of the suspicious online shops: Heydudestores.com, Aonzy.com, and Dickssportsus.com.