Beware of the "HSN Factory Outlet" scam! Online shoppers are falling prey to a cunning scheme that masquerades as an official HSN store offering incredible deals. Scammers have set up fake websites, complete with the HSN logo, product images, and descriptions, to deceive unsuspecting customers. These fraudulent sites, operated by a dubious company called Supic Company Limited, entice visitors through Facebook ads, promising rock-bottom prices on popular products like Dyson vacuums, Bose music systems, and electric bikes for seniors. However, these deals are too good to be true, with prices as low as $19.99 for items worth hundreds or even thousands of dollars.
Don't be fooled! Read the full article to uncover the tactics used by these scammers and learn how to protect yourself from falling victim to their deceitful practices.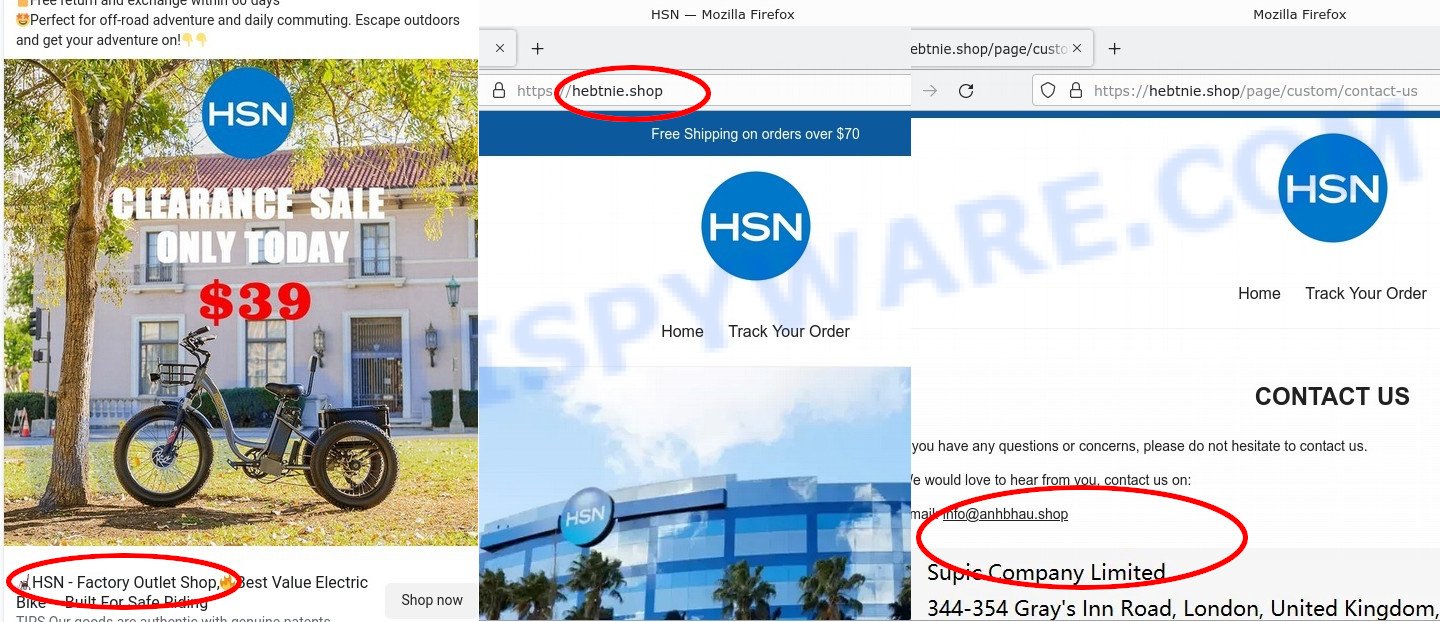 QUICK LINKS
Inside the HSN Factory Outlet Scam: How Fraudsters Deceive Shoppers
The HSN Factory Outlet scam is a sophisticated online scheme where fraudsters create deceptive websites masquerading as legitimate HSN Factory Outlet stores. These fake outlets lure unsuspecting shoppers with enticing offers and discounted prices on popular products. By exploiting the reputation of a well-known brand like HSN, scammers aim to deceive consumers and profit from their trust.
Scammers capitalize on the reputation and recognition of the HSN brand to gain the trust of potential victims. They design fake websites that resemble the authentic HSN website, incorporating the official logo, product images, and descriptions. This deliberate mimicry makes it challenging for consumers to distinguish between the genuine and fraudulent stores, leading to their unwitting participation in the scam.
To reach a larger audience, scammers employ targeted advertising on platforms like Facebook. These fraudulent ads promote the fake HSN Factory Outlet stores as official sources for discounted HSN products. They often feature attractive offers, such as Dyson vacuums, Bose music systems, and hammocks, at unbelievably low prices. Examples of these deceptive ads include claims like "$29.99 for a Dyson Cyclone V10 Motorhead Cordless Vacuum" or "$39 for a Bose Wave Music System." These enticing offers aim to entrap unsuspecting shoppers into making purchases on the fake websites.
The scam websites themselves bear several distinct characteristics. They use generic template designs, often copied from other legitimate e-commerce platforms, to give an appearance of authenticity. However, closer inspection reveals discrepancies and irregularities in the site's content, such as poor grammar, inconsistent product descriptions, and dubious customer reviews. These elements should raise red flags and serve as indicators of the fraudulent nature of the sites.
One of the hallmarks of the HSN Factory Outlet scam is the incredibly low prices offered for popular products. For instance, scammers may advertise a Dyson Cyclone V10 Motorhead Cordless Vacuum for $29.99, well below its actual market value of over $549. Similarly, they may claim to sell a Bose Wave Music System for $39, significantly discounted from its genuine price of $758. These artificially low prices are designed to entice shoppers into making impulsive purchases.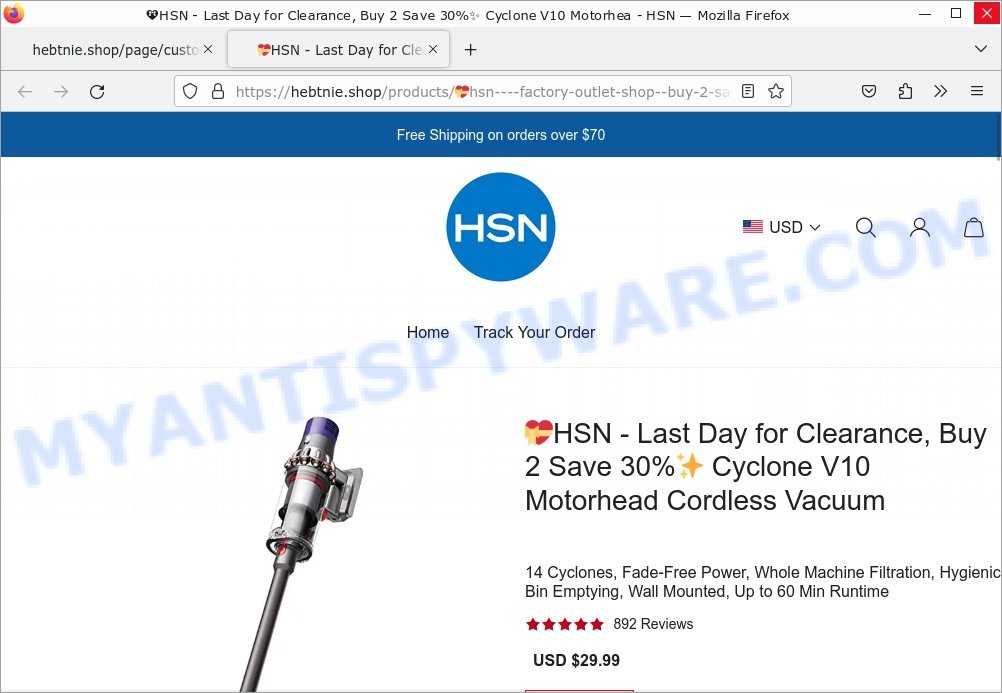 The contact information provided on these fake HSN Factory Outlet sites is often limited to an email address, with no legitimate phone numbers or social media accounts for customer support. Examples of such email addresses include info@anhbhau.shop, support@coatelite.com, and into@hftthtra.shop. These scammers intentionally obscure their identities and locations, making it difficult to track them down or seek assistance for fraudulent transactions.
Furthermore, these fraudulent HSN Factory Outlet sites claim to be associated with a company called Supic Company Limited. However, this company is likely fictitious or untraceable. They list their address as 344-354 Gray's Inn Road, London, United Kingdom, WC1X 8BP, but this address is not a returning address. The company number provided is 12550956. It is important to note that Supic Company Limited is frequently associated with numerous other scam shops, suggesting their involvement in a network of fraudulent activities.
Scammers frequently register new domains for their fake HSN Factory Outlet sites to evade detection and prolong their fraudulent activities. They manipulate WHOIS records to conceal their contact information, making it challenging for authorities and potential victims to identify and hold them accountable. These scammers also engage in constant rebranding, creating new sites once their previous ones gain notoriety as scams.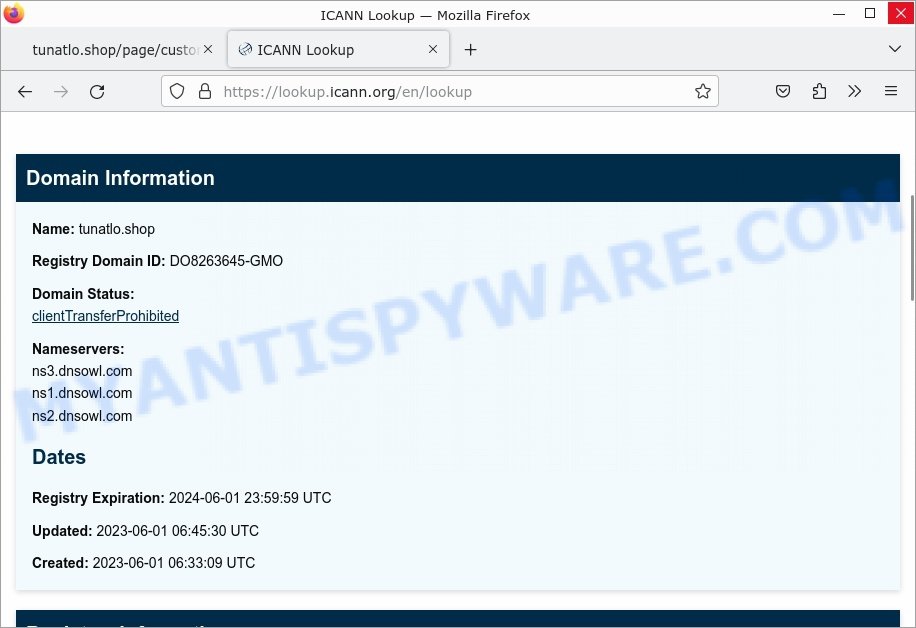 The HSN Factory Outlet scam is an elaborate ploy that leverages the reputation of the well-known HSN brand to deceive online shoppers. By employing deceptive advertising, creating fake websites, offering unrealistically low prices, and concealing their contact information, scammers exploit the trust of unsuspecting consumers.
How to Ensure You're on the Official HSN Website:
To protect yourself from falling victim to scams like the HSN Factory Outlet, it is crucial to ensure that you are on the official HSN website when making purchases or browsing their products.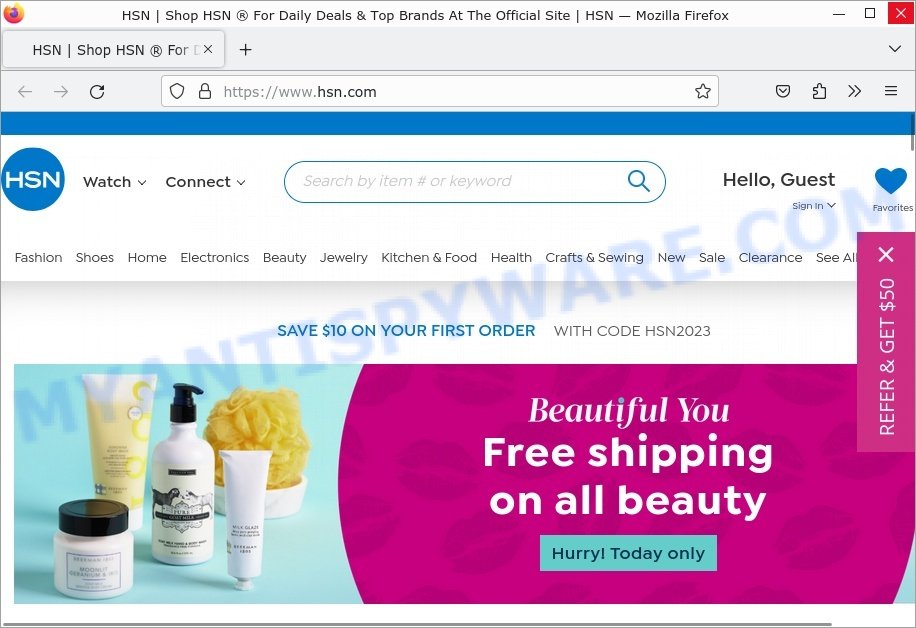 By following a few key steps and staying vigilant, you can safeguard your personal information and enjoy a worry-free shopping experience on the genuine HSN website.
Verify that the URL in your browser's address bar begins with "www.hsn.com". Scammers often create deceptive domain names that resemble the official website, so it's essential to carefully examine the URL for any variations or misspellings.
Official HSN websites use secure browsing protocols to protect your information. Check for a padlock icon in the address bar and ensure that the URL begins with "https://" rather than "http://." The "s" in "https" signifies a secure connection.
Legitimate HSN websites maintain consistent branding, design elements, and layouts. Compare the website you are visiting with the official HSN website to ensure they align. Look for recognizable logos, familiar color schemes, and professional website design.
Scroll down to the bottom of the webpage and examine the footer section. Legitimate HSN websites typically include links to important information like terms of service, privacy policy, contact details, and customer support options. Absence or discrepancies in this information may indicate a fraudulent site.
Visit the official HSN website and note the social media platforms they actively engage with, such as Facebook, Twitter, or Instagram. Look for verified social media icons or links on the website you are browsing. Clicking on these icons should redirect you to the official HSN social media pages.
Remember, it is always recommended to directly type the official HSN website address into your browser or use trusted search engine results to access their website. Avoid clicking on suspicious links from unknown sources or pop-up advertisements, as these can lead you to fraudulent sites.
Unveiling Similar Scams: Deceptive Tactics Exploited by Fraudsters
The HSN Factory Outlet scam is not an isolated incident but part of a larger pattern of deceptive tactics employed by fraudsters. Similar scams have been identified, such as the QVC Factory Outlet Shop scam, Bed Bath & Beyond Clearance Sale Scam, and Costco Clearance Sale Scam where scammers targeted shoppers using the well-known QVC, Costco and Bed Bath & Beyond brands. These scams share common characteristics and strategies, indicating a systematic approach to defrauding consumers.
In these fraudulent schemes, scammers create fake online stores that closely mimic the appearance of legitimate outlets. They use generic website templates, copy original logos, and populate product listings with images and descriptions taken from the authentic brand's website. By replicating the look and feel of established brands like HSN, Stanley, Bed Bath & Beyond, Costco, Macy or QVC, fraudsters aim to gain credibility and trick unsuspecting shoppers into making purchases.
What to do if you ordered something from a HSN Factory Outlet Scam shop
If you find yourself in the unfortunate situation of having ordered something from a HSN Factory Outlet Scam shop, it's essential to take immediate action to protect yourself and increase the chances of recovering your funds.

Here are the steps you should follow:
Whether you made the payment through PayPal or a credit card, reach out to your payment provider's customer support immediately. Explain the situation, provide them with all relevant details, and inquire about the possibility of initiating a chargeback or disputing the transaction. They can guide you through the specific process based on their policies and offer assistance in recovering your money. Use the steps (https://consumer.ftc.gov/articles/what-do-if-you-were-scammed) to try to stop a transaction, get a transaction reversed, or get a refund.
Gather and document all evidence related to your transaction with the HSN Factory Outlet Scam shop. This includes order confirmations, payment receipts, communication with the seller, and any other relevant information. These documents will be crucial in supporting your case during the dispute or chargeback process.
File a complaint with the appropriate authorities to help prevent others from falling victim to the HSN Factory Outlet Scam. Contact your local consumer protection agency or report the scam to organizations such as the Federal Trade Commission (FTC) or Action Fraud if you are in the UK. Providing details about your experience will contribute to the collective effort of raising awareness and taking action against these fraudulent operations.
Keep a close eye on your bank and credit card statements for any unauthorized charges or suspicious activity. If you notice anything unusual, report it to your financial institution immediately. Taking proactive measures to monitor your accounts will help prevent further potential losses and ensure your financial security.
Share your experience with others to raise awareness about the HSN Factory Outlet Scam. Warn friends, family, and fellow online shoppers about the risks associated with these fraudulent sites. By spreading the word, you can help others avoid falling into the same trap and minimize the impact of these scams.
Remember, swift action is crucial in recovering your funds and minimizing the impact of the HSN Factory Outlet Scam. By following these steps and reaching out to the appropriate authorities and your payment provider, you increase your chances of a successful resolution.
Summary
Name
HSN Factory Outlet Scam, HSN Factory Outlet Clearance Scam
Scammers Websites
hebtnie.shop, hftthtra.shop, tunatlo.shop, flrlaslu.shop
Logo and Design
Meticulously imitate the design and logo of authentic HSN platform
Scam Tactics
Impersonate official HSN online store
Pricing
Unrealistically low prices, heavily discounted products
Examples
Dyson Cyclone V10 Motorhead Cordless Vacuum for USD $29.99, real price $544; Dyson Pure Heat + Cold HP04 for $19.99, real price over $549; Bose® Wave® III Music System for $39, real price $758; Electric Bikes designed for Seniors (DWMEIGI 3 Wheel Electric Bike for Adult ) for $39, real price $2499,99
Payment Risk
High payment risk; potential loss of money
Contact Information
Limited contact information, usually only an email address (info@anhbhau.shop, support@coatelite.com, into@hftthtra.shop)
WHOIS Information
Recent registration dates, hidden WHOIS contact information
Recommendation
Avoid making any purchases from HSN Factory Outlet shops
Conclusion
The HSN Factory Outlet scam and similar deceptive schemes targeting unsuspecting shoppers highlight the importance of staying vigilant and informed when engaging in online transactions. Fraudsters exploit the reputation of well-known brands like HSN to deceive consumers and lure them into making purchases on fake websites. Through targeted advertising, they entice potential victims with unbelievably low prices for popular products.
These scams rely on the constant creation of new fake stores, making it challenging to track down the perpetrators. Contact information provided on these sites is often limited to generic email addresses, with no legitimate phone numbers or social media accounts for customer support. Alleged company affiliations, such as Supic Company Limited, are frequently associated with multiple scam shops, further indicating a network of fraudulent activities.
To protect yourself, exercise caution when encountering suspiciously low prices or generic website designs. Verify the legitimacy of an online store by checking customer reviews, examining privacy policies and terms of service, and contacting official customer support channels of the genuine brand. Reporting any suspicious activities to relevant authorities is essential in combating these scams.