Rlosiy.shop is an online store that raises serious concerns regarding its legitimacy and trustworthiness. The website's template design is generic, but the most striking aspect is its logo, which is an exact replica of the well-known "BED BATH & BEYOND" logo. This blatant imitation raises suspicions about the intentions of Rlosiy.shop. Furthermore, the absence of any positive reviews combined with incredibly low prices, including products listed at a fraction of their actual value, only deepens the skepticism. Adding to the alarm, the store advertises a "BED BATH & BEYOND" store closing sale, potentially exploiting the reputation of the genuine brand.
To fully comprehend the extent of these concerns and protect yourself from potential scams, it is essential to delve into the detailed review that examines the documented evidence. Read on to uncover the truth about Rlosiy.shop. For a quick summary of our findings, please refer to the table Summary of Rlosiy.shop Review below.
Rlosiy.shop Review
Website Design and Logo
One of the glaring aspects that raise suspicions about Rlosiy.shop is its design and logo. Upon visiting the website, it becomes evident that the layout follows a common template used by numerous online stores. This lack of originality and generic design is often associated with scam websites, as it requires minimal effort to set up and lacks the unique branding elements of a legitimate business.
Furthermore, the logo used by Rlosiy.shop is not just similar to that of the reputable retail chain "BED BATH & BEYOND" – it is an exact replica. This level of logo replication is highly concerning and suggests a deliberate attempt to deceive visitors. By adopting the well-known logo, Rlosiy.shop aims to establish a false sense of trust and credibility, making unsuspecting users more likely to make purchases on the site.
Products and Categories
When examining the products and categories offered on Rlosiy.shop, several alarming factors come to light. The online store claims to sell a wide range of items, including bedding and bedroom accessories, storage and cleaning solutions, kitchen and dining products, furniture, outdoor equipment, lighting, bath and curtains, health and fitness items, and luggage.
However, a closer look reveals several red flags. Firstly, the product photos displayed on Rlosiy.shop appear to be taken from other websites, indicating a lack of originality and authenticity. This practice is commonly observed in scam websites that aim to deceive unsuspecting customers by showcasing enticing visuals of products they don't actually possess.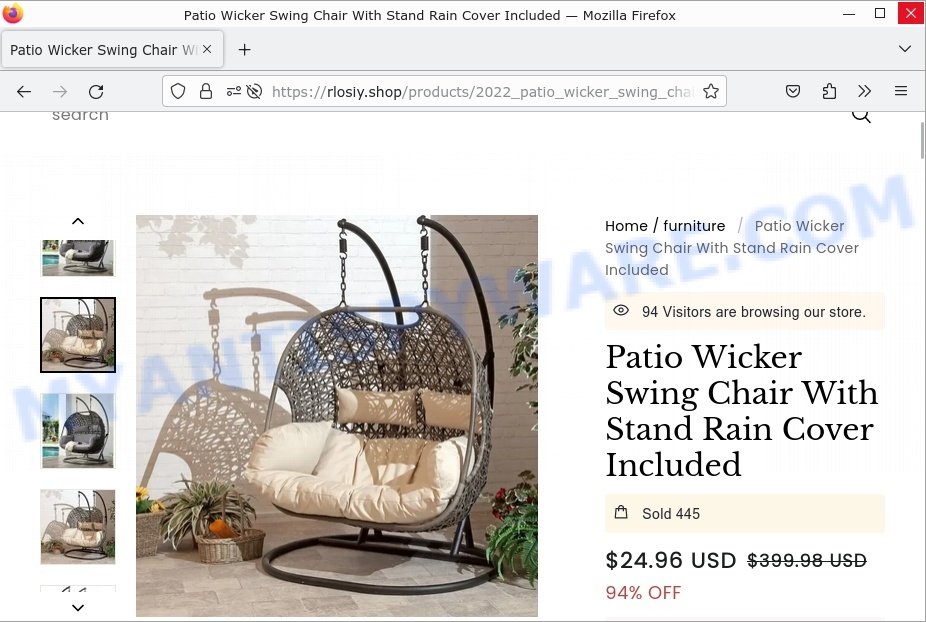 Another significant concern is the pricing of the products. Rlosiy.shop advertises incredibly low prices that are far below the market value of similar items. For instance, they may list an item like the "Patio Wicker Swing Chair With Stand Rain Cover Included" for a mere $24.96 USD, whereas its actual retail price is over $800. Such drastic price differences are highly suspicious and serve as a clear warning sign of a potential scam.
Facebook Ads
Rlosiy.shop utilizes Facebook ads as a means to attract potential customers. These advertisements, however, raise additional concerns about the legitimacy of the website.
Example #1: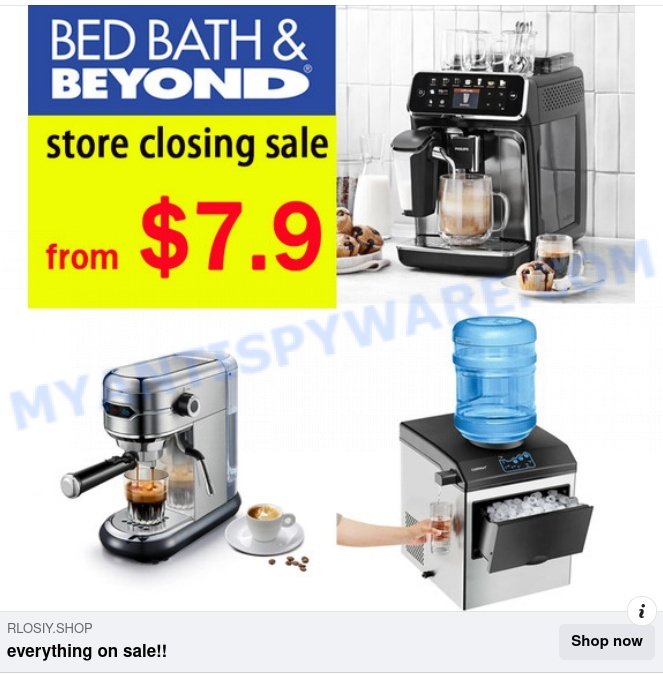 One of the Facebook ads from Rlosiy.shop reads: "BED BATH & BEYOND store closing sale from $7.9. RLOSIY.SHOP everything on sale!! Shop now". This advertisement attempts to capitalize on the reputation of the well-known retailer "BED BATH & BEYOND" by claiming a store closing sale with extremely low prices. By associating itself with a trusted brand, Rlosiy.shop aims to gain the trust of users and entice them to make purchases.
Example #2: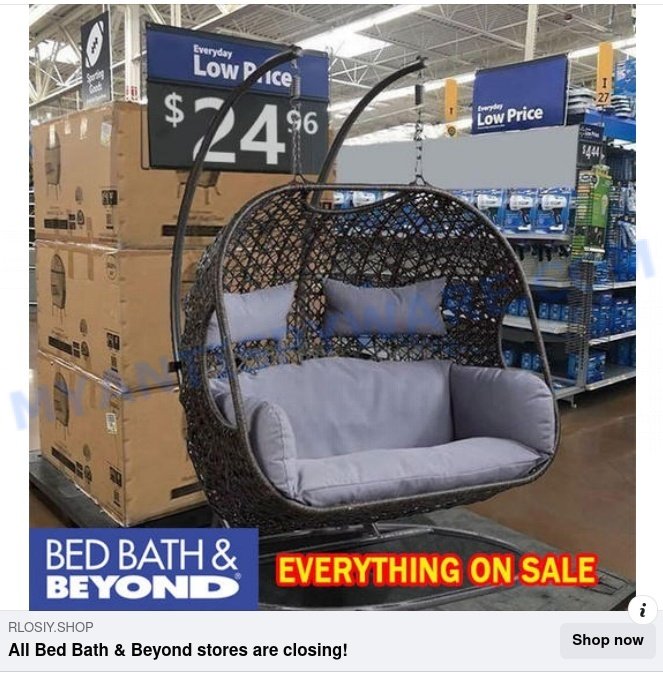 Another Facebook ad states: "Everyday Low Price $24.96. Low Price BED BATH & BEYOND EVERYTHING ON SALE RLOSIY SHOP. All Bed Bath & Beyond stores are closing! Shop now". This ad reinforces the notion of a closing sale, leveraging the perceived urgency and fear of missing out on discounted items. By suggesting that all "Bed Bath & Beyond" stores are closing, Rlosiy.shop attempts to create a sense of urgency and pressure users into making hasty purchasing decisions.
These Facebook ads from Rlosiy.shop exploit the reputation and popularity of "BED BATH & BEYOND" to lure unsuspecting customers. It is important to note that these claims are unsubstantiated and misleading. Scammers often employ such tactics to deceive users and make them believe they are getting incredible deals from reputable brands.
Customer Reviews
Rlosiy.shop appears to lack positive reviews from customers, which is a significant red flag when assessing its credibility. The absence of genuine feedback raises suspicions about the legitimacy and trustworthiness of the website.
In fact, some online reviews explicitly state that Rlosiy.shop is a scam. These reviews highlight concerns about the website's legitimacy and warn others to steer clear of making any purchases. While it's important to consider that negative reviews can be subjective, a consistent pattern of negative feedback or a complete absence of positive reviews should raise cautionary alarms.
Contact Information
When evaluating the contact information provided by Rlosiy.shop, several concerning aspects come to light. The available contact details are limited, which raises doubts about the credibility and legitimacy of the website.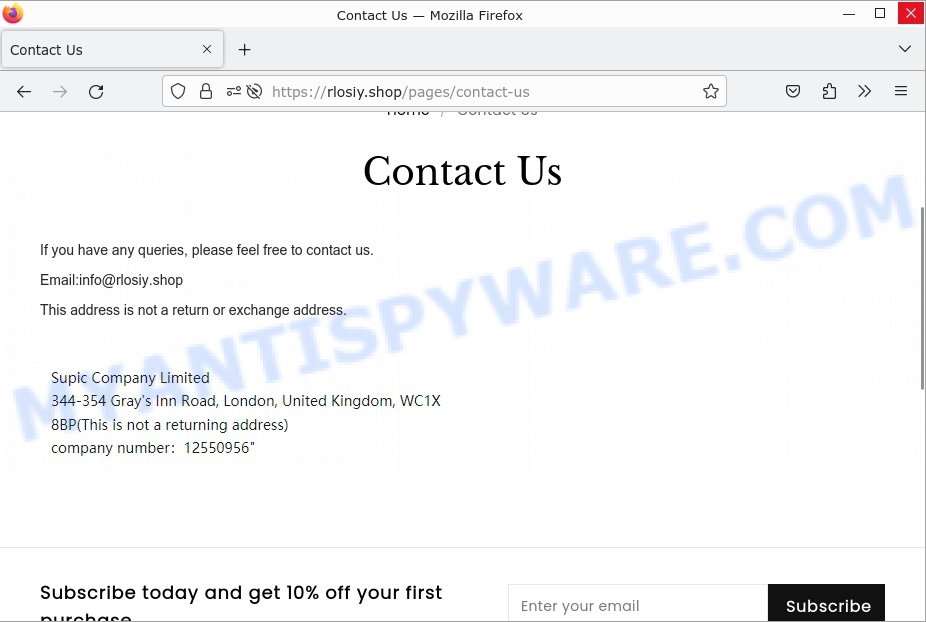 The primary mode of contact provided by Rlosiy.shop is an email address: info@rlosiy.shop. While email can be a valid means of communication, the absence of alternative contact options, such as a phone number or live chat support, is noteworthy. Legitimate businesses typically offer multiple channels for customers to reach out for inquiries, assistance, or issue resolution.
Additionally, Rlosiy.shop does not provide any links to their social media pages, which further diminishes their online presence and ability to engage with customers. The lack of active social media accounts can be seen as a red flag, as reputable businesses often maintain a presence on popular platforms to interact with their audience and provide updates about their products or services.
Moreover, it is important to note that the company address provided by Rlosiy.shop is 344-354 Gray's Inn Road, London, United Kingdom, WC1X 8BP. However, it is worth mentioning that this address is inserted as an image and not as text, which may raise suspicions regarding its validity.
The company behind Rlosiy.shop is stated as Supic Company Limited, with a company register number of 12550956. It is worth noting that Supic Company Limited has been associated with other fraudulent websites in the past, indicating a potential pattern of deceptive practices.
WHOIS Information
The WHOIS information provides valuable insights into the registration details and ownership of a domain. When examining the WHOIS information for Rlosiy.shop, several noteworthy details emerge.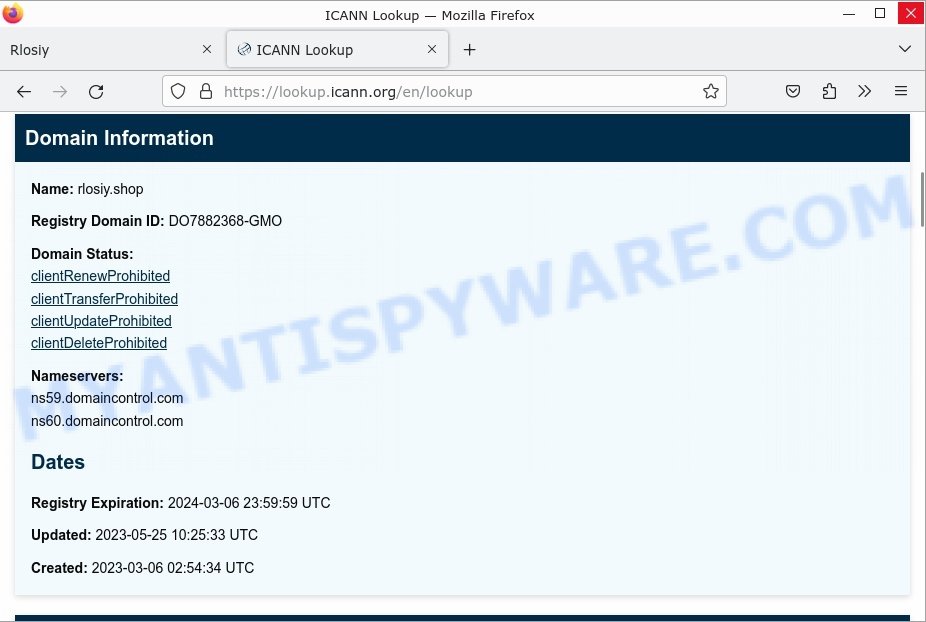 According to the WHOIS records, the domain registration for Rlosiy.shop was created on March 6, 2023, and is set to expire on March 6, 2024. The relatively recent creation date of the domain raises questions about the website's longevity and credibility, as established and trustworthy businesses tend to have longer-standing domain registrations.
Furthermore, the WHOIS information reveals that the registrant has chosen to hide their contact details, including the registrant's name and contact email. This lack of transparency is a common tactic employed by scam websites to conceal the identities of those involved in fraudulent activities.
By hiding the contact information, Rlosiy.shop makes it difficult for potential customers or authorities to reach out and resolve any issues that may arise from transactions or to hold the website accountable for its actions.
Conclusion
After careful examination of the various aspects surrounding Rlosiy.shop, it is evident that multiple signs point towards the website being a potential scam. The generic template design, the complete resemblance of the logo to that of the reputable brand "BED BATH & BEYOND", the absence of positive reviews, the use of product photos from other websites, and the unusually low prices all raise significant concerns about the legitimacy of Rlosiy.shop.
Furthermore, the Facebook ads that exploit the reputation of "BED BATH & BEYOND" through misleading claims of store closing sales, along with the limited and elusive contact information, further contribute to the skepticism surrounding the website. The connection to Supic Company Limited, a known entity associated with fraudulent websites, adds weight to the suspicion that Rlosiy.shop is part of a larger network of deceptive online stores.
It is crucial to exercise caution and conduct thorough research when encountering online stores with such characteristics. Engaging with suspicious websites like Rlosiy.shop can result in financial loss, receipt of counterfeit or inferior quality products, or compromised personal information.
To protect yourself from potential scams and make informed decisions, it is highly recommended to refrain from making any purchases on Rlosiy.shop or engaging in any transactions with the website. Instead, rely on reputable and trusted sources for your online shopping needs.
Summary
| | |
| --- | --- |
| Store Name | Rlosiy.shop |
| Categories | Bedding & Bedroom, storage & cleaning, kitchen & dining, furniture, outdoor, Lighting, bath & Curtains, Health & Fitness, luggage |
| Pricing | Very low prices compared to market value (Patio Wicker Swing Chair With Stand Rain Cover Included, for $24.96 USD, real price over $800) |
| Reviews | No positive reviews; reports suggest it is a scam |
| Logo and Design | Completely identical to "BED BATH & BEYOND" logo, generic template design |
| Contact Information | The contact information provided by Rlosiy.shop is limited to an email address (info@rlosiy.shop) and lacks a phone number or links to social media pages. |
| WHOIS Information | Creation Date: 2023-03-06, Expiry Date: 2024-03-06; Whois contacts hidden. |
| Recommendation | Exercise extreme caution, avoid making purchases |
Other Suspicious Online Shops to Avoid
As part of our ongoing effort to protect our readers from potential scams, we have compiled a list of other suspicious online shops that you should be aware of. These shops share similar characteristics and tactics to Rlosiy.shop, and they use deceptive practices to lure in unsuspecting buyers. It's crucial to remain vigilant when shopping online and to be aware of the warning signs of a potential scam. Below we will highlight some of the other suspicious online shops that you should avoid to protect your personal and financial information.
Here are a few examples of the suspicious online shops: Bedbathbeyondca.com, Seafoodteam.com, and Hdemw.shop.
How to spot and avoid a fake online store?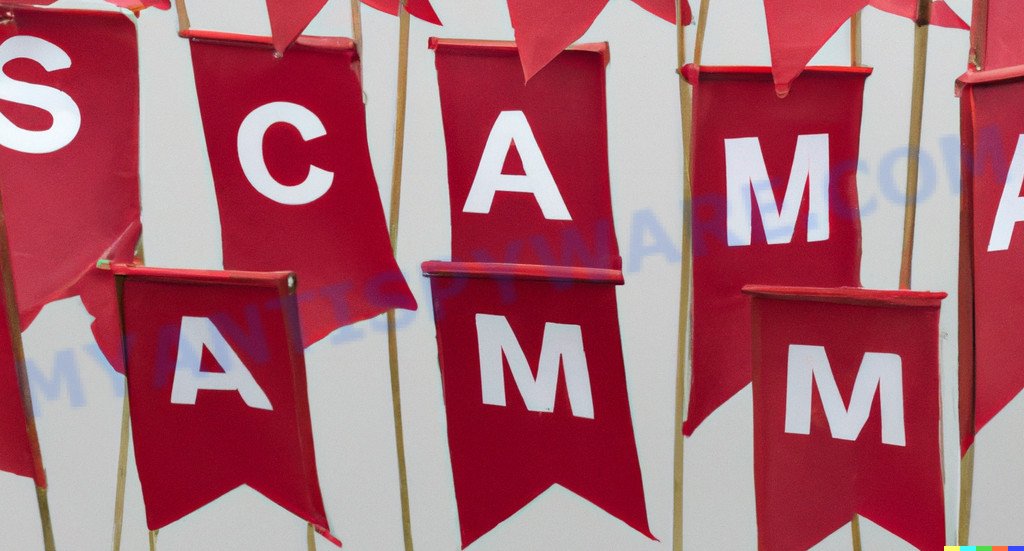 Online shopping has become increasingly popular, but it also carries certain risks, particularly when it comes to fake or fraudulent online stores. Here are some tips on how to spot and avoid a fake online shop:
Check for HTTPS and a padlock symbol in the URL bar. This indicates that the website is using encryption to protect your data.
Look for reviews and ratings of the website. Genuine websites will usually have positive feedback from customers, while fake ones may have little to no reviews or negative feedback.
Check the website's contact information. A legitimate online store will have a physical address, phone number, and email address for customer support.
Research the website on the internet. Search for the website's name and reviews, complaints or any warning signs about it before making a purchase.
Be wary of deals that are too good to be true. Fake online stores may offer steep discounts to lure in customers, but these deals may be a ploy to steal your money.
Avoid using payment methods that are not secure. Use payment methods such as credit card, PayPal or other payment methods that provide buyer protection.
Be wary of pop-ups or unsolicited emails directing you to a website. This may be a phishing attempt to get your personal and financial information.
By taking these precautions, you can reduce the risk of falling prey to fake online stores and ensure a safe and enjoyable online shopping experience.
What to do if you ordered something from a fake online store?
If you have already ordered something from a fake website and you suspect that it may be a scam, there are several steps you can take:
Contact the website's customer support.
If the website has provided contact information, try reaching out to their customer support to inquire about the status of your order. If the website does not respond or gives you unsatisfactory answers, it could be a sign that it is a fake website.
Check your payment method.
If you have paid for your order with a credit card, check your statement to see if the payment has gone through. If it has not, then you may have caught the scam in time, but if it has, you may need to dispute the charge with your bank.
File a dispute or chargeback with your payment provider.
If you have paid for your order with a credit card or other payment method that offers buyer protection, you may be able to dispute the charge or request a chargeback to get your money back. Use the steps (https://consumer.ftc.gov/articles/what-do-if-you-were-scammed) to try to stop a transaction, get a transaction reversed, or get a refund.
Report the fake online store.
You can report the fake website to authorities such as the Federal Trade Commission (FTC) at https://ftc.gov/ or the Internet Crime Complaint Center (IC3). This can help prevent others from falling victim to the same scam.
Learn from your experience.
Be more cautious in the future and take steps to ensure that you are shopping on legitimate websites that are secure and reputable.