Seafoodteam.com is an online store claiming to sell seafood products, but upon closer examination, several alarming signs point to it being a potential scam. Firstly, the website's generic template design and lack of positive reviews raise suspicions about its legitimacy. Furthermore, the prices of the products offered on the site are unrealistically low, with significant discrepancies compared to market value. Additionally, Seafoodteam.com's advertisement on Facebook, falsely associating itself with "COSTCO WHOLESALE", further indicate deceptive practices. These concerning factors, along with user complaints about the associated company, THUNDER WING (HK) TECHNOLOGY CO., LIMITED, suggest that Seafoodteam.com may be operating as a fraudulent enterprise.
To uncover more details and protect yourself from potential scams, it is crucial to read the full review. For a quick summary of our findings, please refer to the table Summary of Seafoodteam.com Review below.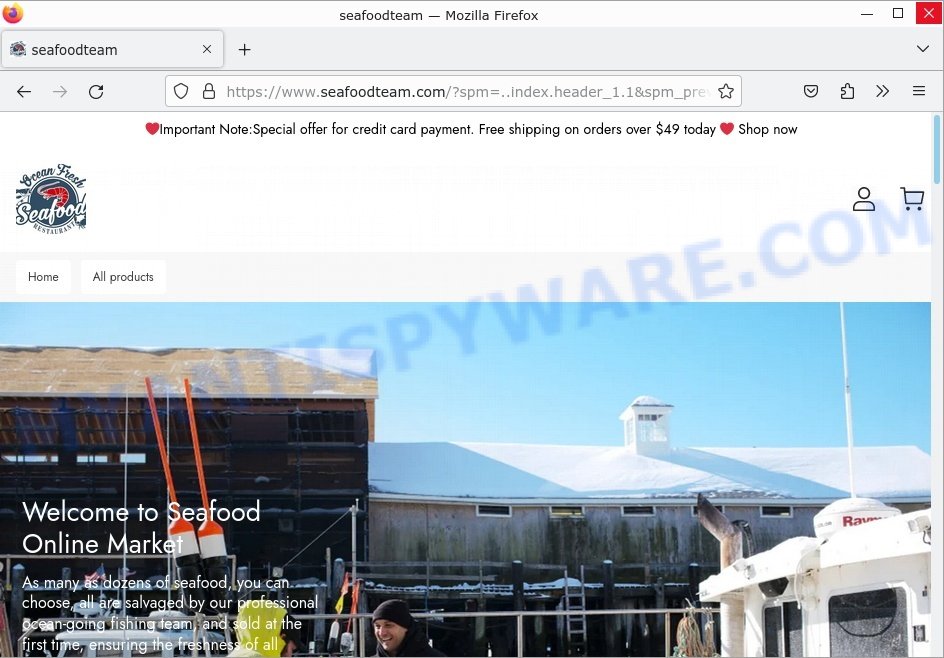 Seafoodteam.com Review
Website Design and Logo
Seafoodteam.com features a website design that follows a common template often used by scam websites. The layout and structure of the site lack originality and appear generic, lacking any unique branding elements. This cookie-cutter design is often employed by fraudulent online stores to quickly create a facade of legitimacy.
The logo displayed on Seafoodteam.com seems to be custom-made, featuring the text "Fresh Ocean Seafood RESTAURANT". However, it's worth noting that this text does not align with the store's claim of being an "Online Market". The logo itself, although appearing professionally designed, does not provide any substantial credibility to the website.
Products and Categories
Seafoodteam.com presents a rather limited selection of 36 products, all of which are placed under a single category named "All Products". This lack of specific categories for different types of seafood is unusual for a legitimate online seafood market. Reputable stores typically organize their products into various categories, making it easier for customers to navigate and find what they are looking for.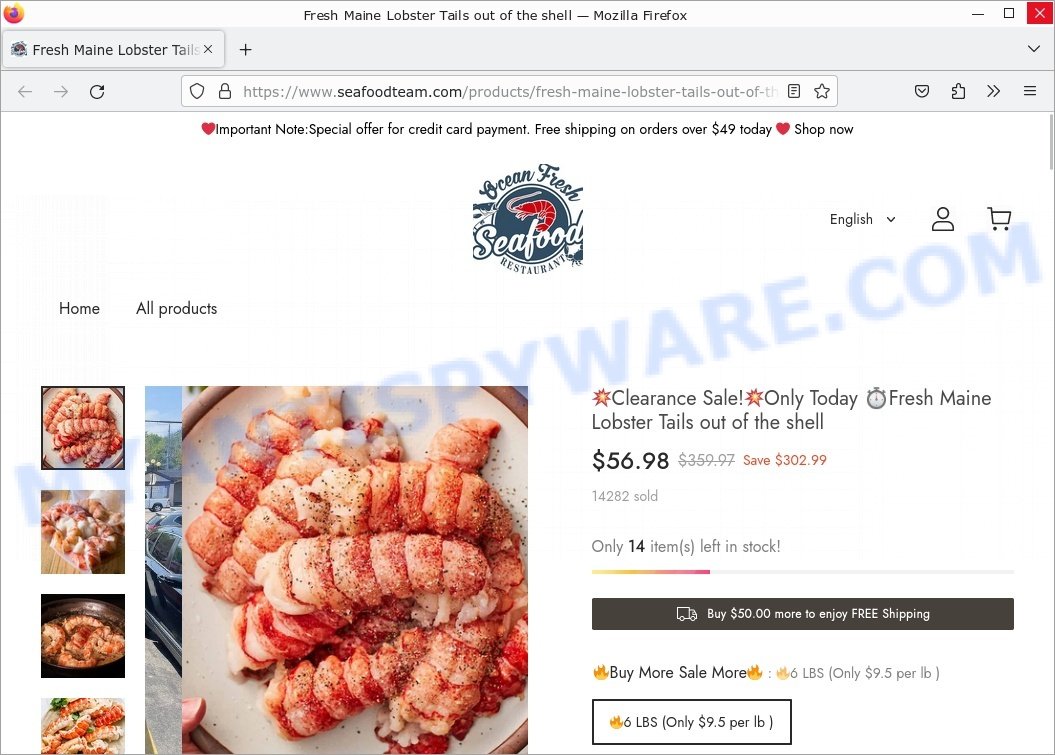 Furthermore, the prices of the goods listed on Seafoodteam.com are remarkably low compared to market standards. For example, the Fresh Maine Lobster Tails are advertised at only $9.5 per pound, a significantly lower price than the actual market value, which exceeds $70 per pound. Such unusually low prices should be approached with caution, as they may be an attempt to entice unsuspecting customers into making purchases.
Facebook Ads
Seafoodteam.com actively promotes its products through Facebook ads, aiming to reach a wider audience. However, these ads raise concerns about the legitimacy of the website.
One particular ad claims a connection with "COSTCO WHOLESALE", indicating a clearance sale for "Fresh Maine Lobster Tails out of the shell". This association with a reputable brand like Costco raises suspicions, as it seems unlikely that Seafoodteam.com would have an official affiliation with such a renowned company.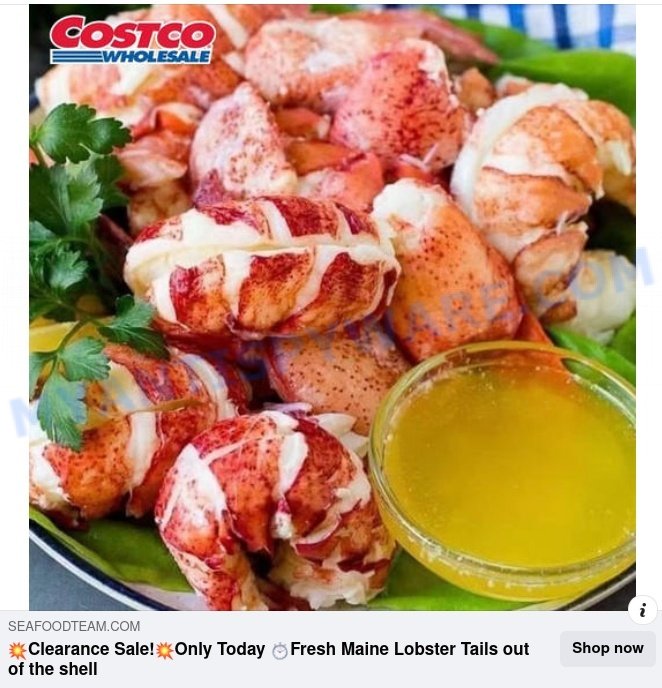 Moreover, it has been reported that Seafoodteam.com selectively deletes comments from users who question the authenticity of their claims. One individual shared their experience of questioning the "COSTCO WHOLESALE" reference in the comments section, only to have their comment deleted and subsequently being blocked from further engagement. Such actions raise doubts about the transparency and credibility of the website.
Customer Reviews
Seafoodteam.com appears to lack positive reviews from customers, which is a significant red flag when assessing its credibility. The absence of genuine feedback raises suspicions about the legitimacy and trustworthiness of the website.
In fact, some online reviews explicitly state that Seafoodteam.com is a scam. These reviews highlight concerns about the website's legitimacy and warn others to steer clear of making any purchases. While it's important to consider that negative reviews can be subjective, a consistent pattern of negative feedback or a complete absence of positive reviews should raise cautionary alarms.
Contact Information
Seafoodteam.com provides limited contact information, which is another cause for concern when evaluating its legitimacy.
The only form of contact listed on the website is an email address: seafoodteam@gmail.com. The absence of a phone number and social media presence is atypical for a genuine online store. Legitimate businesses typically offer multiple means of communication, including phone support and active social media accounts, to ensure customer satisfaction and address any concerns.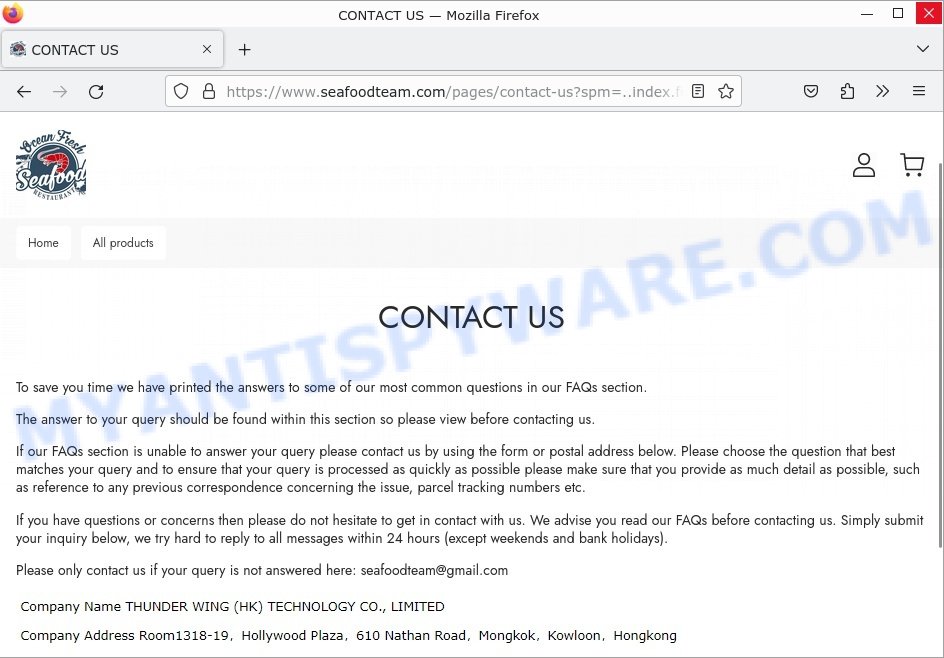 Furthermore, the listed company managing Seafoodteam.com is THUNDER WING (HK) TECHNOLOGY CO., LIMITED. However, user complaints on the PayPal forum suggest that this company is associated with fraudulent activities. This information raises additional doubts about the trustworthiness of Seafoodteam.com.
WHOIS Information
When examining the WHOIS information for Seafoodteam.com, a few notable details come to light. The domain was created on June 7, 2023, and is set to expire on June 7, 2024. The fact that the domain is relatively new raises some concerns, as scam websites often have short lifespans to avoid detection and accountability.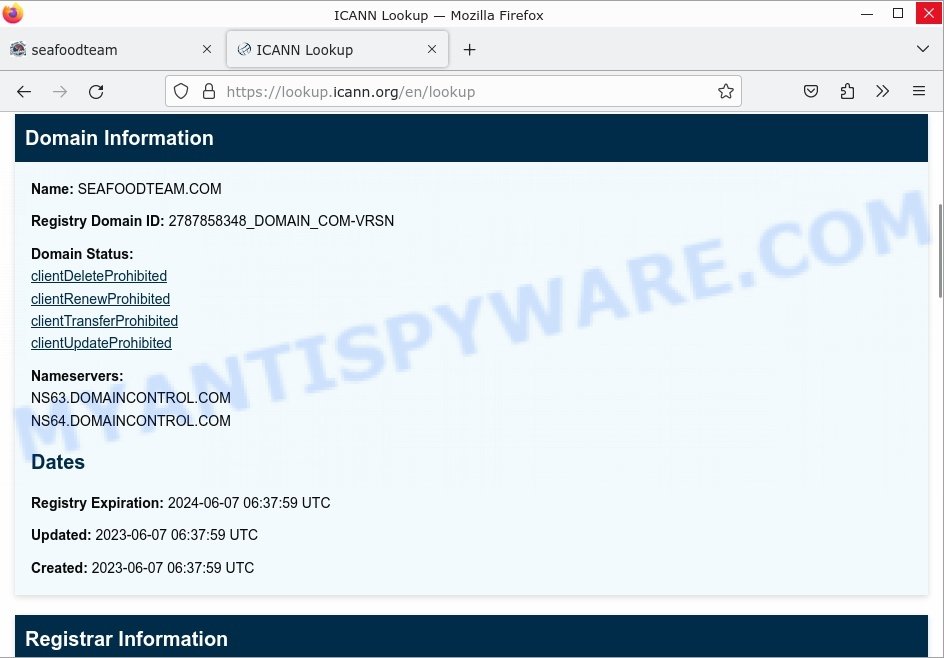 One notable aspect is that the WHOIS contact information is hidden, making it difficult to identify the individuals or organization behind Seafoodteam.com. Scammers often choose to conceal their contact details to avoid being traced and held accountable for their fraudulent activities.
While the WHOIS information provides limited insights, it is important to consider this alongside other factors when evaluating the legitimacy of a website.
Conclusion
Considering the various indicators and red flags associated with Seafoodteam.com, it is highly likely that the website is a scam. The generic template design, absence of positive reviews, and significantly low prices compared to market value all suggest deceptive practices.
The misleading Facebook ads, such as falsely claiming an association with "COSTCO WHOLESALE", and the deletion of critical comments further erode the website's credibility. Limited contact information, user complaints about the associated company, THUNDER WING (HK) TECHNOLOGY CO., LIMITED, and the use of generic text found on other scam websites reinforce the suspicion that Seafoodteam.com is operating as a fraudulent enterprise.
To protect yourself from potential scams, it is crucial to exercise caution and conduct thorough research before making any purchases online. In the case of Seafoodteam.com, it is advisable to avoid engaging with the website and seek reputable and verified sources for seafood products.
Summary
| | |
| --- | --- |
| Store Name | Seafoodteam.com |
| Categories | No specific categories, all products listed under "All Products" |
| Pricing | Unrealistically low prices compared to market value (Fresh Maine Lobster Tails out of the shell, 6 LBS for $56.98 (Only $9.5 per lb ), real price over $70 per lb) |
| Reviews | No positive reviews; reports suggest it is a scam |
| Logo and Design | Generic template design; Custom logo that doesn't align with claims |
| Contact Information | Limited contact information (only email – seafoodteam@gmail.com provided); associated with THUNDER WING (HK) TECHNOLOGY CO., LIMITED. |
| WHOIS Information | Domain created on June 7, 2023; Whois contacts hidden. |
| Recommendation | It is strongly advised to avoid making any purchases or sharing sensitive information on this website. |
Other Suspicious Online Shops to Avoid
As part of our ongoing effort to protect our readers from potential scams, we have compiled a list of other suspicious online shops that you should be aware of. These shops share similar characteristics and tactics to Seafoodteam.com, and they use deceptive practices to lure in unsuspecting buyers. It's crucial to remain vigilant when shopping online and to be aware of the warning signs of a potential scam. Below we will highlight some of the other suspicious online shops that you should avoid to protect your personal and financial information.
Here are a few examples of the suspicious online shops: Hdemw.shop, Suewat.com, and Birkenstockonline-us.com.
How to spot and avoid a fake online store?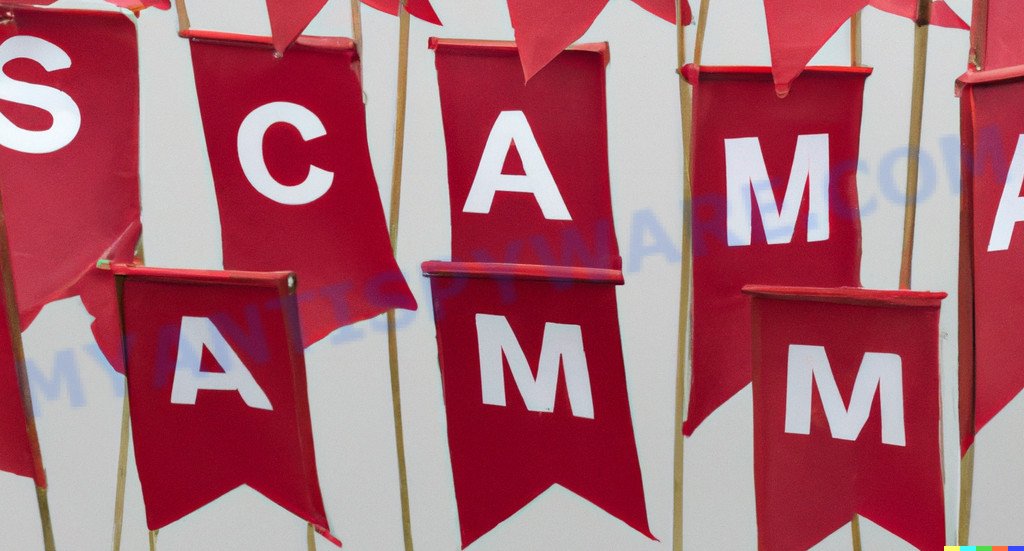 Online shopping has become increasingly popular, but it also carries certain risks, particularly when it comes to fake or fraudulent online stores. Here are some tips on how to spot and avoid a fake online shop:
Check for HTTPS and a padlock symbol in the URL bar. This indicates that the website is using encryption to protect your data.
Look for reviews and ratings of the website. Genuine websites will usually have positive feedback from customers, while fake ones may have little to no reviews or negative feedback.
Check the website's contact information. A legitimate online store will have a physical address, phone number, and email address for customer support.
Research the website on the internet. Search for the website's name and reviews, complaints or any warning signs about it before making a purchase.
Be wary of deals that are too good to be true. Fake online stores may offer steep discounts to lure in customers, but these deals may be a ploy to steal your money.
Avoid using payment methods that are not secure. Use payment methods such as credit card, PayPal or other payment methods that provide buyer protection.
Be wary of pop-ups or unsolicited emails directing you to a website. This may be a phishing attempt to get your personal and financial information.
By taking these precautions, you can reduce the risk of falling prey to fake online stores and ensure a safe and enjoyable online shopping experience.
What to do if you ordered something from a fake online store?
If you have already ordered something from a fake website and you suspect that it may be a scam, there are several steps you can take:
Contact the website's customer support.
If the website has provided contact information, try reaching out to their customer support to inquire about the status of your order. If the website does not respond or gives you unsatisfactory answers, it could be a sign that it is a fake website.
Check your payment method.
If you have paid for your order with a credit card, check your statement to see if the payment has gone through. If it has not, then you may have caught the scam in time, but if it has, you may need to dispute the charge with your bank.
File a dispute or chargeback with your payment provider.
If you have paid for your order with a credit card or other payment method that offers buyer protection, you may be able to dispute the charge or request a chargeback to get your money back. Use the steps (https://consumer.ftc.gov/articles/what-do-if-you-were-scammed) to try to stop a transaction, get a transaction reversed, or get a refund.
Report the fake online store.
You can report the fake website to authorities such as the Federal Trade Commission (FTC) at https://ftc.gov/ or the Internet Crime Complaint Center (IC3). This can help prevent others from falling victim to the same scam.
Learn from your experience.
Be more cautious in the future and take steps to ensure that you are shopping on legitimate websites that are secure and reputable.