Beware of a recent online scam targeting unsuspecting consumers with a product called "HIGHERSOCKS Schorl Titanium Ion Socks". These socks, advertised to magically increase height and treat various conditions, are making grand promises without any scientific evidence to back them up. Websites like rolloeme.com and arotsukit.shop, created recently and exhibiting classic scam characteristics, are promoting these dubious socks. Additionally, a lack of positive reviews or legitimate customer testimonials further raises suspicions about their effectiveness.
Protect yourself from potential fraud by learning more about this scam and its deceptive tactics. Read the full article to uncover the truth behind these dubious products and safeguard your hard-earned money.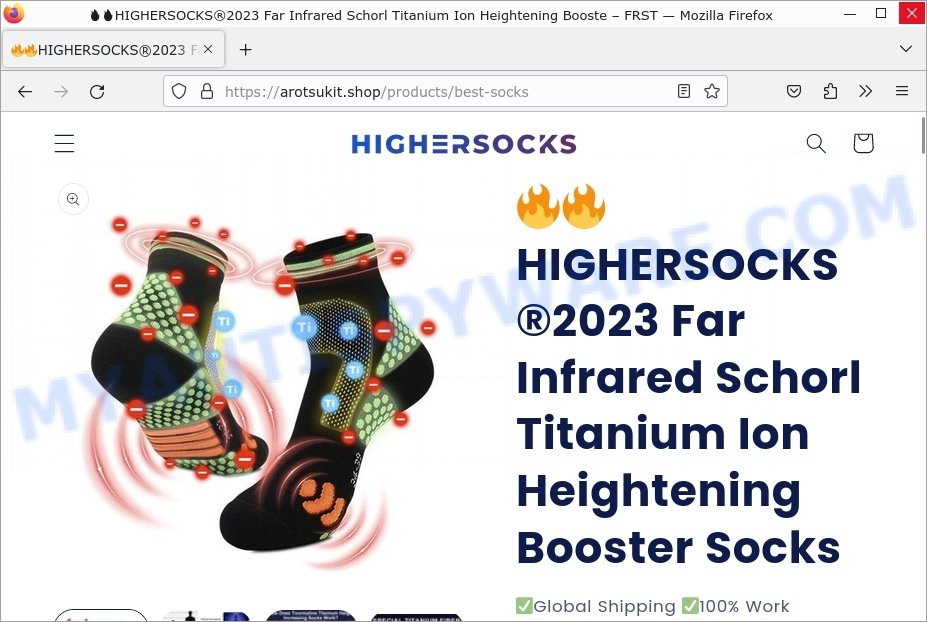 QUICK LINKS
How HIGHERSOCKS Schorl Titanium Ion Socks Work (Claims to Work):
The marketing behind HIGHERSOCKS Schorl Titanium Ion Socks relies on elaborate claims that attempt to deceive consumers into believing these socks can magically increase height and treat various conditions. According to the scammers, the socks are made from specially crafted micro titanium fibers and a nano-scale schorl coating. They assert that these materials release far-infrared rays and negative ions, which, supposedly, stimulate bone growth and elongation.
The scammers claim that when the socks are worn, dissociated titanium ions are released, which, unlike conventional titanium used in medical implants, are said to widen bone trabeculae and create more space for bone growth. They allege that this process increases the spacing between calcium ions, prompting bone cells to continuously divide and grow, leading to the growth of new bone marrow and bone.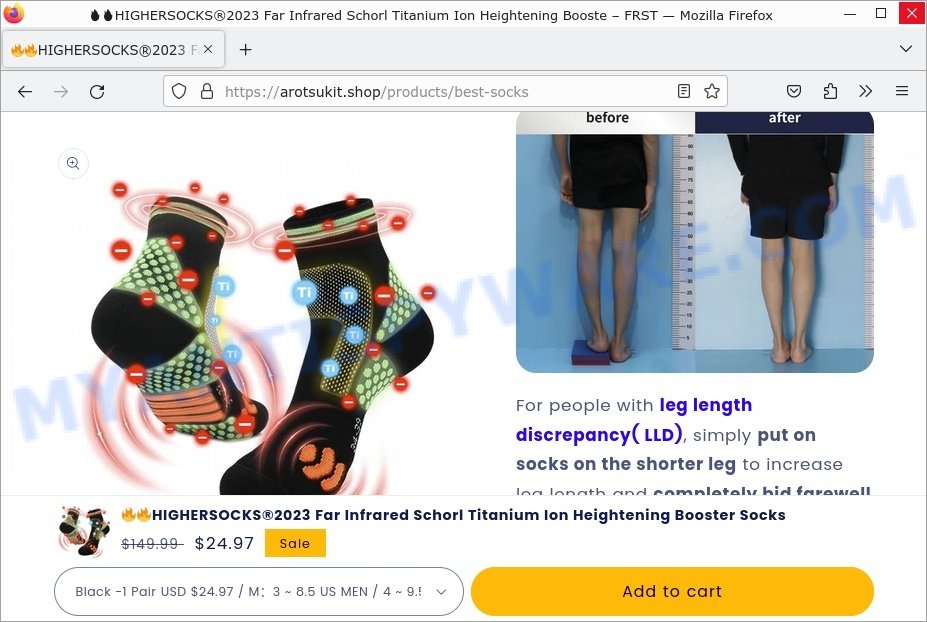 Furthermore, the scammers suggest that the titanium ions are transported through the body via major growth acupoints, accumulating at the growth plates and calcium-rich areas in the knees, elbows, and spine. They contend that this interaction causes bone trabeculae to become more porous, compelling the generation of new bone cells to fill the gaps. As a result, they claim the socks stimulate the growth and elongation of legs, arms, and the spine, promising overall body growth and improved body proportions.
It is important to note that these claims lack scientific evidence and are not supported by reputable research. The supposed mechanism of action described by the scammers contradicts established knowledge about bone growth and the influence of external factors on it. These socks are designed to deceive consumers with false promises and should be approached with extreme caution.
The Websites Behind HIGHERSOCKS Schorl Titanium Ion Socks:
The HIGHERSOCKS scam operates through various websites, two of which are particularly notable for promoting these deceptive socks: rolloeme.com and arotsukit.shop. These websites share common characteristics that should raise suspicion among consumers.
Firstly, both rolloeme.com and arotsukit.shop were created recently, with arotsukit.shop having been registered on June 2, 2023. This short timeframe indicates that these sites were hastily set up to capitalize on unsuspecting buyers seeking solutions for height-related concerns.
Upon visiting these websites, it becomes apparent that they lack detailed contact information, often providing only an email address for communication. This limited contact information raises concerns about the legitimacy of these businesses and their intentions.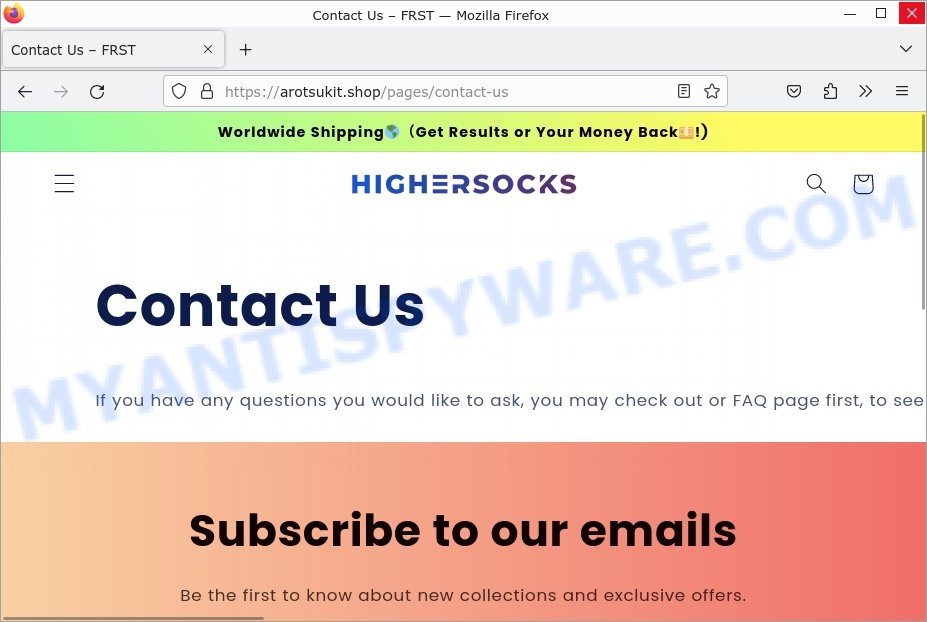 Furthermore, both rolloeme.com and arotsukit.shop exhibit template designs, lacking the unique branding and professionalism commonly found in legitimate online stores. This generic appearance is a common tactic employed by scammers to quickly create websites without investing in a proper design.
To add to the suspicious nature of these sites, the WHOIS information for their domains is often hidden, making it difficult to identify the individuals or organizations behind them. Legitimate businesses typically provide transparent WHOIS details, allowing customers to verify their authenticity.
Given the combination of these red flags, it is crucial to exercise caution and avoid making any purchases from rolloeme.com, arotsukit.shop, or similar websites promoting HIGHERSOCKS Schorl Titanium Ion Socks.
HIGHERSOCKS Schorl Titanium Ion Socks: Is It a Scam?
When considering the HIGHERSOCKS Schorl Titanium Ion Socks, it becomes apparent that they are nothing more than a scam preying on individuals seeking solutions for height-related concerns and other conditions. Several key factors indicate that these socks are a deceptive product designed to exploit unsuspecting consumers.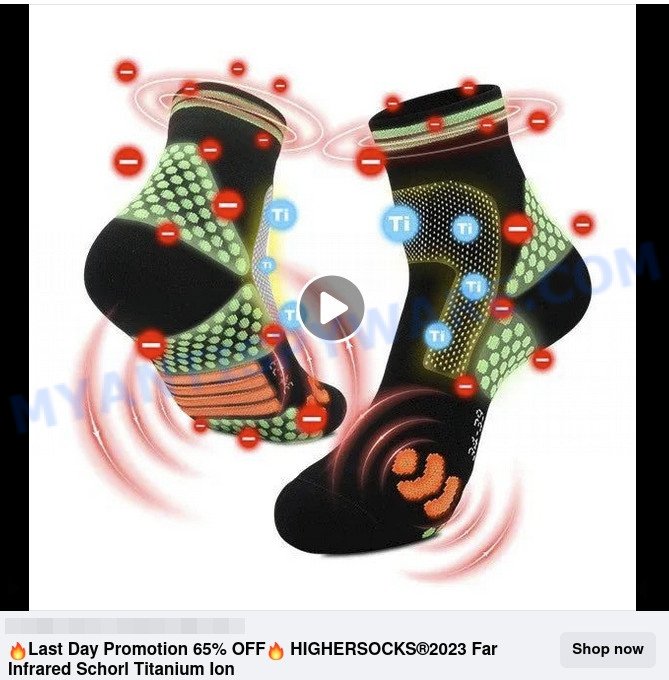 First and foremost, the claims made about the socks' ability to increase height and treat conditions like dwarfism and leg length discrepancy are not backed by any scientific research. Legitimate products undergo rigorous testing and validation through scientific studies, which is noticeably absent in the case of HIGHERSOCKS.
Furthermore, the testimonials provided on the scam websites lack credibility and authenticity. These testimonials often utilize emotional language, extravagant claims, and unrealistic before-and-after results to create an illusion of effectiveness. However, the lack of verifiable evidence and independent reviews raises significant doubts about the legitimacy of these claims.
Additionally, the technical jargon used in the product description, such as "dissociated titanium ions", "far-infrared rays", and "negative ions", may sound impressive, but they serve to mask the lack of scientific basis for the product's alleged mechanism of action. The description attempts to sound scientific without providing any genuine scientific evidence or references.
Furthermore, the websites promoting HIGHERSOCKS Schorl Titanium Ion Socks, such as rolloeme.com and arotsukit.shop, exhibit several characteristics typical of scam sites. These include recent creation dates, limited contact information, template designs, and hidden WHOIS information. These red flags are consistent with fraudulent operations aiming to deceive unsuspecting consumers.
Considering the lack of scientific evidence, unreliable testimonials, and the presence of common scam indicators, it is safe to conclude that HIGHERSOCKS Schorl Titanium Ion Socks are indeed a scam.
Beware of Similar Scams
When it comes to deceptive products that promise remarkable results but fail to deliver, HIGHERSOCKS Schorl Titanium Ion Socks are not alone. There is a plethora of similar scams in the market that entice consumers with enticing claims but ultimately fail to fulfill their promises. Here are some examples of similar products to be aware of: ChillWell Portable AC, MileMax Fuel Saver and Stop Watt.
Summary
| | |
| --- | --- |
| Name | HIGHERSOCKS Schorl Titanium Ion Socks |
| Associated websites | rolloeme.com, arotsukit.shop |
| Claims | Promotes height growth, treats leg length discrepancy, suitable for dwarfism, treats osteoporosis, emits far-infrared energy and negative ions |
| Advertised Benefits | Increased height, improved body proportions, wider and more porous bone trabeculae, overall body growth |
| Promotional Techniques | Fake testimonials, exaggerated claims, pseudo-scientific explanations, before-and-after pictures, emotional appeal |
| Lack of Scientific Evidence | No scientific research backing the claims of effectiveness |
| Similar Scams | Miracle height-gain supplements, magnetic insoles or devices, growth hormone scams, fake orthopedic devices |
| Consumer Advice | Exercise caution, consult medical professionals, be skeptical of exaggerated claims, rely on reputable sources |
Conclusion: Should You Try HIGHERSOCKS Schorl Titanium Ion Socks?
In conclusion, it is evident that HIGHERSOCKS Schorl Titanium Ion Socks are a deceptive product with false claims and lack of scientific evidence to support their effectiveness. The scammers behind these socks exploit people's desires for height growth and physical improvements, using misleading language and fake testimonials to convince consumers of their miraculous results.
It is essential to approach HIGHERSOCKS and similar products with extreme caution. The claims made by the scammers lack credibility and are not backed by reputable research or medical expertise. Investing in such fraudulent schemes not only wastes your hard-earned money but also puts your health and well-being at risk.
Instead of falling victim to these scams, it is recommended to consult with qualified medical professionals or trusted experts if you have concerns about height growth or any other physical conditions. They can provide you with accurate information, guidance, and appropriate treatment options based on your specific needs.
By being aware of the deceptive nature of HIGHERSOCKS Schorl Titanium Ion Socks and similar scams, you can protect yourself and help others avoid falling prey to these fraudulent schemes. Spread the word, share this information, and empower others to make informed choices when it comes to their health and well-being.