Beware of the latest addition to the Bed Bath & Beyond Clearance Sale Scam – Olkbmon.shop. This deceptive website poses as a legitimate "BED BATH & BEYOND" store, luring unsuspecting shoppers with enticing promises of massive discounts during a supposed store closing sale. However, don't be fooled by the seemingly tempting offers, as Olkb Moon Shop is nothing more than a scam designed to swindle you out of your hard-earned money.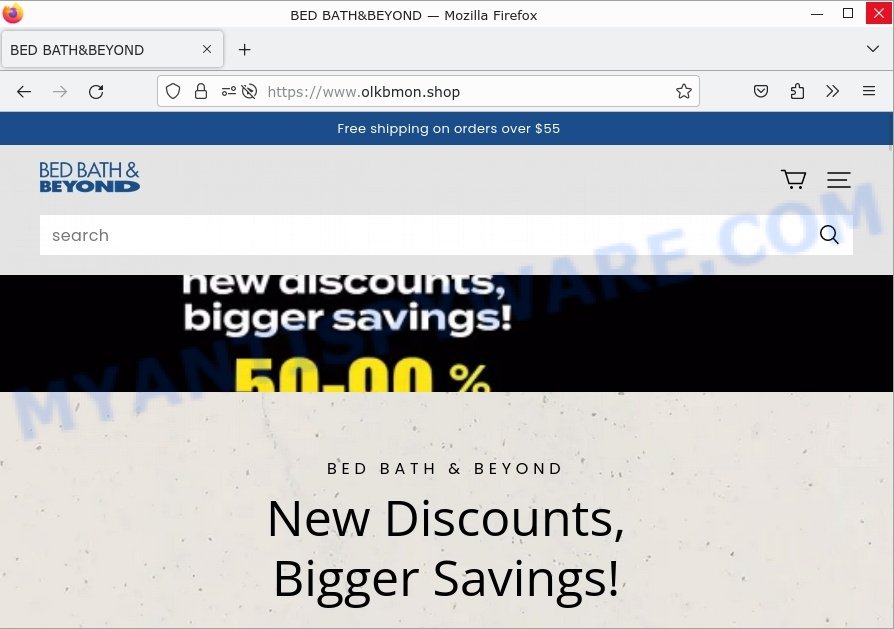 Previously, we reported on other fraudulent "BED BATH & BEYOND" stores, including Bedbathbeyondca.com, Yusicoun.shop, Wild-ant.com, and Betteronsite.com, all linked to the Bed Bath & Beyond Clearance Sale Scam.
When examining Olkbmon.shop, several red flags emerge. The online store offers a range of miscellaneous items, featuring a typical template design and a logo that closely resembles the official "BED BATH & BEYOND" logo. However, Olkbmon.shop has no positive reviews online, with some customers warning that it is indeed a scam.
Upon inspecting the products offered on Olkbmon.shop, it becomes apparent that the prices are unusually low, suggesting their questionable authenticity. For instance, the store advertises a Professional 600 bowl for a mere $6.49 USD, while its actual retail price is around $379.95. Similarly, an Oversize XL Padded Zero Gravity Lounge Chair is listed at only $4.99 USD, whereas its true value is approximately $102.99.
Olkbmon.shop heavily relies on Facebook advertising to attract unsuspecting shoppers. The site's ads feature enticing phrases like "Hot Sale Up to 90% off" and "Clearance Sale: UP TO 90% OFF Now" These ads attempt to create a sense of urgency and encourage immediate purchases.
Surprisingly, Olkbmon.shop lacks any contact information or dedicated pages such as "About Us". This absence of transparent communication raises suspicions regarding the legitimacy of the store.
Analyzing the WHOIS information of Olkbmon.shop reveals that the site was created on June 3, 2023, and is set to expire on June 3, 2024. The registrant's contact details are hidden, further obscuring the true identities behind the website.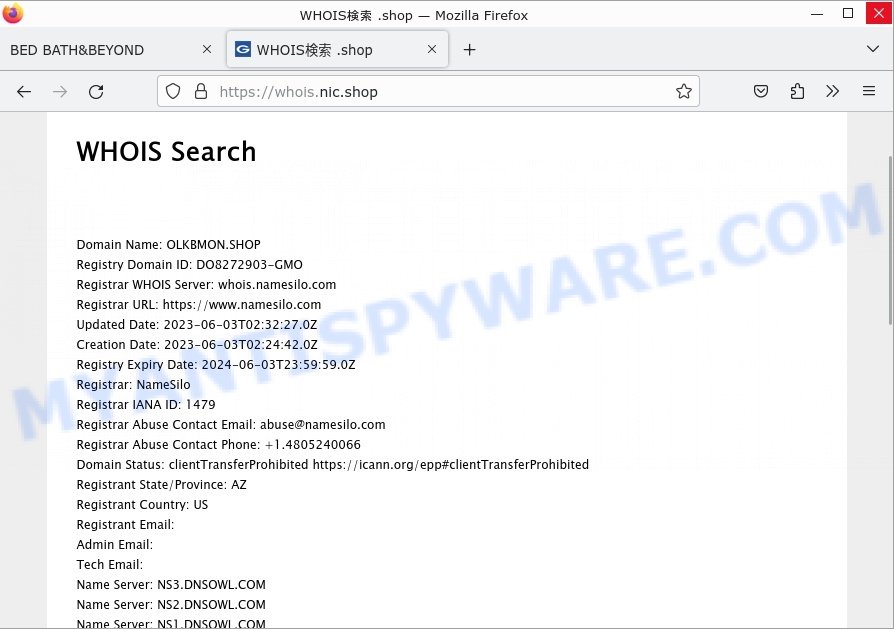 In conclusion, it is truly alarming to see an increasing number of scams preying on innocent consumers, particularly when it comes to the Bed Bath & Beyond Clearance Sale. As we have exposed multiple fraudulent websites, such as Prudencei.shop, Bedbathbeyondca.com, Yusicoun.shop, Wild-ant.com, Betteronsite.com, and Bedbathandbeyondgo.com, it is evident that a vast network of deceitful operations is at play. These scam stores mimic the design and logo of the renowned retailer, lure customers with unrealistically low prices, and employ various tactics to instill a sense of urgency. The contact information provided often leads to sham companies, and the WHOIS details are deliberately hidden.
It is imperative to stay informed and exercise caution when encountering such offers online. We strongly encourage you to read our detailed article on the Bed Bath & Beyond Clearance Sale scam to learn more about these deceptive practices, understand the red flags, and safeguard yourself against falling victim to these fraudulent schemes. Your awareness is the first line of defense in combatting online scams and protecting your hard-earned money.
Summary
| | |
| --- | --- |
| Name | Olkbmon.shop Scam, Olkb Moon Shop Scam |
| Logo and Design | Resembles the official Bed Bath & Beyond logo |
| Scam Tactics | Pretends to be a Bed Bath & Beyond store closing sale with deep discounts |
| Pricing | Extremely low prices |
| Examples | Professional 600 bowl is priced at $6.49 USD, actual retail price exceeds $379.95; an Oversize XL Padded Zero Gravity Lounge Chair is listed at $4.99, typical price exceeds $102.99 |
| Payment Risk | High risk of fraudulent activity |
| Contact Information | Olkbmon.shop doesn't provide any contacts or "About Us" pages |
| WHOIS Information | Creation Date: 2023-06-03, Registry Expiry Date: 2024-06-03 |
| Recommendation | Avoid making purchases, report the website as a scam |
Other Suspicious Online Shops to Avoid
As part of our ongoing effort to protect our readers from potential scams, we have compiled a list of other suspicious online shops that you should be aware of. These shops share similar characteristics and tactics to Bedbathandbeyondgo.com, and they use deceptive practices to lure in unsuspecting buyers. It's crucial to remain vigilant when shopping online and to be aware of the warning signs of a potential scam. Below we will highlight some of the other suspicious online shops that you should avoid to protect your personal and financial information.
Here are a few examples of the suspicious online shops: Discountonlineus.com, Prudencei.shop, and G2kayak.com.