Babyjoynewyork.com is a fraudulent online store that poses as a "buy buy BABY" store, targeting unsuspecting customers with low prices and false promises. The website claims to be winding down its operations, but it is merely a facade to deceive shoppers into making purchases. The store utilizes Facebook promotions to attract potential victims and offers unrealistically low discounts on popular brands, such as Graco car seats, to entice customers into buying products that may not exist or are of poor quality.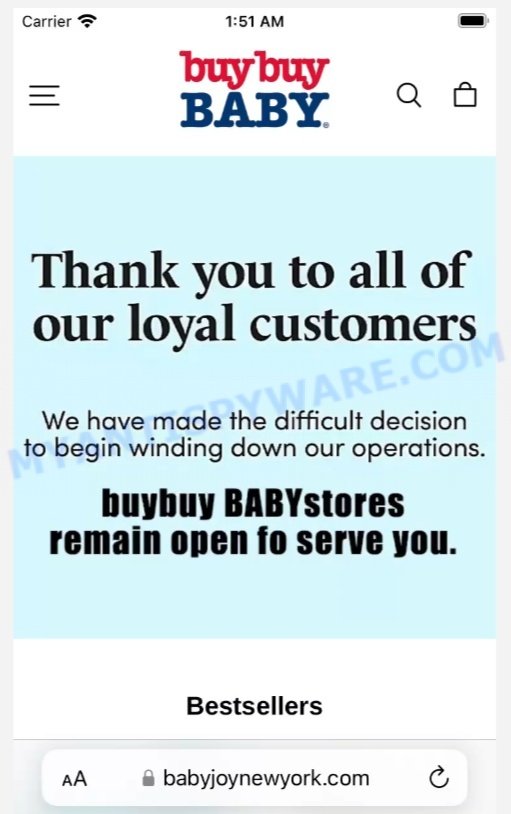 Quick Links:
False Promises and Deceptive Messages
The main page of Babyjoynewyork.com falsely claims to be a "buy buy BABY" store winding down its operations, but this is a deceitful tactic to gain trust from potential customers. The website uses phrases such as "Thank you to all of our loyal customers" and "buybuy BABY stores remain open to serve you," creating a false sense of legitimacy and loyalty. In reality, the store is not associated with the genuine "buy buy BABY" brand, and its intention is to mislead consumers into believing they are making purchases from a reputable source.
Facebook Promotion Tactics
Babyjoynewyork.com uses Facebook to promote its scam, where it advertises products at heavily discounted prices, targeting users who might be interested in baby and parenting-related items. The fake promotions are designed to lure potential victims into clicking on the links and visiting the website, where they are presented with alluring deals and discounts. However, these Facebook promotions are part of a fraudulent scheme aimed at duping consumers into making purchases.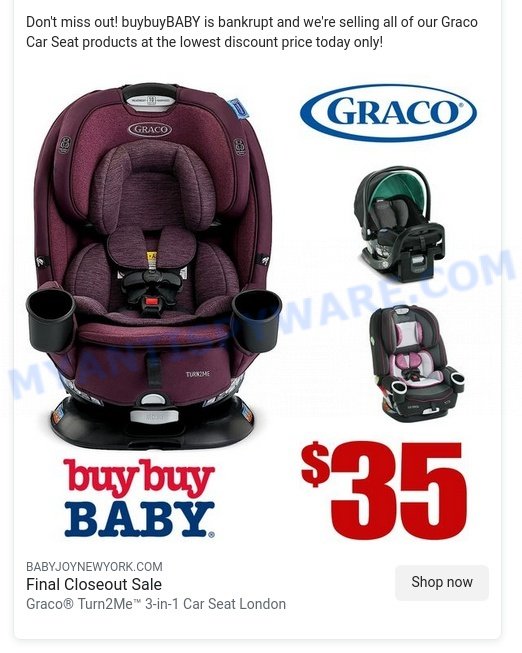 Misleading Product Categories
Babyjoynewyork.com lists various product categories on its website, including Pampers, Razor, Starbucks, Hill's, Fitbit, Garmin watch, Evenflo, Graco, and Kindle. The inclusion of popular brands like Graco car seats and Kindle e-readers is a deliberate attempt to mislead customers into believing that they are buying genuine products from reputable brands. However, the products offered on the website may not be authentic, and customers may receive low-quality or counterfeit items.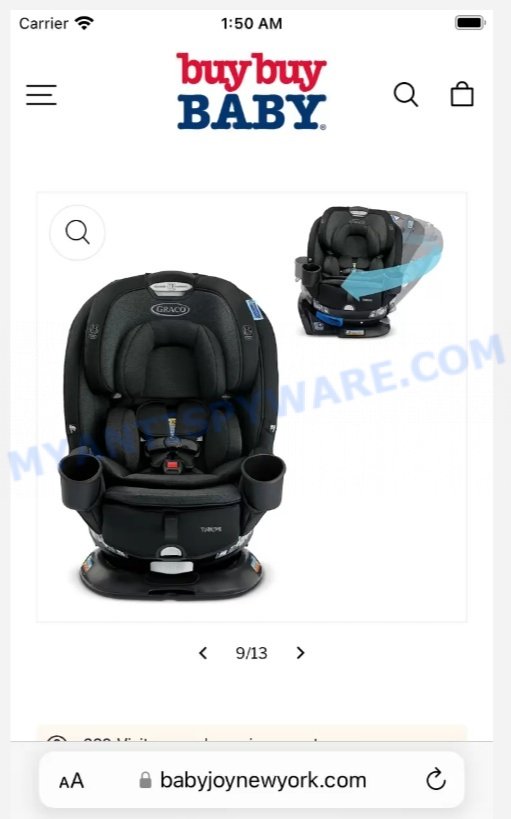 Connection to Known Scam Contacts
The contact email provided by Babyjoynewyork.com is mila@peachcher.com, and the associated company name is AIMARK LTD, with registration number 10853964 and a business address in London, United Kingdom. These contact details have been previously associated with known scam shops, indicating a connection to other fraudulent online stores. The use of such contact information raises suspicion about the legitimacy of the store and its operations.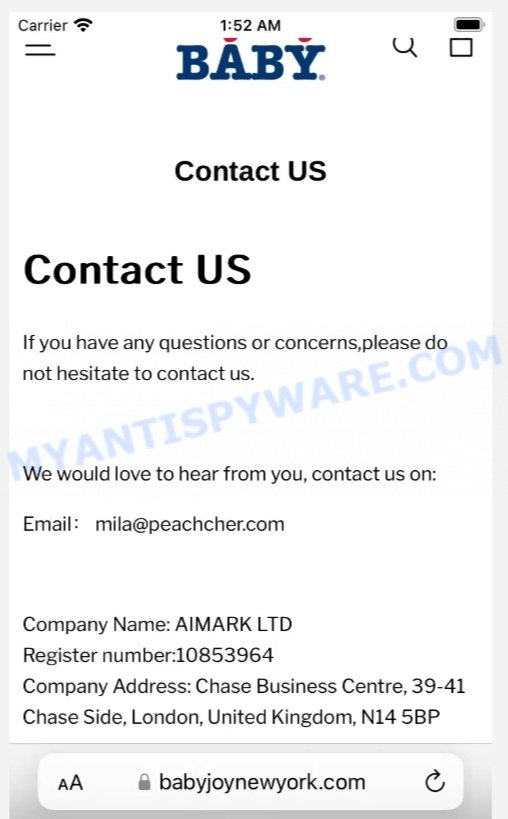 What to Do if You Become a Victim of Babyjoynewyork.com Scam
If you have become a victim of the Babyjoynewyork.com scam or any similar fraudulent online store, take the following steps to mitigate the situation:
Contact Your Bank or Credit Card Company: Immediately report the unauthorized transaction to your bank or credit card company. Request a chargeback or dispute the payment to attempt to recover your funds.
Monitor Your Financial Accounts: Regularly monitor your bank and credit card statements for any suspicious activity. If you notice any unauthorized transactions, report them immediately to your bank.
Save Evidence: Save any evidence related to your interaction with Babyjoynewyork.com, such as order confirmations, emails, website screenshots, and communication with the scam store.
File a Complaint: Report the fraudulent website to your local consumer protection agency or online fraud reporting center. This can help authorities take action against the scam store.
Spread Awareness: Share your experience with friends, family, and online communities to raise awareness about Babyjoynewyork.com and similar scam stores, helping others avoid falling victim to their deceptive practices.
Summary Table for Babyjoynewyork.com Scam Store
| | |
| --- | --- |
| Store Name | Babyjoynewyork.com Scam, Baby Joy New York Store Scam |
| Claimed Brand | buy buy BABY |
| Facebook Promotion | Yes |
| Featured Products | Graco car seats, Kindle, and other popular brands |
| Contact Email | mila@peachcher.com |
| Associated Company | AIMARK LTD (Registration Number: 10853964) |
Conclusion
Baby Joy New York (Babyjoynewyork.com) is a fraudulent "buy buy BABY" store that operates with deceptive tactics to scam unsuspecting customers. By claiming to be winding down operations and offering unrealistically low prices, the scam store tricks consumers into making purchases for non-existent or subpar products. To protect yourself from such scams, always conduct thorough research before making online purchases and be cautious of deals that seem too good to be true.