ARIAT Clearance Sale Scam stores, appearing on multiple domains like outletsariat.com and ariat-clearance.com, are actively misleading consumers with too-good-to-be-true deals on ARIAT boots. Promoted heavily on social media, especially Facebook, these fake stores use stolen branding and offer unrealistically low prices to entice buyers. Read the full article to understand the scam, protect yourself, and learn what steps to take if you have been scammed.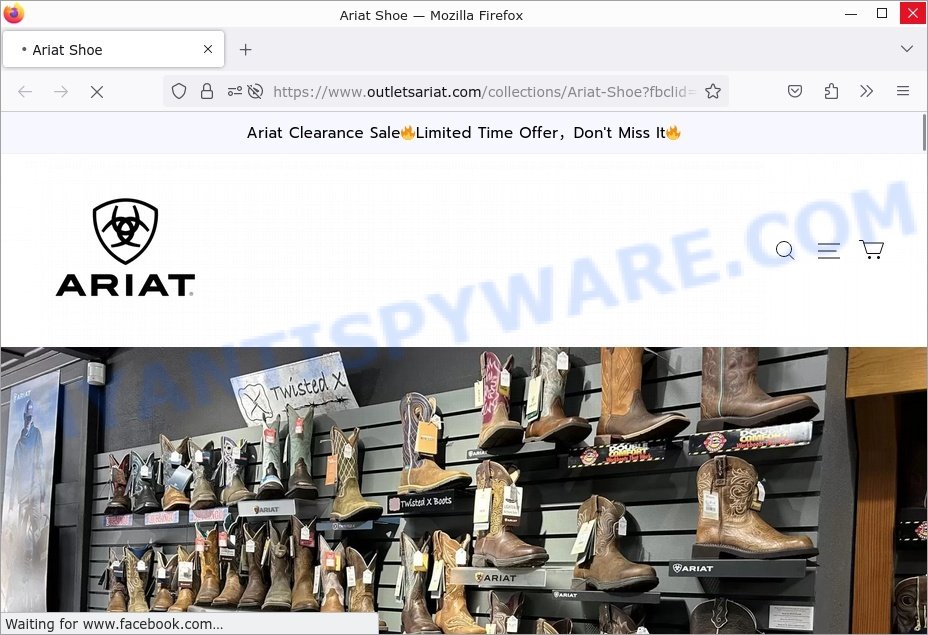 Quick Links
Are ARIAT Clearance Sale Stores a Scam?
Before you consider making a purchase from one of these stores, you should be aware of several red flags that indicate they are scams.
Recently created domains
Lack of real contact information: only email addresses like support@piufredr.com are given
No real info about the company: Associated with a sketchy company, NOVVA LIMITED
Unbelievable deals: Ariat boots sold for as low as $39.99
Enticing slogans: Phrases like "Clearance Sale" and "Limited Time Sale"
No social media presence: The stores only promote through Facebook ads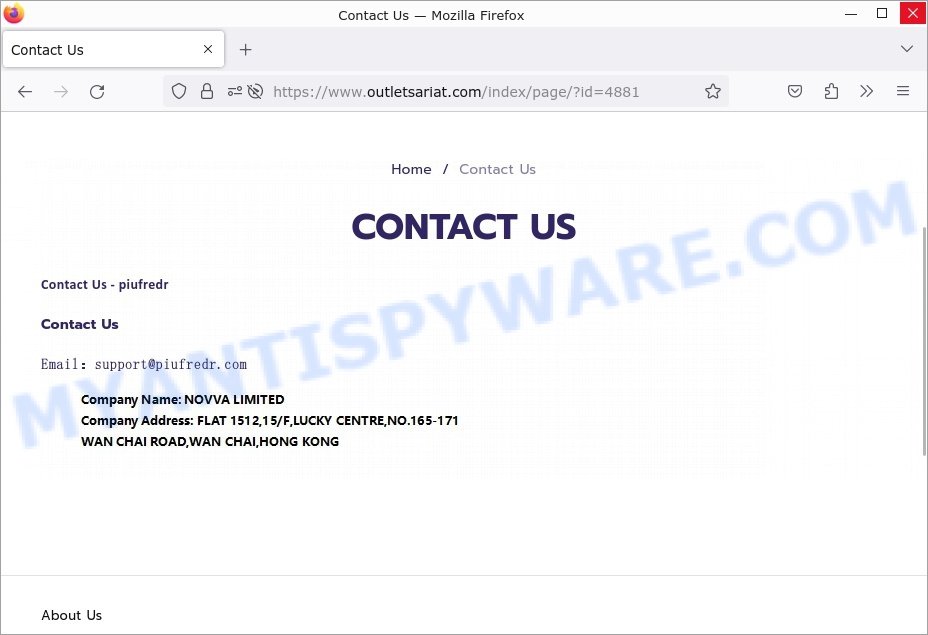 How the ARIAT Clearance Sale Scam Works
ARIAT Clearance Sale Scam stores are promoted through Facebook ads, sometimes with more than 800 ads running concurrently. These ads capitalize on phrases like "Warehouse expired! Last days clearance sale!" and "Clearance special: as low as $39.99" to lure potential victims.
Once people land on these scam websites, they're presented with a storefront that mimics legitimate Ariat stores—right down to stolen logos and product descriptions. Victims are then enticed to complete the purchase, lured by the illusion of a great deal. What follows is either the delivery of counterfeit products or, more commonly, no delivery at all.
Furthermore, these scam shops are linked to known scam company NOVVA LIMITED, which has a mailing address in Hong Kong and is connected to various email addresses like support@piufredr.com. Meanwhile, the scammers behind these shops rake in the money and are almost impossible to trace due to hidden WHOIS data.
What to do if You Become a Victim
If you've fallen victim to one of these scam shops, it's crucial to act immediately to limit the damage.
Contact your bank to dispute the transaction
Change passwords for your financial accounts
Report the scam to FTC
Leave a comment on this review to help warn others
Other Scam Online Shops to Avoid
To further assist you in steering clear of online scams, we have put together a list of other dubious online shops that employ tactics similar to ARIAT Clearance Sale Scam Stores.
Here are a few examples: Blackstonediscount.com Review, Hokafacviponlinestore.com Review, Acstoreus.com Review.
Summary Table for ARIAT Clearance Sale Scam Stores
| | |
| --- | --- |
| Name | ARIAT Clearance Sale Scam Stores |
| Type | Online Shopping Scam |
| Scam stores | outletsariat.com, clearancesalestore.com, westichic.com, ariatoutlets.shop, ariat-clearance.com,ariatshop.com, ariatonlineshop.com, ariatoutlets.com, etc |
| Damage | Financial loss, potential identity theft |
| Distribution | Facebook Ads |
| Tactics | False Advertising, Stolen Content |
| Prices | $39.99 Ariat Boots |
| Contacts | Emails such as support@piufredr.com, support@ru-quety.com, support@csmarket-ht.com, support@termauy.com; Company: NOVVA LIMITED |
| Prevention Tips | Be skeptical of too-good-to-be-true deals |
| Reporting Info | FTC |
Conclusion
ARIAT Clearance Sale Scam Stores are fraudulent online shops designed to trick consumers into parting with their hard-earned money. Be wary of too-good-to-be-true deals and always do your due diligence before making any online purchases.
FAQ About the ARIAT Clearance Sale Scam
Q: How can I verify an online store?
A: Check if the store has a verified address, SSL certificate, and look for genuine online reviews.
Q: What should I do if I have been scammed?
A: Report to your bank, change associated passwords, and report the case to the FTC.