Hokafacviponlinestore.com is the latest scam store that has been misleading online shoppers, especially those looking for quality Hoka products. The lure of massive discounts has made many fall victim. Read on to uncover the truth behind Hokafacviponlinestore.com.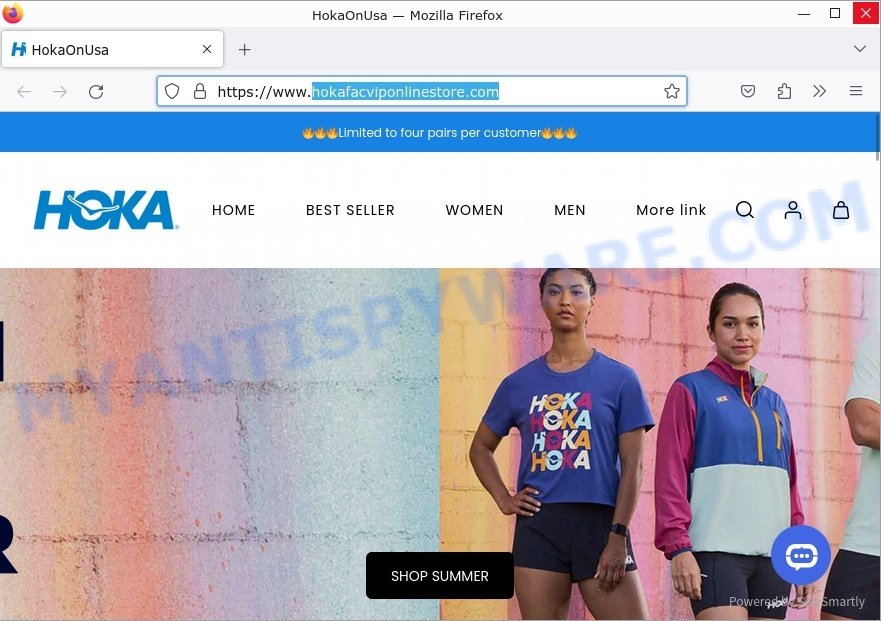 Quick links
Is Hokafacviponlinestore.com a Scam?
The red flags surrounding Hokafacviponlinestore.com are quite evident. Here's why this store raises eyebrows:
Recently created domain.
Unbelievable deals like 80% off and incredibly low prices for Hoka shoes.
Generic design with content seemingly lifted from other sites.
Enticing slogans like "80%OFF hoka Shoes Clearance Sale!!"
Lack of genuine contact information – only accessible through an email address: support@onlineemailhoka.com.
No authentic information about the company operating behind the scenes.
No visible social media presence despite advertising on platforms like Facebook.
Whois contact details are hidden, indicating a potential lack of transparency.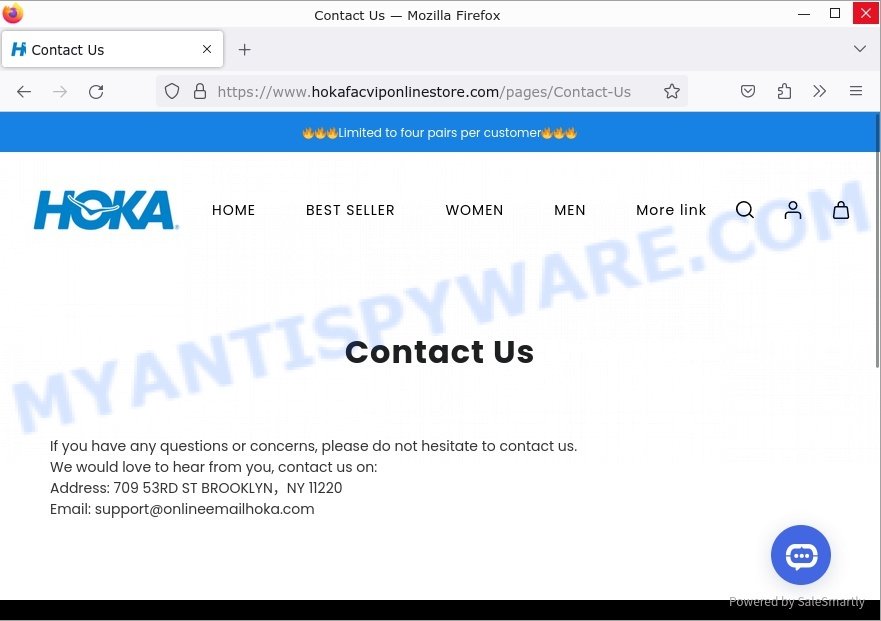 How the Hokafacviponlinestore.com Scam works
Hoka Fac Vip Online Store at Hokafacviponlinestore.com is a crafty online shop that targets fitness enthusiasts and those loyal to the Hoka brand. The scam begins with tempting Facebook ads showcasing "Bondi 8 Hoka Sneakers" and offers of up to 80% off.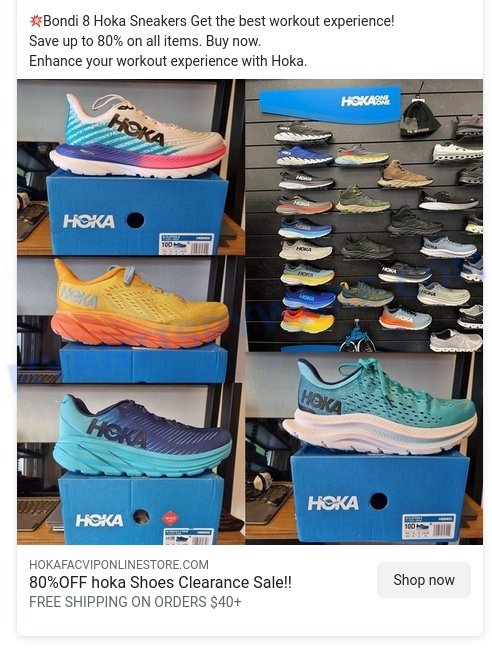 Unsuspecting buyers, lured by these huge discounts and the promise of free shipping for orders above $40, are led to the site. Once they make a purchase, they either receive counterfeit products or, in the worst cases, nothing at all. It's a sly bait-and-switch tactic.
What to do if you become a victim of Hokafacviponlinestore.com
If you've unfortunately fallen for this scam, take the following steps immediately:
Contact your bank or credit card company to report the fraudulent transaction.
Change your online passwords, especially if you use the same password across multiple sites.
Monitor your financial statements for any unexpected transactions.
Report the scam to relevant authorities and online platforms where the scam was advertised.
Other Scam Online Shops to Avoid
To protect our readers from potential scams, we have highlighted some other dubious online shops that share similar tactics to Hokafacviponlinestore.com. Online vigilance is your best defense against such deceptive practices.
Here are a few examples of the scam online shops: Ahodenare.com Bookstore Scam, Axerxm.com Bed Bath & Beyond Store Scam, Naswino.com Bed Bath & Beyon Store Scam.
Summary table for Hokafacviponlinestore.com
| | |
| --- | --- |
| Name | Hokafacviponlinestore.com |
| Type | Online Store Scam |
| Damage | Loss of Money, Potential Receipt of Counterfeit Products |
| Distribution | Facebook Ads |
| Tactics | Discounted Prices, Fake Promotions |
| Prices | Up to 80% off on Hoka Shoes |
| Contacts | Email: support@onlineemailhoka.com |
| Prevention Tips | Verify Authenticity of Online Stores, Double-check URLs |
| Reporting Info | Local Law Enforcement, Bank, and Credit Card Company |
Conclusion
Hokafacviponlinestore.com is a deceitful online store capitalizing on the Hoka brand's popularity. Offering unbelievable discounts and a facsimile of genuine products, this scam aims to exploit unsuspecting buyers. Always exercise caution and verify online stores before making a purchase.
FAQ About the Hokafacviponlinestore.com Scam
Why are Facebook ads promoting scam shops?
While Facebook tries to ensure genuine advertisements on its platform, some scam ads still slip through the cracks due to the sheer volume of advertisers.
How can I differentiate between a genuine and fake online store?
Genuine stores often have verifiable contact details, a history of positive reviews, and don't offer unbelievably huge discounts. It's essential to research before purchasing.
What actions does the official Hoka brand take against such scams?
Brands like Hoka often issue warnings about fake stores and can take legal actions against them. However, scammers can quickly set up new websites, so buyer vigilance remains essential.