Saine.uk is an online store that has gained attention through its widespread promotion on social media platforms, particularly Facebook. With over 50 ads circulating, the store offers a range of products that promise enticing benefits to potential customers. This review will delve into the details surrounding Saine.uk, shedding light on its practices and potential risks. Read on to understand why vigilance is essential when encountering such online shops.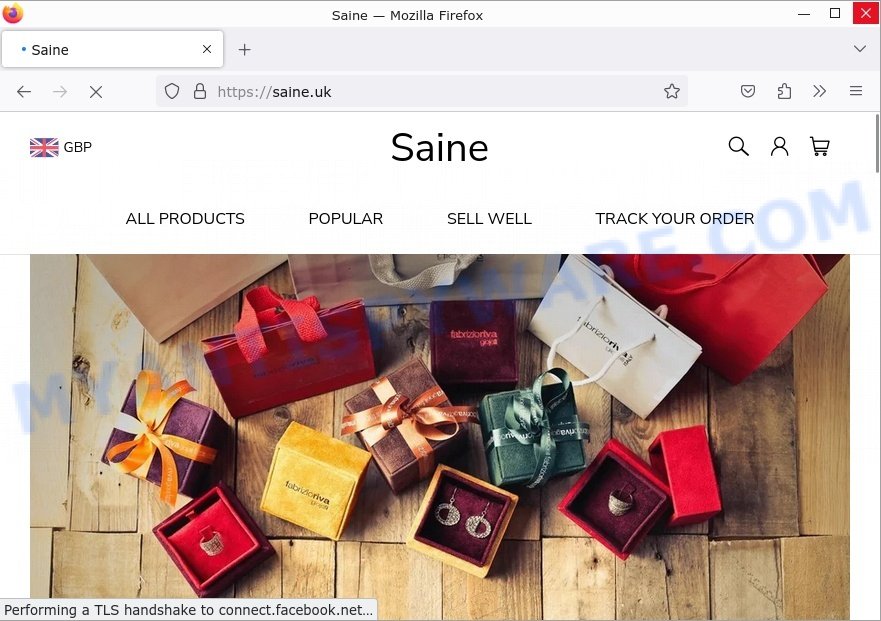 Quick links
Is Saine.uk a Scam?
Saine.uk exhibits several telltale signs of a potential scam, including:
Recently created domain, registered on 20-Jun-2023.
Standardized content in the "About" section, which matches text seen on other known scam shops.
Unbelievably low prices and overly enticing advertisements.
Lack of comprehensive contact information. Only an email (support@saine.uk) is provided.
No substantial social media presence.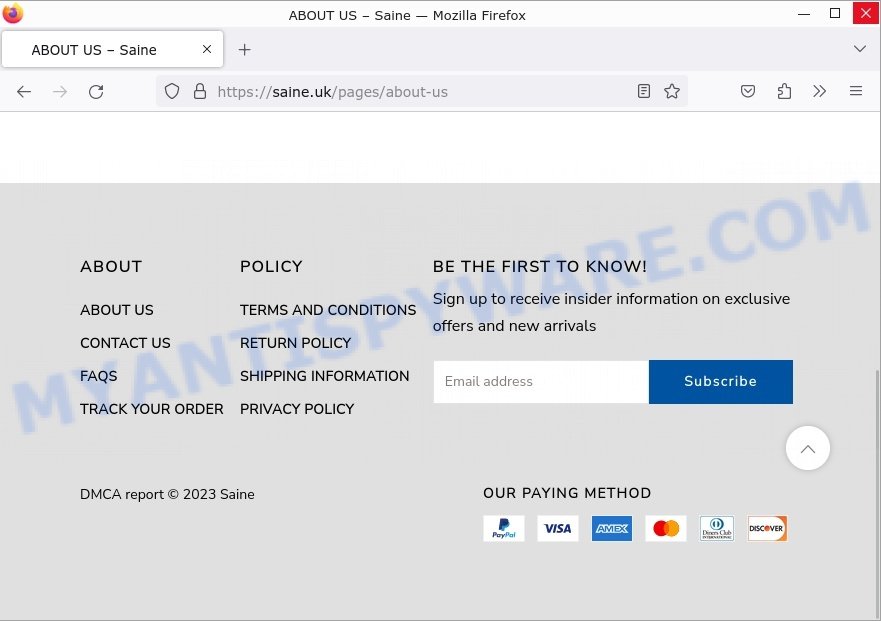 How the Saine.uk store works
Saine.uk follows a pattern seen in many scam shops. The store's products are often advertised with flashy promotions, offering unrealistic benefits at heavily discounted prices. However, once customers make purchases, they may encounter hidden charges that were not initially disclosed. The products are often sourced from China and have been reported to be of subpar quality. When customers attempt to request refunds or returns, the store might only offer partial reimbursements, leaving customers dissatisfied and out of pocket.
What to do if you become a victim of Saine.uk
If you suspect you've fallen victim to Saine.uk:
Contact your bank or credit card company immediately to report the fraudulent charges.
Change your online banking and shopping passwords.
Document all communication with Saine.uk.
Consider reporting the website to relevant consumer protection agencies.
Other Scam Online Shops to Avoid
Protecting our readers from potential scams is our utmost priority. Numerous online shops resemble Saine.uk in their deceitful tactics. Being aware of these warning signs can save you from falling prey to scams.
Below, we've highlighted some suspicious online shops: Ahodenare.com Bookstore Scam, Bedbathbeyondclose.com BED BATH & BEYOND Store Scam, and Naswino.com Bed Bath & Beyon Store Scam.
Summary table for Saine.uk
| | |
| --- | --- |
| Name | Saine.uk |
| Type | Suspicious Online Store |
| Damage | Financial losses, receipt of subpar goods |
| Distribution | Facebook Ads |
| Tactics | Enticing offers, misleading advertisements |
| Prices | Varies – often with significant discounts |
| Contacts | Email: support@saine.uk |
| Prevention Tips | Check online reviews, be skeptical of too-good-to-be-true offers |
| Reporting Info | Contact local consumer protection agencies |
Conclusion
In conclusion, Saine.uk raises significant red flags that indicate it might be a scam. The combination of recent domain registration, lack of comprehensive contact information, and repetitive content are concerning signs. Customer reviews and reports of similar stores suggest a pattern of questionable practices. When encountering online shops like Saine.uk, exercise caution, and remain informed to protect yourself from potential scams.
FAQ About the Saine.uk Scam
How can I identify a potential online scam?
Look for signs such as recent domain registration, lack of contact information, unbelievable deals, and poor customer reviews. If something seems too good to be true, it probably is.
What should I do if I've already made a purchase from Saine.uk
Contact your bank to report any unauthorized charges and discuss potential solutions. Document your interactions with the store and consider reporting the incident to consumer protection agencies.
Are all online stores with low prices scams?
Not necessarily, but it's crucial to research thoroughly before making a purchase. Verify the store's reputation, read reviews, and ensure their contact information is readily available.