Wilukhome.com is a fraudulent online store that operates under the guise of being a legitimate Wilko shop. Scammers exploit the credibility of Wilko's brand to deceive consumers with enticing offers. However, a closer look reveals numerous red flags indicating that this is a scam. It's crucial to remain vigilant and informed to avoid falling victim to such fraudulent activities. Read on to learn more about the deceptive practices of Wilukhome.com.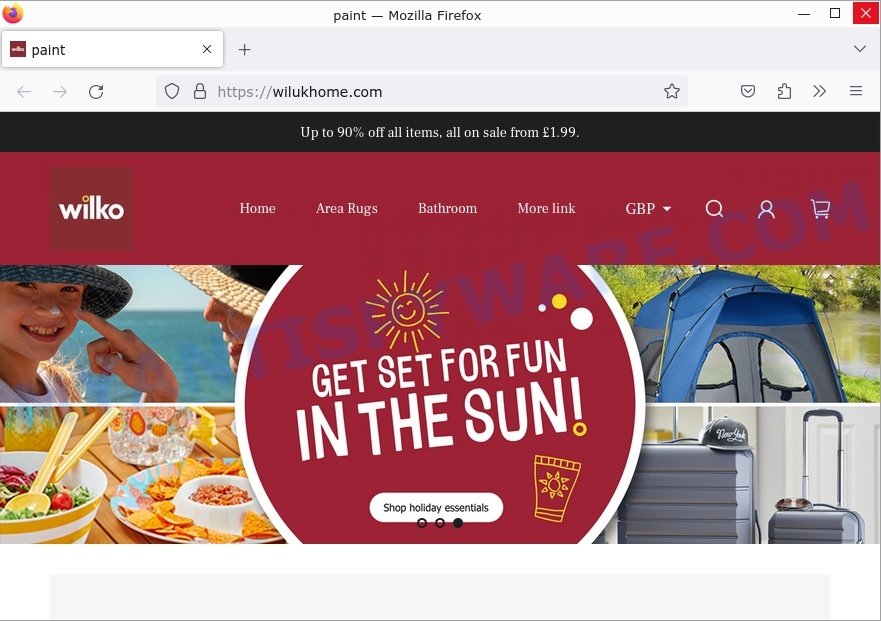 Quick links
Is Wilukhome.com a Scam?
Several signs point to the fact that Wilukhome.com is a fraudulent online store:
Recently created domain with a short life expectancy.
Lack of genuine contact information, relying only on a non-domain-specific email address (service@flightshape.com).
Unrealistically low prices that are too good to be true.
Stolen images and content from other websites, indicative of a lack of originality.
No verifiable information about the company behind the website.
Utilization of enticing slogans to lure victims, such as "Clearance Sale", "Huge Discounts", etc.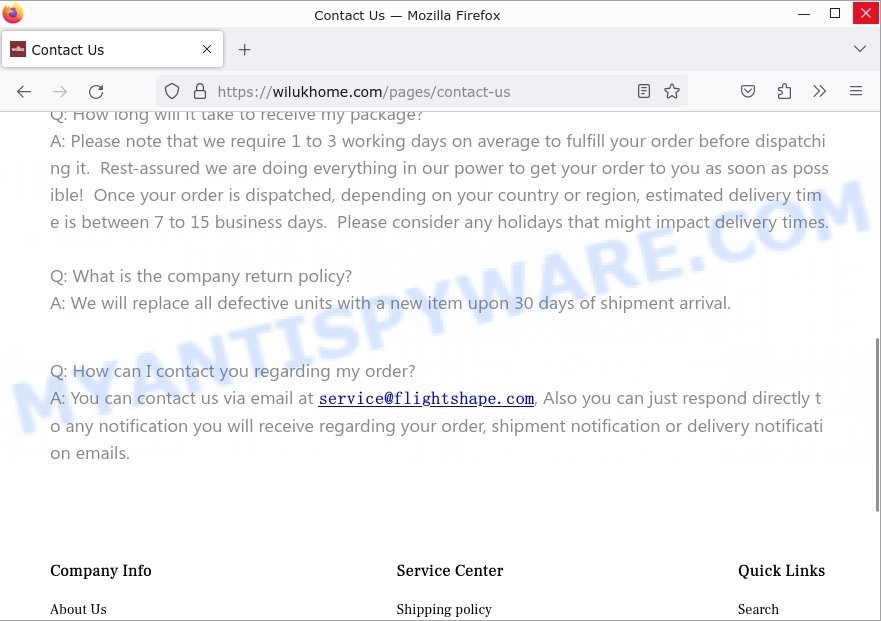 How the Wilukhome.com Scam Works
Wilukhome.com employs a sophisticated scam operation by leveraging the reputation of Wilko:
Wilukhome.com typically advertises on social media platforms like Facebook, Instagram, and TikTok, offering Wilko products at unbelievable prices. When users click on the ad, they are directed to the fake online store. The website showcases a range of products with incredibly low prices, designed to attract and deceive potential buyers.
Customers who place orders on Wilukhome.com are likely to receive poor-quality or counterfeit items, or they might not receive anything at all. The scammers often collect payment information and personal details during the checkout process, leading to potential financial losses and identity theft.
What to Do if You Become a Victim
If you have fallen victim to the Wilukhome.com scam, take the following steps to minimize the impact:
Contact your bank or credit card company to report the fraudulent transaction.
Monitor your financial accounts for any unauthorized activity.
Consider changing your passwords, especially if you've shared sensitive information with the scammers.
Report the scam to relevant authorities, such as your local consumer protection agency.
Summary Table for Wilukhome.com
| | |
| --- | --- |
| Name | Wilukhome.com |
| Type | Fraudulent Online Store |
| Damage | Financial Loss, Potential Identity Theft |
| Distribution | Social Media Advertisements |
| Tactics | Impersonates Legitimate Brand, Offers Unrealistic Prices |
| Prices | Unrealistically Low |
| Contacts | Email: service@flightshape.com |
| Prevention Tips | Verify Website Authenticity, Avoid Deals Too Good to Be True |
| Reporting Info | Contact Local Authorities, Consumer Protection Agencies |
Conclusion
In conclusion, Wilukhome.com is a deceptive online store that preys on the trust consumers have in the Wilko brand. The website utilizes various tactics to attract victims, such as mimicking Wilko's logo and offering unrealistically low prices. Stay informed and cautious when shopping online to avoid falling victim to such scams.