Beware: There's a new scam email making the rounds, and it's important to stay informed to protect yourself. The "I regret to inform you about some sad news for you" email has been causing alarm among many internet users. This deceptive message preys on our emotions, claiming that the sender has gained access to our devices, monitors our activities, and possesses compromising information. But don't panic just yet!
In this article, we'll expose the truth behind this scam, uncover its manipulative tactics, and provide you with practical steps to safeguard your online security. Don't fall victim to fear and deception—read on to learn how to outsmart these scammers and keep yourself safe.
Here's an example of the "I Regret To Inform You About Some Sad News For You" scam email: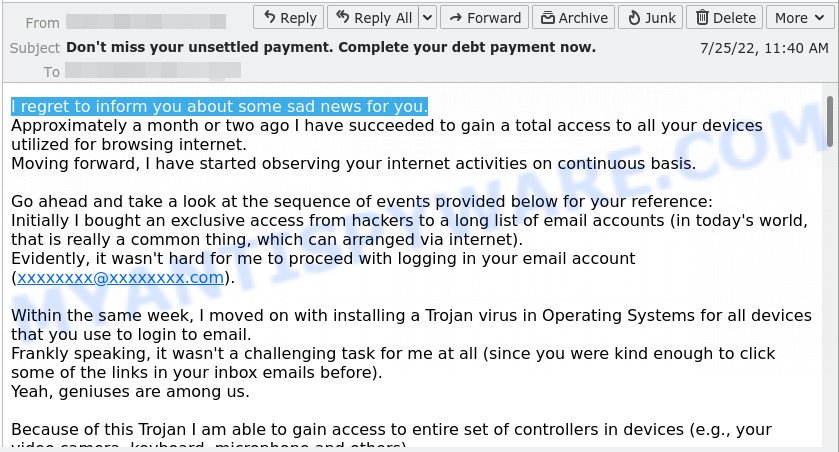 QUICK LINKS
Is this a scam email?
Yes, it is crucial to be aware that this email is, indeed, a scam. The deceptive tactics used throughout the message are characteristic of fraudsters attempting to exploit individuals for financial gain. By fabricating a narrative of unauthorized access to your devices and claiming possession of compromising materials, the scammers aim to evoke fear and panic. However, it is important to remain calm and analyze the email critically.
In the subsequent sections of this article, we will delve into the details of this scam email, examining its manipulative techniques and providing you with essential insights to protect yourself from falling victim to such fraudulent schemes. Read on to discover the inner workings of this scam and empower yourself with the knowledge needed to stay safe online.
How the scam works
The "I regret to inform you about some sad news for you" email scam is a fraudulent scheme that aims to extort money from unsuspecting individuals by playing on their fears and exploiting their privacy concerns. Let's dive into the details of this scam to better understand its deceptive tactics.
Impersonal Greetings and Vague Claims. The scam email often begins with a generic greeting, lacking any personalization. This lack of specificity should raise suspicions right away. The email claims that the sender has gained access to all your devices and has been monitoring your online activities.
Trojan Virus Installation. The scammer alleges that they installed a Trojan virus on your devices, claiming it was an easy task due to your previous clicks on suspicious links. They assert that this virus grants them control over various components of your devices, such as the camera, microphone, and keyboard.
Threat of Compromising Materials. The scammer asserts that they have collected a range of sensitive information, including your browsing history, photos, and social media account details. They specifically mention a focus on adult content and claim to possess explicit videos of you engaging in intimate activities.
Demand for Ransom. To prevent the release of the alleged compromising materials, the scammer demands a substantial payment, typically in the form of Bitcoin or another cryptocurrency. They provide a Bitcoin wallet address for you to send the funds.
Manipulative Tactics. The scammer employs fear and urgency to pressure you into compliance. They set a strict deadline, often 48 hours, and warn against contacting authorities or sharing the information with anyone. They claim that attempting to reinstall your operating system or dispose of your devices will not resolve the issue, as the compromising videos have already been uploaded to remote servers.
It's crucial to note that this email is a complete fabrication, aimed at scamming victims out of their money. The scammer does not have access to your devices, compromising materials, or control over your online accounts. They rely on psychological manipulation to exploit your fears and convince you to make a payment.
The scam email read as follows:
Hi there!

I regret to inform you about some sad news for you.
Approximately a month or two ago I have succeeded to gain a total access to all your devices utilized for browsing internet.
Moving forward, I have started observing your internet activities on continuous basis.

Go ahead and take a look at the sequence of events provided below for your reference:
Initially I bought an exclusive access from hackers to a long list of email accounts (in today's world, that is really a common thing, which can arranged via internet).
Evidently, it wasn't hard for me to proceed with logging in your email account (xxx).

Within the same week, I moved on with installing a Trojan virus in Operating Systems for all devices that you use to login to email.
Frankly speaking, it wasn't a challenging task for me at all (since you were kind enough to click some of the links in your inbox emails before).
Yeah, geniuses are among us.

Because of this Trojan I am able to gain access to entire set of controllers in devices (e.g., your video camera, keyboard, microphone and others).
As result, I effortlessly downloaded all data, as well as photos, web browsing history and other types of data to my servers.
Moreover, I have access to all social networks accounts that you regularly use, including emails, including chat history, messengers, contacts list etc.
My unique virus is incessantly refreshing its signatures (due to control by a driver), and hence remains undetected by any type of antiviruses.

Hence, I guess by now you can already see the reason why I always remained undetected until this very letter…

During the process of compilation of all the materials associated with you,
I also noticed that you are a huge supporter and regular user of websites hosting nasty adult content.
Turns out to be, you really love visiting porn websites, as well as watching exciting videos and enduring unforgettable pleasures.
As a matter of fact, I was not able to withstand the temptation, but to record certain nasty solo action with you in main role,
and later produced a few videos exposing your masturbation and cumming scenes.

If until now you don't believe me, all I need is one-two mouse clicks to make all those videos with everyone you know,
including your friends, colleagues, relatives and others.
Moreover, I am able to upload all that video content online for everyone to see.
I sincerely think, you certainly would not wish such incidents to take place, in view of the lustful things demonstrated in your commonly watched videos,
(you absolutely know what I mean by that) it will cause a huge adversity for you.

There is still a solution to this matter, and here is what you need to do:
You make a transaction of $1490 USD to my account (an equivalent in bitcoins, which recorded depending on the exchange rate at the date of funds transfer),
hence upon receiving the transfer, I will immediately get rid of all those lustful videos without delay.
After that we can make it look like there was nothing happening beforehand.
Additionally, I can confirm that all the Trojan software is going to be disabled and erased from all devices that you use. You have nothing to worry about,
because I keep my word at all times.

That is indeed a beneficial bargain that comes with a relatively reduced price,
taking into consideration that your profile and traffic were under close monitoring during a long time frame.
If you are still unclear regarding how to buy and perform transactions with bitcoins – everything is available online.

Below is my bitcoin wallet for your further reference: 1GS1SRz3QBC1NUeuhu8EWkx37qQXanUxGG

All you have is 48 hours and the countdown begins once this email is opened (in other words 2 days).

The following list includes things you should remember and avoid doing:
> There's no point to try replying my email (since this email and return address were created inside your inbox).
> There's no point in calling police or any other types of security services either. Furthermore, don't you dare sharing this info with any of your friends.
If I discover that (taking into consideration my skills, it will be really simple, because I control all your systems and continuously monitor them) –
your nasty clip will be shared with public straight away.
> There's no point in looking for me too – it won't result in any success. Transactions with cryptocurrency are completely anonymous and untraceable.
> There's no point in reinstalling your OS on devices or trying to throw them away. That won't solve the issue,
since all clips with you as main character are already uploaded on remote servers.

Things that may be concerning you:
> That funds transfer won't be delivered to me.
Breathe out, I can track down everything right away, so once funds transfer is finished,
I will know for sure, since I interminably track down all activities done by you (my Trojan virus controls all processes remotely, just as TeamViewer).
> That your videos will be distributed, even though you have completed money transfer to my wallet.
Trust me, it is worthless for me to still bother you after money transfer is successful. Moreover, if that was ever part of my plan, I would do make it happen way earlier!

We are going to approach and deal with it in a clear manner!

In conclusion, I'd like to recommend one more thing… after this you need to make certain you don't get involved in similar kind of unpleasant events anymore!
My recommendation – ensure all your passwords are replaced with new ones on a regular basis.
If you receive an email like this, do not engage with the scammer and do not send any money. Instead, delete the email and report it to the relevant authorities. It is also important to ensure that your computer has up-to-date anti-virus software and that you use strong, unique passwords for all of your accounts to reduce the likelihood of falling victim to scams like this. Stay informed, stay vigilant, and protect yourself from falling victim to scams like the "I regret to inform you about some sad news for you" email.
Examples of such scams
The "I regret to inform you about some sad news for you" email scam is just one of the many deceptive schemes that prey on individuals' fears and exploit their privacy concerns. Unfortunately, this type of scam is not unique, and there are various similar scams circulating online.
By examining these examples, we can better recognize the warning signs and arm ourselves with knowledge to avoid becoming victims of fraudulent schemes. Take a closer look at the following scams: 'Got You, You Got Owned' Email Scam, Your Account is Hacked. Your Data is Stolen. Email Scam, I am a professional hacker EMAIL SCAM and let's learn how to safeguard ourselves from their deceitful tactics. Remember, knowledge is power.
Should you pay?
No, you should not pay the ransom demanded by the scammer. Remember that this is a scam and paying the ransom will only encourage the scammer to continue their criminal activities! Additionally, paying the ransom can make you a target for future scams. It is important to stay vigilant and protect your personal information from such scams by using strong and unique passwords, enabling two-factor authentication, and regularly updating your computer's security software. If you receive such an email, it is best to report it to the authorities and your email provider.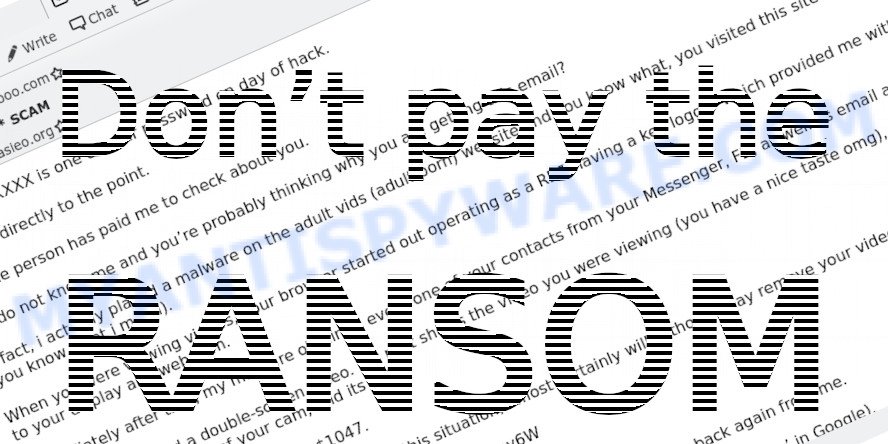 What to Do if You Receive the Scam Email
If you receive an email with the text "I regret to inform you about some sad news for you" do not panic. The scammers are trying to intimidate you, but remember that their threats are empty and baseless. Here are some steps you can take:
Do not panic! While these emails are designed to instill fear and panic in the victim, it is important to stay calm and take a measured response to the situation. Remember that the email is fake, and that the attacker does not have access to the sensitive information they are threatening to release
Do not respond or engage with the scammer in any way.
Do not click on any links or attachments in the email as they may contain malware or viruses that could harm your computer.
Mark the email as spam or phishing and delete it immediately.
Report the scam to the FTC at https://www.ftc.gov/ and relevant authorities, such as your email provider or local law enforcement, to help prevent others from falling victim to it.
Check your online accounts and make sure that your passwords are strong and unique.
Take steps to secure your online accounts and personal information, such as enabling two-factor authentication.
Stay informed about current scams and the tactics used by attackers, so that you can better recognize and avoid them in the future.
If you suspect that your computer is infected with spyware or malware, or if you clicked on a link in the scam email, it's always a good idea to scan your computer for viruses. Use a reputable anti-virus program to scan your computer thoroughly, and make sure it's up-to-date with the latest virus definitions.
Remember, the scammers are counting on you to be scared and make impulsive decisions. Don't fall for their tricks and take the necessary steps to protect yourself.
Threat Summary
| | |
| --- | --- |
| Name | I regret to inform you about some sad news for you SCAM |
| Type | Sextortion scam, hacker email scam |
| Email subject | Don't miss your unsettled payment. Complete your debt payment now. |
| Ransom amount | $1490, $340, $1950, $950, $1200, $1370 (in Bitcoin equivalent) |
| Bitcoin Address | 1HTxR4q4vxQKxtCXB95tdSC5xtsa2uPcMP, 1GS1SRz3QBC1NUeuhu8EWkx37qQXanUxGG, 1EhjD4hzLpwuHVu52ScHTJASqPdkC6SD4, 1EtgSZtpMMY3AEbAoctNYfRYaY3NXrZbAj, 1DnDfzKAjTYWcn6nCVfkXLh5RRaGBUZ7nE, 1HmvPgkmdkaSr6R1KA31fW8kpw1EvZJo9H, 1r8KDQsoFUWLdV1D2L1vc66YibNDrrYys, 16bHkVFULVmxTGVi2XKpwzkt5KrRnThzPg |
| Fake Claims | Alleged malware infection and remote access to victim's system; Possession of compromising material; Threats to expose the material to contacts. |
| Disguise | Impersonation of a hacker. |
| Damage | Emotional distress, financial loss |
| Distribution | Email spamming, targeted phishing. |
| Tactics | Fear, urgency, manipulation, impersonation, intimidation. |
| Variations | Varying email subjects, sender names, and claims |
| Reporting Info | Report the scam to relevant authorities (e.g., FTC); Share information about the scam with friends and family to raise awareness; Monitor online accounts for any suspicious activity |
Conclusion
Scam emails like the "I regret to inform you about some sad news for you" email are a reminder of the ever-present threat of online scams and the importance of staying vigilant. Cybercriminals employ manipulative tactics, preying on our fears and exploiting our privacy concerns to extort money. It's crucial to recognize the red flags and protect ourselves from falling victim to these fraudulent schemes.
By understanding the deceptive techniques used in scams like the one discussed here, we can better equip ourselves to identify and avoid them. Remember to be skeptical of unsolicited emails, especially those that make alarming claims or demand immediate action. Maintain strong cybersecurity practices, such as using updated antivirus software, regularly changing passwords, and being cautious when clicking on unfamiliar links or downloading attachments.
Remember, if you receive a suspicious email like the "I regret to inform you about some sad news for you" scam, don't panic, engage with the scammers, or pay any ransom. Report the email as spam or phishing, and consider reaching out to local authorities or cybercrime units to help combat these scams.
Together, let's stay vigilant, educate ourselves and our communities, and stay one step ahead of scammers in the ongoing battle against fraud and deception. By being informed and proactive, we can navigate the digital landscape with confidence and security.