Uplexo.com is a so-called crypto trading exchange that has been making rounds on TikTok, luring unsuspecting users with a tempting free bitcoin giveaway. If you've come across this offer and are considering joining, we strongly advise you to read this comprehensive review to understand the risks involved.
Quick links
Is Uplexo.com a Scam?
The short answer is – yes, Uplexo.com exhibits several red flags:
Recently created domain with a date of creation being 2023-08-16.
Complete lack of contact information, usually only available through an email address.
No genuine information about the company behind the website.
Unbelievable deals and promotions such as the "free bitcoin giveaway".
Duplicate website design and content taken from other sites.
No presence or links to any official social media platforms.
Customer complaints about the inability to withdraw funds or being asked for more money.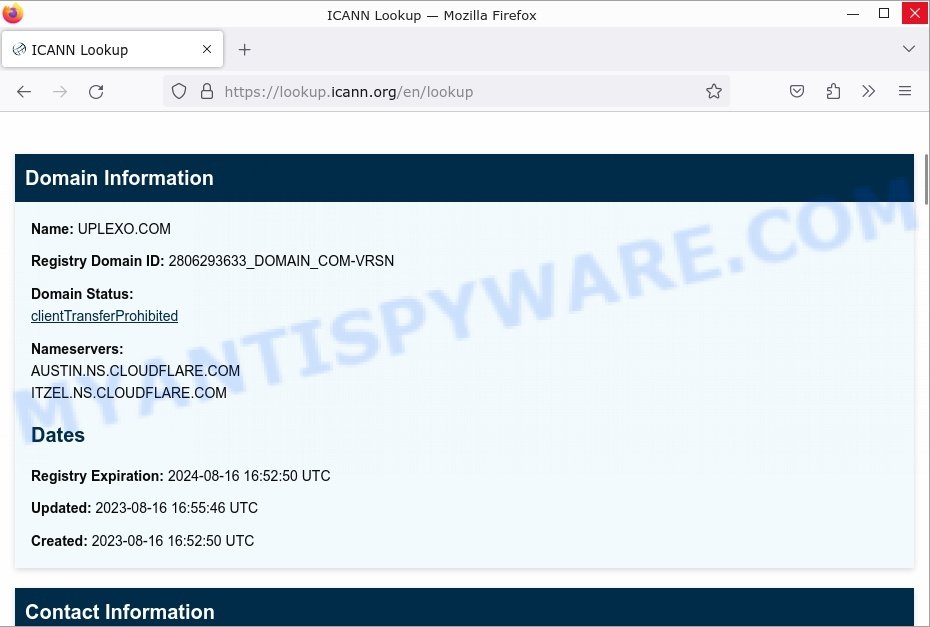 How the Uplexo.com Scam works
Uplexo.com is a crafty crypto scam lurking on the popular platform, TikTok. Advertised as a free bitcoin giveaway, it tempts users to sign up and invest. Once registered, users are either unable to withdraw their bitcoins or are asked to deposit more, often under the pretext of 'verification' or 'unlocking' their account. Despite showing the promised Bitcoin in user accounts, the money remains inaccessible. Furthermore, the site uses duplicate content, lacks company information, and hides its owners – all signs pointing to a scam.
What to do if you become a victim of Uplexo.com
If you suspect that you've fallen for the Uplexo.com scam, consider the following steps:
Immediately change your passwords, especially if you used the same ones on other platforms.
Monitor your financial accounts for any unauthorized transactions.
Contact your bank and inform them of the situation.
Report the website to regulatory authorities and online scam watchdogs.
Consider seeking legal advice if you've lost a significant amount of money.
Other Online Scams to Avoid
To help our readers stay protected against online scams, we've gathered a list of other deceptive online scams resembling Uplexo.com in their tactics. When shopping online, always be vigilant and recognize warning signs.
Here are a few examples of scam online shops: Ahodenare.com Bookstore Scam, Acstoreus.com DICK'S SPORTING GOODS Store Scam, and Naswino.com Bed Bath & Beyon Store Scam.
Summary table for Uplexo.com
| | |
| --- | --- |
| Name | Uplexo.com |
| Type | Crypto Trading Scam |
| Damage | Potential financial and data loss |
| Distribution | TikTok |
| Tactics | Free Bitcoin giveaway, false promises, and requests for more deposits |
| Contacts | No genuine information about the company behind the website, only an address: 1 Grafton Street, Dublin, Ireland |
| Prevention Tips | Always research platforms before investing; avoid websites with recent domain creation dates; stay away from too good to be true offers. |
| Reporting Info | Report to online scam watchdogs and local authorities. |
Conclusion
Uplexo.com is a deceptive crypto trading scam primarily found on TikTok. Luring users with the promise of free bitcoins, it is designed to trap and potentially rob users of their money and data. Always conduct thorough research before investing in any online platform.
FAQ About the Uplexo.com Scam
Why is Uplexo.com being promoted on TikTok?
It's common for scammers to use popular platforms like TikTok to reach a wide audience and appear legitimate. Always be cautious of unsolicited promotions.
How can I differentiate between a legitimate and scam crypto trading platform?
Legitimate platforms often have regulatory approvals, transparent contact details, and don't lure users with too-good-to-be-true offers. A quick online search can also provide reviews and feedback.
Is there any way to retrieve money lost to such scams?
While it's challenging, reporting to authorities immediately and seeking legal counsel can sometimes help in recovering lost funds.