Pointprogre.com is popping up across various social media platforms, promising fantastic deals on clothing for both men and women. If you've come across it and are considering a purchase, stop and read our full review before making any decisions.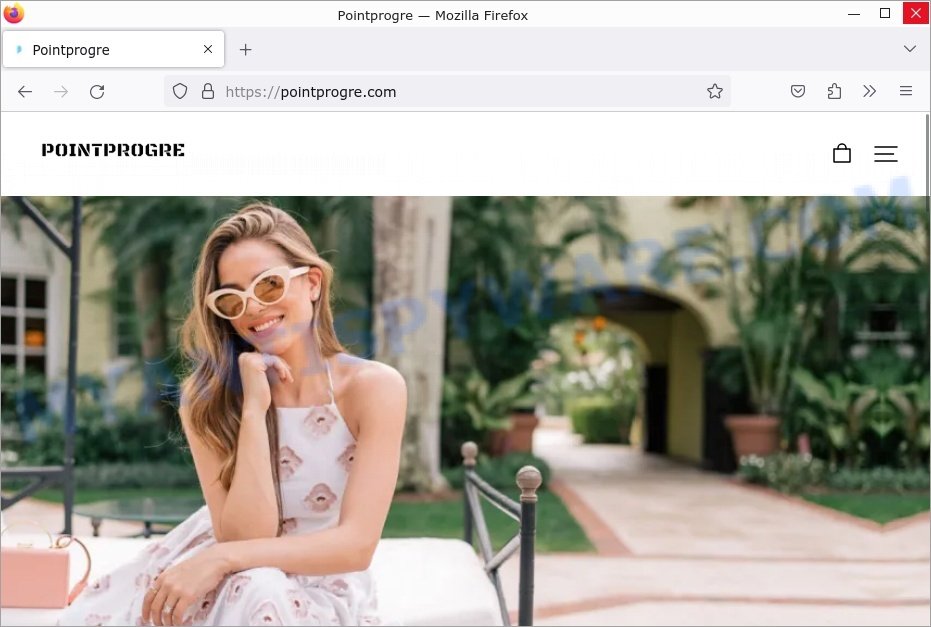 Quick links
Is Pointprogre.com a Scam?
Pointprogre.com raises several red flags that hint at its deceptive nature. Here's why you should be wary:
Recently created domain, which is common for scam stores.
Contact information is suspicious, being linked only through an email address: service@yldfyq.com.
No real information about the company behind, other than the name HINOVATION LIMITED and an address which is explicitly stated as non-returnable.
Too-good-to-be-true deals and unimaginably low prices for the products.
Template design and content, images, and descriptions seem to be lifted from other sites.
Enticing slogans like "Huge Discounts" and "Limited Time Sale".
No genuine presence on major social media platforms.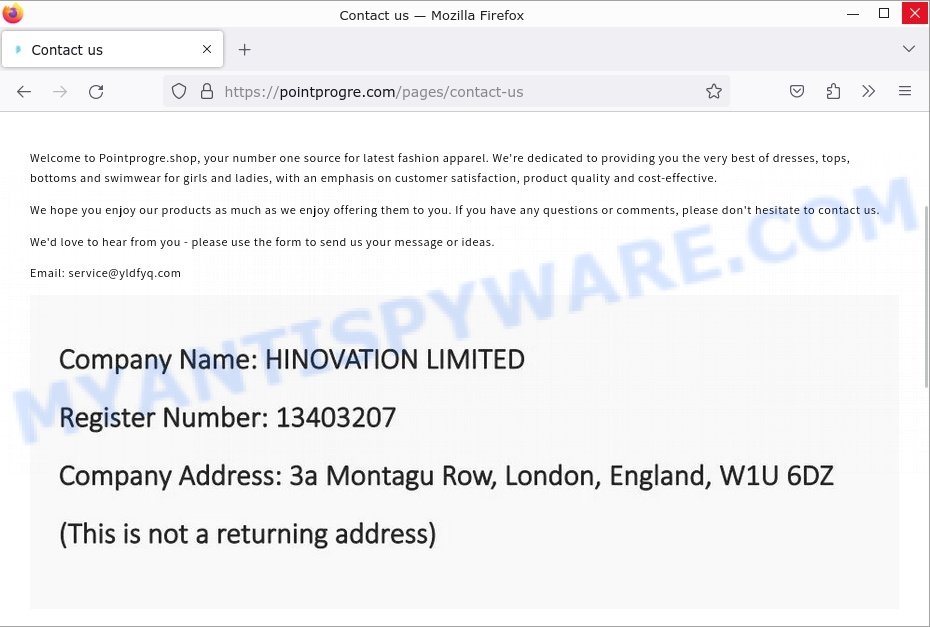 How the Pointprogre.com Scam works
Pointprogre.com is promoted aggressively across social media channels like Facebook, Instagram, and TikTok. At first glance, they offer attractive deals on men's and women's clothing. However, these deals are a trap. The content on their site seems to be directly copied from other legitimate sites. Additionally, the domain was recently created, a common trait among scam sites. Moreover, the contacts provided, such as their email and company details, have links to other known scam shops. This deceptive strategy is often used to lure unsuspecting shoppers into spending money on fake or subpar products, or worse, stealing sensitive financial information.
What to do if you become a victim of Pointprogre.com
If you've been duped by Pointprogre.com, don't despair. Here's what you should do:
Contact your bank or credit card company immediately and report the fraudulent transaction.
Change any passwords associated with the email or information you provided to the site.
Monitor your bank statements for any unusual activity.
Consider filing a complaint with consumer protection agencies.
Other Scam Online Shops to Avoid
As part of our ongoing effort to protect our readers from potential scams, we want to highlight other suspicious online shops that have been identified. Just like Pointprogre.com, these shops employ deceitful practices to ensnare unsuspecting buyers. Always stay vigilant when shopping online and look out for red flags. Here are a few examples of the scam online shops: Axerxm.com, Oputcre.shop, and Heerful.com.
Summary table for Pointprogre.com
| | |
| --- | --- |
| Name | Pointprogre.com |
| Type | Online Clothing Scam |
| Damage | Potential Financial Loss and Identity Theft |
| Distribution | Social Media, Fake News/Reviews |
| Tactics | Unrealistic Discounts, Copied Content |
| Prices | Significantly Lower than Market Value |
| Contacts | service@yldfyq.com, HINOVATION LIMITED, 3a Montagu Row, London |
| Prevention Tips | Always check for online reviews, Avoid too-good-to-be-true deals |
| Reporting Info | Contact local consumer protection agencies |
Conclusion
Pointprogre.com is a crafty online scam targeting unsuspecting shoppers. With its unbelievable discounts and deals, many can easily fall for its trap. It's always vital to exercise caution, especially with newly created domains and those with questionable contact information.
FAQ About the Pointprogre.com Scam
Why is Pointprogre.com able to advertise on major social media platforms?
Many scam sites exploit the advertising algorithms of these platforms, sneaking past initial checks. Once reported, they are usually taken down, but by then, they might have already deceived many.
How can I determine if an online store is genuine?
Always check for online reviews from reputable sources, look for comprehensive contact information on the site, and be wary of prices that are significantly lower than the market rate.
Are there any reliable tools or websites to check the legitimacy of an online store?
Yes, there are online tools and websites like ScamDoc or Trustpilot where you can check the credibility of a website. Additionally, a simple Google search can sometimes reveal if others have been scammed by the same site.