Looking for jaw-dropping discounts on your favorite brands? Be cautious when stumbling upon too-good-to-be-true offers like the Joules Clearance Sale, where discounts of up to 90% off are promised on premium clothing and footwear. Scammers are capitalizing on the allure of big savings, using social media, copied content, and urgency tactics to lure unsuspecting shoppers into their traps. Websites such as "skonlinesaleshop.com" and "joulesukshop.com" are prime examples of these deceptive schemes, preying on those seeking a bargain. But fear not – by familiarizing yourself with the red flags of these scams, you can safeguard your wallet and personal information. Dive into our article to uncover the tactics used by these fraudulent sites and empower yourself to shop securely. Your savvy shopping starts here – read on to steer clear of the discount deception.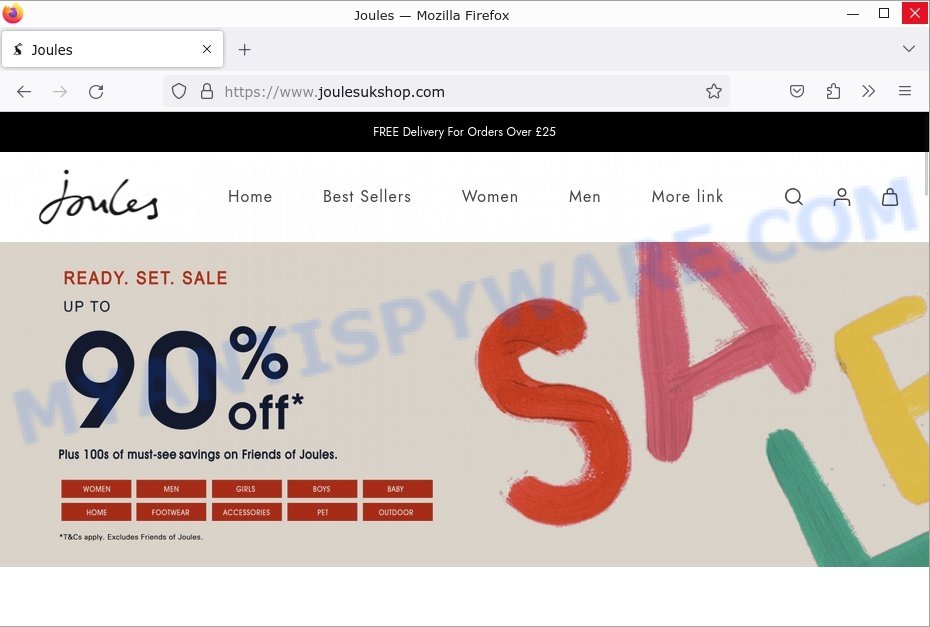 Quick links
How the Joules Clearance Sale Scam works
The concept of the Joules Clearance Sale scam revolves around exploiting shoppers' desire for hefty discounts on premium brands. Scammers capitalize on the reputation of well-known names like Joules, enticing individuals with the promise of significant savings.
Promotion of this scam primarily occurs through social media platforms like Facebook, Instagram, and TikTok. Eye-catching ads showcasing unbelievable discounts of up to 90% off grab users' attention. These promotions are often accompanied by urgency tactics such as "Limited stock available!" to pressure users into hasty decisions.
Once hooked, victims are directed to websites like "joulesukshop.com", designed to mirror the official Joules site. These fake websites use copied content and stolen images to appear legitimate. Shoppers are led to believe they're getting genuine Joules products at a fraction of the cost.
These fake websites not only pose a risk to your wallet but also to your personal information. Scammers conceal their identity by hiding domain registration details, making it challenging to track them down. Payment information and personal data entered on these sites can be used for identity theft and other fraudulent activities.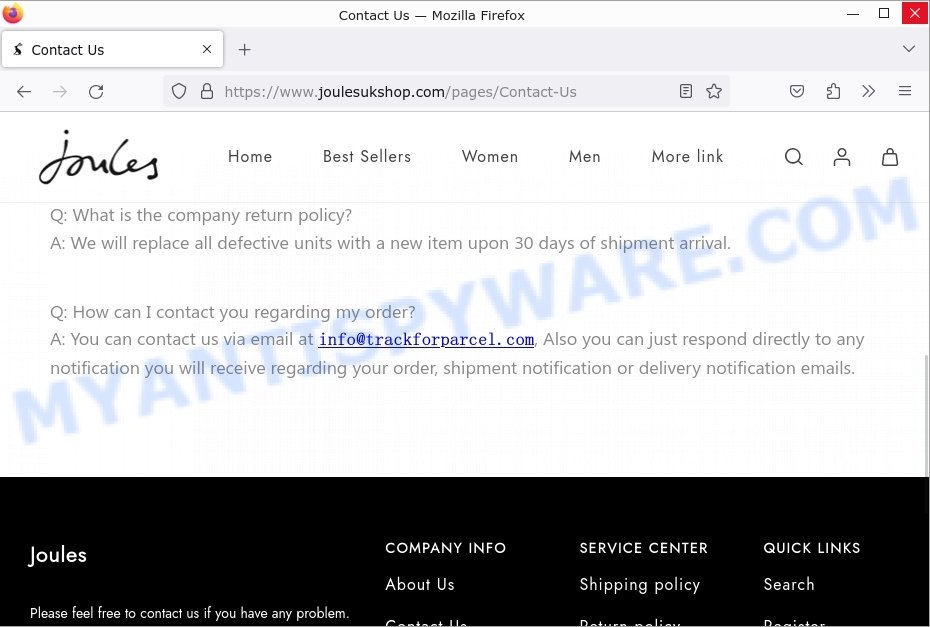 In conclusion, the Joules Clearance Sale scam serves as a reminder to approach online deals with caution. If an offer seems too good to be true, it probably is. Protect yourself by verifying the authenticity of websites and avoiding unfamiliar sources. For genuine Joules products, always shop from the official website, www.joules.com, where you can enjoy a secure shopping experience backed by the brand's reputation. Remember, the excitement of a discount is fleeting, but the potential consequences of falling victim to a scam can be long-lasting.
What to Do If You Become a Victim of the Joules Clearance Sale Scam
If you've fallen victim to the Joules Clearance Sale scam, take these immediate steps to safeguard yourself:
Alert your bank or credit card company about the fraudulent transaction. Request a chargeback to reverse unauthorized charges.
Update passwords for all your online accounts, especially if you reused them across platforms.
File a complaint with your country's consumer protection agency or law enforcement.
Inform Joules about the scam through their official customer service channels.
Learn from the experience and share warnings with family and friends.
Be cautious of unsolicited offers and emails to avoid further scams.
Unveiling Similar Scams: Deceptive Tactics Exploited by Fraudsters
As the Joules Clearance Sale Scam gains momentum, it is crucial to be aware of similar scams that operate on the same deceptive principles. These scams often target popular retail brands, exploiting their reputation to lure unsuspecting shoppers into fraudulent schemes. Below, we will explore a range of examples that highlight the diversity of such scams, showcasing how scammers employ similar tactics to trick consumers. By understanding these common patterns, you can enhance your ability to recognize and avoid scams, protecting yourself from falling victim to their deceitful practices.
Here are some notable examples of scams akin to the Joules Clearance Sale Scam, shedding light on the pervasive nature of online fraudulent activities: Costco Clearance Sale Scam, Macy's Clearance Sale Scam, and Bed Bath & Beyond Clearance Sale Scam.
Summary table for Joules Clearance Sale Scam
| | |
| --- | --- |
| Name | Joules Clearance Sale Scam |
| Type | Online Shopping Scam |
| Damage | Financial loss, potential identity theft |
| Distribution | Facebook Ads |
| Tactics | Impersonation, false advertising, fear of missing out |
| Scam stores | skonlinesaleshop.com, joulesukshop.com, etc |
| Scammers contacts: | info@trackforparcel.com |
| Prevention Tips | Be skeptical of online deals that seem too good to be true, verify the legitimacy of online shops before making a purchase, use secure payment methods when shopping online |
| Reporting Info | Report to local authorities, your bank or credit card company, and the platform where the ad was posted |
Conclusion
The Joules Clearance Sale Scam Online Stores use deceptive tactics to trick shoppers into making purchases on fake websites with unrealistic discounts. Always be cautious when encountering online deals and promotions that seem too enticing. By staying informed and following the provided advice, you can protect yourself from falling victim to such fraudulent online stores.