Golfdaydeals.com is riding on the trust of renowned brands to deceive unsuspecting customers. If you've recently stumbled across a tempting 'Back to School' deal and are thinking of making a purchase, you might want to read on to find out more about this scam store.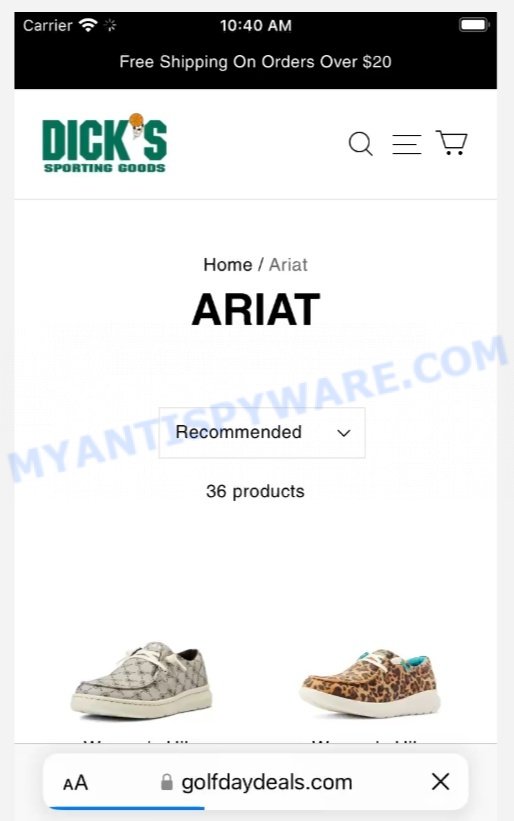 Quick links
Is Golfdaydeals.com a Scam?
There's mounting evidence suggesting that Golfdaydeals.com is not a legitimate store. Here are some telltale signs:
Recently created domain
Unbelievable deals and incredibly low prices.
Content, images, and promotions taken directly from established brands.
Enticing slogans such as "Clearance Sale", "Back to School Deals", "Labor Day Today Only $19".
Lack of genuine contact information; known contacts link to other scam shops.
No real info about the company behind.
No social media presence or legitimate links to any social media platforms.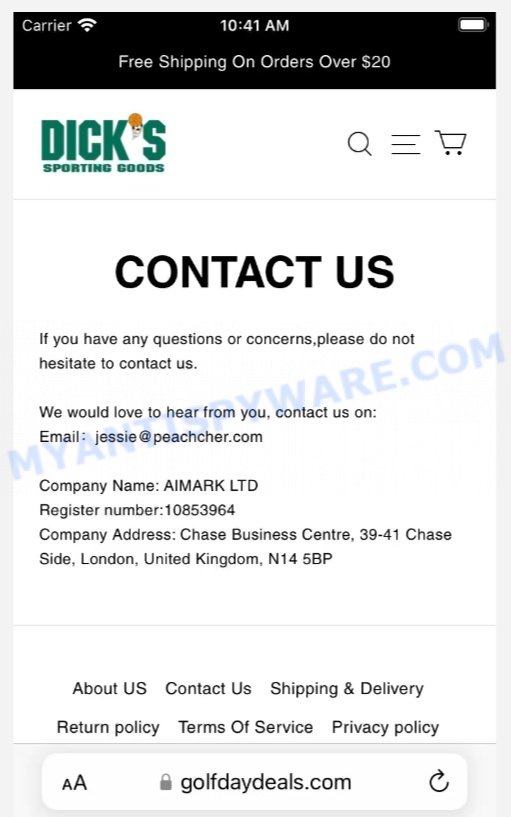 How the Golfdaydeals.com Scam works
Golfdaydeals.com operates by drawing customers through its Facebook advertisements for "Back To School Deals". The ads claim to offer enticing deals such as Ariat shoes for as low as $19, specifically for U.S. Labor Day. While the low prices may seem tempting, especially for a recognized brand like "DICK'S SPORTING GOODS", it's a bait to lure potential victims.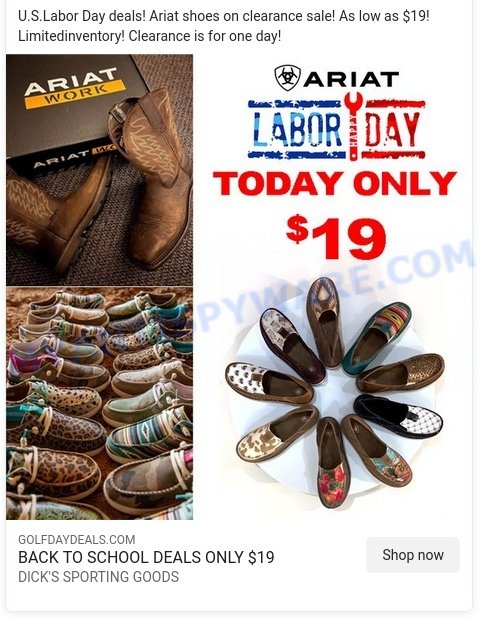 Upon visiting the website, customers might be enticed to make purchases, but the delivered product, if any, is likely to be of inferior quality or completely different from what was advertised.
What to do if you become a victim of Golfdaydeals.com
If you've unfortunately fallen for this scam, here's what you can do:
Contact your bank or credit card company immediately to report the fraudulent charge.
Change any passwords linked to your payment method.
File a report with your local authorities or cybercrime department.
Leave reviews on consumer websites warning others about the scam.
Other Scam Online Shops to Avoid
In our mission to inform and safeguard online shoppers, we've noted other suspicious online stores that mimic Golfdaydeals.com in their deceitful tactics. Awareness is your strongest defense against these fraudulent sites.
Here are a few examples of the scam online shops: Axerxm.com, KingCrabStore.com, and Outletshoks.com.
Summary table for Golfdaydeals.com
| | |
| --- | --- |
| Name | Golfdaydeals.com |
| Type | Online Scam Store |
| Damage | Monetary Loss, Potential Identity Theft |
| Distribution | Facebook Advertisements |
| Tactics | Deceptive Sales and Promotions |
| Prices | Deceptively Low, Ariat shoes for $19 |
| Contacts | Email: jessie@peachcher.com, Company: AIMARK LTD, Address: Chase Business Centre, London, UK |
| Prevention Tips | Verify website legitimacy, Avoid impulse buying from unknown sites |
| Reporting Info | Local authorities or cybercrime department |
Conclusion
Golfdaydeals.com is a cunning online scam that targets unsuspecting shoppers by impersonating a well-known brand. Shoppers should exercise caution and always verify the legitimacy of online stores before making any purchases.
FAQ About the Golfdaydeals.com Scam
Why are the prices on Golfdaydeals.com so low?
This is a common tactic employed by scam stores to lure in unsuspecting victims. The aim is to tempt users with unbelievably low prices, but in most cases, customers either receive counterfeit products or nothing at all.
How can I verify the authenticity of an online store?
It's essential to do a quick online search, look for reviews, and avoid sites with recently created domains or hidden contact details. You can also use online tools to check a website's reputation.
Can I get my money back if I've been scammed?
It depends on how you paid. Contacting your bank or credit card company immediately can increase the chances of recovering your money. They might be able to reverse the charge or offer guidance on the next steps.