Milerioa.com is a recently discovered online shop claiming to sell high-quality products at incredibly low prices. If you've come across their enticing ads on Facebook or received a promotional email, you'll want to read this full article to protect yourself.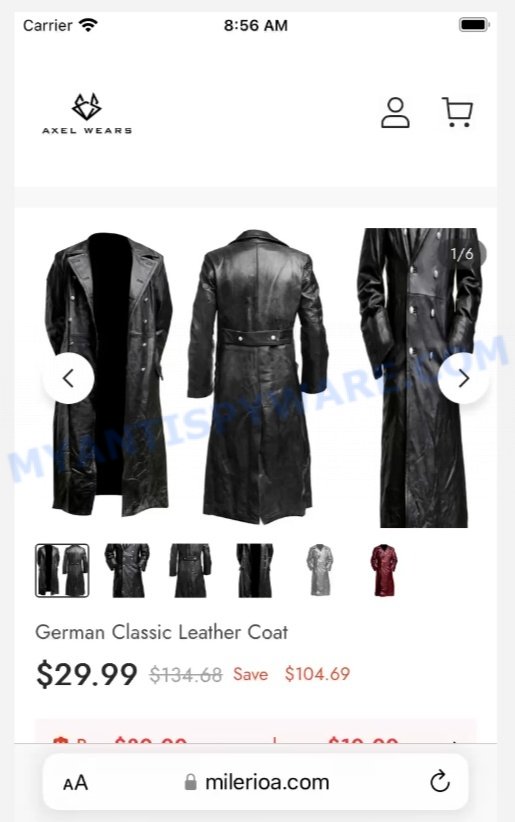 Quick links
Is Milerioa.com a Scam?
Unfortunately, Milerioa.com exhibits several tell-tale signs of being a scam:
Recently created domain
Lack of clear and honest contact information: only an email address is provided.
No real information about the company behind except a vague company name and address.
Unbelievable deals and incredibly low prices, especially for high-quality products.
Enticing slogans in their advertisements such as "Clearance Sale", "Free return", "Huge Discounts", and "Limited Time Sale".
The email and company name are linked to other known scam shops.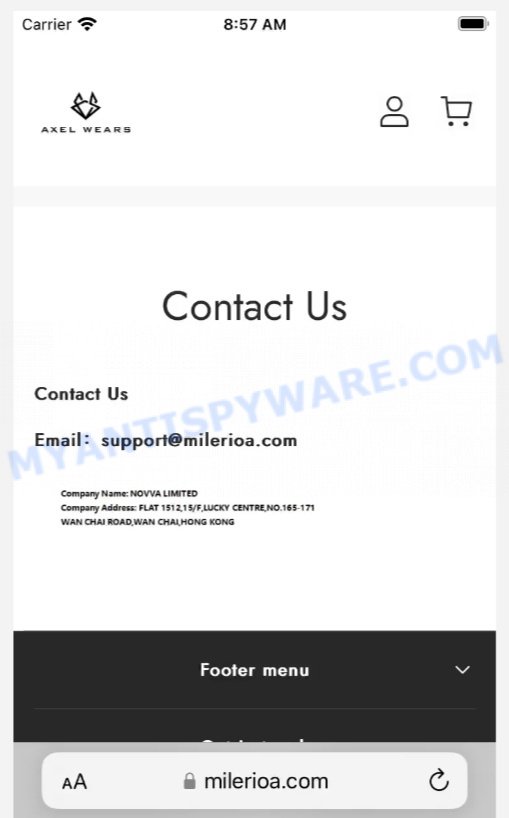 How the Milerioa.com Scam works
Milerioa.com starts by promoting its products on platforms like Facebook, luring potential buyers with eye-catching deals such as the "German Classic Leather Coat" for an unbelievably low price of $35.9. Their advertisements use enticing slogans, such as "LAST CHANCE" or "Order Today & Receive 50% OFF", to create a sense of urgency among customers.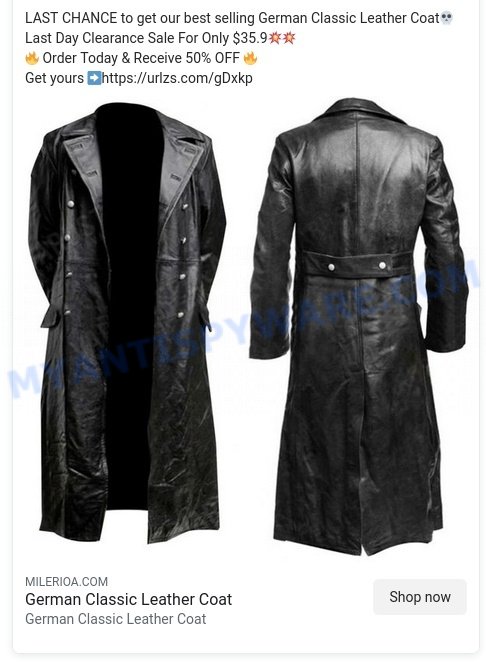 Once a customer is interested and clicks on the link, they are taken to their website where the scam unfolds. The products might never be delivered, and if they are, they might be of extremely low quality, not matching the description. Additionally, the personal and financial details of the buyers might be at risk.
What to do if you become a victim of Milerioa.com
If you've fallen for the Milerioa.com scam, follow these steps immediately:
Contact your bank or credit card company to dispute the charges.
Change your passwords for online shopping websites and your email.
Report the scam to local authorities and online platforms where you found the ad.
Monitor your bank statements closely for any unauthorized charges.
Other Scam Online Shops to Avoid
In our commitment to protect our readers, we've identified other online shops with similar deceptive tactics as Milerioa.com. It's crucial to be cautious and aware of these potential scams.
Here are a few examples of the scam online shops: Ahodenare.com Bookstore Scam, Axerxm.com Bed Bath & Beyond Store Scam, and Outletshoks.com HOKA Summer Clearance Scam.
Summary table for Milerioa.com
| | |
| --- | --- |
| Name | Milerioa.com |
| Type | Online Scam Shop |
| Damage | Potential financial loss and identity theft |
| Distribution | Online, especially through Facebook ads |
| Tactics | Deceptive advertising and too-good-to-be-true prices |
| Prices | Unbelievably low (e.g., German Classic Leather Coat for $35.9) |
| Contacts | support@milerioa.com, NOVVA LIMITED, FLAT 1512,15/F LUCKY CENTRE NO.165-171 WAN CHAI ROAD WAN CHAI HONG KONG |
| Prevention Tips | Always research online stores before purchasing, especially those with unbelievably low prices |
| Reporting Info | Contact local authorities and report the scam |
Conclusion
Milerioa.com is a deceptive scam that preys on unsuspecting online shoppers. With too-good-to-be-true deals and dubious company information, it's crucial to be vigilant and conduct due diligence before making online purchases.
FAQ About the Milerioa.com Scam
What motivates scam stores like Milerioa.com to operate?
The primary motive is financial gain. Scammers leverage the trust of online buyers to defraud them of their money.
How can one differentiate a genuine store from a scam?
Look for detailed contact information, legitimate customer reviews, secured website connections, and reasonable prices. If any element seems off, it's best to steer clear.
Can scammers get more than just my money?
Yes. Scammers can use your personal and financial details for identity theft, unauthorized transactions, and other malicious activities.