Charmhubstore.com is the latest scam store to make rounds on the internet. If you've encountered their seemingly enticing advertisements on Facebook, you might want to think twice before making a purchase. We strongly recommend reading this full article to uncover the truth behind Charmhubstore.com.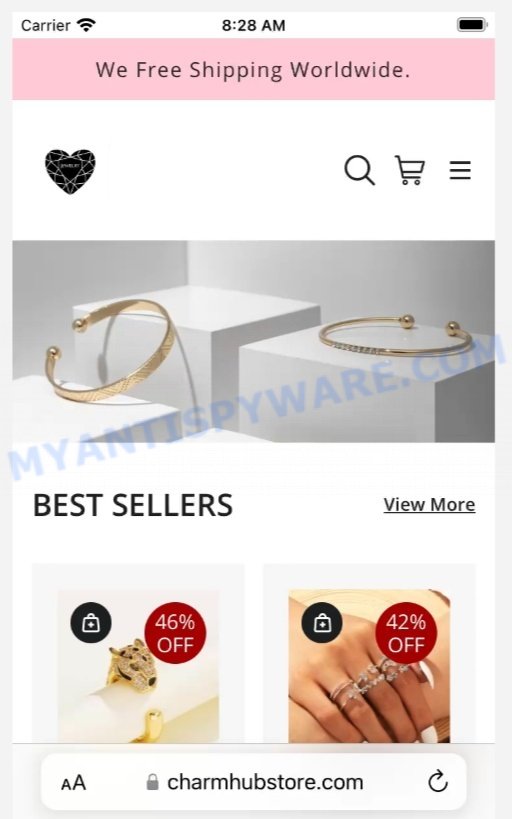 Quick links
Is Charmhubstore.com a Scam?
Based on our findings, several red flags point towards Charmhubstore.com being a potential scam:
Recently created domain: A new domain creation often hints at a lack of establishment.
Lack of contact information: Communication is primarily through a generic email address (service@jewelryshop.com) which is linked to other scam shops.
No real info about the company behind: The store provides no concrete details about the team or individuals running it.
Unbelievable deals and incredibly low prices: Offering up to 50% off on branded items like Pandora can be enticing but is usually a red flag.
No social media presence: Aside from Facebook ads, there's no genuine interaction or engagement on social media platforms.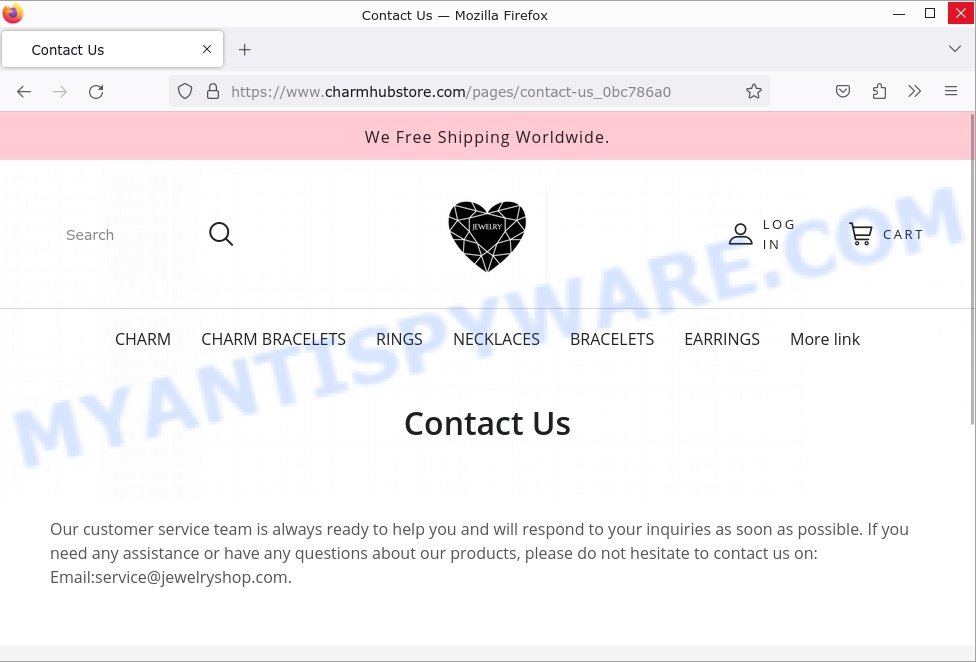 How the Charmhubstore.com Scam works
Charmhubstore.com is a perfect example of a bait and switch scheme. The site attracts potential customers with ads of "UP TO 50% OFF PANDORA" products. These tempting offers are usually a trap for unwary buyers.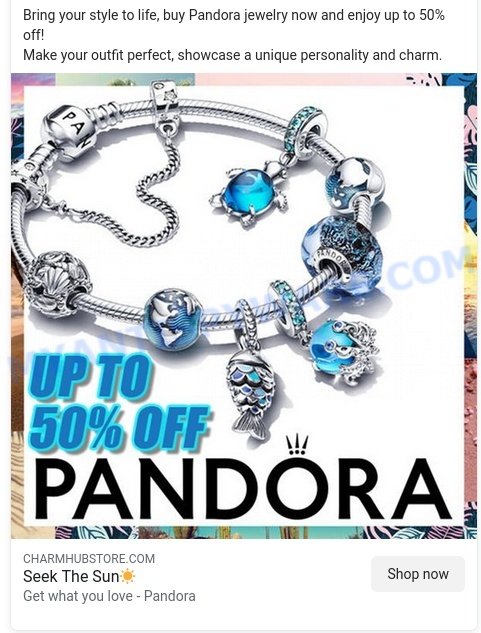 Once they make a purchase, either the product delivered is counterfeit, of subpar quality, or sometimes, nothing is sent at all. The recently created domain name, combined with their affiliation with an email linked to other scams, paints a clear picture of deceit.
What to do if you become a victim of Charmhubstore.com
If you've been swindled by Charmhubstore.com, don't despair. Follow these steps:
Contact your bank immediately and inform them about the suspicious transaction.
Change any passwords associated with the email or account you used to make the purchase.
Report the scam to local law enforcement or relevant cybercrime authorities.
Leave reviews on forums and social media platforms to warn other potential victims.
Other Scam Online Shops to Avoid
As part of our ongoing effort to protect our readers from potential scams, we have compiled a list of other suspicious online shops that you should be aware of. These shops share similar characteristics and tactics to Charmhubstore.com, and they use deceptive practices to lure in unsuspecting buyers. It's crucial to remain vigilant when shopping online and to be aware of the warning signs of a potential scam.
Here are a few examples of the scam online shops: Axerxm.com Bed Bath & Beyond Store Scam, Oputcre.shop QVC Store Scam, and Luvasti.com Silver Jewellery Store Scam.
Summary table for Charmhubstore.com
| | |
| --- | --- |
| Name | Charmhubstore.com |
| Type | Online Retail Scam |
| Damage | Potential loss of money and personal data |
| Distribution | Facebook ads |
| Tactics | Deceptive advertisements, enticing offers |
| Prices | Up to 50% off on branded items |
| Contacts | Email: service@jewelryshop.com (Linked to other scams) |
| Prevention Tips | Check for genuine customer reviews, be wary of too-good-to-be-true deals |
| Reporting Info | Contact local law enforcement or cybercrime authorities |
Conclusion
Charmhubstore.com (Jewelry Shop) is a deceptive online store that exploits the popularity of brands like Pandora to scam unsuspecting customers. It is a classic example of online retail scams that lure in unsuspecting buyers with irresistible offers, only to swindle them. It's imperative to exercise caution, conduct thorough research, and always be skeptical of deals that seem too good to be true.
FAQ About the Charmhubstore.com Scam
How did I get targeted by the Charmhubstore.com scam?
Most likely, the scammers behind Charmhubstore.com used targeted Facebook advertisements to reach potential victims, exploiting their interest in brands like Pandora.
Are there other stores like Charmhubstore.com?
Yes, many scam stores mimic popular brands and offer incredible deals to lure victims. Always be wary of too-good-to-be-true offers and research any online store before making a purchase.
How can I protect myself from similar scams in the future?
Always check reviews and ratings of online stores, avoid clicking on suspicious links, and be skeptical of deals that seem unrealistically favorable.