2023sketchsteps.com is being promoted heavily as a site offering massive Skechers sales, but a closer look reveals multiple red flags indicating it could be a scam. Before making any purchase decisions, we urge you to read our full review to understand the potential dangers.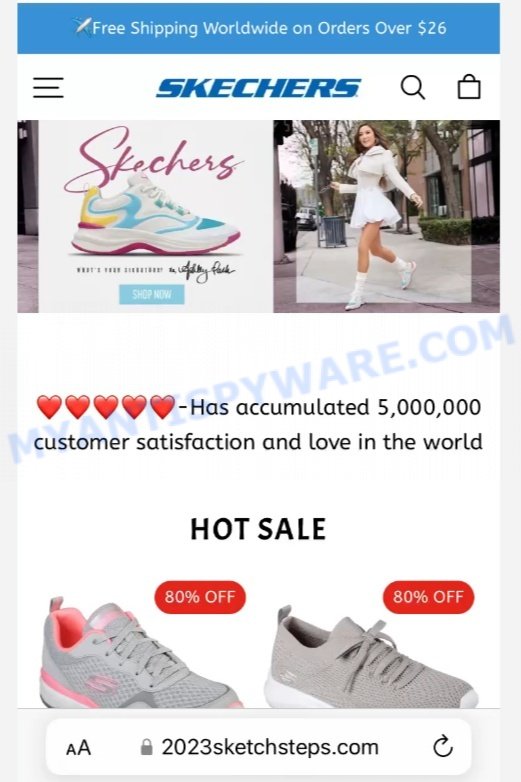 Quick links
Is 2023sketchsteps.com a Scam?
In the age of digital shopping, it's crucial to be aware of the red flags that indicate a potentially fraudulent online store. 2023sketchsteps.com displays several of these signs:
A recently created domain, suggesting a potentially short-lived operation.
Lack of genuine contact information, with the only means of contact being an email address: customerservice@quakei.com.
Unbelievably good deals like "80% OFF," often used to lure unsuspecting customers.
The domain and promotional content are deliberately designed to mirror a well-known brand (Skechers) to deceive customers.
Associated company information (AIMARK LTD) has links to other known scam shops.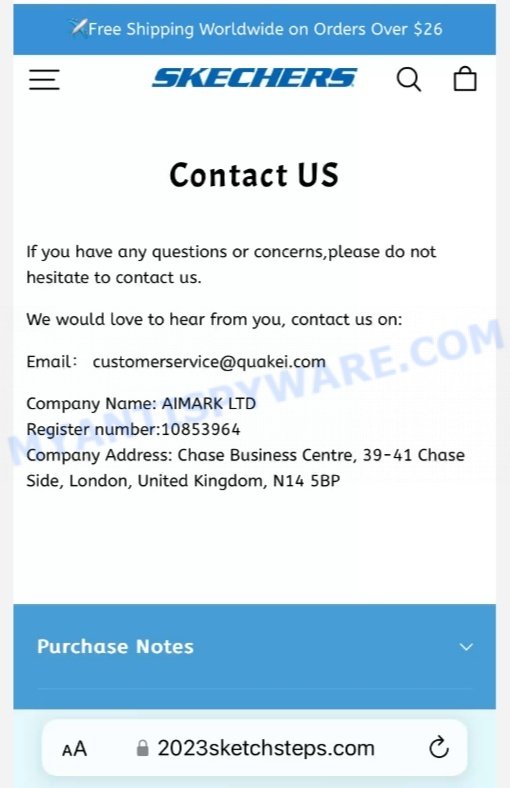 How the 2023sketchsteps.com Scam works
2023sketchsteps.com operates by advertising itself heavily on platforms like Facebook, drawing attention with its massive discounts on Skechers shoes. Unsuspecting customers are lured in by these deals and led to believe they're buying from a legitimate Skechers outlet. They may end up paying for goods that will never be delivered, receiving counterfeit products, or worse, exposing their credit card information to potential misuse.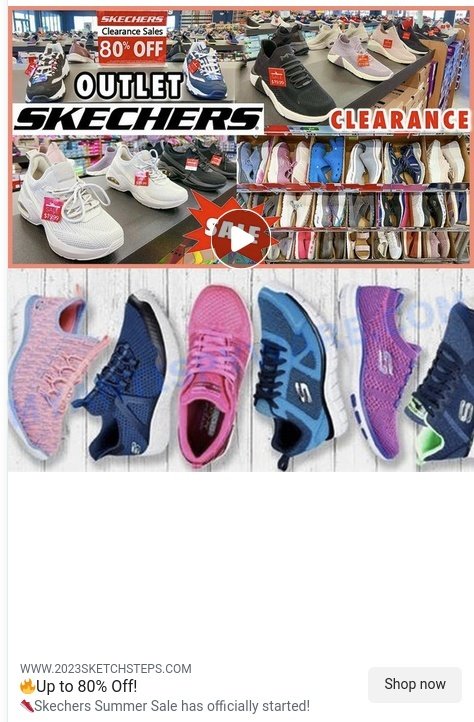 What to do if you become a victim of 2023sketchsteps.com
If you've unfortunately fallen for the 2023sketchsteps.com scam, take the following steps immediately:
Contact your bank or credit card company and inform them of the fraudulent transaction.
Change your passwords for online shopping sites and email accounts linked to your financial details.
Consider freezing your credit or setting up credit monitoring to guard against further unauthorized transactions.
Report the scam to local authorities and online consumer protection agencies.
Other Scam Online Shops to Avoid
While we're dedicated to educating our readers about potential online scams, it's important to note that 2023sketchsteps.com is not the only deceptive shop out there. Here are a few examples of the scam online shops:
Ahodenare.com Bookstore Scam, Acstoreus.com DICK'S SPORTING GOODS Store Scam, Closingstore.shop Bed Bath & Beyond Store Scam
Summary table for 2023sketchsteps.com
| | |
| --- | --- |
| Name | 2023sketchsteps.com |
| Type | Online Shoe Retail Scam |
| Damage | Potential loss of money, receipt of counterfeit goods, personal data exposure |
| Distribution | Primarily through Facebook ads |
| Tactics | Deceptive discounts, counterfeit Skechers branding |
| Prices | Advertised as up to 80% off |
| Contacts | Email: customerservice@quakei.com; Company: AIMARK LTD |
| Prevention Tips | Always check for genuine contact details and reviews before purchasing |
| Reporting Info | Contact local authorities and consumer protection agencies |
Conclusion
2023sketchsteps.com is a deceptive online shop that preys on the unsuspecting shopper. Its tactics of offering massive discounts on popular brands and hiding its genuine contact details make it a dangerous scam. Always remember to verify before you buy.
FAQ About the 2023sketchsteps.com Scam
What can happen if I buy from 2023sketchsteps.com?
There's a high chance you might either never receive your order or receive counterfeit products. Additionally, your credit card information might be at risk of misuse.
How did they get the Skechers branding?
Scam websites often replicate popular brands' logos, descriptions, and images without permission to deceive customers.
How can I check if an online store is legitimate?
Always look for genuine reviews, verify the contact information, and be skeptical of deals that seem too good to be true.