Magicve.shop is yet another addition to the expanding list of scam online stores preying on unsuspecting consumers. With enticing Facebook ads and promises of delicious deals, many could easily fall for the trap. But, there's more than meets the eye, so read on to discover the truth behind this shop.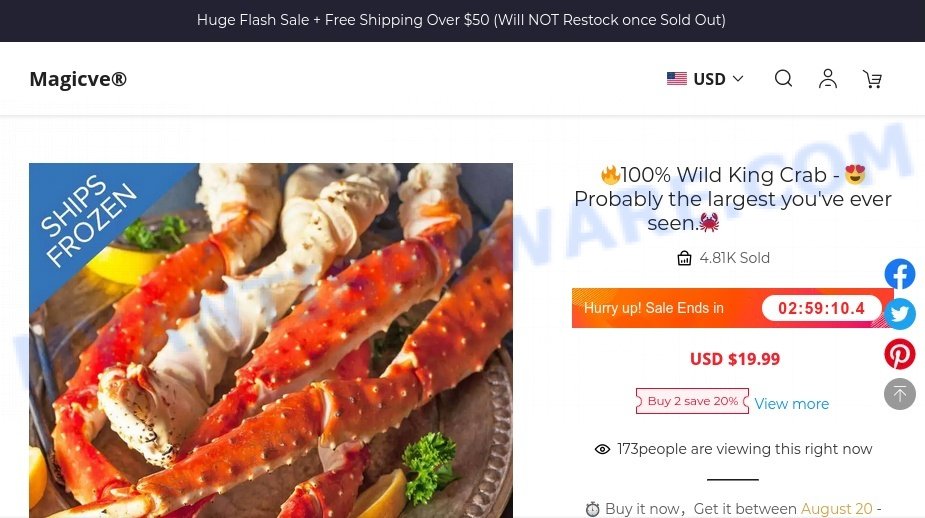 Quick links
Is Magicve.shop a Scam?
Yes, Magicve.shop exhibits several signs of a scam store, including:
Recently created domain
Lack of genuine contact information: The only available contact is via an email address – support@billbo.shop
No real info about the company behind: The address provided leads to 'Meledo Company Limited', which is associated with other scam shops.
Unbelievable deals and incredibly low prices on products such as the "Colossal Alaskan King Crab Legs Big Sale"
Enticing slogans like "Just Add Butter" and time-limited offers
No social media presence beyond the Facebook ad
How the Magicve.shop Scam works
Magicve.shop baits potential customers with attractive Facebook advertisements, showcasing mouth-watering crab legs and irresistible add-ons like hand-rolled salted butter and seafood seasoning.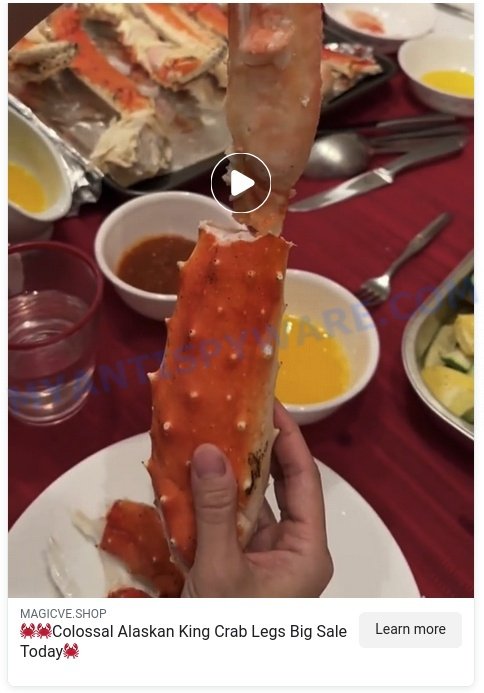 Once the user gets tempted and clicks on the ad, they are taken to the scam store where they may end up purchasing products that will never be delivered. Furthermore, the company's contact details trace back to other known scam shops, further affirming their deceptive tactics.
What to do if you become a victim of Magicve.shop
If you've unfortunately fallen victim to this scam:
Contact your bank or credit card provider and report the transaction as fraudulent.
Change your online banking passwords.
Always review online stores before making a purchase.
Other Scam Online Shops to Avoid
As part of our ongoing effort to safeguard our readers from potential scams, we continually identify suspicious online shops that you should keep an eye out for. These shops have eerily similar characteristics and methods as Magicve.shop. Staying vigilant when shopping online and recognizing scam signs are essential.
Here are a few examples of the scam online shops: Axerxm.com Bed Bath & Beyond Store Scam, Luvasti.com Silver Jewellery Store Scam, and Closingstore.shop Bed Bath & Beyond Store Scam.
| | |
| --- | --- |
| Name | Magicve.shop |
| Type | Online Store Scam |
| Damage | Potential financial loss |
| Distribution | Facebook Ads |
| Tactics | Deceptive advertising and fake deals |
| Prices | Undisclosed |
| Contacts | Email: support@billbo.shop, Meledo Company Limited |
| Prevention Tips | Always verify online shops and avoid deals that seem too good to be true |
| Reporting Info | Report to local authorities and online platforms |
Conclusion
Magicve.shop is a classic example of scam online stores that exploit people's urge for good deals. With false advertisements, misleading promises, and dodgy contact details, it's clear that this store's intentions are far from genuine. Always exercise caution, do your research, and remember: if a deal sounds too good to be true, it probably is.
FAQ About the Magicve.shop Scam
Why do these scam shops proliferate?
These scams can be profitable, given that they exploit the impulsiveness of buyers, especially when a deal seems irresistible.
How can I ensure an online store is legit?
Always research the store, check for reviews, verify contact details, and trust your instincts. If there's a lack of information or numerous negative reviews, it's a red flag.
Are all Facebook advertised shops scams?
No, but it's crucial to verify the authenticity of a store, especially when it's advertised on social media platforms.