Beware of the "Meta Business Support Scam" circulating on Facebook Messenger. Thousands have already been targeted by this alarming message, claiming that their page has been disabled due to intellectual property violations. The message tricks users into clicking on a malicious link, putting their personal information at risk. If you've received a message from "Meta Business Support" with a link to "mfb.social", you might be the next target. Stay informed and protect your digital presence—read the article to learn more about this scam and how to keep yourself safe.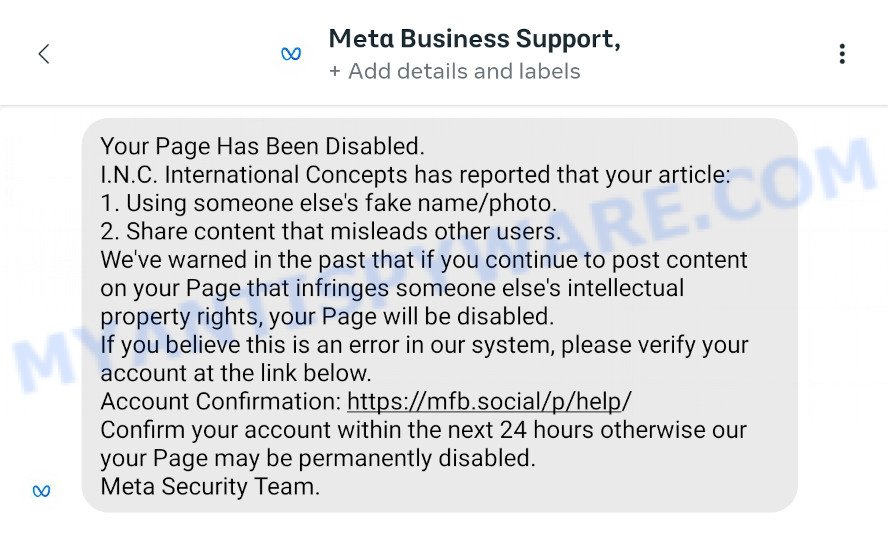 Quick links:
What is Meta Business Support Scam
The "Meta Business Support Scam" is a deceptive ploy targeting Facebook users, specifically those who operate or manage pages on the platform. The scam begins with an unsolicited message allegedly from "Meta Business Support", warning recipients that their page has been disabled due to certain alleged violations. These so-called violations can range from using someone else's name or photo to sharing misleading content.
A typical Meta Business Support scam message reads as follows:
Sender: Meta Business Support,

Your Page Has Been Disabled.
I.N.C. International Concepts has reported that your article:
1. Using someone else's fake name/photo.
2. Share content that misleads other users.
We've warned in the past that if you continue to post content on your page that infringes someone else's intellectual property rights, your Page will be disabled. If you believe this is an error in our system, please verify your
account at the link below. Account Confirmation: https://mfb.social/p/help/
Confirm your account within the next 24 hours otherwise our your Page may be permanently disabled. Meta Security Team.
The message uses persuasive language and scare tactics, emphasizing that past warnings had been given and immediate action is needed to resolve the supposed infringement. The message then provides a link leading to a fake Facebook page designed to collect personal information, login credentials, or spread malware.
A phishing "Meta Business Support" page: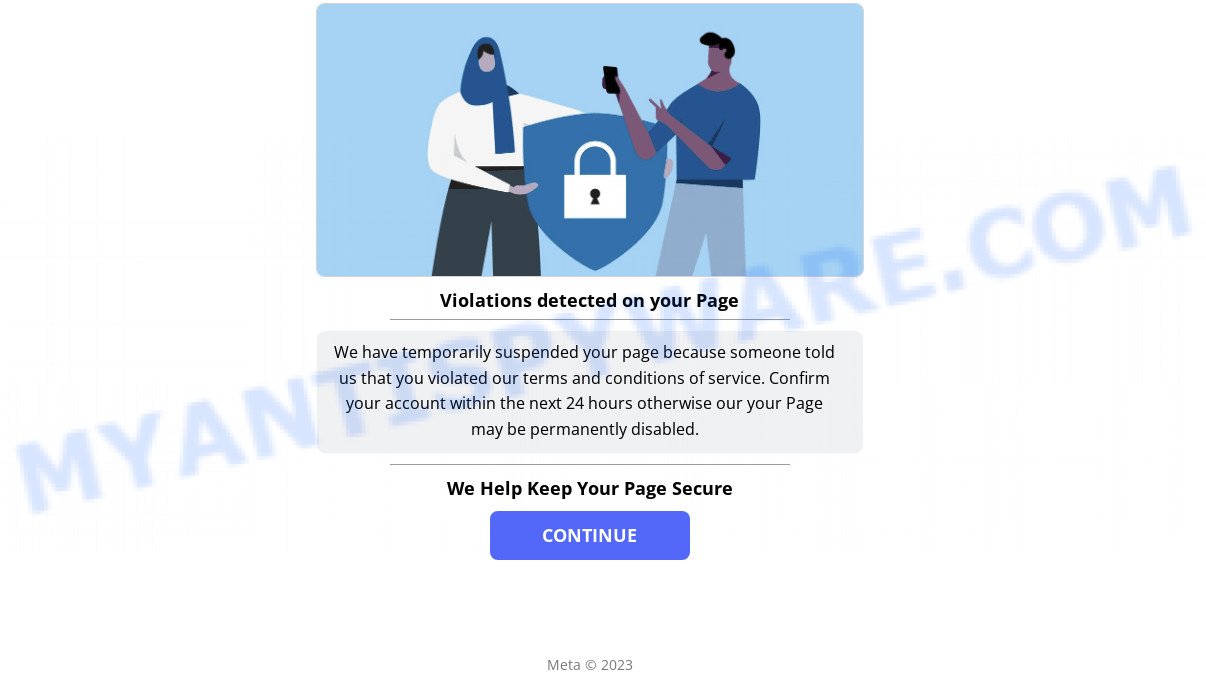 What sets this scam apart is its use of a seemingly legitimate domain, "mfb.social". However, this is not an official Meta (formerly known as Facebook) domain. The primary aim of the scam is to exploit the recipient's fear of losing their Facebook page, pushing them to act hastily without verifying the authenticity of the message. It preys on users' trust and familiarity with the platform, making it all the more dangerous for those unaware of its deceptive nature.
The link "mfb.social" has been flagged by VirusTotal as a phishing site.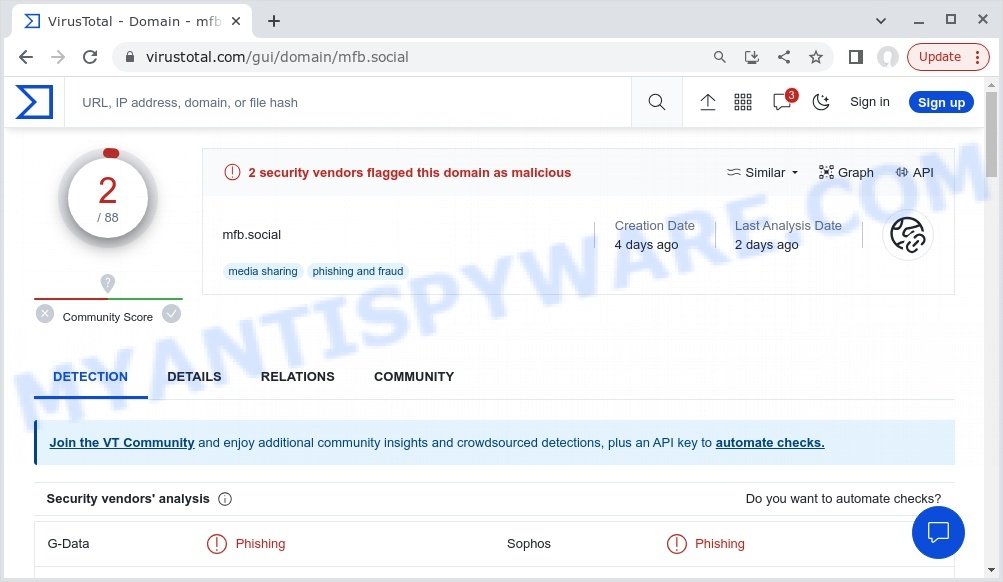 In conclusion, the "Meta Business Support Scam" highlights the importance of caution online. Always double-check unexpected communications, even from familiar platforms. Avoid unknown links and prioritize digital safety to outsmart such scams.
What to Do If You Receive the Meta Business Support Scam message:
If you've been targeted by the "Meta Business Support Scam" message on Facebook Messenger, you're not alone. The scam, designed to exploit unsuspecting users by posing as an authentic warning from the platform, can be unsettling. However, taking informed and prompt action can safeguard your account and personal information. Here's a step-by-step guide on how to handle the situation effectively.
Do Not Click Any Links: Resist the urge to click on any links provided in the message. These can lead to malicious sites that steal information or install malware.
Report to Facebook: Navigate to the official Facebook page or app, and report the scam message. Facebook has mechanisms to address such issues and safeguard its user community.
Change Password: As a precaution, change your Facebook password. Use a combination of letters, numbers, and symbols to enhance security.
Enable Two-Factor Authentication: If not already enabled, turn on two-factor authentication for your Facebook account. This adds an extra layer of security, making unauthorized access more challenging.
Educate Others: Alert friends and fellow page administrators about the scam, ensuring they don't fall prey to it.
Stay Updated: Regularly check official channels or trusted security blogs for updates on ongoing scams and threats.
Examples of such scams
Scams using emotional manipulation and fake news are unfortunately common tactics used by cybercriminals to exploit people's vulnerabilities and steal money or personal information. The "Meta Business Support" scam is just one example of such schemes. These scams often rely on shock value or sensational claims to get people to click on a link or provide sensitive information. Below are some other examples of similar scams to watch out for.
Here are some examples of similar scams: Just Died In An Accident Scam, 'Hi Mum' Scam, I sent you an email from your account Scam, Your iPhone Has Been Hacked Scam, and Financial Hardship Department Scam.
How to Report the Meta Business Support Scam on Facebook Messenger?
Encountering the "Meta Business Support Scam" on Facebook Messenger can be alarming, but it's vital to take action. Not only does reporting the scam protect your account, but it also aids Facebook in safeguarding the entire community from such threats. If you've stumbled upon this deceptive message, here's a comprehensive guide to ensure you respond effectively and notify the platform promptly.
Open the conversation with the sender of the message or the conversation where the message was sent.
Click on the name of the sender of the message to open their profile.
Click on the "Report" link or button located below the sender's name.
Choose the option that best describes the scam message, such as "Scam or fraud" or "Spam".
Follow the prompts to provide more information and complete the report.
By reporting suspicious activities, users play a pivotal role in enhancing the platform's safety, making it less conducive for scammers to operate.
Summary table for 'Meta Business Support' Facebook Scam
| | |
| --- | --- |
| Name | 'Meta Business Support' Facebook Scam |
| Type | Phishing Scam |
| Damage | Loss of personal data, potential financial loss |
| Distribution | Facebook Messenger |
| Tactics | Impersonation, fear, urgency |
| Scammers websites | mfb.social, facebook.6198902025302029-page.help, etc |
| Prevention Tips | Do not click on suspicious links, even if they appear to come from a friend. Enable two-factor authentication. Regularly update your passwords. |
| Reporting Info | Report to Facebook and local authorities |
Conclusion
The Meta Business Support scam employs deceptive tactics to trick recipients into clicking on a phishing link under the guise of confirming their account. Always exercise caution when dealing with unsolicited emails and be vigilant against phishing attempts. By following the provided advice, you can safeguard your personal information and protect yourself from falling victim to such scams.