Gthhp.com is a recent addition to the ever-growing list of online scam shops. Boasting too-good-to-be-true deals, it claims to offer patio wicker swing chairs at shockingly low prices. But before you take the plunge, dive into our analysis and discover why this online store might be nothing more than a mirage.
Quick links
Is GTHHP.COM a Scam?
While the internet offers countless legitimate online shopping experiences, GTHHP.COM has several red flags indicating its deceptive nature:
Recently created domain: A new domain is a common sign of fly-by-night scam shops that don't intend to stick around.
Lack of contact information: Only contactable through an email address, service@gthhp.com.
No real info about the company: The company behind it, SHENESS LTD, is linked with other scam stores.
Unbelievable deals: The incredibly low price of $39 for a Patio Wicker Swing Chair is a major red flag.
Template design: Similar design patterns observed in other scam shops.
Enticing slogans: Uses phrases like "Only Today" and "Hurry up and collect it!" to create urgency.
Hidden WHOIS details: Concealing the registrant's information is often a tactic employed by scam sites to avoid being traced.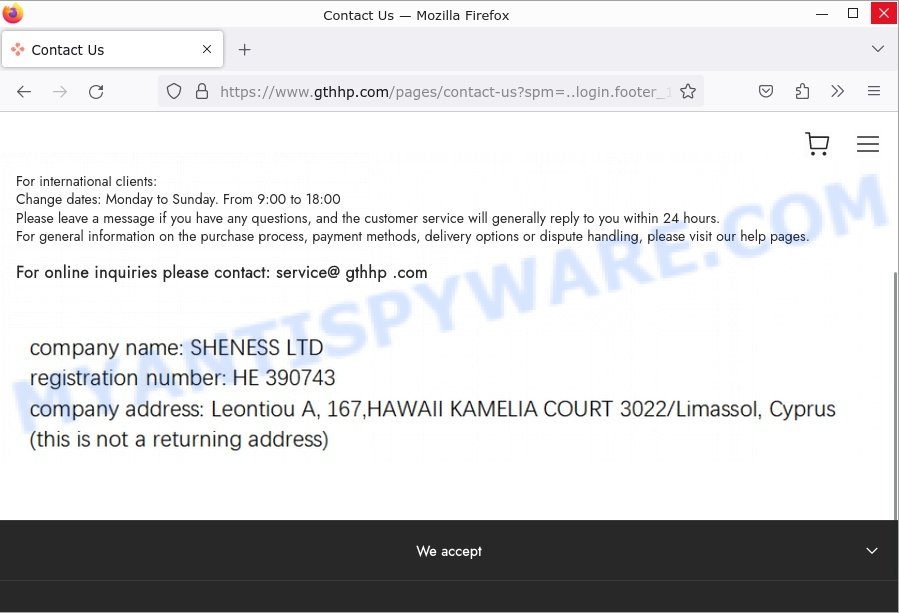 How the GTHHP.COM Scam works
GTHHP.COM is positioned as a legitimate online shop, often promoted through platforms like Facebook. Using captivating advertisements, they lure potential customers with promises of significantly discounted Patio Wicker Swing Chairs.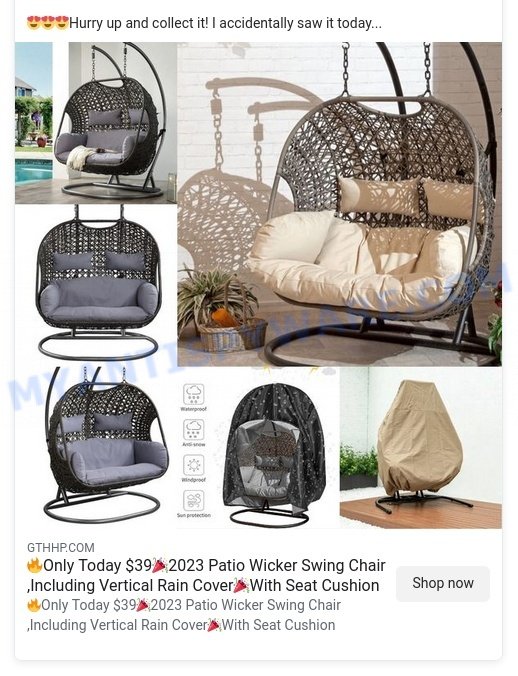 Once the bait is taken, buyers find themselves either receiving substandard products or, worse, nothing at all. Their connections to other known scam shops, such as those linked with the email address and company SHENESS LTD, compound the suspicions.
What to do if you become a victim of GTHHP.COM
If you've unfortunately fallen into the GTHHP.COM trap, take the following steps:
Contact your bank or credit card company and inform them of the fraudulent transaction.
Change your online banking and shopping passwords.
Report the scam to local law enforcement.
Leave reviews on online platforms to warn other potential buyers.
Other Scam Online Shops to Avoid
Online shopping can be convenient, but it also comes with risks. As with GTHHP.COM, there are other deceptive online shops that prey on unsuspecting customers. Staying informed and being cautious can make a world of difference. Here are a few examples of the scam online shops: Axerxm.com, Oputcre.shop, and Closingstore.shop.
Summary table for Gthhp.com
| | |
| --- | --- |
| Name | GTHHP.COM |
| Type | Online Scam Store |
| Damage | Financial loss, potential compromise of personal information |
| Distribution | Advertisements, primarily on social media platforms like Facebook |
| Tactics | Deceptive advertisements, urgency slogans, hidden WHOIS data |
| Prices | Unbelievably low ($39 for a Patio Wicker Swing Chair) |
| Contacts | Email: service@gthhp.com; Company: SHENESS LTD; Address: Leontiou A, 167, HAWAII KAMELIA COURT 3022/Limassol, Cyprus |
| Prevention Tips | Research before buying, check reviews, be skeptical of too-good-to-be-true deals |
| Reporting Info | Contact local law enforcement, report to online scam alert platforms |
Conclusion
GTHHP.COM is a misleading online store that preys on consumers' trust. With their enticing offers and strategic marketing, they may seem genuine, but the red flags are evident. Always approach such deals with caution and conduct thorough research before making a purchase.
FAQ About the GTHHP.COM Scam
Why are their products so cheap?
Scam sites like GTHHP.COM often use low prices to attract buyers, hoping they won't question the legitimacy.
How can I identify scam shops in the future?
Look for signs like hidden WHOIS data, too-good-to-be-true prices, lack of contact details, and a newly created domain.
Can I get my money back if I purchased from GTHHP.COM?
It's advisable to contact your bank immediately to report the fraudulent transaction. They might be able to help.