Profitablees.online is luring unsuspecting buyers with hard-to-resist Nike deals. If it seems too good to be true, it probably is. Read on to discover the truth about this online scam.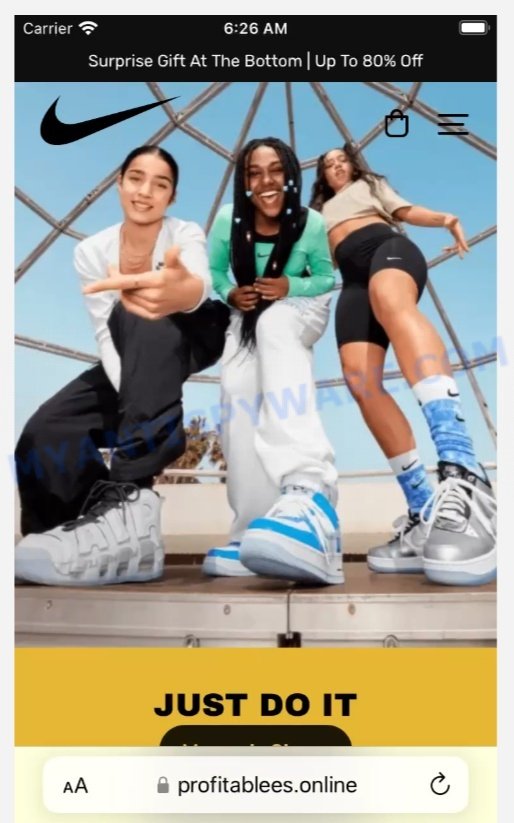 Quick links
Is Profitablees.online a Scam?
There's growing evidence suggesting that Profitablees.online is indeed a scam. Here's why:
Recently created domain, a common tactic among scams.
Lack of transparent contact information. The only method is through an email address: customerservice369@outlook.com.
No genuine information about the company. Kentesh Ltd seems dubious.
Unbelievable deals and incredibly low prices, all under $40 for branded Nike products.
Enticing slogans used like "Clearance Sale", "Huge Discounts", and "Limited Time Sale".
No evident presence or links to any social media platforms.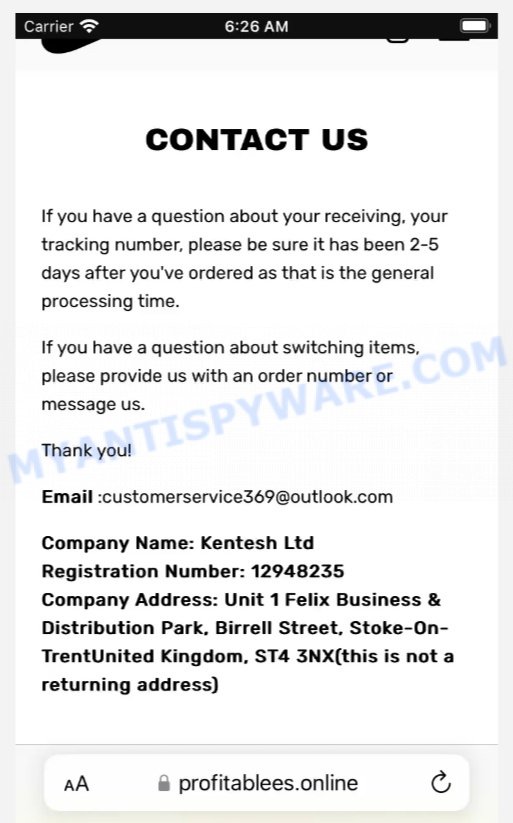 How the Profitablees.online Scam works
Profitablees.online is promoted through Facebook ads, claiming to be an "official Nike clearance store" offering products "directly shipped from the factory." The site lures potential buyers with the promise of authentic Nike products at unbeatable prices.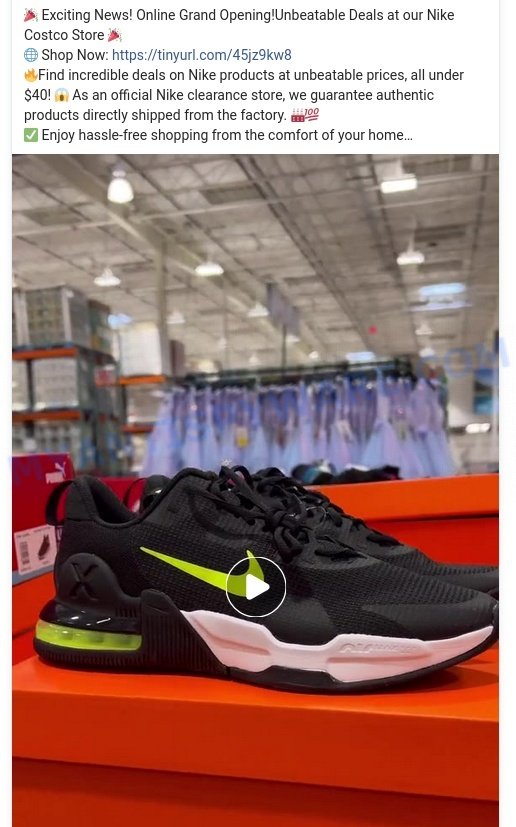 Once users make a purchase, they either receive counterfeit products or nothing at all.
What to do if you become a victim of Profitablees.online
If you've been duped by Profitablees.online, follow these steps:
Contact your bank and report the fraudulent transaction.
Change passwords for any accounts linked to the payment method used.
Report the website to relevant authorities.
Leave reviews and warnings on consumer feedback platforms to alert others.
Other Scam Online Shops to Avoid
Online shopping scams are rampant, and Profitablees.online isn't the only player. It's essential to stay vigilant and recognize the warning signs.
Here are a few examples of the scam online shops: Ahodenare.com Bookstore Scam, Acstoreus.com DICK'S SPORTING GOODS Store Scam, Axerxm.com Bed Bath & Beyond Store Scam.
Summary table for Profitablees.online
| | |
| --- | --- |
| Name | Profitablees.online |
| Type | Online Scam Shop |
| Damage | Potential financial loss and identity theft |
| Distribution | Facebook Ads |
| Tactics | False advertising, fake discounts |
| Prices | All products under $40 |
| Contacts | customerservice369@outlook.com, Kentesh Ltd |
| Prevention Tips | Research online stores before purchasing, look for genuine reviews |
| Reporting Info | Contact local cybercrime authority |
Conclusion
Profitablees.online is a deceptive online store exploiting the Nike brand's reputation. Buyers are advised to exercise caution and avoid falling for too-good-to-be-true deals.
FAQ About the Profitablees.online Scam
Why are the prices so low on Profitablees.online?
The low prices are part of the scam tactic to lure in unsuspecting buyers and get them to part with their money.
Is the company Kentesh Ltd legit?
From the information provided, Kentesh Ltd appears to be a dubious entity, possibly created to lend credibility to the scam.
Can I get my money back if I purchased from Profitablees.online?
It's advisable to contact your bank immediately to report the fraudulent transaction. They might be able to help.