Sports-outlet2023.com is an online store that has recently gained traction through aggressive Facebook advertising, especially surrounding a HOKA sneaker sale. If you've encountered this "deal", or if the website's unbelievable discounts have raised your suspicions, you're in the right place. Read on to uncover the truth behind Sports-outlet2023.com.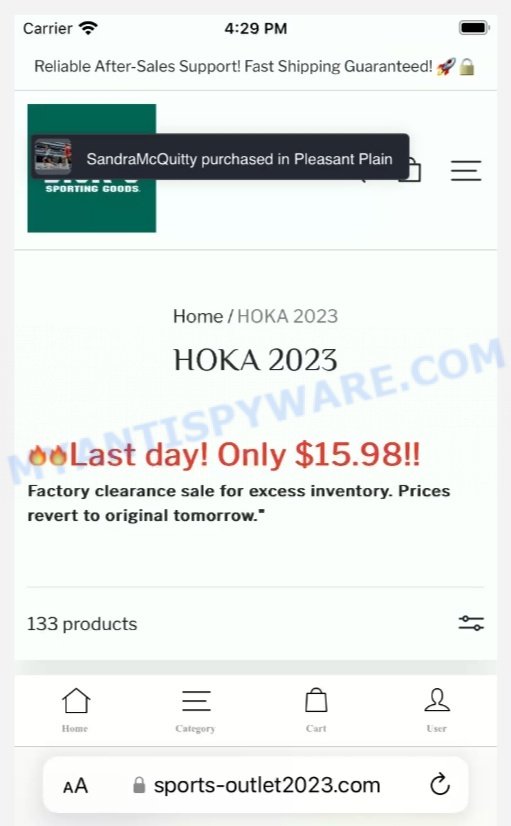 Quick links
Is Sports-outlet2023.com a Scam?
Unfortunately, the signs point to "yes". Here's what you should know:
Recently created domain
Lack of legitimate contact information – the only method provided is via an email address.
Email address and associated company have been linked with other scam shops.
No clear information about the company behind the website.
Too-good-to-be-true deals, such as the sneakers being sold for only $19.
Generic design that resembles other scam websites.
Enticing slogans like "Huge Labor Day Discounts" and "TODAY ONLY $19".
No links or presence on popular social media platforms.
How the Sports-outlet2023.com Scam works
Sports-outlet2023.com lures potential victims using targeted Facebook ads, claiming a massive "Labor Day Discount" on HOKA sneakers. The so-called sales event, which allegedly stems from the expiration of a sales contract, offers these high-quality shoes at an astoundingly low price of $19 per pair. The catch? The sale is time-limited, creating a sense of urgency.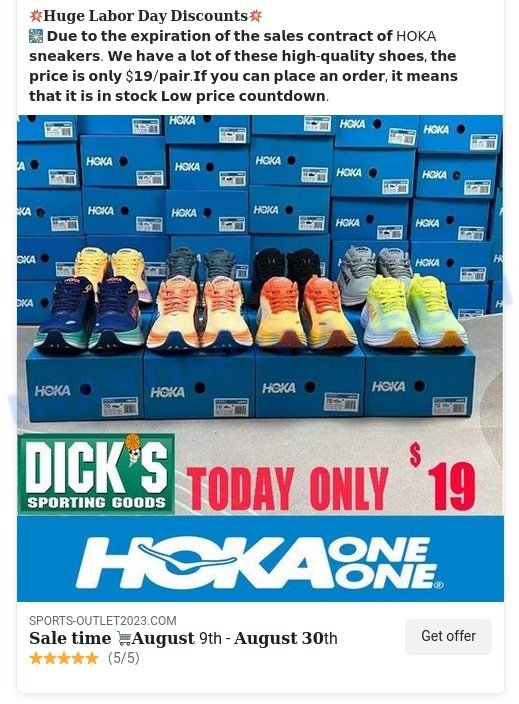 However, once customers place an order, they either receive counterfeit products, something entirely different, or nothing at all. Worse, their payment and personal details might be compromised.
What to do if you become a victim of Sports-outlet2023.com
If you've unfortunately fallen victim to this scam, take the following steps:
Contact your bank or credit card company and inform them of the potential fraud.
Change any passwords associated with the information you provided on the scam website.
Report the website to online consumer protection agencies.
Keep a vigilant eye on your bank and credit card statements for any unauthorized transactions.
Educate others about the scam to prevent them from becoming victims.
Other Scam Online Shops to Avoid
In our ongoing efforts to protect our readers from scams, we have compiled a list of other suspicious online shops to be aware of. These shops share similar tactics to Sports-outlet2023.com. Here are a few examples: Acstoreus.com DICK'S SPORTING GOODS Store Scam, Axerxm.com Bed Bath & Beyond Store Scam, Naswino.com Bed Bath & Beyon Store Scam.
Summary table for Sports-outlet2023.com
| | |
| --- | --- |
| Name | Sports-outlet2023.com |
| Type | Online Sneaker Outlet Scam |
| Damage | Potential financial and data theft |
| Distribution | Primarily through Facebook Ads |
| Tactics | Deceptive advertising, fake discounts, and urgency |
| Prices | $19 per pair of sneakers |
| Contacts | Email: customerservice@quakei.com, Company: AIMARK LTD |
| Prevention Tips | Check domain age, look for legitimate contact info, avoid too-good-to-be-true deals |
| Reporting Info | Contact local cybercrime unit or online consumer protection agencies |
Conclusion
Sports-outlet2023.com is a deceitful online store capitalizing on the allure of discounted HOKA sneakers to exploit unsuspecting consumers. Always exercise caution when encountering deals that seem too good to be true.
FAQ About the Sports-outlet2023.com Scam
Is Sports-outlet2023.com affiliated with HOKA or DICK'S SPORTING GOODS?
No, there is no evidence to suggest any official affiliation or partnership. They use recognized brand names to give an illusion of authenticity.
How can I ensure an online store is legitimate before purchasing?
It's always a good idea to research the store. Check for customer reviews, ratings, or complaints online. Legitimate stores usually have a substantial online presence and clear, verifiable contact details.
Can I get my money back if I've been scammed?
It varies depending on your payment method. If you used a credit card, you might be