Infantsjoyful.com is gaining traction on social media due to its unbelievably discounted products. However, this very allure can turn into a pitfall for unsuspecting buyers. Continue reading to uncover the reality of this online store.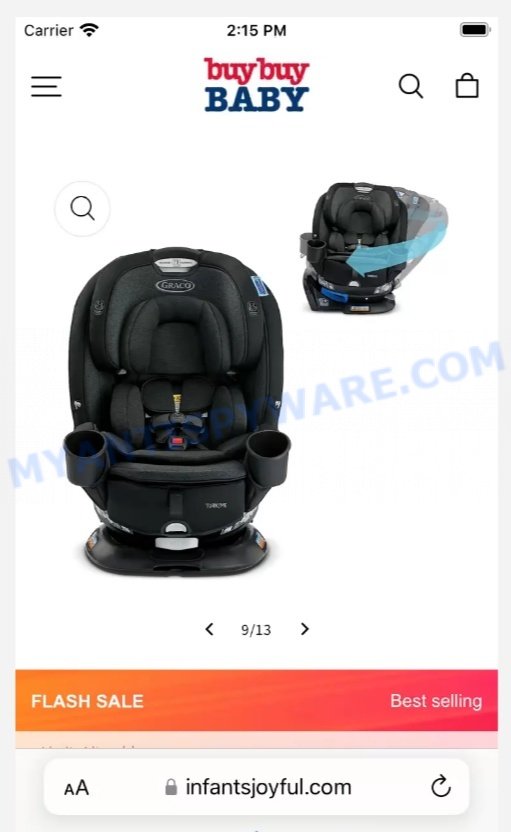 Quick links
Is Infantsjoyful.com a Scam?
Online shopping scams have become alarmingly common, and Infantsjoyful.com is, unfortunately, one such platform. Here are clear indicators that this website is deceptive:
Recently created domain on 2023-08-03.
Unbelievably low prices, as evidenced in their ads for Graco Car Seat.
Generic website design and lack of unique content.
Enticing slogans like "CLEARANCE SALE", "Limited Stock", and others.
Contact only through email: mila@peachcher.com
No genuine information about the company. They are affiliated with AIMARK LTD, which is linked to other scams.
Absence of social media presence outside of their misleading ads.
How the Infantsjoyful.com Scam works
Infantsjoyful.com is a master of deception, beginning its web of lies with enticing Facebook ads. Potential buyers, lured by the irresistible offers such as a Graco® Turn2Me 3-in-1 Car Seat for just $35, quickly find themselves on the website. The domain's recent creation date suggests a temporary setup, often associated with scam shops.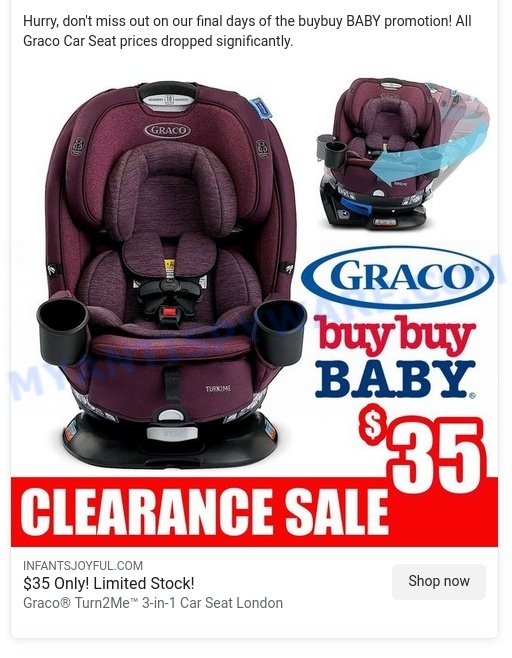 Once a purchase is made, either the product is never delivered, or a substandard item arrives. With limited contact information, getting a refund becomes a Herculean task. Furthermore, the association with AIMARK LTD, a company linked to other scam sites, is a major red flag.
What to do if you become a victim of Infantsjoyful.com
If you've been deceived by Infantsjoyful.com, it's crucial to act immediately.
Contact your bank or credit card company to dispute the charge.
Change passwords for any accounts linked with the payment method used.
Monitor your financial statements for any unauthorized transactions.
Report the scam to local authorities and online watchdog platforms.
Warn friends and family about the scam to prevent further victims.
Other Scam Online Shops to Avoid
As part of our ongoing effort to shield our readers from potential scams, it's essential to be aware of other deceitful online shops using tactics similar to Infantsjoyful.com. Always remain vigilant while shopping online.
Here are a few examples of the scam online shops: Acstoreus.com DICK'S SPORTING GOODS Store Scam, Outletshoks.com HOKA Summer Clearance Scam, and Tv-homeshopping.shop Bed Bath & Beyond Store Scam.
Summary table for Infantsjoyful.com
| | |
| --- | --- |
| Name | Infantsjoyful.com |
| Type | Online Shopping Scam |
| Damage | Potential financial loss and data breach |
| Distribution | Social media, mainly Facebook ads |
| Tactics | Enticing promotions, unbelievably low prices |
| Prices | Products like Graco® Turn2Me 3-in-1 Car Seat for $35 |
| Contacts | Email: mila@peachcher.com; Company: AIMARK LTD |
| Prevention Tips | Research before purchasing, avoid too-good-to-be-true deals |
| Reporting Info | Contact local authorities and online watchdog platforms |
Conclusion
Infantsjoyful.com is a classic example of an online shopping scam. With its unbelievable discounts, it entices unsuspecting customers only to leave them disappointed and at times, financially hurt. Always ensure to do thorough research before making any purchase online.
FAQ About the Infantsjoyful.com Scam
What makes Infantsjoyful.com different from genuine online stores?
Infantsjoyful.com uses deceptive tactics such as offering extremely low prices and using a company name associated with other scams. Their domain is also newly created, which is a common trait among scam websites.
How can I protect myself from such scams in the future?
Always research the website before making a purchase, avoid deals that seem too good to be true, and be wary of new domains offering big brand items at extremely low prices.
Is there any chance to get my money back after being scammed?
Yes, you should immediately contact your bank or credit card company to dispute the charges. They might be able to help you get a refund.