Caalmer.com is an online storefront posing as a discount Lane Bryant shop, but several warning signs suggest otherwise. With a recently created domain, elusive contact details, and shockingly low prices that seem too good to be true, it appears to be more of a deception than a genuine deal. If you've come across this site or its enticing Facebook ads, we urge caution. Dive deeper into our analysis and read the article to learn more before making any purchases.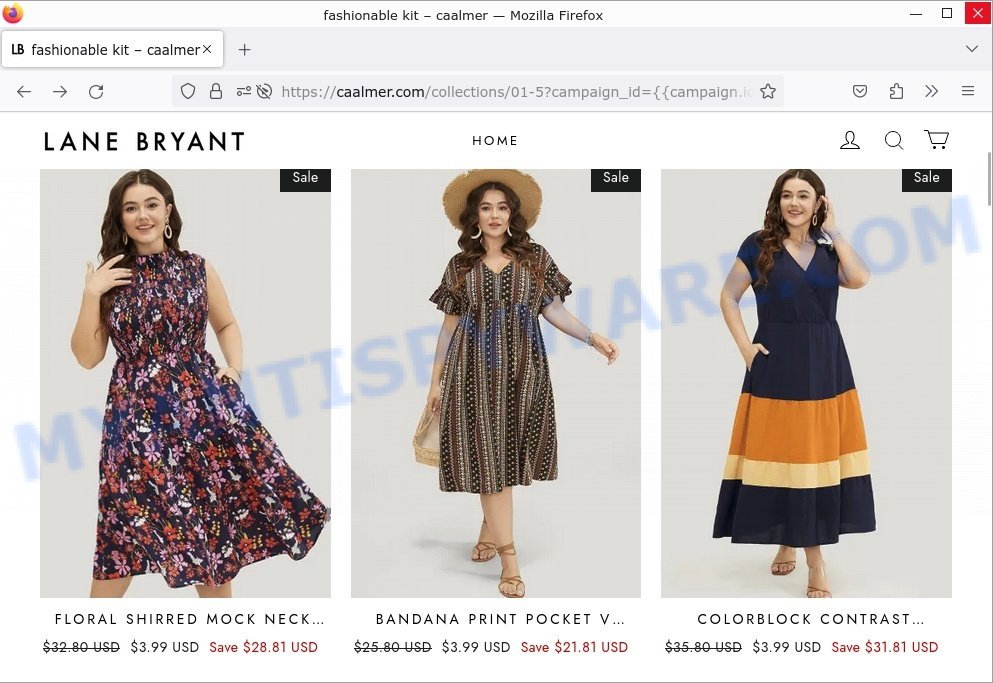 Quick links
Is Caalmer.com a Scam?
Based on our meticulous analysis, there are several red flags that point towards Caalmer.com being a scam:
Recently created domain
Products offered at unbelievably low prices, such as $3.99 for trendy Lane Bryant styles
Enticing slogans like "Discount Store", "Sale", and "A rare shopping opportunity"
Domain registration details are hidden
Contact information limited to just an email address: caalmer@gsvby.com
No genuine info about the company behind it, despite the mention of AIMARK LTD
Previous links of the provided email and company with other scam websites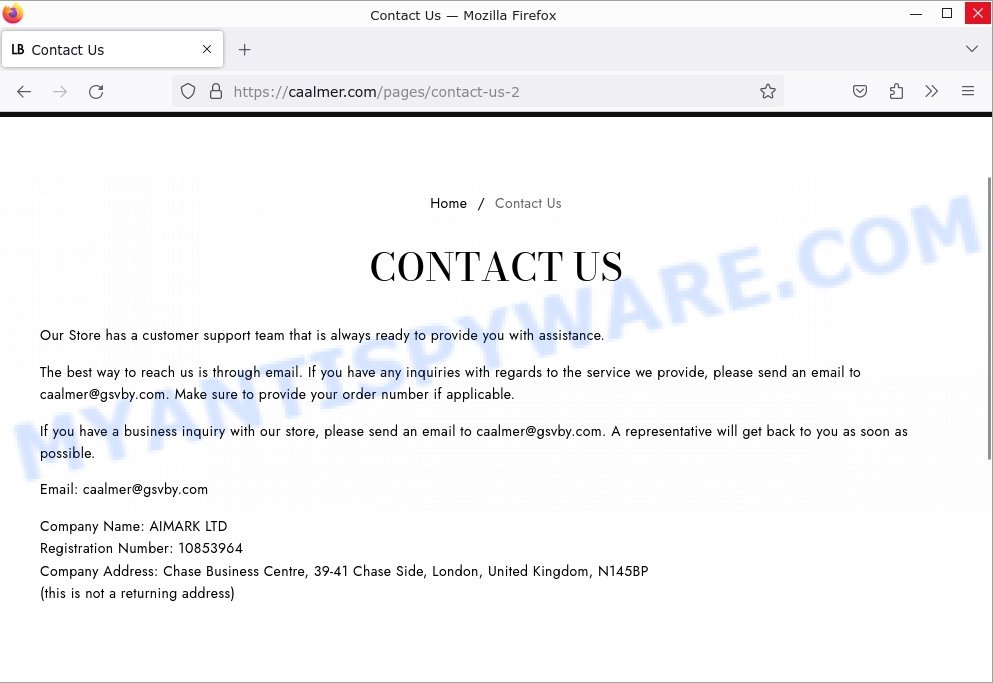 How the Caalmer.com Scam works
Caalmer.com is cleverly disguised as a legitimate "discount store" for Lane Bryant, a popular brand. Utilizing well-crafted Facebook ads with tempting headlines like "A rare shopping opportunity – Discount Store" and offering products at the too-good-to-be-true price of $3.99, the site lures in unsuspecting shoppers looking for a great deal. Once on the website, visitors are presented with seemingly authentic product listings under the banner "LB fashionable kit." These products, despite their detailed descriptions and professional-looking images, are most likely non-existent or of extremely low quality.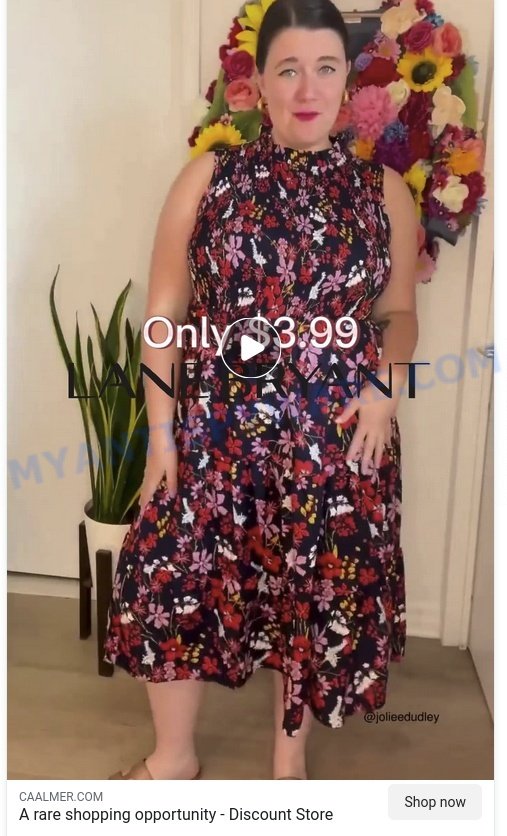 The contact details, such as an email address associated with other known scam shops and a company registration under AIMARK LTD, which has been linked to multiple scams, only heighten the suspicion. Additionally, the given company address in London is merely a facade, with a specific note clarifying that it's not a return address – a typical move for scam sites to avoid returns or any direct confrontations.
After making a purchase, customers either receive counterfeit products, items vastly different from their descriptions, or, in some cases, nothing at all. The main objective of such a scam is to get the buyer's money while providing as little as possible in return. And with the hidden WHOIS contacts and a freshly minted domain, tracing or holding anyone accountable becomes a challenge.
What to do if you become a victim of Caalmer.com
If you have made the mistake of purchasing from Caalmer.com, it's essential to:
Contact your bank immediately to report a fraudulent transaction
Change passwords for any accounts that share the one used on Caalmer.com
Monitor your bank statements closely for any unauthorized transactions
Report the scam site to relevant authorities to prevent others from falling prey
Other Scam Online Shops to Avoid
In an attempt to shield our readers from potential scams, we've gathered a list of suspicious online stores that have traits in common with Caalmer.com. It's imperative to be cautious when shopping online, and recognizing scam signs is paramount.
Here are a few examples of the scam online shops: Axerxm.com Bed Bath & Beyond Store Scam, Acstoreus.com DICK'S SPORTING GOODS Store Scam, Bedbathbeyondclose.com BED BATH & BEYOND Store Scam.
Summary table for Caalmer.com
| | |
| --- | --- |
| Name | Caalmer.com |
| Type | Fake Lane Bryant Store |
| Damage | Potential financial loss, delivery of counterfeit items |
| Distribution | Facebook ads, online promotion |
| Tactics | Unbelievably low prices, fake sale promotions |
| Prices | Products offered at $3.99 |
| Contacts | Email: caalmer@gsvby.com, Company: AIMARK LTD |
| Prevention Tips | Research before purchasing, avoid too-good-to-be-true deals |
| Reporting Info | Report to local authorities and cybercrime units |
Conclusion
Caalmer.com is, without a doubt, a scam site, disguising itself under the popular brand Lane Bryant. The allure of unbelievably low prices combined with dubious company links makes it a risk. Always research before purchasing, especially from unfamiliar online stores.
FAQ About the Caalmer.com Scam
Why do scam stores like Caalmer.com mimic popular brands?
To exploit the brand's trustworthiness and familiarity, drawing in more unsuspecting customers.
How do I recognize a scam shop in the future?
Always be skeptical of too-good-to-be-true prices, and research the store's reviews and reputation online.
Can I get my money back if I've been scammed?
It's possible, especially if you act quickly. Inform your bank about the fraudulent transaction, and they might be able to reverse it.