Warehousegod.com is taking the bait-and-switch game to the next level with enticing deals on fishing kayaks. But, are these deals too good to be true? Dive deep into our analysis and discover the real nature of this online store.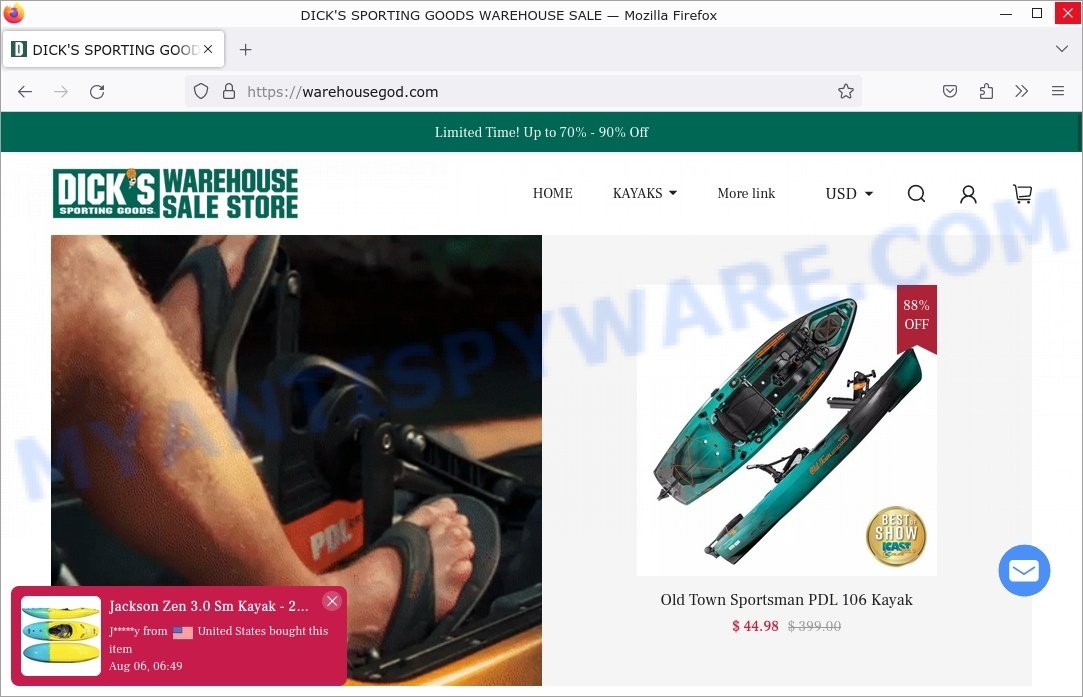 Quick links
Is Warehousegod.com a Scam?
Unfortunately, many signs point to Warehousegod.com being a scam. Here are some of the signs:
Recently created domain
Lack of proper contact information – hidden WHOIS contacts
No legitimate information about the company behind the site
Unbelievably low prices, such as a kayak for only $44.98
Use of misleading slogans like "Clearance Sale"
Promotion of products using template designs
Time counters on the product page
Pretending to be associated with a brand like "DICK'S SPORTING GOODS"
How the Warehousegod.com Scam works
Warehousegod.com utilizes Facebook ads to lure potential customers with enticing offers. Their advertisement highlights a "Clearance Sale" where specialized fishing kayaks are available for as low as $44.98.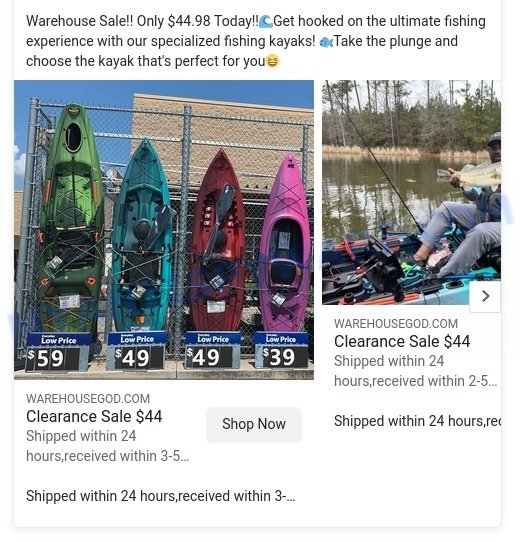 Once a user visits their website, they are greeted with discounts of up to 88%, imitating the branding and design of "DICK'S SPORTING GOODS". By offering these too-good-to-be-true deals, the site aims to get users to make impulse purchases, and once the payment is made, the products either never arrive or are of extremely low quality.
What to do if you become a victim of Warehousegod.com
If you've been unfortunate enough to fall for the Warehousegod.com scam, don't lose hope. Take the following steps:
Contact your bank or credit card company to dispute the charges.
Change your online passwords, especially if you use the same passwords across multiple sites.
Monitor your financial accounts for any suspicious activities.
Report the scam to relevant authorities and online platforms to help others stay informed.
Other Scam Online Shops to Avoid
Protecting online shoppers is our top priority, and as such, we continuously monitor and report suspicious online shops. These shops often use tactics similar to Warehousegod.com. Below are a few examples you should be wary of:
KingCrabStore.com King Crab Store Scam,
Tv-homeshopping.shop Bed Bath & Beyond Store Scam,
Outletshoks.com HOKA Summer Clearance Scam.
| | |
| --- | --- |
| Name | Warehousegod.com |
| Type | Online Scam Shop |
| Damage | Financial loss, potential identity theft |
| Distribution | Facebook ads |
| Tactics | Deceptive branding, false discounts |
| Prices | As low as $44.98 for kayaks |
| Contacts | Hidden WHOIS contacts |
| Prevention Tips | Always research online shops, avoid impulse buying |
| Reporting Info | Report to local authorities and bank |
Conclusion
Warehousegod.com is a classic example of a bait-and-switch scam that uses the power of brand recognition to deceive unsuspecting customers. By offering unrealistically low prices and mimicking established brands, they prey on consumers looking for a good deal. Always remain cautious and do thorough research before making a purchase from unfamiliar online shops.
FAQ About the Warehousegod.com Scam
Why do these scam websites look so genuine?
Scammers have become adept at copying the design and branding of legitimate sites to create an illusion of authenticity. By doing so, they can gain the trust of potential victims more easily.
How can I protect myself from such scams in the future?
It's essential always to do your due diligence. Research the website, check reviews, and if the deals seem too good to be true, they probably are.
Can I get my money back after being scammed?
While getting your money back isn't guaranteed, it's essential to contact your bank or credit card provider immediately to dispute the charges. They might be able to help, especially if you act quickly.